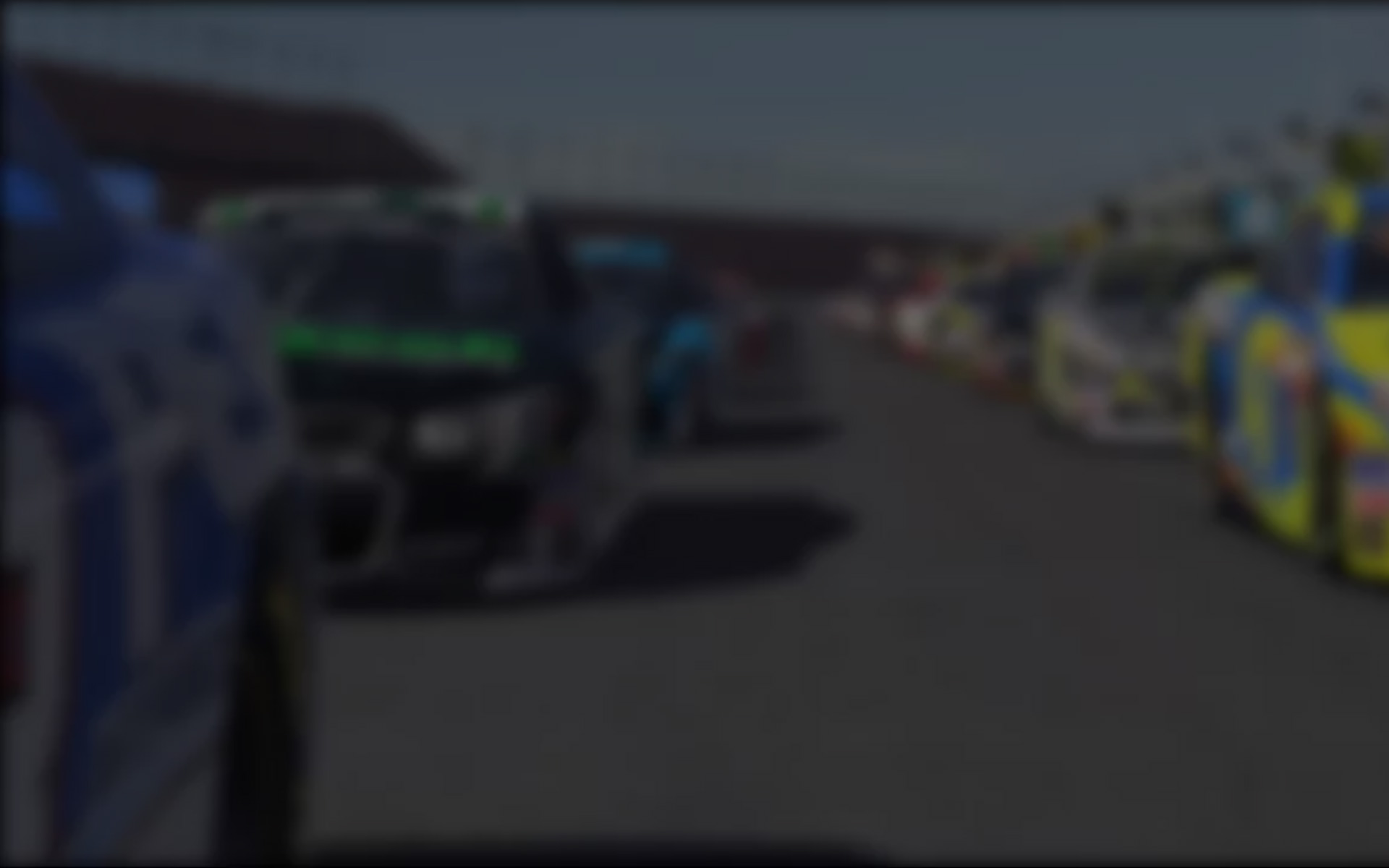 Round Eight of the iRacing.com V8 Supercars Series headed into Belgium to tackle Circuit Zolder.  Current championship leader Joshua Muggleton would be absent this round, which would allow either Madison Down or Justin Ruggier to take the championship lead with a decent finish.  After winning Race One, it was looking like Ruggier would take control of the points lead heading into the final four weeks . . . but, as seen in the past, anything can happen in the main online race.
Qualifying saw Ruggier take pole position with a 1:31.632 ahead of John Emerson who managed to pull a lap out of nowhere in the final session to move onto the front row, demoting Madison Down to third alongside Vail Riches on Row Two. Mitchell McLeod and Robert Hartley would start from the third row with Michael Fabian and Leigh Ellis on the fourth row as Shaun Kelly and Matthew Hill rounded out the top 10 starters.
When the lights went green it was Ruggier leading the field into Turn One with Emerson just behind. Although Riches got the drop on Down, his advantage was short-lived, as Down moved down the inside of Riches into Turn Four to reclaim third position. An instant later, Leigh Ellis tried to run around the outside of Hill at the same place but a bit of net code sent Ellis around and back to the rear of the field.  His night only got worse from there as, on Lap Three Ellis missed his braking marker into the first chicane and hit the side of Jason Brunton who pushed Ellis off the road on exit.
Riches' evening was also going sour, as he was given a 'slow down' after short- cutting the second chicane  He lost a position to Hartley as a result and found himself in three way battle with McLeod behind in sixth place. Next, a really weird incident unfolded in the final chicane when Ellis tried to go into the pit lane as Wayne Hewitt was approached the corner. Ellis tried to take evasive action but, unfortunately, hit Hewitt and ended his night on the spot with Hewitt following him into retirement soon after.  Next, Kelly tried a move on Tony Autridge into Turn Eight on Lap Six, only to go in way too deep and hit the side of Autridge.  The contact spun Autridge around and back into Kelly, sending Kelly's Ford Falcon into the wall.
Up front it was Ruggier and Emerson holding station running very similar lap times with Down in third place, but losing time to the leaders each and every lap. Behind the top three, Riches made a move on Hartley into Turn Eight on Lap Seven to re-gain the position he had lost a few laps earlier.
One of the biggest movers in the early stages of the race had been Brad Ryan, but on Lap 18 he got lose out of Turn Two and when trying to get down the inside of Samuel Collins.  Ryan over-corrected and touched the right rear of Collins sending him into the wall.  Unfortunately, Collins fired-off the wall into the path of Autridge, sending both drivers into retirement from the race.
Ruggier experienced no such dramas, however, and he took victory for the second time this season — along with the championship lead. Emerson finished a very strong second place with Down rounding-out the podium finishers in third.  Although Riches eventually solidified his fourth place, Hartley had his hands full staying ahead of Mitchell McLeod and Michael Fabian, who both finished within a second of fifth place. Michele Curina, Matthew Hill and Chris Luckey rounded-out the top 10 finishers
Hard Charger went to Ryan, who started from P24 on the grid and survived his bump with Collins while clawing his way up into an 11th place finish.
Top Five Drivers – Championship Points – Overall
1.    Justin Ruggier  – 1926
2.    Madison Down  – 1899
3.    Vail Riches – 1799
4.    Joshua Muggleton–1714
5.    Michael Fabian – 1491
Split Two Winner: Adrian Stratford
Split Three Winner: James N Scanlan
Split Four Winner: Wayne Bourke
Broadcast done by the crew at www.v8sonline.com.au
---
You may also like...
---