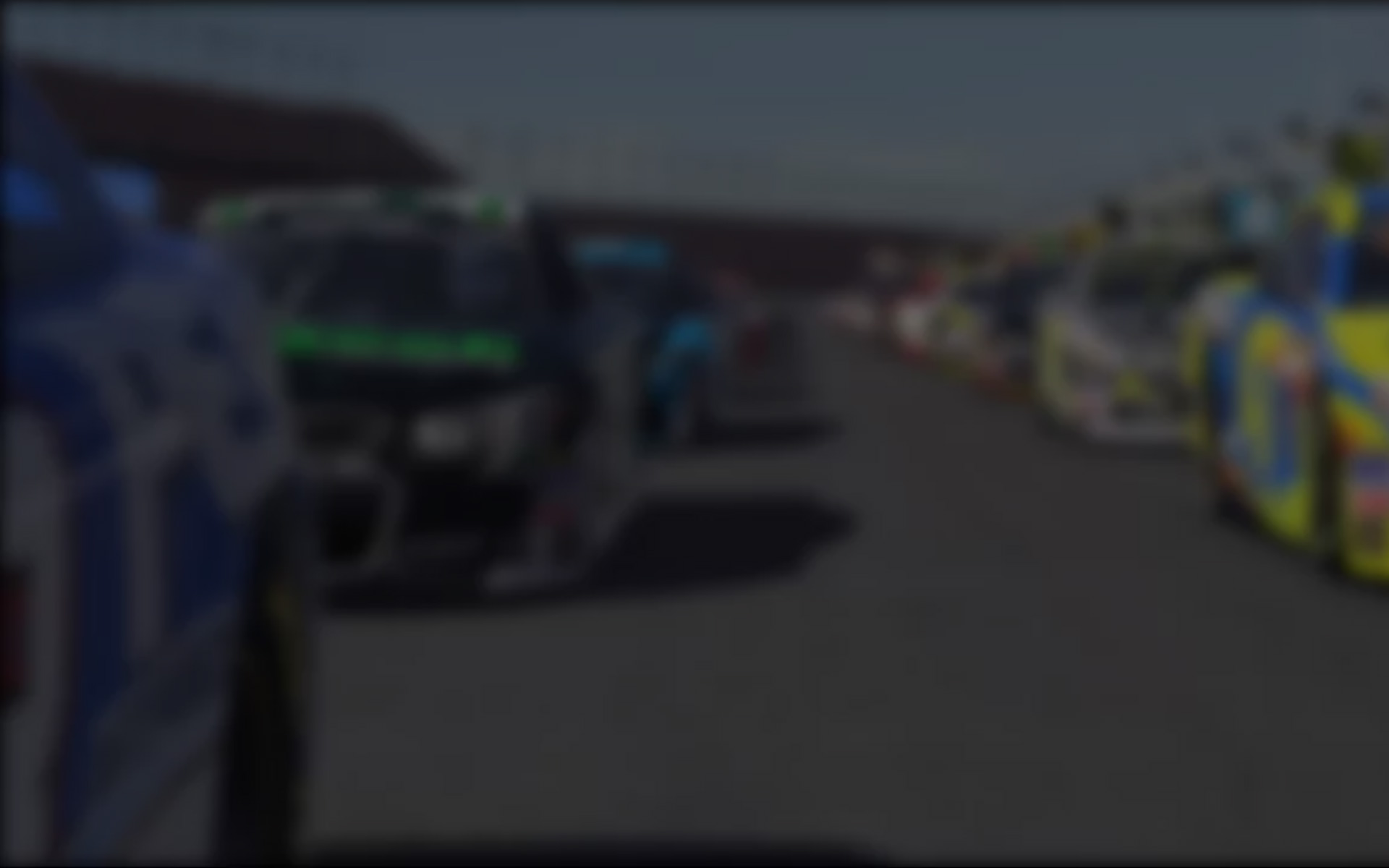 The arrival of cool weather and vivid fall colors reminds race fans change is in the air.  September 30th, 2010 might just be remembered as the night change came to the Red Sox Racing League.  After watching Darren Kersey and Les Turner claim 19 of the 27 races in the first two seasons of the RSR 2010 calendar, fans and competitors alike would have been justified in thinking Season 3 was going to bring more of the same.  They would have been wrong.  RSR newcomers Reed Rundell and Tommy Rhyne have shaken things up in the first three events of Season 3 by winning races.  Their entry into the RSR league has been nothing short of spectacular with both drivers scoring a victory and a top-five finish placing them fourth and second respectively in the overall point standings.
After scoring a second place finish in the Mid Ohio race last week, Rundell arrived at this week's event confident he could contend with the perennial RSR favorites.  Reed's momentum was not slowed by the challenging layout of the Virginia International Raceway's full course.  Starting third behind Kersey and Turner, Rundell used Jedi-like concentration to avoid danger as he passed the competition.  Once he had the lead, he never looked back.  Rundell led the final ten laps en route to his first RSR league victory.
VIR's full course is located in Alton, Virginia (near the border of Virginia and North Carolina).  It was built on rolling farmland and opened for racing in 1957.  The track was closed in 1974 and used as a cow pasture for the next 25 years, before being renovated and re-opened in 2000.  The track has hosted SCCA races, Trans-Am events, IMSA GT races, Stock Car, Motorcycle, and Kart races.  Carroll Shelby, winner of the 1959 24 Hours of Le Mans and creator of the Cobra sports car, won the first SCCA race at VIR in 1957 while driving a Maserati 450S.  He was quoted as saying "One lap at VIR is like a hundred at Watkins Glen."  RSR members would likely agree with Shelby's opinion.
The full course features a deceptively dangerous 17 turn, 3.27 mile lay out with corner names like "Horseshoe," "Left Hook," "Oak Tree," and "Roller Coaster."  The track provides scenic views for drivers and fans alike, but requires complete concentration for anyone hoping to complete a lap without incident.  The danger is constant as long and fast straight sections of the track are mixed with twisting, turning, hairpin corners.  Those dangers would lead several drivers to make premature exits from the event.
Pre-race testing sessions gave fans a glimpse of how the race would unfold.  Rundell posted the fastest practice lap with a time of 1:47.365, while Kersey and Turner were fastest in qualifying.  They earned the two front row positions with lap times of 1:47.332 (Kersey), and 1:47.679 (Turner).  Reed (1:47.722) and Tommy Rhyne (1:47.915) started in Row Two with the only other sub-1:48 laps.   Rows Three through Five were occupied by Barry Blocker (fifth), Gary Jorgensen (sixth), Ed Sutcliff (seventh), Scott Husted (eighth), Kevin Kyle (ninth), and Jeff Thomas (10th).  The remaining grid positions were filled by Jim Kepford (11th), Jim Albertson (12th), Andrew Feldman (13th), Bill Hadden (14th), Robert Latuga (15th), Mark Plank (16th), Bill Pawluckie (17th), William Kabela (18th), and David Pyner (19th).  Wilbur Gildersleeve Jr. participated in the practice session but did not qualify for the race.
Wilber's crew chief refused to comment on why his driver missed the race, but rumors amongst his rabid fans included a story about the Georgia-based driver being distracted by a nudist swimming pool in the nearby countryside.  Always one to partake of the local flavor, the "Virginia is for Lovers" motto might have been too much for Wilbur to resist.
While Gildersleeve took the night off, the rest of the field followed the pace car around for a lap before starting the race with another exciting rolling start.  Fans held their breath in anticipation of the Turn One chaos which normally accompanies events at VIR, but RSR drivers showed why they are known as a clean group of racers.  Lap One was full of give and take as the field settled into a snake-like single file line which wound its way around the track.  Their patience paid off as the entire field would go on to complete the opening lap without an incident.
Turner was tucked safely into second place when he caught just a bit of the inside curbing in South Bend on Lap Three.  The resulting slide through the grass and wall contact caused just enough damage to end the point leader's night.  His early exit opened the door for Rundell to move a little closer to Kersey on the track.  Their battle would continue for most of the race.
Kyle retired from the race on Lap Six, followed by Kepford and Husted who tangled after Husted spun in Turn Three on Lap Seven.  While racing action between the remaining drivers was fast and furious through Lap Twenty-five, everyone but Pyner managed to finish the race.
Rundell hounded Kersey through Lap Fifteen before finally making a pass to claim the top spot.  Kersey did not give up the position easily.  He posted the fastest lap time of the race on Lap 10, but could not shake Rundell.  The two drivers would go on to finish the race a mere 0.145 seconds apart while completing the entire race without incident.
Rundell was excited, but humble in his post-victory comments.  "I didn't have a lot of laps of practice this week, but having been to VIR many, many times, I am familiar with the track.  My goal this week was to just get comfortable with the Mazda and concentrate hard on making clean laps."  The warm-up sessions went well for Rundell.  "I felt good after we set the fastest lap of the session.  Our team was very confident going in to qualifying."
Voicing a concern echoed by many of his fellow competitors, Rundell was not crazy about the way slower traffic affected his qualifying effort.  "The slower traffic was a real issue tonight.  I only completed a couple of clean laps and never did match the speeds I reached in practice.  Settling for third on the grid was fine with me, I set out to just run my race and stay as clean as I could."
"As the race got underway, I was content to fall in line behind Darren and Les and ride along.  I stayed under a second behind the lead cars, and on the third lap Les spun off the track after catching the outside curbing on the high speed left hander just before Oak Tree.  I had to check up to avoid Les.  Once I got past him I decided to see if I had anything for Darren.  It was very frustrating trying to catch him, but I was able to slowly pick away at the lead. On Lap 13, Darren caught a lapped car which slowed him down significantly as they bumped on the front straight.  I dove deep into Turn One and was able to get by the slower car on the same lap as Darren passed him.  This helped me close the gap substantially."
"Staying on Darren's gearbox, I waited for the right opportunity to make my move.  That chance finally came on Lap 16 when I got a big run out of Oak Tree and up the backstretch.  The extra speed allowed me to pull out and pass Darren heading into Roller Coaster.  Lapped traffic came into play again in the final laps. This allowed Darren to really close up and he almost had the timing right to get past me.  I was barely able to hold him off, and I just had to make sure not to make any mistakes on the white flag lap.
I was almost 'too careful' through Hog Pen and Darren had a great run, which provided for a very close finish."
Rundell had potential new sponsors on hand to watch the VIR race, so he was happy about the outcome.  "Hopefully that locked the new deal in and next week there will be new paint and new sponsors on the Runn2Win/RacedayPaints Formula Mazda!"
Kersey was also excited about the event.  "What a venue for a race!  Ok, I'm a bit biased!  It is obscene how many laps I have run at this track.  After practice I knew we were in for an amazing race.  There were various groups of different times all within .5 sec of each other.  I would also like to welcome back my teammate from Outinthefrozenplain/SuperX Racing, Jim Kepford.  He has been missed."
"Congratulations to Reed.  He put up a great fight, never letting me sit back at all.  I was hoping I could close down any run he might get on me, but it was not to be.  He took perfect advantage of the draft on the back stretch and got inside of me going into Turn 14.  I hold my breath through that part of the track anyway, so when he got under me there was no way I was going to try to push it.  I had to follow him for the rest of the race and just hope he would make a minor mistake somewhere I could take advantage of.  Reed was a steel nerved monster from that point on.
"Once again I would like to thank the founders RSR for giving me a great place to race and even better people to race against.  I get out of my racing seat every week with a huge smile on my face and sweaty palms."
Blocker crossed the line in third place, just ahead of the hard-charging Rhyne.  Blocker enjoyed his podium finish.  "We had a great battle with Tommy tonight.  I want to thank him for giving me such a clean race. It was tough because the only time we could get a good run was in the worst places: The Esses, Oak Tree, or the end of the back straight.  He raced me clean and I tried to do the same for him.  We had a "moment" on the front straight with a lapped car and found ourselves 3-wide. That usually doesn't end well at VIR!  We both survived it thought and finished in good shape.  It felt good to finish a race better than I qualified after my bad luck in races One and Two.  This was great fun!"
Next to cross the line were Jorgensen (fifth place) and Sutcliff (sixth place).  Jorgensen finished the race without an incident, but Sutcliff was not as fortunate.  "I was happy with our starting position tonight, but knew the key to a good finish would be avoiding trouble." said Sutcliff after the race.  "This is a fun track to drive, but we got caught up in two incidents at "Nascar Bend" where we had to drive off of the track to avoid spinning cars.  I barely made it past Scott in the first incident.  Poor Kepford wasn't as lucky.  The next incident happened with three laps to go.
I'm glad we managed to finish in one piece!"
Albertson came home in seventh place.  He didn't qualify well, but earned the high finishing position by completing the race without incident.  "About the best thing that Redhead Racing accomplished tonight was to regain entry into the Zero Incident Club!"  "It was a great race with a very clean start in true RSR tradition.  Starting from the 12th spot and holding that position for a few laps was a fun way to start the race."
An accidental double downshift going into Oak Tree corner cost Jim two positions.  His race got interesting after that.  First there was a tough battle with Kabela, and then Albertson spent much of the race unsuccessfully trying to catch Jeff Thomas.  "We clawed our way into the top-10 and then an uncommon mistake by Jeff let me gain one last position.  I was coasting the last few laps as Sutcliff was out of reach in front of us, and Bill Hadden was maintaining a comfortable distance behind."
Hadden won the "Hard Charger" award by climbing six positions to cross the line in eighth place.  He was the last car on the lead lap at the checkers.  The ninth through fourteenth placed cars crossed the line one lap down to the leader.  Feldman (ninth) was followed by Thomas (10th), Plank (11th), Latuga (12th), Pawluckie (13th), and Kabela (14th).  Pyner retired from the race and finished three laps down in 15th place.
Husted's 16th place result was not what he expected.  "Our car was stable tonight.  We were riding around in sixth or seventh place before the incident.  On Lap Seven I got a little loose driving it into a corner and lost it.  Considering how much I hate VIR, I just parked it.  I then threatened the crew that if they fixed the chassis repairs to get me back out there, I would just pull a "Cole Trickle" and blow the motor on purpose!  Did I mention that I hate this track?"
Turner was blunt in his assessment of his performance.  "17th place is not acceptable." said the Canadian driver.  "I know this track like the back of my hand.  I also knew where I needed to be careful and just plain made a fatal driver error in South Bend.  We knew we had to "race the track" here, but lost focus early and paid the price for that with a DNF.  Congrats to Reed on his first RSR win."
Turner's misfortune cost him the point lead, dropping him from 1st to 6th in the standings.  Kersey regained the lead, while Rhyne, Sutcliff, Hadden, and Rundell moved into the second to fifth positions.  After three events, the top nine drivers are within 100 points of the leader.
RSR drivers travel to Las Vegas Motor Speedway for Round Four.
---
You may also like...
---