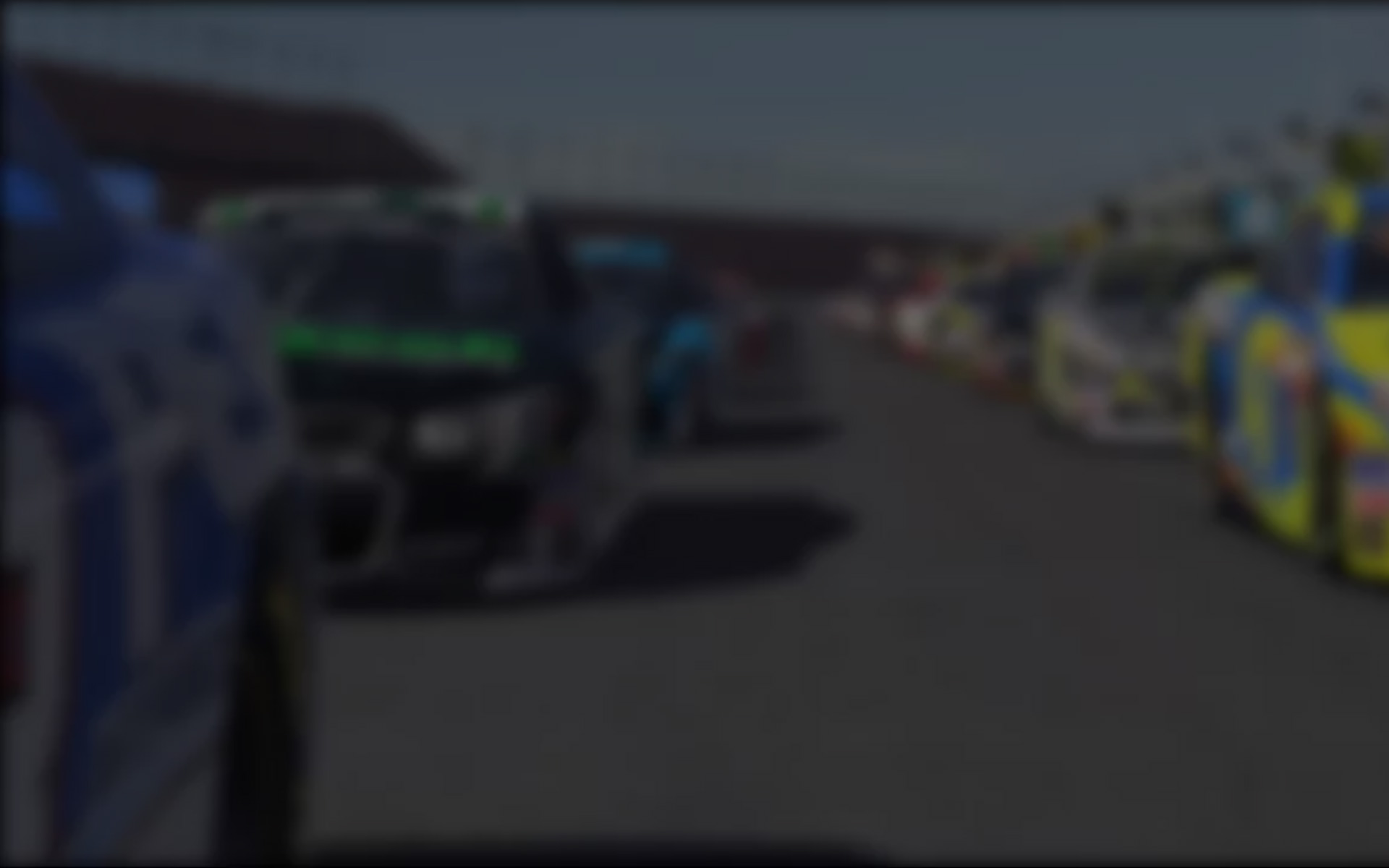 Although the big ball in Times Square has not even dropped yet, 2015 is underway — at least in iRacing, where the NASCAR iRacing.com Class B Series Open opened its first season of the year under the lights of Richmond International Raceway.  After falling 11 points short of championship in the final season of 2014, Gulfport, Mississippi's Larry Scott Jr. hit the track running strong, marking himself as one of the top contenders in 2015's first championship
The first race of 12 of 2015 Season 1 took place on the 3/4-mile oval in Richmond, Virginia.  Usually, the first race of a season has plenty of questions marks with the setup of the cars as physics updates put the setup builders to the fire.  However, coming off the short final season of 2014, there was very little change from the previous season, allowing drivers to hit that first race with more familiarity with their cars than usual.
Lowline Racing's Trent Ringler, fresh off of back-to-back championships in the series, entered the season opener with his sights set on a good start to a three-peat.  Right off the bat, the heavy hitters of the series went head-to-head on opening night in Monday's 9:00pm EST race which featured the weekly high strength of field of 3881.
19 cars took the green flag in the 100 lap feature race with Ringler leading the field flanked by teammate and fellow title hopeful, Brian Ammerman.
Ringler looked to be the man to beat for most of the race as he led the first 70 laps.  However, last season's runner up, Gale Force Racing's Larry Scott Jr, had picked his way through the field from his seventh starting spot.  Scott Jr. took over the lead on Lap 71 and 13 laps later, Ringler spun exiting Turn 2.  A two-tire stop enabled Allen Lewis to inherit the lead following a round of pit stops with Scott Jr. falling back to fourth.  Lewis would lead the next 14 laps, but with three to go, contact with Scott Jr. dropped Lewis back to an eighth place finish even as Scott Jr. continued on to take the checkered flag.
"We didn't win it the way I wanted to . . .  but we will take the win and move on to Indy." — Larry Scott Jr.
"I knew coming into the race that I needed to make sure not to leave points on the board like I did last season," said Scott.  "We struggled with different issues in practice but once we got into the race the car really came on after about 20 laps.  We kept ourselves up front and in contention all night.  On the last pit stop, a lot of people took two tires but I knew with our four tires we could get around everyone pretty easily.  We didn't win it the way I wanted to and I apologize to Allen Lewis for turning him, but we will take the win and move on to Indy."
Six caution periods slowed the race for a total of 27 laps.  BRB Motorsports drivers rounded-out the top five with Shannon Segler finishing second followed by Randall Faulks, Jeff Baki Jr., and Jeff Dukehart.  Along with leading the most laps (70), Ringler set the fastest lap of the race with a 21.016.  However, Ringler never recovered from his spin and finished 15th.
A total of 25 races went official during Richmond week.  Although the feature race took place on opening night, more races were to be had over the weekend hours.  Of those 25 races, 16 of them included Shawn Powell, who used his Christmas break to rack-up 1339 laps around Richmond International Raceway.  And Powell did much more than log laps, what with with 11 wins, a dozen top fives, 13 poles and 1000 laps led while only taking four incident points.  Those stats also earned him the Safe Driver Award.
Scott Jr. ran two races in Richmond, winning both, but it was his feature victory that earned him the early points lead with 244.  Segler, Faulks and Baki Jr. stood on their feature results and fill the next three championship spots with 230, 216 and 203 points respectively.  Dukehart rounds-out the top five with two top five finishes and 189 points.  Two-time defending champ Ringler, exited Richmond week in 12th place at 155 points.
Division winners and points leaders for Richmond are:  1 – Larry Scott Jr. 244 (Mid-South).  2 – Nathan Rhew 176 (Carolina).  3 – Will Warstler 153 (Mid-South).  4 – John Hayes 123 (Carolina).  5 – Eric Welch 108 (New England).  6 – Kyle Urbanik 80 (Midwest).  7 – Terry Griffie 107 (Georgia).  8 – Philip De Nardo 78 (Pennsylvania).  9 – Charles Conley 49 (Virginias).  10 – NA
It will be a Christmas treat for the NASCAR iRacing.com Class B Open Oval Championship as Week 2 pays a visit to the famous Indianapolis Motor Speedway.  The Brickyard is one of the most popular tracks on the service so the series should see a huge boost in participation with plenty of opportunities to race the storied 2.5-mile oval.
---
You may also like...
---