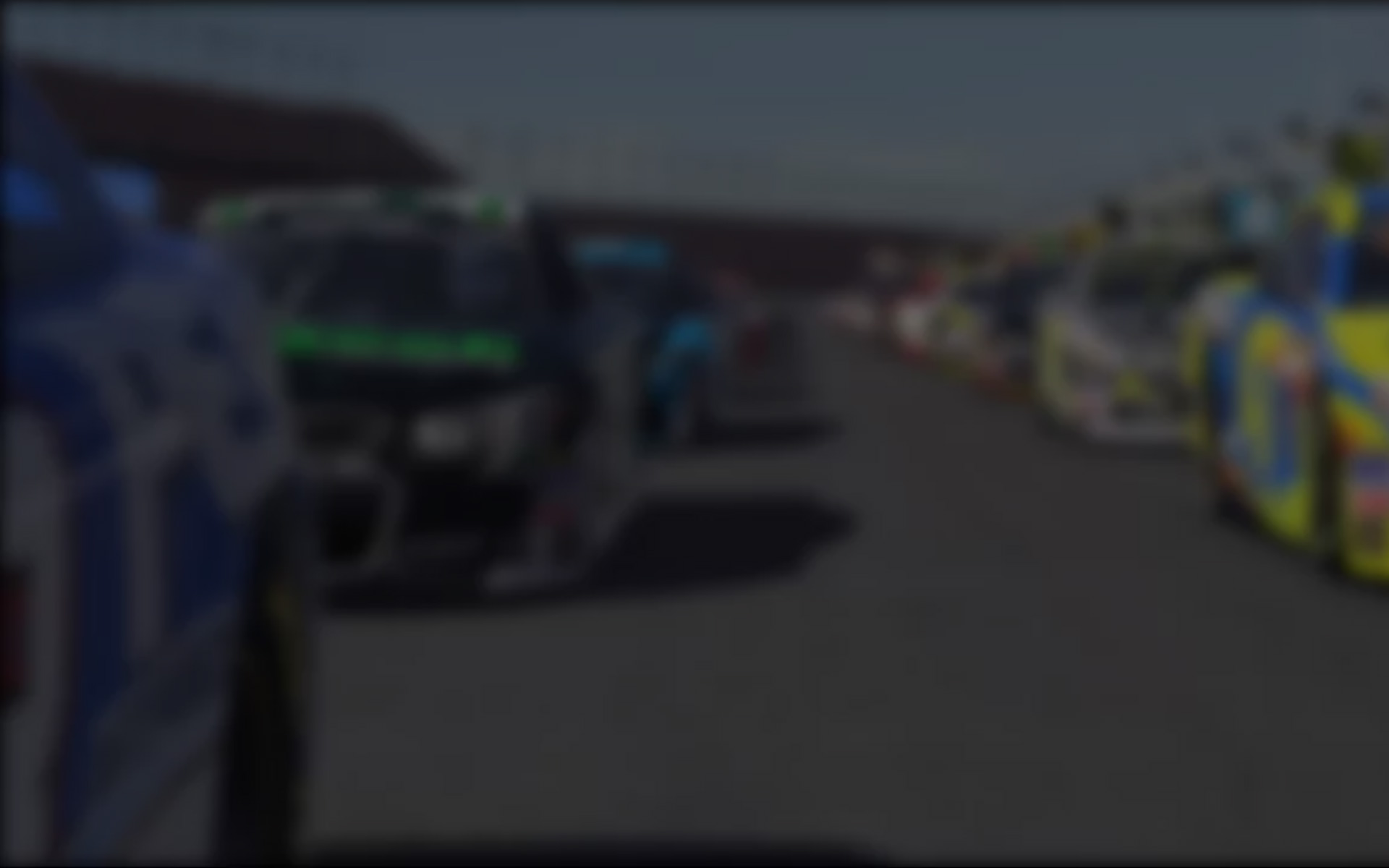 Team Redline bills itself as "the world's most successful virtual racing team."  Cheeky?  Perhaps. But it's hard to argue with an outfit whose record includes two iRacing.com World Championship Grand Prix Series titles, 36 iWCGPS race wins, three of four iRacing.com Road Pro Series crowns (and runner-up in the other), placing one of its drivers in the finals of Playstation's Gran Turismo Academy (with another invited to a Simraceway event ), taking the top two spots in the 2011 Intel World Finals . . . and whose drivers occupy first and third in the iWCGPS standings heading into next Saturday's race at Silverstone.
Then again, with all due respect to his Redline teammates, any roster that includes Intel World Final winner Greger Huttu — he of 33 wins, two titles and 1600+ laps-led in iWGPS competition – figures to be a powerhouse.
While Team Redline co-founder Dom Duhan is quick to lavish praise where praise is due, calling Huttu "a level-headed, sim-racing Kimi (Raikonnen) who brings speed, calmness and well, terminator-like powers" to the team, he doesn't hesitate to spread the compliments around. Whether it's Atze Kerkhof ("a former Dutch National Speed skater, Atze knows what it takes to be a top sportsman") Luke McLean ("never afraid of the challenge . . . he will hunt you down!"), Darren Marsh ("excellent analysis and a technical side we rely on"), Christian Szymczk ("brings a tonne of real life racing experience, race craft and incredible setup knowledge"), Bastien Bartsch ("brings speed in other sims such as Gran Turismo where he has been a finalist of both GT Academy and the B-Spec final"), Ben Cornett ("like Luke has that Aussie grit that you need to win"), Richie Stanaway ("brings real world motor racing experience which is invaluable for where we believe sim-racing is going, he can also jump into just about anything and be fast within a few laps") or Luca Masier ("one of the most outstanding natural talents I have seen, he helps motivate the team"), Duhan clearly believes every member of the team contributes to its success.
And that membership includes partners Fanatec and OK YO which provide Team Redline decidedly un-virtual financial support along with first crack at new hardware.
It's a long way from the "turn of the century" when TOCA 2 front runner Duhan hooked-up with George Duff to form a team named for the latter's ICQ handle.  When Duhan migrated toward F1 2000 he struck-up a friendship with a fellow named Greger Huttu and, only later, realized his new teammate was "pretty good at some sim called Grand Prix Legends."  Going from strength to strength, Team Redline added the likes of Andy Wilke (Germany's LAN GPL World Champion), Richard Morgan, F1 sim specialists Risto Junilainen and Brad McGiveron and, later, Richard Towler while competing in games like F1 2000, F1C, F1 2001, F1RC, GTR 2002.
Perhaps as noteworthy as its Who's Who roster is the fact that Team Redline had already attracted sponsorship from BRD (Ball Racing Developments) in what was, in retrospect, the infancy of online racing.  So as Towler racked-up a series of NASCAR titles and Huttu captured the Sim Challenge, GTR2 aces Christian Szymczak and Volker Hackmann came aboard as Team Redline migrated to the new online motorsports simulation:  iRacing.com.   Although Towler and Team Redline parted company as the new iRacing world championships loomed, the team quickly added new talent like McLean, Masier and Bartsch; likewise when BRD departed, Fanatec quickly filled the breech.
"We have a special relationship with Fanatec," explains Kerkhof, now one third of the Redline management with Duhan and Huttu.  "Our strength is that we're consistently in the highest level of sim-racing which puts us in a good position to test hardware. One of the big things is that we're using their key hardware to show the world that it's world class material. There is no better outcome for Fanatec than Team Redline winning WCS races using the Fanatec wheels!
"Fanatec also has the luxury of our input.  This means we can test equipment prior to it going on sale and provide our thoughts.  We hope that some of the advancements you see for instance in the Clubsport Wheel derive from some of our thoughts."
"There is no better outcome for Fanatec than Team Redline winning WCS races using the Fanatec wheels!" — Atze Kerkhof
The advent of long-lived partnerships between sim-racing teams and sponsors-suppliers is a telling barometer of the sport's mainstream development.  Not surprisingly, Duhan opines what has already transpired will prove to be the tip of the proverbial iceberg as sim-racing's inherent advantages increasingly manifest themselves.
"As a growing sport many partners seek to develop their brands in different areas.  Certainly sim-racing is growing especially as many of the young drivers today have grown up sim-racing," he says.  "I think it will continue to grow.  Real racing is limited so much by budget these days that often the best and most exciting drivers don't reach the top.  Sim-racing levels the playing field.  I can see it becoming a feeder to real racing, and certainly this is something the Playstation GT Academy has developed well . . . though I would say the best drivers are on iRacing!  I would like to see sim-racing feed into F1 – it's a long shot, but let's face it in real F1, you don't have lag!
"Actually, in the early days of our success Arrows F1 wanted to partner with us and be their sim-racing team.  In the end it didn't work out, mainly due to issues over F1 digital rights.
"I also see a distinction with the audiences.  Real racing essentially is a passive audience where you watch races.  Sim racing offers the opportunity to not only watch races, but take part as well – this is the true value of our sport."
"Sim-racing levels the playing field.  I can see it as become a feeder series to real racing." — Dom Duhan
Sim-racing's growing popularity and professionalism have not only enabled Team Redline to attract – and keep – new sponsors, but impacted the way Duhan, Huttu and Kerkhof evaluate existing and potential teammates.
"Back in the day, I used to look for two things," says Duhan. "Firstly, was the driver incredibly fast over more than one sim or discipline? The second was attitude and whether they would fit with us.  Sometimes this doesn't always work out – this is normal in a team environment when we are racing against each other!
"(But) a new factor for us when assessing a driver is their social currency.  With more professionalism comes more responsibility to sponsors and fans – we want our drivers to help our team grow."
Enter Lotus Formula One young driver Richie Stanaway.  The Kiwi had long been a member of iRacing, but it wasn't until he was sidelined by a very real back injury in the GP2 race at Spa in 2012 that he began sim-racing with a purpose.  His resulting P2 in the 2012 S3 iRacing.com Grand Prix Series got the attention of Team Redline, and he delivered with a championship-winning performance in the 2013 iRacing.com Road Pro series to stamp his ticket to the 2013 iWCGPS.  Although his real racing commitments have limited him to iWCGPS appearances at Spa (P31) and Phillip Island (P12), Stanaway's potential value to Team Redline overshadows the results sheets.
"We saw Richie had talent," says Duhan, "but it was difficult to see his speed without knowing how good his setup was.  I think initially we wanted to see where he was going to be in his real racing career before signing him.  However, looking deeper we thought he might really offer something a bit different, not only on track but with his real racing career.  With Atze's support, Richie turned around that Pro Season to win the championship with some mega drives – this justified our commitment to him and we look forward to having him compete for us in future, including we hope WCS races."
At the risk of sounding self-serving, it is worth noting that Duhan sees iRacing as a major catalyst in sim-racing's evolution, in terms of the World Drivers Championships (NASCAR iRacing.com Series World Championship and iRacing.com World Championship Grand Prix Series) of course, but also in the service's rigorous licensing, administrative and officiating roles that, in essence, brought a sense of order to what had been the wild west era of sim-racing.
"Not only is the structure there, the prize, the broadcast and the professional nature of iRacing has given life to our sport," he says.  "Prior to this, the community was a bit fractured in terms of competition, Live for Speed has some good events, Sim Challenge (run by Max Dell'Orco) and Formula Sim Racing were the big competitions.  FSR still runs to this day and has a good level of support, unfortunately no prize money and an old simulation – it would be good if they ran DWC!
"iRacing has brought in that level of professionalism. I think a key area which blurred the lines and gave it credibility was getting real drivers to race in the series.  Much of the credit goes to iRacing's relationship with Dale Earnhardt, Jr I'm sure.  That alone has placed the concept of sim-racing in the minds of many motorsport fans and competitors who previously saw racing sims as 'games.'"
Which is not to say Team Redline is all about iRacing.
"I would say for the past five or six years iRacing has been our main focus, especially with the broadcasts and prizes on offer," Duhan says. "We have competed in Playstation GT Academy and done well, as have other iRacers.  This year I think that Atze might have a good go at it.  Atze recently won a Simraceway event and went to Sonoma, where he drove quite a few race cars."
And yet, the more sim-racing changes the more some aspects remain the same.  Yes, the technology, professionalism and public recognition of sim-racing have made quantum leaps in the past decade.  And the advent of sophisticated data acquisition makes it vastly it easier to share information and setups with members around the globe.  But at the end of the day, coordinating communications and agendas with a team spread from Finland to Netherlands, the UK to USA, France to Australia and Italy to New Zealand remains a daunting, er, challenge.
"It is a headache," says Duhan.  "We would like to practise together more.  Quite often someone stays up late or is up early – or both!  We do make sure we get on track together a couple of days before the race, for drafting and race craft practise.
"Greger and Atze are mostly working together to find a stable baseline setup prior to a race weekend. However their driving styles completely differ, they know exactly how to deal with each others' setups, to make it work for them."
It's not like Team Redline is alone in facing the challenge.  The same technical, sporting and economic forces that have propelled Team Redline to the forefront of sim-racing have also triggered the creation and development of serious rivals, with My3ID's Hugo Luis dethroning Huttu atop the iWCGP standings in 2011 and giving him a run for the money last year.
"We see My3ID as our rivals currently," says Duhan.  "Hugo and Martin (Krönke) continue to test us, and even the likes of Jesse (Nieminen) and Klaus (Kivekäs) were great for the competition – it's a pity they have dropped out. We have a great respect for them and even though in the past there was some friction, I think this was natural as the competition was fierce – we want that though right?
"In terms of the other teams, we were close with Orion back in the day, we like the iNex and Foracer Ajira guys and of course have a great soft spot for MaxD (Dell'Orco) who was my team mate back in 2003!  Radicals have a great personality and at the risk of missing someone, we respect all of our fellow competitors – especially the smaller teams who do an amazing job to stay up there.
"I think if Greger gets to around nine wins and has a big enough gap over second place, he will play the rest of the season a bit more carefully and support Atze where he can," he says. "Having a one-two would be awesome for us, but Hugo is mega quick and has had quite a bit of bad luck lately."
Nobody would deny that good fortune is due to smile on Luis.  The 2011 world champion has been been snake-bitten of late; arguably dating back to last season when a minor clash with Huttu at Road Atlanta effectively put paid to the Brazilian's bid to repeat as iWCGPS winner.   And a technical glitch (Phillip Island) and crash (Watkins Glen) this year have left Luis an unrepresentative 114 points adrift of Huttu in the standings.  Then again, while misfortune is not unknown among Team Redline's ranks, it rarely derails the Fanatec/OK YO Williams-Toyota FW31s . . . underlining the age old sports tenant that, to a large degree, you make your own luck.
Be sure and tune-in to iRacing Live at 14:00 GMT (1o:oo am EST) for Saturday's broadcast of Round Nine of the iRacing.com World Championship Grand Prix Series at Silverstone to see how Team Redline fares against the challenges from My3id, Orion, iNex, Radicals, Foracer Ajira and the rest of the world's top sim-racing teams.
---
You may also like...
---