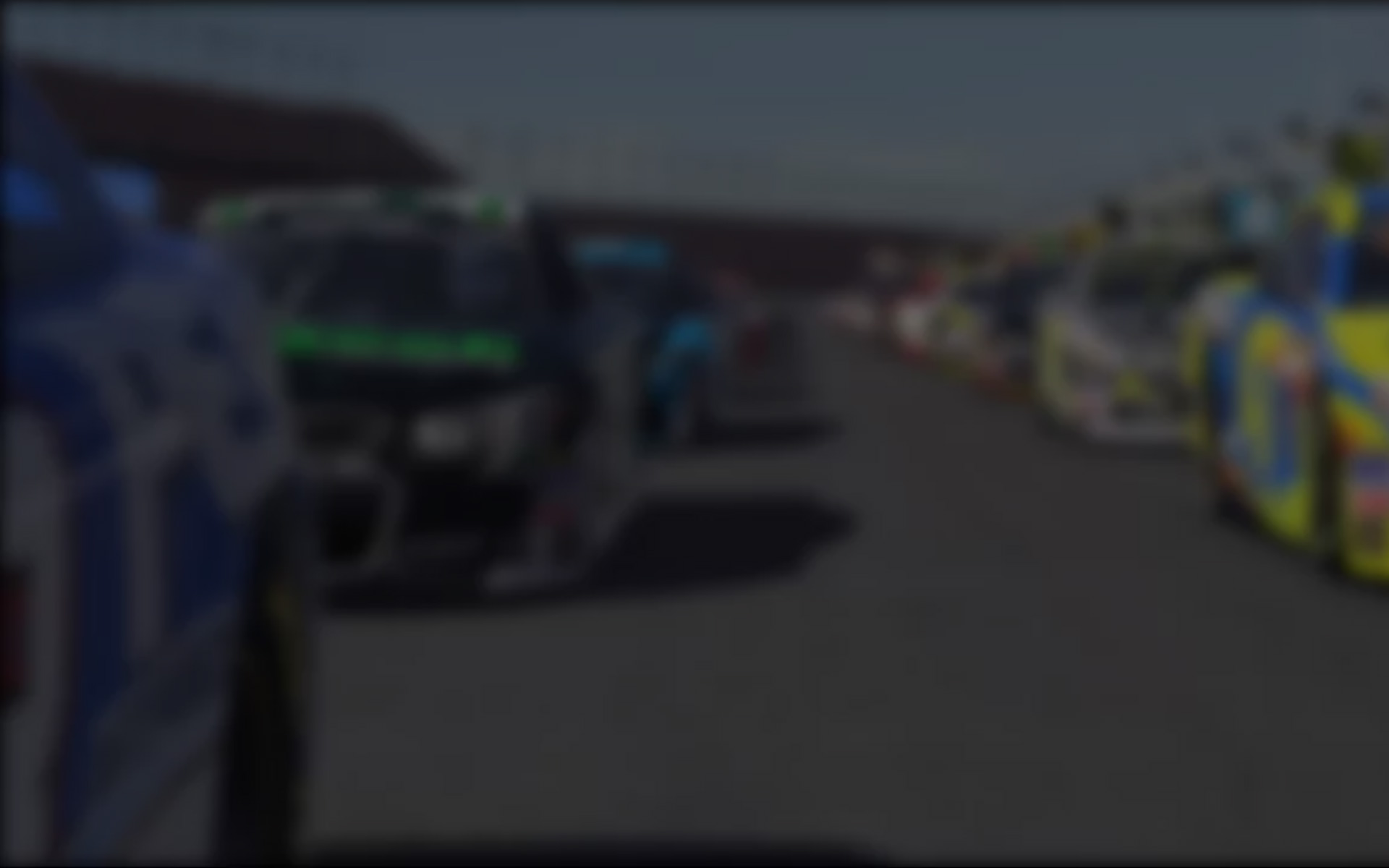 One of the most important weapons in a race driver's arsenal is selective memory.  By all means learn from your mistakes, but don't dwell on them . . . then move on.  Be it the Daytona 500, Monaco Grand Prix, 24 Hours of Le Mans or an iRacing rookie Legends race, the most important race in your career is the next one.
But don't listen to me; take if from Laurens Vanthoor.   Last weekend the 2014 Blancpain Endurance and GT Series champion (and, with Belgian Audi Club teammate Robin Frijns, current Blancpain GT Series leader) was leading the Total 24 Hours of Spa and looking to win the race for the second year in a row when he crashed.
"The track was damp with just a dry line, I was stuck for a lot of laps behind a backmarker who refused to let me pass," Vanthoor posted on Facebook. "Then I lost my focus and made a mistake. I was pushing a lot to finally overtake him, driving so close that I could not see the dry line anymore in the dark. I touched a wet spot and went in the tyre barriers . . . I'm not angry at myself but disappointed. Through the years I've learned that Endurance racing is about looking at the global picture. But for some reason I was too focused on the moment, I don't understand why but I guess that's life. I made a mistake, I accept it, now it's the past.  From today on I have some weeks of holiday and when I get back, you can count on it that we will go and get those 3 Blancpain championships!!!"
No athlete, professional or amateur, like to head into a break in their schedule on a down note.  So it's fortunate for Vanthoor that, shortly before he headed-off on vacation, the Red Bull Racing team offered him a ride in the Brazilian Stock Car Series at this weekend's race in Curitiba, subbing for championship leader Cacá Bueno who was suspended after "offending" race officials following his recent win at Ribeirão Preto.
"It was a last minute thing," explains Vanthoor.  "I got the call on Monday, and I was on my way to holidays, but obviously, it is quite interesting to be here. Of course, it isn't so to Cacá, who had been suspended. But being here to replace the championship leader is a big thing."
This will be Vanthoors' second appearance in the Brazilian Stock Car Series this season.  He raced alongside Valdeno Brito at Shell Racing in the opening round of the season in Goiânia, qualifying fourth and finishing eighth in the 33-car field.
Win, lose or DNF in Brazil,  Vanthoor is bound and determined to continue the successful defense of his championship in the final rounds races of the 2015 Blancpain GT Series at Algarve, the Misano and Zandvoort.  In addition to his selective memory, Vanthoor has another important weapon in his arsenal that he plans to put to good use: iRacing.
A dedicated sim racer, Vanthoors has a personal sponsorship with Versaro simulations and recently posted a Facebook video of his pre-Spa practice on the Vesaro simulator using iRacing's digital version of the legendary Belgian circuit.
"I have my choice of simulation programs, but 99% of the time I find myself using iRacing," he says.  "With the laser-scanning, iRacing's track surfaces are very, very accurate and all the landmarks and reference points are there as well."
And while Vanthoor stops short of giving all the credit to iRacing, is it just coincidence his two outright Blancpain Endurance Series wins this year came on Brands Hatch and Zolder, tracks available on iRacing?
"I'm not saying iRacing is the reason I won at Brands Hatch and Zolder," he says. "It may be just a coincidence.  But the fact is that I practiced Brands Hatch on iRacing for the month before the race, then competed with my brother in private sim races at Brands Hatch where we tried our best to beat each other . . . and on the race weekend I won the pole, set a lap record and won the race.  So for sure it helps!
"I have my choice of simulation programs, but 99% of the time I find myself using iRacing."
"Plus it's enjoyable.  About a month ago I organized a private race with my Audi GT teammates and invited some fans to participate . . . just having fun with my teammates and giving some fans a bit of a treat.  But when my teammates come to my place for a party or to socialize, we always end-up trying to beat each other on the simulator.  It's part fun and part practice."
Although Vanthoors readily concedes he enjoys racing, simulated and otherwise, make no mistake, he is a professional who has been a global picture kind of guy for quite some time.  The 2009 German Formula 3 champion and runner-up in the prestigious Macau Formula 3 race the following season, he was targeting Formula 1 as his ultimate destination. But when circumstances dictated a change in plans at age 20, the Belgian readily embraced a switch to GT competition.
"Like most young guys in karts and Formula 3, my goal was the highest attainable form of open wheel racing, which is Formula One," he says.  "Things were going well but I had an off-season and couldn't find the opportunities to progress towards Formula One.  What I love is to race cars and win, and I wanted most of all to be a professional racing driver.  I couldn't find the sponsors and I didn't have the personal money to continue pursuing my Formula One dream, and at that point the right people contacted me to become a professional GT driver for Audi."
Suffice to say Vanthoors has never looked back.  He co-drove the winning car in the 24 Hours of Zolder in 2012, was crowned FIA GT champion the following season and, last year earned a remarkable double by winning both the Blancpain Endurance and GT Series titles.
"There are plenty of other guys who'd love to have my job!"
"It's worked out quite well," he understates.  "I don't regret the way things turned out for a moment.  I've got a professional contract with Audi, I'm doing around 20 races a year in Europe, Australia, Russia, China, Brazil . . . I think there are plenty of other guys who'd love to have my job!"
One thing hasn't changed about Vanthoors and that's the fact that he continues striving for the highest attainable form of his class of racing.  He took a major step in that quest this year when he drove for OAK Racing in the 24 Hours of Le Mans.  And while transmission issues in the final hours felled the LMP2 Ligier JS he shared with Chris Cumming and Kevin Estre, Vanthoors takes many positives from the race.
"Le Mans was very good experience," he says.  "My contract with Audi is for the GT program (but) I'm not afraid to say one day I would like to drive LMP1 with Audi.  So I gained a lot of experience at Le Mans this year and showed Audi what I can do. Although the final results were disappointing, I was in the car for 10 hours under many different conditions, and I gained a lot of experience."
Vanthoors will be able to gain even more experience at Le Mans once iRacing releases its version of the famed French circuit.  While there's no official timetable for when that will happen, Vanthoors is equally enthused by the coming release of the Nurburgring – both the Nordschleife and Grand Prix circuit – later this year.  One thing is for sure: he'll have lots of virtual laps in the bank when the Blancpain GT Series arrives at Circuit Park Zandvoort for the season finale on October 10-11.
If all goes according to plan, Vanthoors will be crowned Blancpain GT Series champion for the second year in a row at Zandvoort and begin looking to 2016 where one of his goals is to compete in the USA for the first time in the Rolex 24 at Daytona.   That would add another continent to Vanthoors' racing resume . . . and further enhance his global perspective.
---
You may also like...
---