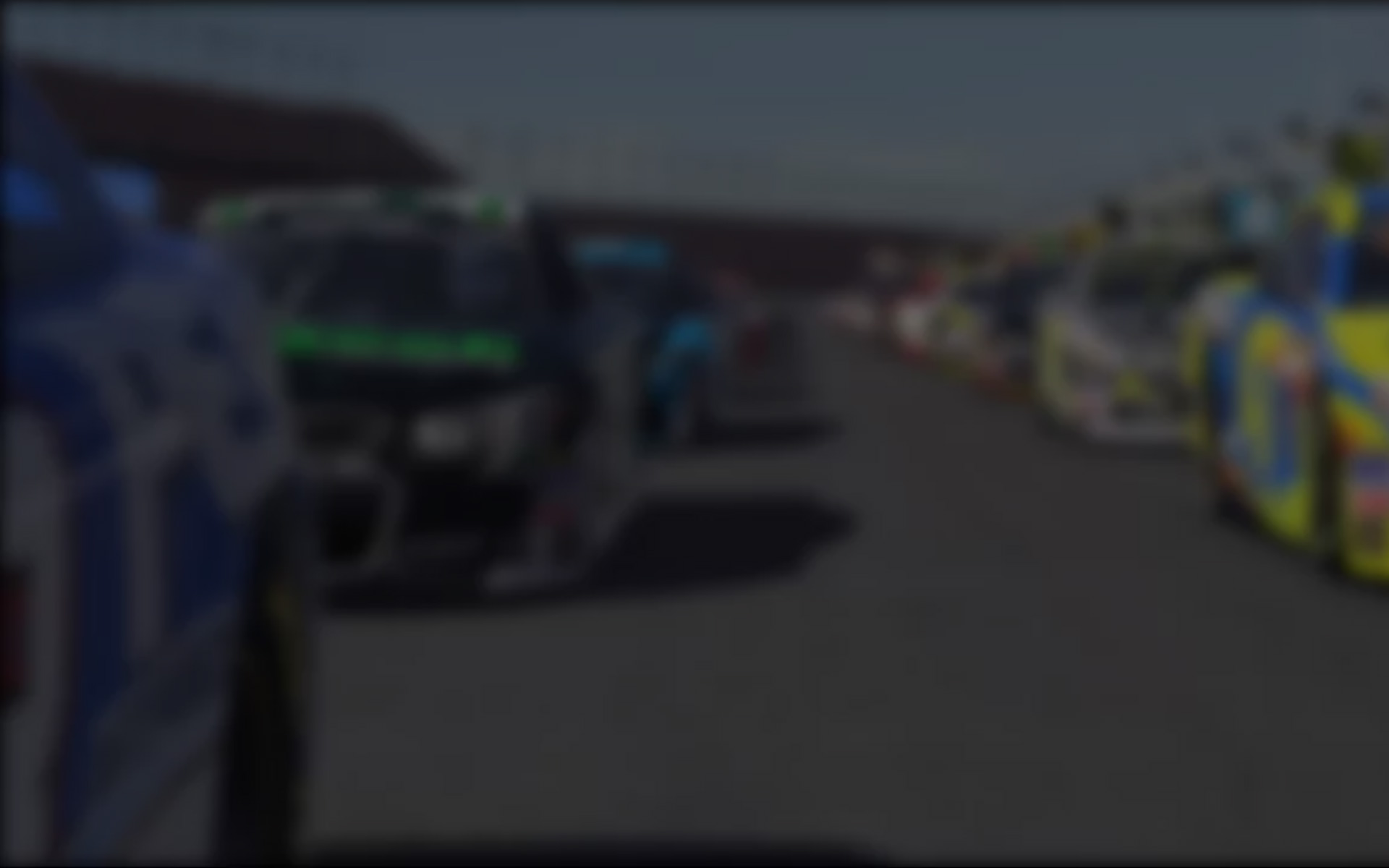 For the first time in four weeks, PEAK Stock Car Dreams National Series points leader, Paul Kusheba is starting to look in his rear view mirror in the championship chase.  Meanwhile, Greenfield, Indiana's Caleb Shelton is celebrating his first weekly win of the season.
Week 9 put the PEAK Stock Car Dreams National Series in the sand hills of North Carolina and a visit to the Rockingham Speedway, better known as "The Rock."  The 1.017-mile oval is loved and hated among iRacing's drivers.  Those who can find the right balance of speed and tire wear generally enjoy great results which, predictably, lead to a love affair with the bumpy and abrasive track.  For those that can't, long and frustrating sim-races breed contempt for The Rock.
While most eyes were on the points championship to see if Kusheba could maintain his 123-point lead over pro driver Byron Daley and his 202-point advantage over fellow pro, Ray Alfalla, Shelton snuck in to steal the weekly show by picking-up two wins in three starts.  But his win in Friday night's 7:45 race proved to be decisive in the week's standings.
Shelton started on the outside of the front row beside pole sitter, Jr. Borborema.  Borborema, who flies the flag for Club Brasil, led the first 29 laps of the 40 lap affair, but on 30th tour of The Rock, Shelton pulled-off the pass and went on to a 1.245-second win over Jeff Ramsdell.  Borborema slipped another notch to finish third close behind Ramsdell with another Brazilian sim-racer, Igor Kops, finishing the feature race in fourth ahead of Christopher Bell.
Shelton had not scored over 150 points during the season, but knew he had a chance for a big total at Rockingham.
"I think Rockingham is my favorite track on iRacing" said Shelton, who is now edging toward the top-10 in points.  "I ran several time trial sessions as practice and that really helped me figure out the fastest way around while still taking care of the tires for the races.  I am very excited about winning the overall week at Rockingham!"
"I think Rockingham is my favorite track on iRacing" said Shelton
Shelton earned his highest points total for the season scoring 187 points with the feature win.  With Kusheba finishing ninth for the week with a total of 163 points and drop weeks starting to come into play, the door was opened to start picking away at his points lead.  Daley had another solid week, picking-up wins in both of his starts scoring 180 points, good enough for second in "Rock week."  Grant Winchester put up 176 points for third place winning all eight of his races, while Kris Kelly and Ramsdell rounded out the top five for the week with 175 and 172 points respectively.
Kusheba's points haul at Rockingham was good enough for a ninth place showing.  However, Daley's runner-up finish and Alfalla's sixth place showing, coupled with the drop weeks starting to factor in, Kusheba's championship lead shrunk to 66 points with three race weeks remaining.  Alfalla vaulted to second in the standings while Daley now stands only 87 points behind in third.  Tyler Hill and Wesley Wilborn round out the overall top five.
Divison winners in Week 9 at Rockingham Speedway were: 1 – Caleb Shelton 187 (Indiana).  2 – Kris Kelly 175 (Virginias).  3 – Wesley Hendley 141 (Mid-South).  4 – Jimmy Britt 126 (Georgia).  5 – Shawn Baisden 96 (Ohio).  6 – Charlie Needham 88 (Illinois).  7 – Jake Stange 101 (Northwest).  8 – Ryan Strunk 97 (New Jersey).  9 – Rick Shauntz 76 (Canada).  10 – Tim Allen 66 (Carolina).  Rookie – Ethan Agan 67 (Texas).
Division leaders at press time are as follows: 1 – Paul Kusheba 1660 (New England). 2 – Wesley Wilborn 1214 (Georgia). 3 – Kyle Heckman 1159 (California). 4 – Lewis King 857 (Mid-South). 5 – Shawn Baisden 682 (Ohio). 6 – Carl Stange 597 (Plains). 7 – Bill Rowlands 519 (Atlantic). 8 – Derek Edwards 513 (Carolina). 9 – David Warhurst 425 (Georgia).  10 – Tim Allen 434 (Carolina). Rookie – Jeremy Canute 580 (New York).
The PEAK Stock Car Dreams National Series is now in the fourth quarter and the pressure is on for Kusheba as a pair of iRacing's best oval drivers are closing-in on his rear bumper.  The good news for Kusheba is that Week 10 puts the Chevrolet Impalas back on the short tracks where he has found his best success this season.  A long trip out west to Southern California's Irwindale Speedway kicks-off the stretch run.  A strong week of sim-racing at the half-mile banked oval will be pivotal for Kusheba's championship hopes.
 The PEAK Stock Car Dreams National Series offers one iRacer the chance of a lifetime: a reserved seat in the 2014 PEAK Stock Car Dreams Challenge driver combine conducted by Michael Waltrip Racing in June. The seat will be awarded to the overall winner of the PEAK SCD National Series, an official twelve week series featuring the Chevrolet Impala SS stock car. The winner must be at least 16 years of age, reside in the United States and be able to safely enter and exit a racecar. In addition, every iRacer who displays a PEAK logo on their Impala and competes in at least one race in all twelve weeks of the PEAK SCD National Series is eligible to win an Obutto r3volution chassis and one of 50 custom PEAK /iRacing hats.
---
You may also like...
---