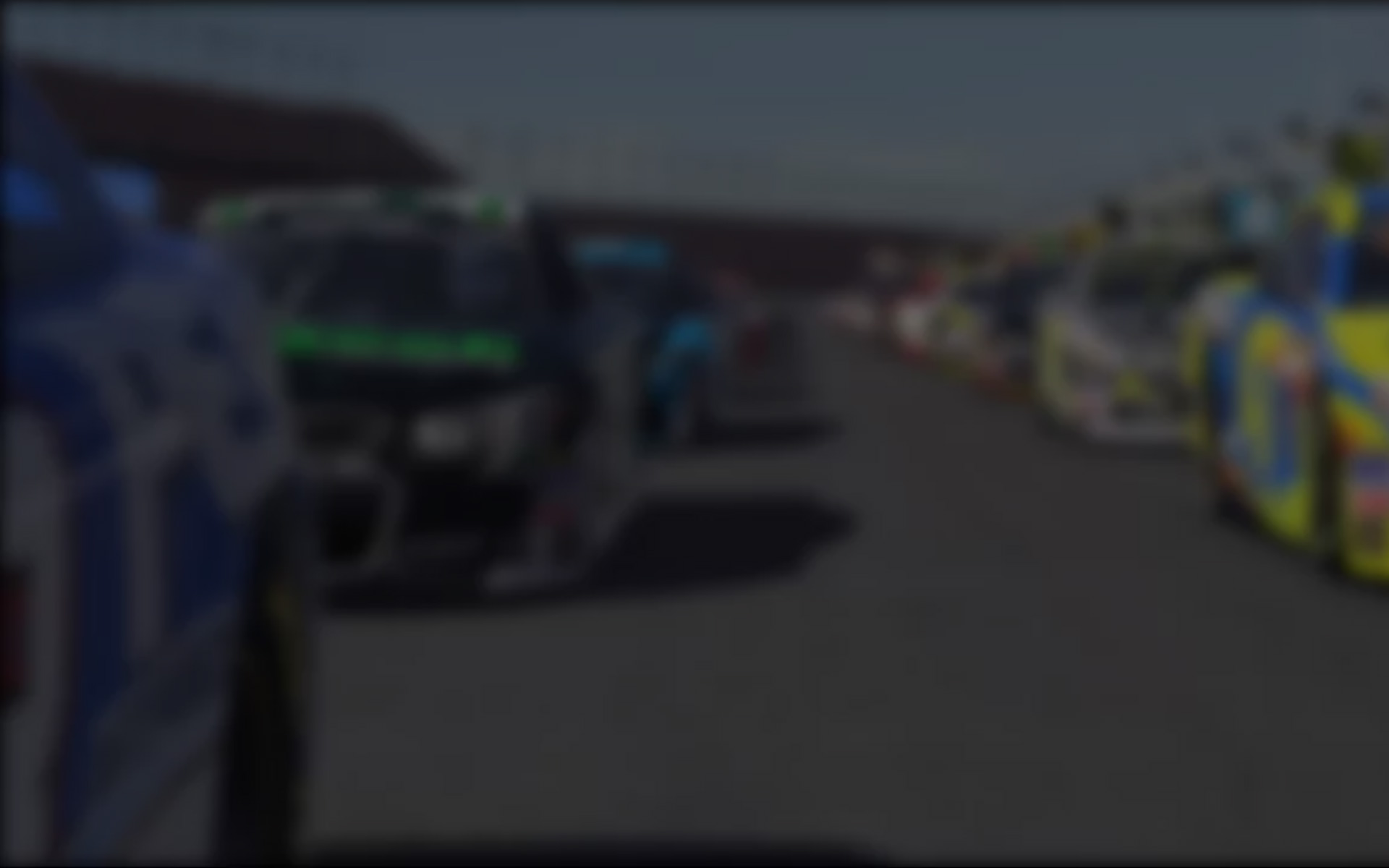 Twenty-two members of the Red Sox Racing League traveled to Elkhart Lake, Wisconsin for the seconnd event of the 2011 Season One schedule as Road America played host to the 18 lap "It's Cool to be Cheesy" race.  Experienced sim racers knew the trick to success at the challenging 14 corner four mile track would be getting-in plenty of practice in their Williams-Toyota FW31s before the online race, and a good position on the starting grid.
Les Turner looked to have the upper hand before the race began, but his overall points lead and fastest pre-race and qualifying laps did not deter Robinson Shields.   Shields shunned conventional wisdom by winning the race despite having skipped the mid-week and pre-race practice sessions
Qualifying was full of off-track incidents as a track famous for its unforgiving corners took a heavy toll on all of the teams.  Most had to spend a lot of time repairing body and suspension parts before the race went green.  Turner earned his second pole of the season with a lap time of 1:39.137.  He and teammate Terry McCuin (1:39.900) were the only two drivers to best the 1:40 mark.
Robinson Shields (third), Darren Kersey (fourth), Reed Rundell (fifth), Andrew Gantman (sixth), Andrew Feldman (seventh), and Gary Jorgensen (eighth), all posted sub 1:41 laps.  Divina Galica (ninth) and Chuck Johnson (10th) completed the first five rows on the grid.  The remaining positions were filled by Jim Albertson, Jeff Thomas, Jim Kepford, Greg Harris, Mike Grandy, Kevin Kyle, Ed Sutcliff, William Kabela, Bill Pawluckie, Mark Plank, Wilbur Gildersleeve, Jr., and Albert E. Glover.
Cheered on by a loud and enthusiastic crowd, the RSR drivers once again demonstrated their patience as they raced each other without incident on the first few laps.  Several drivers found themselves going off-track due to missed braking points, but the rest of the field avoided damage by making safe passes of their less fortunate competitors.  Turner was hounded by McCuin and Shields early and often in the opening laps, but he managed to keep the TeamDraft car in front of the pack with well-timed defensive moves and daring cornering.
Early incidents saw Harris and Kepford tangling in Turn Six, while Rundell and Feldman made heavy contact in Canada Corner for the most spectacular crash of the event on Lap Four.  Pit road was a busy place as many drivers were forced to pit for repairs early in the race.  Albertson successfully pulled off a daring pass on Galica in Turn Five on Lap Two that could have been disastrous for several drivers in the early going.
Turner continued to lead the race until he finally succumbed to the intense pressure being applied by his TeamDraft team mate, McCuin.  After posting his fastest lap of the race on Lap Eight, Turner spun his car in Turn Five the next time around.  The mistake should have given McCuin the lead, but he got caught up in the incident.  Both TeamDraft drivers watched helplessly as Shields passed to inherit the lead.  Shields held onto the lead until he pitted on Lap 13, then retook it when Johnson pitted on Lap 14.  Shields drove calmly and cleanly for the rest of the race as he went on to earn his first victory of the RSR 2011 schedule.
Johnson crossed the line nine seconds behind Shields to earn second place.  Turner recovered well from his incident and finished just three seconds behind Johnson in third.  Kersey (fourth) and Thomas (fifth) put on a terrific show for the crowd as they battled each other to the finish line.
Close racing was the norm as Albertson (sixth), Galica (seventh), Gantman (eighth) and McCuin (ninth) battled hard to cross the line ahead of their fellow drivers.  Kyle (10th) had a comfortable lead over Kabela (11th) when he took the checkered flag, while Pawluckie (12th), Kepford (13th), and Jorgensen (14th) were the final drivers to cross the line on the lead lap.  Harris (15th), Plank (16th), and Grandy (17th) finished one lap down.  Rundell (18th) and Glover (19th) finished four laps down while  Feldman (20th) never recovered from the damage suffered early in the race and finished eight laps in arrears.  Sutcliff (21st) retired due to electrical problems after only six laps.  Gildersleeve did not start the race.
Chuck Johnson won the "Hard Charger" award after climbing eight positions to finish second.  Despite their reputation for running clean races, only three RSR drivers (Galica, Pawluckie, and Sutcliff) managed to finish the race without incident.  Kabela completed his race laps without incident, only to see the bonus point taken away when he was involved in a post race incident before the last driver had crossed the finish line.
Shields was understandably happy with his team's effort at Road America.  "The night got off to a good start as I was able to grab third spot on the grid.  I maintained position through the first corners, but coming off Turn Three, and through Three-A is where the fun started.  The first two drivers were fighting for position, so I was able to sneak into second place going into Turn Five. My good fortune did not last long though.  I blew the entry to Turn Three on the next lap and had to relinquish the spot.  Lap Six ended up being the most important, although at the time, I thought it would be my undoing.  I had spun trying to put the power down exiting Turn Six. I didn't hit anything, and was able to get back underway. This cost me about eight seconds to the lead cars".
"The turning point of the race was Lap Nine.  The leader spun in Turn Five, and McCuin didn't have anywhere to go.  They collided.  I almost hit Turner as he recovered, but because I was far enough back to see the yellow flags, I was able to avoid getting caught up in the incident. This gave me the lead and a decent cushion over the rest of the field.  Pit strategy was tricky.  I figured I would stay out until I started hitting lapped traffic, then pit to try and get as much clear track as possible. This didn't work out so well. On my out lap, coming out of the carousel, all I saw was dirt and tire smoke. I slowed down as best I could, and just missed a spinning car that had clipped the rumble strip at the exit of the turn.  After the narrow miss, I decided to just run a steady pace and bring the car home in one piece.
It was a very good night.  My starting spot put me in a great position, and dumb luck gave me the win."
Johnson was also very pleased with his effort.  "I came into this week with the hopes of taking care of the car and keeping it on track.  Road America is always a great time but I have not had the best of performances there in the past.  Once we made it past the first few laps, I tried to settle in and not get into chasing anyone or push heavily.  I was able to run until Lap 13 before needing to pit.  While coming down the pit lane, the decision was made to take no tires.  This set me up in second behind Shields and ahead of Turner by a fair margin.  I again set out to put in the cleanest laps I could manage, but also pushing a little harder to maintain the position.
"With three laps to go, the tires were starting to give up on entry and the apexes.  During these laps, Les was getting the most out of his new tires and was closing steadily, each lap.  Thankfully I managed to keep the car on track and made it to the checkers before Turner could get to me.  One or two more laps and Les would have had me.  A second place finish at Road America is a treat for me in any car or series.  Scoring one with RSR in the RS Guitarworks Williams felt great!  I'm very happy to have been invited to run with this group and have had a great time with the racing as well as the spirit everyone brings.  I am looking forward to more."
Turner maintained a slim four point lead in the overall standings after the event.  Reporters caught up with the unusually glum Canadian driver after the race.  "I cannot believe that we threw this one away!  Terry was applying some pressure into Turn Five and I made a driver error and downshifted into first gear.  I was planning on leading one more lap to ensure the most laps lead and then make my pit stop for the dash to the checkers.  We managed to salvage a podium finish, but it is not what we were looking for.  Very sorry to have taken team mate Terry McCuin with me."
Fourth place finisher Kersey was nowhere to be found after the race.  Rumors that Kersey had been invited to of a post-race party at bad-boy Charlie Sheen's house could not be confirmed, but even the mechanics at his hauler were gone by the time reporters reached his trailer.
Thomas hung around for his interview, telling reporters he was very pleased with back-to-back top-five finishes.  "Back-to-back fifth places so far this season!  This has been a great start to the F1 season for us.  TeamDraft has given me great equipment this year, so I'm ready for next week's race too!"
RSR drivers travel to the Netherlands next week for the "A Dandy at Zandy Grand Prix" at Circuit Park Zandvoort.
In other RSR racing news, the Tuesday Night Thunder Series ran their second event of the 2011 schedule in the Street Stocks.  TeamDraft drivers swept the top-five finishing positions at this week's "Born in the USA" race at USA International.  McCuin started on the pole and led all 40 laps on his way to a dominating victory over teammates Turner, Thomas, Kyle and Plank.
Video of the Road American Race:
http://www.youtube.com/watch?v=BpAbf-Kxbow&hd=1
RSR F1 Standings after two races:  http://www.danlisa.com/scoring/season_standings.php?season_id=639
RSR Tuesday Night Thunder Series Standings after two races:   http://www.danlisa.com/scoring/season_standings.php?season_id=657
RSR YouTube Video Channel:
http://www.youtube.com/user/draftin11?feature=mhum
---
You may also like...
---