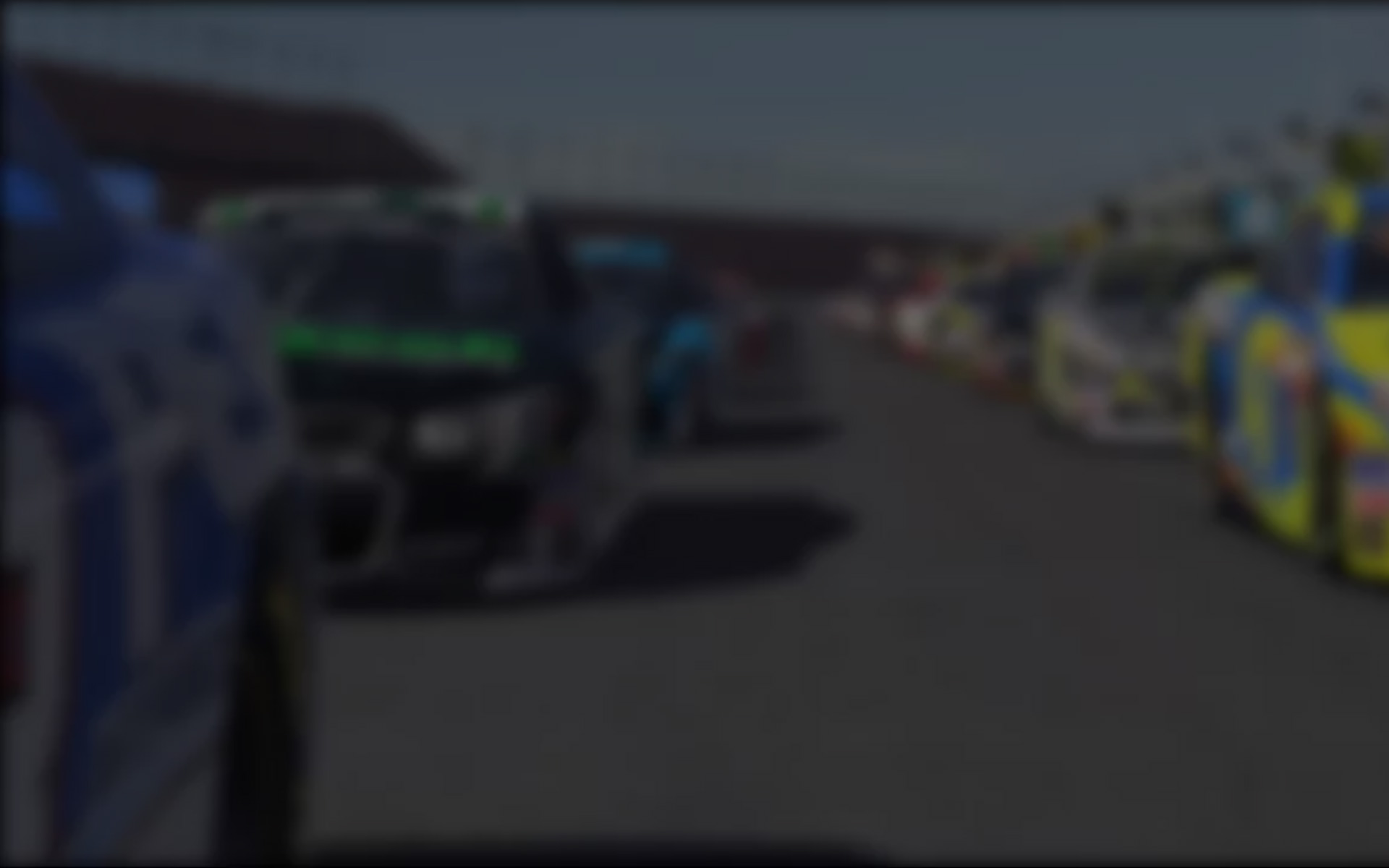 Mazda Raceway at Laguna Seca hosted this week's race for members of the Red Sox Racing League's Formula One series.  The 11 corner, 2.23 mile layout is one of the most demanding courses on the schedule.  Hairpin corners, high-speed corners, blind uphill corners and the famous "Corkscrew" all conspire to make even the most seasoned road course sim racers cringe.
Eighteen RSR drivers accepted the challenge and lined up for the online racing event.  Les Turner entered the race with two wins in the first three races in Season One of the 2011 schedule.  Robinson Shields was the only other RSR driver to have defeated Turner in 2011.  As things turned out, the early season battle between the top two drivers kicked into a higher gear as they battled for the victory at Laguna Seca.  Shields came out on top as he took advantage of an early race mishap involving Turner and William Kabela to notch his second win of the season.
Turner dominated pre-race and qualifying sessions as he looked to carve-out an even larger lead in the point battle.  His car was the only one to post a sub 1:05 lap time in either session.  Turner's lap time of 1:04:852 easily outdistanced the second place qualifier, Terry McCuin (1:05.584).  Their times were the only sub 1:06 laps in the session.
Rows two through five of the starting grid were occupied by Shields (1:06.001), Jim Albertson (1:06.169), Jeff Sharp (1:06.421), Greg Harris (1:06.466), Tommy Rhyne (1:06.534), Andrew Feldman (1:06.768), Chuck Johnson (1:06.863) and Darren Kersey (1:07.139).  The remaining grid positions were filled by Ed Sutcliff, Jeff Thomas, Mike Grandy, Robert Magee, Bill Pawluckie, Mark Plank, Wilbur Gildersleeve Jr. and Kabela.
Racing action got off to a smooth start as the field took the green flag from a standing start, but an early mistake by McCuin ruined his chances for a victory.  McCuin jumped the start, then wrecked on Lap One before he got back to pit road to serve his black flag.  The errors moved him all the way back to 15th place.  Turner led all drivers as they jostled for position in the early laps.
Sharp was the next driver to lose valuable track position when he caught the inside curb in Turn Six on Lap 2.  Although undamaged by the incident after a great save, he dropped from fourth to 12th place as most of the field passed him as he tried to return safely to the track surface.  Rhyne spun out on the nasty bump exiting Rainey Curve on Lap Four and was forced to retire due to heavy damage.
The track wasn't the only thing giving drivers trouble.  Electrical problems once again foiled Sutcliff's plans to earn a podium finish at one of his favorite tracks.  The issues were severe enough to force him to retire from the race after only five laps.
Kabela went off track on the Rahal Straight during Lap Six while running in the 14th position.  McCuin was able to make a safe pass as Kabela gathered himself and returned to the track, but his move was ill-timed as it forced Turner to take evasive action entering the Corkscrew.  Turner's attempt to avoid contact was successful, but after being forced off line he locked up from the 2 marker and missed the Corkscrew completely.  Les managed to keep it off the tire barrier and get back underway, but not before Shields passed Turner for the lead.
Albertson also got by while Turner was trudging through the sandbox and took away the second position as well.  Adding insult to injury, Turner was black-flagged by the corner steward and given a slow-down penalty as he tried to rejoin the racing action.  Radio transmissions between Turner and his crew chief following the incident prompted a stern warning from race control to "zip it, or park it."
Harris who watched it all unfold running in the fourth position, saw an opportunity to move into a podium spot and pressed Turner hard for several laps after the incident.  Les managed to hold him off, but was also losing valuable time to Shields and Albertson so he decided to short pit for tires and fuel.  The move allowed him to make up nearly five seconds on the leaders.  Shields kept the lead by executing a very smooth pit stop several laps later.  He would go on to lead the final 22 laps of the race and secure the victory.
"I had a good qualifying spot with third," offered the winner, "but was disappointed because I threw away a lap that would have given me second place on the grid.  Laguna is a very tricky track, with little room for error.  I learned my lesson in qualifying, so I knew to be careful during the race.  After my debacle last week, I decided to actually practice starts.  It came in handy when McCuin jumped the lights, and I was able to get past him going into the Andretti Hairpin for second position.
"I tried to keep Les in sight, but he was already starting to pull away, little by little.  I am not sure what happened, but Les came up on a slower car heading up to the Corkscrew on Lap Six.  Les went off the track and probably got a bogus cutting course black flag, which is how I inherited the lead.  Jim kept my mirrors filled until pit stops on Lap 20. I almost threw the race away entering the pits. I forgot how sharp the turn is, and almost missed it as I tried to set my fuel for the pit stop.
"I came out in the lead, and thought I had a gap, but when I looked at F3 Les was right on my tail.  I thought he still had to pit, but when he was still right there after two laps, I realized that he had already pitted and was going to make the next seven laps very difficult.  We started to encounter heavy traffic, but I was able to get through without getting held up, and Les was not able to make any significant gains as the laps clicked down."
"Overall it was a very good night. I had a good qualifying run, did not repeat my mistake from last week on the starting grid, and was able to bring the car home without any incidents.  We are looking forward to next week." – Robinson Shields
Turner had Shields in his sights for the final laps, and was right on his rear wing in the final corner but came up just short.  Robinson's margin of victory over Turner was a mere 0.825 seconds at the line.  Harris, who finished in third place, earned his first podium of the season when he crossed the line two seconds ahead of Johnson.  Albertson rounded out the top-five after a costly error on pit lane took away another sure podium finish.
Albertson's fifth place finish was not what he had envisioned, but he accepted the result in good spirits. "The Redhead Racing car got off to a good start tonight. The field got into single file in quick order and we were off and running.  The top 4 cars started pulling away from the field and I was just sitting back letting the car come up to temps and speed.  I gained one quick spot when Terry was black-flagged for jumping the start.  A few laps later, Les got caught up with a lapped car and that moved me into second place behind Robinson".
"After studying Robinson's line, I radioed the pits and gave them instructions for what I thought I would need to finish the race on the podium.  Unfortunately, someone (possibly a gas man from TeamDraft) snuck into the over-the-hill-gang's pit crew and gave my car a full load of fuel!  I had never practiced with a full load before, and was not ready for the heaviness of the car.  It was a LOT slower than it had been.  I managed to hang on for a top-five, but just barely."
Sharp (sixth), McCuin (seventh), Thomas (eighth), and Feldman (ninth), were the last four cars to cross the line on the lead lap.  Pawluckie (10th) and Grandy (11th) both finished one lap down.  Plank (12th) was alone at two laps down.  Kabela (13th) finished four laps down.  Magee (14th) was 20 laps down, while Rhyne (15th) was 23 laps down.  Sutcliff's early exit put him 24 laps down and in 16th place.  Kersey (17th) and Gildersleeve (18th) both failed to complete a lap.
Turner was not as enthused about his race, but was pleased by the way his team had handled the near disaster that cost him the lead.  "Once I realized Kabela was not going to give us the racing line into the Corkscrew, it was too late.  We were running at least 50 mph faster heading into the braking zone and he drove it in there forcing us offline. I locked up all the way through the braking zone and straight off into the kitty litter.  The TeamDraft crew did a great job of keeping me calm after that.  They called for an early pit stop to replace the flat spotted tires, and that nearly got me back to victory lane.  Congrats to Robinson on his win."
Harris was just happy to have survived long enough to finish in third place.  "Coming into this event my expectations were very simple, race the track and survive with hopefully a top-10 finish. What I started with was anything but simple when my clutch broke and I lost all inbound and out-going communication capabilities sitting on the grid.  But with lady luck on my shoulder and great driving by the other competitors, I got a good launch and was able to settle into a comfortable groove. That was until I realized that while dealing with no clutch and communication, I did not set my fuel and tires for my pit stop.
"So knowing Laguna was just waiting for an opportunity to strike, I decided a full load of fuel and four tires was not such a bad deal.  Playing the cards that had been dealt to me looked like the safest move.  I drove almost mistake free for the entire race and was able to make up ground on less fortunate drivers.  The result was a fantastic third place finish!  I will take those kinds of races all day long at the track called Laguna."
"If evil has a name, it is Laguna!" – Greg Harris
In other Red Sox Racing League sanctioned events this week, The Tuesday Night Thunder Series, (RSR TNT), ran their fourth race at Concord Speedway in the Street Stocks.  Terry McCuin continued his unbeaten streak with four pole positions, leading all laps so far in the series, and his fourth straight win.  He appears to be on a mission!  Next week the RSR Street Stock Thunder Series heads to South Boston for Race FIve of the 12 events scheduled.
If the RSR Formula One drivers thought Laguna Seca was tough, then they are in for a surprise next week when the series heads to Virginia International Raceway for the 20 lap, "RSR at VIR, this ain't no Nursery Rhyme" event.
RSR F1 Series Standings after four races:
http://www.danlisa.com/scoring/season_standings.php?season_id=639
RSR TNT Series Standings after four races
http://www.danlisa.com/scoring/season_standings.php?season_id=657
RSR YouTube Video Channel:
http://www.youtube.com/user/draftin11?feature=mhum
---
You may also like...
---