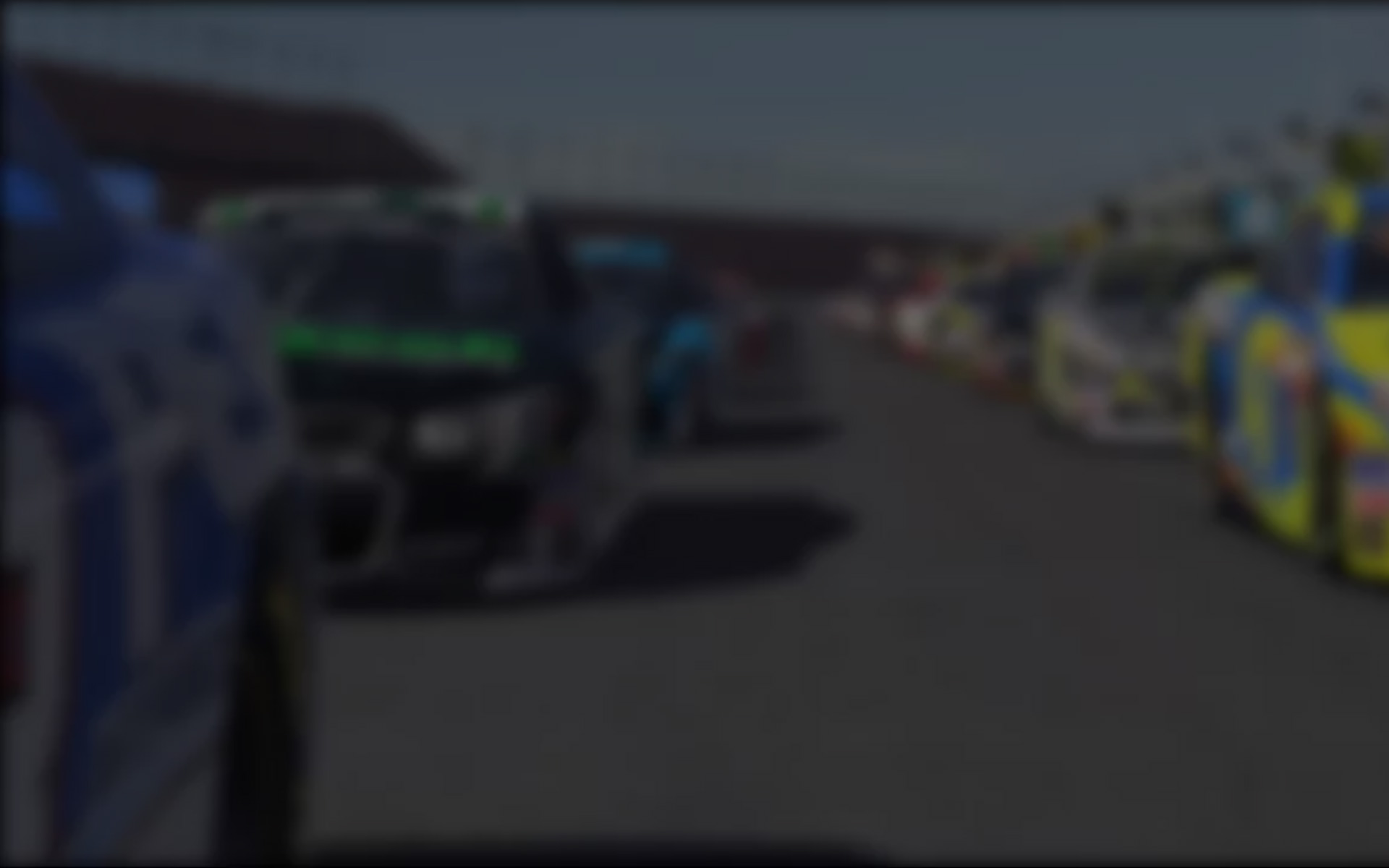 Week Seven of Season One of the Red Sox Racing League's 2011 schedule brought online racing league's members back to the United States as they lined up for the 25 lap  "Kiss the Bricks at Indy" event at the historic Indianapolis Motor Speedway's 2.6 mile, 13 turn Formula One road course.
Capitalizing on his first pole of the season, Robinson Shields led every lap of the race as he earned his third win of the season.  Despite missing a race earlier in the season, Shields is currently in third place in the overall point race.  His early season success is the only thing which has prevented Les Turner from making a mockery of the points battle.
As he has done at every event so far this year, Turner led all drivers in the pre-race practice session.  His fastest lap time of 1:08.835 was a full half second ahead of the closest competitor's Williams-Toyota FW31.  Most observers felt safe predicting another dominating race by the reigning league champion, but their forecasts would prove wrong this time.
The qualifying session should have been a signal to everyone that something was up with Turner as he struggled to find his groove.  Although he and Shields both posted consistently fast laps, neither seemed able to break free of traffic long enough to catch the clean air needed to claim the pole.  Shields finally knocked Turner off the pole with a blistering time of 1:09.022 on his final qualifying lap.  Turner's 1:09.369 was fast enough to give him the outside position of Row One.
"We spent a lot of time testing the curbs and how hard we could drive the car," sais Shields. "The result was that although we never really hit a solid lap, we were second fastest in practice. We got lucky in qualifying when we finally caught a lap without traffic near the end of the session.  It was our first pole of the season, so I was pretty excited!"
Rows Two through Five were filled by Andrew Gantman, Terry McCuin, Reed Rundell, Jim Albertson, Divina Galica, Jeff Sharp, Kevin Kyle, and Ed Sutcliff.  Mike Grandy, William Kabela, Bill Pawluckie, Mark Plank, and Robert Magee completed the grid.
Things got off to a wild start when Grandy was black-flagged for jumping the start, and Turner spun his tires as the lights turned green.  Turner's car turned sharply to the left, but he recovered quickly enough to avoid contact with the hard-charging Gantman.  His luck ran out however, when he moved back to the right and collided with McCuin.  The resulting suspension damage to Turner's car would force him to retire.
Shields stormed off the starting grid without incident and inherited a safe gap on the rest of the field as he avoided the mess behind him and safely entered Turn One, blissfully unaware of the carnage behind him.
"I must have had a great start because I got into Turn One without any pressure," he said. "I'm not sure what happened behind me, but I expected to be under attack going into one, and that wasn't the case."
Kyle also had an adventuresome time of it as he spun on Lap One then hit the guardrail exiting Turn Seven on Lap Five.  Kyle was forced to retire from the race after the incident.  Pawluckie narrowly escaped a similar fate when he went off track on Lap One.
Rundell made an impressive climb through the field as he moved from fifth to second place in the first few laps, but his chances of a podium finish were doomed after two off-track incidents on Lap Three which cost him eight seconds of track position.  The always-quick driver slowly climbed his way back into third place before a mistake on pit road knocked him all the way back to 8th place.  Despite the up and down evening, Rundell was able to salvage a seventh place finish.
Sutcliff was the third driver to make an early exit from the race after his car was heavily damaged in a Lap 17 incident with Galica.  Sutcliff was eventually classified 13th.  Galica had been running in fourth place before the incident.  She was able to continue racing after calling for a tow, but her chances at a top-five finish were over.  She eventually finished the race two laps down in 11th place.
Shields led every lap of the race as he coasted to a comfortable 22 second margin of victory over second place finisher, Gantman.  However, Robinson's win was not without its dramatic moments.
"I tried to find a good rhythm in the first few laps so I could set a good pace," he said.  " The plan was working until Lap Five.  I had to slow considerably when a car went off track and came back on pretty close to me.  Then on Lap Six I blew the entry into Turn One and got a "cutting the course" black flag.  Luckily I had enough of a lead to keep the top position, but the gap was only one second when I got back up to speed.  I had to refocus, and get my rhythm back after that."
"I built up a good lead before we had to pit, but I told the crew to add some extra fuel just to make sure we didn't run out.  Staying below pit road speed at this place is very hard.  I forgot how long the pit lane is, but it felt like forever.  I was glad to finally reach my pit, and get out clean.  I came out to an open track, and just kept it on the gray stuff, and tried to make my way home."
"There were a lot of yellow flags and traffic tonight.  I think there was a stretch of 7-8 laps where there was a yellow flag, or traffic each lap.  Everyone was courteous and held a consistent line though, so I was able to work through the traffic, and keep the gap to the pack.  I was glad to finally find some space on the track, and relax a little bit.  Overall it was a very good week, and I am looking forward to Homestead."
McCuin was only three seconds behind Gantman as he crossed the line for third place.  "This was a decent race overall.  The start of the race was not very good, but I was able to finish in third.  See you at Homestead."
"Gentleman" Jim Albertson was the next to cross the line when he finished in fourth place.  Albertson told reporters before the race that he was still trying to recover from a cold and wasn't feeling 100%.  Arriving to the track late and missing out on several practice runs gave him reason to think he might not have a good finish.  "I wasn't sure how I was going to feel tonight," he said.  "But once we got onto the grid, my racing juices started flowing and I forgot all about being sick."
"We weren't very fast in qualifying, but that was my fault.  I promised the team I would bring the car home in one piece, but I know they were holding their breath when I looped it on Lap Fifteen."
"Congratulations to Robinson on the win. He drove a stellar race tonight.   Congrats also to Les for putting a well-prepared race car on the track for us all to run. It was a nice stable set up that almost made us forget how wickedly cruel this track is.  Finally, I'd like to thank our race reporters for putting together these race reports."
Sharp earned his second top-five finish of the season by finishing nine seconds behind Albertson and was the final driver to finish on the lead lap.  "It was another mistake-free race for us tonight," he explained.  "We worked hard to give the Vader Dark Side Williams-Toyota FW31 our second fifth place finish in the past three races.  I had a great time mirroring Divina for the first half of the race.  The force was strong in the Emperial Pit Crew giving me a great stop and allowing me to beat her out of the pits.  Great race by all involved."
Kabela finished in sixth place when he led a group of five drivers who finished the race one lap down to the leader.  Rundell (seventh), Magee (eighth), Grandy (ninth), and Pawluckie (10th), worked hard for their top-10 spots.
Shields, Gantman, Sharp, and Magee were the only drivers to complete the race incident free.  Magee's good driving helped him moved up seven spots from his shotgun starting position as he earned the race's "Hard Charger" award.
Galica's frustrating race ended when she was scored two laps down in 11th place.  Plank was the last car still running when he was scored eight laps down in 12th place after electrical problems plagued him from the start of the race.
The F1 Challenge Series heads to the Homestead-Miami Speedway's Road Course B for next week's "Hurricane Hunters Grand Prix" race.
In other official RSR league action, Turner won his third race in a row in the Street Stock Thursday Night Thunder Series race at Thompson International Speedway.  Turner began the 40 lap "Come as you are, leave different" event on the pole and led every lap on his way to an incident free victory.  McCuin finished three seconds back in second place, while Rundell finished crossed the line twelve seconds back to finish in third place.  Andrew Feldman and Bill Pawluckie rounded out the top five.  Turner's win moved him to within 20 points of McCuin in the overall standings.
The TNT Series heads to the Richmond International Raceway for next week's 35 lap event.
RSR F1 Series Standings after seven races:
http://www.danlisa.com/scoring/season_standings.php?season_id=639
RSR TNT Series Standings after seven races:
http://www.danlisa.com/scoring/season_standings.php?season_id=657
RSR YouTube Video Channel:
http://www.youtube.com/user/draftin11?feature=mhum
---
You may also like...
---