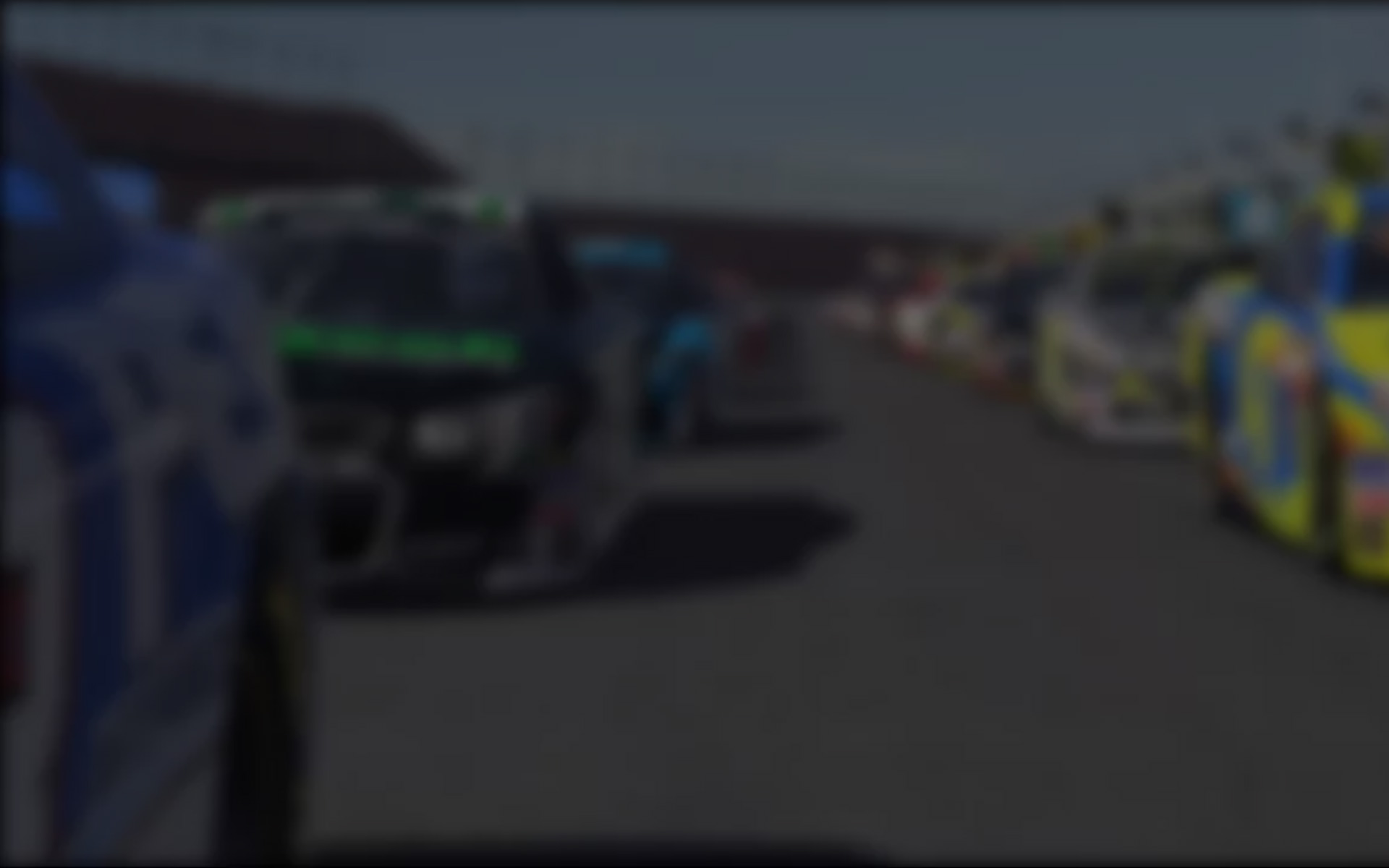 It was predicted that Silverstone would see a return to the track by many of the iRacing Pro Series Road Racing drivers and that proved the case, but it no doubt raised a few eyebrows to see Richard Towler sit out this home venue. Also noteworthy is the fact that Bastien Bartsch has missed the last 4 races and, with the comparatively few points earned in his first race, he has now basically had 5 of 6 drop weeks!
Thursday's race shaped up to be a real showdown with five of the first six drivers on the grid being race winners this season and the only win-less driver of the bunch, Darren Marsh, being third overall in points. As expected, all had good days and performed true to form . . . which, unfortunately, leaves little to write about since the top seven on the grid finished where they started. The only thing of any real note to report was the battle for sixth between Marc Payne and Ryan Murray where on Lap 11 Murray got a run off of Stowe and out-braked Payne into The Vale. Strangely, Murray would slow coming off Chapel onto Hangar Straight on the very next lap allowing Payne to re-pass and that was that! Murray, who actually had to slow for a black flag after a course cut, later said "I just kept losing concentration."
As for the rest, Luke McLean took his seventh win of the series, the most by anyone so far, with Bartsch and Ilkka Haapala, both on six wins, yet to race at Silverstone.  "I always enjoy Silverstone so I was confident going into this one that I had a shot for victory," said McLean.
Ben Cornett started and finished second ahead of Shawn Purdy who was relatively pleased with his performance, all things considered.  "Overall I can't be too upset with third," he observed, "but I hope I can figure this place out better next time."   Fourth-placed Ian Lake was similarly philosophical.  "Very happy with 4th," he said, "but an hour's more practice than last week did help a lot  As did my latest set up change".
Final Placings: first – Luke McLean (AU),  second – Ben Cornett (AU),  third – Shawn Purdy (CA), fourth – Ian Lake (AU),  fifth – Darren Marsh (AU).   Fast lap – Luke McLean – 1:42.021
Saturday saw a return to the track for Greger Huttu with predictable results. After an uneventful start by the field, the signs were ominous when Huttu put in a string of high 41 and low 42 sec laps for the first dozen laps before mercifully backing off to mere mid 42s  then backing right off over the last three laps. One must wonder whether anyone will be able to genuinely challenge him in next year's inaugural iDWCRR.
Back in what seemed like the next division down, Mauro Bisceglie ran a solid race to take a comfortable second place, just under 25 sec behind Huttu. Just back from him saw a good battle  for the final podium position between George Sandman and Matteo Calestani, that was ultimately resolved in Sandman's favour.
Calestani took fourth place from Daniel Almeida on Lap Two after Almeida looked to be struggling getting the car through Copse. This problems contined for Almeida who was passed on Lap Nine by Ville Niemi on approach to Maggotts where, after contact, Almeida went off course, rejoining in Becketts after being then passed by Milos Miljkovic and Ryan Kowalewski. Later that lap he lost control under power coming off Brooklands and was passed by James Andrew and Richard Crozier into Luffeild. He eventually worked his way back to eighth place.
"It was the first time that I forgot where my brake marker was, Almeida explained.  "I was confused for several laps at Turn One (Copse) without knowing where to brake and how to take the corner. I lost all the positions there".
By Lap Nine Calestani had worked his way to the back bumper of Sandman who held solid until Lap 24. But thereafter Calestani failed to be able to keep pace and settled for fourth place.
Final Placings:  first – Greger Huttu (FI), second – Mauro Bisceglie (IT), third – George Sandman (US),  fourth– Matteo Calestani (IT), fifth –  Ville Niemi (FI).  Fast lap – Greger Huttu – 1:41.906
Sunday's race marked Haapala's return and saw him match McLean's seven wins with another convincing victory. This race also got off to a good start, particularly for Bryan Heitkotter who was able to improve one place from his grid position, passing Don Duhan off the line for second place w ith the remainder of the top five holding station after Copse. Later on the opening lap, James Andrew was able to get past Artur Turcu after Turcu got loose coming off Brooklands.
On Lap Two Duhan lost control under brakes into Vale and was collected by Brad Davies, ending both drivers' days. This lead to an intense battle for third place between George Sandman and Andrew that lasted all the way to Lap 24 when a seemingly out of patience Andrew lost control into Becketts and was passed by Turcu and Luca Ceretti before rejoining. Then on Lap 28 Ceretti lost control through Becketts and was collected by the ever-charging Andrews, ending Cerreti's day and damaging Andrew's car, although he was able to limp home holding on to fifth position.
Haapala, meanwhile, cruised to a relatively easy victory from a similarly untroubled – if lonely- Heitkotter.
George Sandman behind me put up a tremendous fight to keep James Andrew at bay," Heitkotter said.  "So while they kept each other busy I slowly built a gap, as Ilkka did the same to me. It was a lonely journey to a second place finish".
Final Placings; first – Ilkka Haapala (FI),  second – Bryan Heitkotter (US), third – George Sandman (US), fourth – Artur Turcu (PL), fifth – James Andrew (GB).  Fast lap – Ilkka Haapala – 1:42.583
Best Qualification time for week – Greger Huttu – 1:40.690
Best race lap for week – Greger Huttu – 1:41.906
So with Towler and Peter Read being the notable no-shows this week (they are both still in the Top Ten), Purdy enjoys close to a 200 point lead over the ever-consistent Marsh with McLean just behind in third. France's Bartsch is now back in twenty-seventh place but there is little doubt he will make the Top 50 if he picks-up his attendance for the remainder of this series. Another Frenchman, Maxime Trepreau is just inside the Top 50 bubble with Tim Holgate just outside it. Onwards to the relatively unknown Homestead-Miami Speedway – Road Course B for next week's action!
Top 20 Standings to date – http://www.inracingnews.com/standings
About the iPSRR – The iRacing Pro Series for Road Racing (iPSRR) is, in this inaugural year, a 25 week series with 6 drop races (i.e. a driver's best 19 results will count toward his season tally). In addition to crowning a seasonal champion, the iPSRR qualifies its top competitors for the 2010 iRacing Drivers World Championship for Road Racing which will be worth $10,000 in money and prizes for the champion. There is a parallel series for oval racing (the iRacing Pro Series Oval – iPSO). The top 50 drivers in each Pro series will compete in the iRacing Drivers World Championship Road Racing and iRacing Drivers World Championship Oval, the latter of which will be sanctioned by NASCAR. Both are set to start this February.
---
You may also like...
---