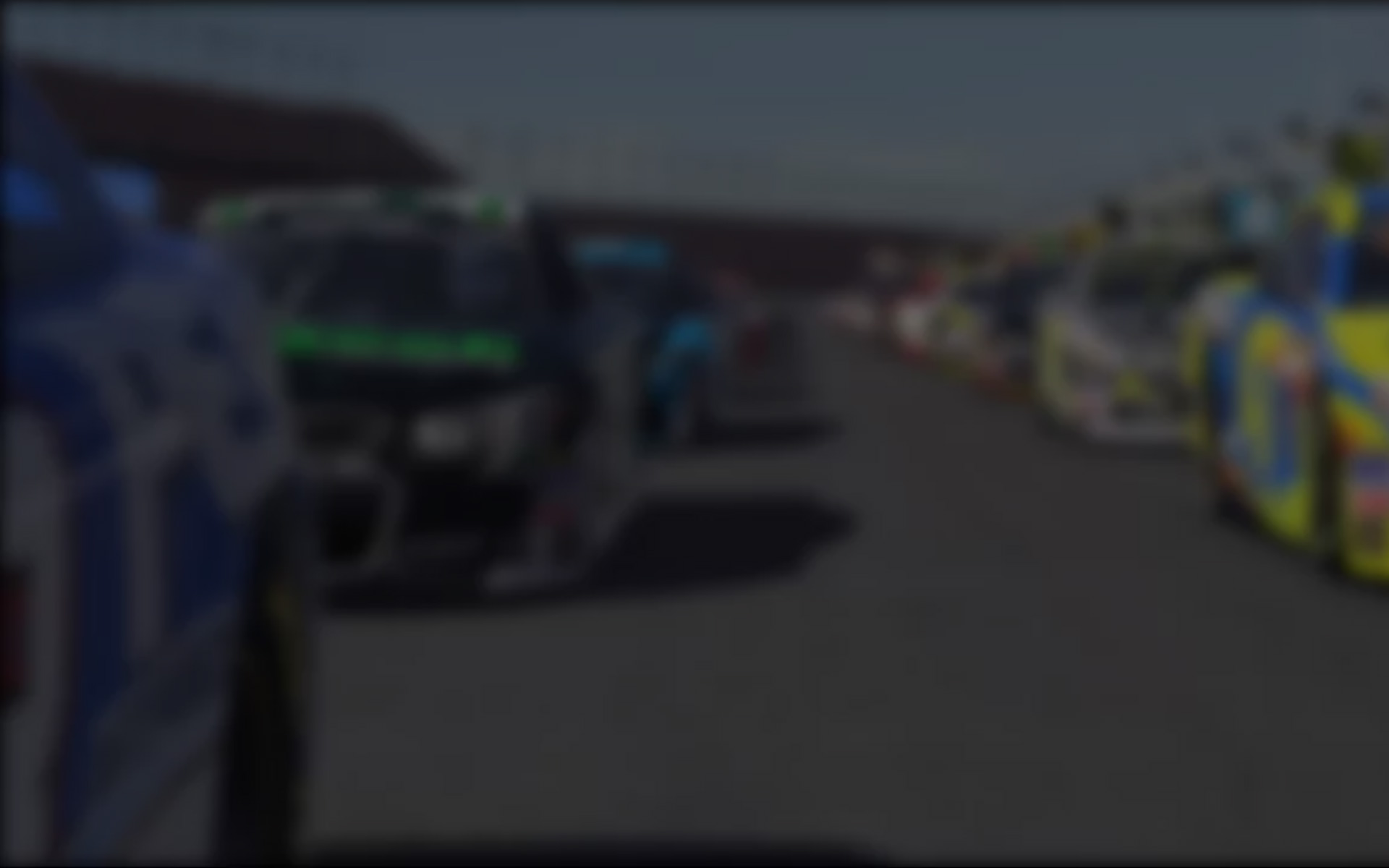 This week marks the beginning of drivers dropping their worst results from their season points score in the case they have run every iRacing Pro Series Road Racing event to date.  This means over the remaining five weeks of the iPSRR we could see quite a lot of movement in the top 50.  However, this week sees little change at the top of the table even taking this into consideration. Some drivers already have good results in the bank, so anyone relying on a late charge into the top 50 might find themselves in a lot of trouble if they fail in any or many of the remaining chances to net some good points hauls. This week also saw something very uncommon in the Saturday race that will add a lot of spice to the looming iDWC in the event that certain drivers can fit that series into their schedules.
Thursday Race
If it wasn't for the different tracks  — in this case Watkins Glen International — it might be easy to think you were watching the same race over and over again with this slot. Let's see, front row is Richard Towler on pole flanked by Luke McLean (sound familiar?), second row is Shawn Purdy and Florian Godard (yes, that's right – the three series leaders on the front three spots again), with Ian Lake and Luca Ceretti back on the third row.
But to make it clear this was not just another Thursday race, Towler actually got off to a decent start AND no one took him out before the first corner either – extraordinary! In fact, it was a very straight forward beginning with the first four maintaining position through The 90 with only Ceretti getting a run on Lake around the outside and completing the pass by the middle of The Esses.  Also on the opening lap, Tomas Kopnicky lost the back end on approach to the Inner Loop after closing fast – too fast it seems — on Matt Shea. Craig Byerley was unable to avoid the out-of-control Kopnicky and a heavy collision ensued, likely contributing to the fact that neither driver made it past Lap 10.
Having lost out to Ceretti on the opening lap, Lake stalked his Italian rival over the opening laps and he finally got fifth position back after a good run up through The Esses led to him out- brake Ceretti into the Inner Loop.
I got a half decent start compared to the guys in front of me," Lake said, "but Luca had a shorter first and second and got right up beside me into Turn One. I stayed low, and he made the pass on the outside as I really didn't want to push it through the second kink.
"It took about 12 laps of nibbling away at his wing before I finally got a good run on him up to the Bus Stop (Inner Loop). Made a pass which wasn't one of my most honourable moments, as although I got the call of being under him coming up the straight, I braked far too late.  I basically just launched over the first chicane quite fast, and didn't stay on my side of the track for the left curb. Luckily, he had braked a little earlier, and combined with my far too late braking, I glided past him before I hit the left chicane."
Continuing on the theme of stalking, McLean shadowed Towler, again a very typical feature of the iPSRR races of late. Lap 12 was to be the end of this seeming magnetism between the two.  McLean appeared to be so close to Towler on approach to the Inner Loop that he probably lost his bearings and consequently overshot his braking point. This lead to him cutting the course and earning the dreaded black flag penalty which also enabled the spectating Purdy, who seemed content to sit back and watch these two duel, to drive past for second position.
"Race started off with another epic nose to tail battle with Rich," McLean said.  "Same with Sebring.  I believe I was faster in race conditions. I got a really big run on him into the loop and I lost my way with the brake board and started braking 200 m late with a HUGE lockup and then got a slow down penalty which let Shawn through and cooked my tyres. I started catching Shawn up again but with a combination of over driving, worn tyres and frustration I kept catching dropping back catching dropping back so the gap never got under 1.5sec.
The top three were now spread-out quite a bit, as was the rest of top six for that matter, and one could have been forgiven for thinking the podium was now decided. But fate was not finished with this race as Towler suffered horrendous luck with another electrical failure approaching the Chute on Lap 22.
The start of Lap 25 saw signs that Godard was in trouble as he ran very wide off Turn One with Lake in tow. Later that lap the Frenchman got into the Carousel too hot and almost lost the rear end as he tried to get the car turned in, resulting in an off course excursion that promoted Lake into third position. Fate was now finished with this event as Purdy kept McLean at bay over the closing laps to collect his eighth iPSRR win of the season.
"Great race those opening laps," Purdy said.  "I was hanging back about 0.8s from Rich and Luke just saving my tires LOL. After Luke made his mistake, it was difficult to do much. Some laps I could peg Rich, other laps he would pull away was just like so hard to gain time here LOL. So I knew if I drove smooth I could keep Luke back there, just by making less mistakes. On Lap 21 Rich disconnected which sucks man. You had that race won..  All in all though, I had good pace this week (and it) was some fun racing."
Final Standings – Purdy, McLean, Lake, Godard, Ceretti. Fastlap – McLean (1:40.896)
Saturday Race
Saturday saw Greger Huttu decide to race and qualified alongside Richard Towler (pole) on the front row,  Kimmo Suominen and Mauro Bisceglie were a row back, with Ville Niemi and Matteo Calestani making up the third row. The front two rows would swap positions with Huttu beating out Towler and Bisceglie beating out Suominen on an eventful opening lap that also saw Niemi spin at the Inner Loop and drop to last, promoting Calestani to fifth.
"I made a mess of the start," Towler explained.  " Just used too much clutch this time and didn't get the drive I needed so Greger blew by into Turn One. I knew going by his top speed that it was going to be hard to pass him, but I just went for it from the first lap as that was the only way I was going to have a shot.
After the leaders held position for eight tours, Lap Nine saw something as rare as a solar eclipse occur in the shape of Towler eclipsing Huttu. Towler had a good run on Huttu after the leader got wide through the Inner Loop and was right behind as they entered the Carousel.  Huttu got a very small fraction loose going through the Carousel and Towler got a great run off the corner and down into the Chute where he braked well, forcing Huttu to stay low. The twosome drivers drove through the Chute side-by-side, putting Towler on the inside line as they braked for the Toe of the Boot.  There Towler inched ahead by the time they exited the Toe for a pass that won't be forgotten any time soon by any race simulation fans, not to mention Huttu and Towler themselves.
I was faster on entry to the Loop so kept trying to put some pressure on there," Towler explained.  "On Lap Nine Greger made a slight mistake there so I took the chance. (I) went around the outside of the downhill left so (I) had the inside for the right, really cool moment as we got really close a couple of times. These are the type of moments that I really enjoy, when you put everything on the line trying to race someone."
"Everything went fine until Lap Nine when I hit the first curb wrong I guess in the Inner Loop and the car snapped to the right," Huttu said.  "I had to back off and Rich got a good run for the next turns. I took the inside line into Turn Six but probably braked a bit early so Rich got a good run around the outside. I could have been a bit more aggressive I guess but I wanted to be sure to finish and get the points from this race for the top-50. It was a good move though and reminded me of Road Atlanta a bit, just with roles reversed."
If nothing else, Huttu now knows that he'll need to work to keep at least one driver at bay in future events.  If nothing else,  Towler knows he can keep Huttu at bay, having done so for the second half of the Watkins Glen race and, in the bargain, getting a measure of satisfaction after Thursday's disappointment.
"I was under pressure in Sector One a few times as my car just wasn't as quick (as Huttu's) in a straight line," he said.  "But I didn't make any major mistakes to allow him to repass and held on for the win. After the disappointment of Thursdays race it's great to pull a win off like this; just a shame that the race was almost 50 points off Thursdays race."
The other main development throughout this race was Richard Crozier performing a great drive to get up to fifth position after starting back in eighth
Final Standings – Towler, Huttu, Bisceglie, Suominen, Crozier. Fastlap – Towler (1:40.565)
Sunday Race
Richard Towler just can't get enough action recently and all the practice seems to be paying off, witness the fact that he started his third race of the week on pole, this time flanked by Derek Wood. The second row was occupied by Brad Davies and Dom Duhan, the third by Ray Alfalla and Bryan Heitkotter.
It would seem Towler has been also getting practice with his starts as he again led into The 90 with Wood already a good way back, and Alfalla in third after getting the best start of the top six. Davies was next in line with Duhan almost losing fifth place to Heitkotter through The Esses but managing to complete the first lap just one spot down from where he started.  On Lap Three, however, Davies caught the inside curb going through Toe and lost the rear end, resulting in a near miss with the inside wall and the loss of a whopping eight positions.
Things settled down quite a bit after that, with Towler building a commanding lead he would maintain to the finish of what, but for Thursday's disconnect, could well have been a clean sweep at the Glen.
"I raced again to try and increase my average," Towler said. "It was a bit of a risk as neither Brian or FlyingFinn raced which hurt the SoF a little. But I got a good start and just got into a crazy zone where my first 16 laps of so were within 2 1/2 tenths I think. I was on for a crazy average until Lap 29, but wouldn't of mattered anyways as there was a 3/4 car fight in front on the last lap so I backed off to not get in their way. Pleased with the pace this week, but still a bit annoyed that I've dropped about 50 points or so due to Thursday."
Lap 13 turned out to be unlucky for Wood as he ran wide through the Inner Loop. By the time he recovered, Alfalla had driven around him into the Carousel for second place and he was lucky Duhan was unable to do the same. This trio now continued to put pressure on each other in the fight over second place and on Lap 21 the Inner Loop claimed yet another victim. Wood ran wide after being very close to Alfalla through the Inner Loop and fell back, almost losing position to Duhan. Bizarrely Alfalla, who might just have had his eyes on the mirror, ran wide coming out of the Inner Loop to be passed by both Wood and Duhan into the Carousel.
"Was a fun one," Alfalla said.  "(I) had a good brawl with Derek and Dom through mid race, then just lost total rear grip on the last 6-7 laps. Bryan had me mirror driving the hell out of it!"
The ghost of the Inner Loop still had more haunting to do, this time seeing Duhan loose it on the exit and hitting the wall hard on Lap 21, ending his day.
Little practise and got what I deserved," said a disgruntled Duhan.  "Managed to hit a random kerb bump and into the barrier."
The closing laps saw Alfalla fall back from Wood and into the sights of a strong-finishing Heitkotter who was unable to seriously threaten over the last two laps.
"I wasn't lighting the time sheets on fire but my lap times were consistent," Heitkotter said. "With a few laps to go I noticed I was catching Alfalla who had overheated his tires. I got close enough to start thinking about a pass on the last lap but it was too late to try anything and I finished right behind him. A few more laps wouldn't have been unwelcome."
James Andrew drove well to climb to fifth from his eighth place starting spot.  Honourable mention needs to also go to Ben Cornett for finishing in sixth after not qualifying and starting in position 23 on the grid . . . and  causing a bit of a stir in the post race discussions.
Final Standings – Towler, Wood, Alfalla, Heitkotter, Andrew. Fastlap – Towler (1:40.914)
Weekly Wrap Up
Qualification  Fast lap of the week –  Richard Towler (1:39.394)
Race Fast lap of the week – Richard Towler (1:40.565)
So Australian Luke McLean luckily leads by 40 points over England's unlucky Richard Towler, with Canadian Shawn Purdy 224 points behind him. This situation has the potential to change quite a bit over the next two weeks due to Towler having only 18 weeks scored and Purdy 17 to McLean's 19.  Australian Marc Beeson remains just outside the top 50 bubble and Frenchman Bastien Bartsch remains a spot above him. So we can all catch our breath after Richard Towler's awesome performance last week before we head to the equally awesome venue this week at Road Atlanta. See you all there!
About the iPSRR
The iRacing Pro Series for Road Racing (iPSRR) is, in this inaugural year, a 25 week series with six drop races (i.e. a driver's best 19 results will count toward his season tally). In addition to crowning a seasonal champion, the iPSRR qualifies its top competitors for the 2010 iRacing Drivers World Championship for Road Racing which will be worth $10,000 in money and prizes for the champion. There is a parallel series for oval racing (the iRacing Pro Series Oval – iPSO). The top 50 drivers in each Pro series will compete in the iRacing Drivers World Championship Road Racing and iRacing Drivers World Championship Oval set to start in February of 2010.
iDWC (Road and Oval) winners: Trophy, Jacket, $100 iRacing credit and additional cash and/or prizes valued at $10,000 U.S. dollars.
iDWC (Road and Oval) second place: Trophy, Jacket, $75 iRacing credit and additional cash and/or prizes valued at $3,000 U.S. dollars
iDWC (Road and Oval) third place: Trophy, Jacket, $50 iRacing credit and additional cash and/or prizes valued at $1,000 U.S. dollars
iPS (Road and Oval) winners: Trophy, Jacket, $100 iRacing credit
iPS (Road and Oval) second place: Trophy, Jacket, $75 iRacing credit
iPS (Road and Oval) third Place: Trophy, Jacket, $50 iRacing credit
iDWC (Road and Oval) rookie of the year: Trophy, Jacket, $50 iRacing credit
iPS (Road and Oval) rookie of the year: Trophy, Jacket, $50 iRacing credit
---
You may also like...
---