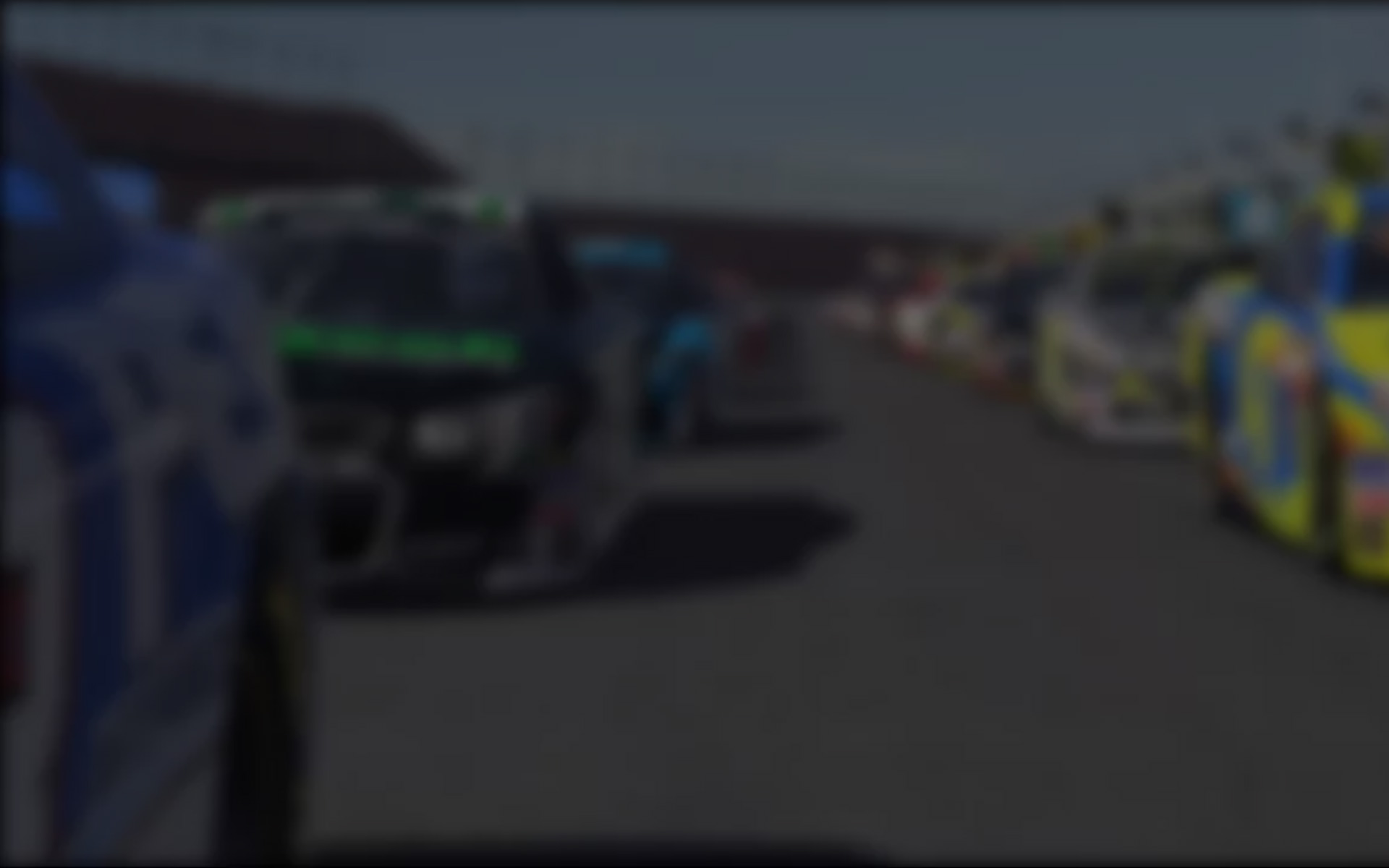 Versão em português abaixo
The virtual track of Mount Panorama had 34 participants on the 2nd race of Masters of Track, the weekly road series of iRacing Brasil. This time a Spanish driver lead the way for the Brazilians.
Diego Rancaño Boudon, from Club Iberia, is already known by the sim-racers of the Brazilian league, having raced several times on past seasons and always seen as a strong contender. Diego became the 1st driver of other club to win on the league, used to see their comrades at the top.
Being the pole position, Diego leaded the other 33 cars to the start, who had Bruno do Carmo also on the front row on the 2nd position. Bruno had won the last race and was also one of the favorite drivers to win, due to his victorious background at iRacing Brasil. Diego's laptime for the pole position was surprising: 2:01.019s. His time was 0.317s faster than the 2nd place.
The race start was incident free and all cars passed by the 1st corner without trouble. But on the hillclimb, at turn 4, Fernando Santii (11) was bumped by Guillem Antunez Saurat, on the Ruf nº 21, giving a hard time for the cars behind them. All drivers had to be cautious and many had contact. Some of them even had to park and wait to get by.
Diego Rancaño opened the 2nd lap yet as the race leader and only with Bruno do Carmo behind. Henrique Mandziuc, coming 3rd, was close to them but didn't was close enought to fight for the lead yet. Guillem was the 4th car at this moment, having to worry about Jose Pleguezuelos on the 5th place.
Opening the 4th lap, Bruno took Diego's 1st place. But the tight corners of Bathurst made a trap for the Brazilian, who crashed into the wall right after ovetarking the Ruf nº 46. Bruno's mistake didn't only costed him the chance to lead the race, but also took his chances of winning. With his Ruf damaged, Bruno had to go for the pits to repair it. At lap 6, Bruno lost control of his car, self-spinning on the track. When he tried to comeback, a collision was made between he and Ailton Andrade (86) who was trying to overtake Deni Williams. The drivers who were behind had to dodge them and Bruno tried to keep the race going, but had to leave right after. Ailton also tried to stay on the track but lost control a few corners later and had to call the tow.
The race got hard for many of the drivers. Guillem also had to quit after crashing again, damaging his car. He had lost control of the car on the hillclimb while at 3rd position and had to pit for repairs at lap 7. Jose Pleguezuelos takes his place then, with Ricardo Inácio behind on the 4th spot. After the accidents, almost everybody had a lonely race, with few fights happening.
Diego Rancaño brought his Ruf to the Pitlane for refuelling and tires changes at lap 24, coming back to the race at 2nd place. Henrique Mandziuc was now the leader, staying ahead even after he had his pitstop at lap 25.
Diego catch up to Henrique on the final laps and leads again, having to worry about with Henrique closing behind him until the finish line. Jose Pleguenzuelos and Ricardo Inácio also sticked together for mostly of the time until the final lap, fighting for Jose's 3rd place, that became Ricardo's position after a mistake from the Spanish driver on the last lap, who finished 4th.
Diego won the race at Bathurst, while Henrique came 2nd, Ricardo Inácio 3rd, Jose Pleguenzuelos 4th and Luis Piccolo closing the top 5.
Watch the full race below:
http://www.youtube.com/watch?v=1wKhptP0cNc
Vitória Espanhola no "RUF Masters of Track" do  iRacing Brasil.
A pista virtual de Mount Panorama recebeu 34 participantes para a 2ª etapa da Master of Track, campeonato semanal de Road do iRacing Brasil. Dessa vez, foi um Espanhol que liderou os Brasileiros.
Diego Rancaño Boudon, do Clube Iberia, já é conhecido pelos pilotos da liga Brasileira, participando de diversos campeonatos anteriores e sempre se mostrando como um forte concorrente. Desta vez, Diego se tornou o 1º piloto de outro clube a vencer na liga, habituada a ver seus conterrâneos no topo do pódio.
Com a pole-position, Diego liderou os outros 33 carros para a largada, que teve Bruno do Carmo ao seu lado na 1ª fila. Bruno foi o vencedor da etapa anterior e também um dos favoritos para vencer em Bathurst, devido seu histórico de vitórias na liga. O tempo de Diego para a pole foi surpreendente: 2:01.019s – um total de 0.317s mais rápido que o 2º colocado.
A largada foi limpa e todos os carros passaram pela 1ª curva sem problemas. Mas logo na subida, na curva 4, Fernando Santii (11)  é tocado por Guillem Antunez Saurat, no Ruf de nº 21, complicado muito a corrida de quem vinha atrás. Todos os pilotos tiveram que passar cautelosamente e muitos se tocaram. Alguns até tiveram de estacionar esperando a confusão passar.
Diego Rancaño abriu a 2ª volta como líder da prova e apenas com Bruno do Carmo em sua cola. Henrique Mandziuc, na 3ª posição, estava próximo dos dois mas ainda não estava em posição de brigar pela liderança. Guillem era o 4º colocado neste momento, tendo que se preocupar com Jose Pleguezuelos, na 5ª posição.
Na abertura da volta 4, Bruno tomou de Diego o 1º lugar. Mas as apertadas curvas de Bathurst formaram uma armadilha para o Brasileiro, que se chocou com o muro logo depois de ultrapassar o piloto do Ruf 46. O erro de Bruno não só custou a chance de liderar a prova, como também impossibilitaria qualquer chance de vitória. Os danos no Ruf de Bruno o fizeram ir aos pits para reparos. Na volta 6, Bruno comete um novo erro, rodando na pista e ao tentar seu retorno,causou um novo acidente, sendo atingido por Ailton Andrade (86) que tentava ultrapassar Deni Williams. Outros pilotos tiveram de desviar do acidente e Bruno tentou se manter na pista, mas abandonou em seguida. Ailton também tentou retornar para corrida, mas perdeu o controle do carro depois e teve de chamar o guincho para os pits.
A corrida ficou difícil para muitos dos participantes. Guillem também precisou abandonar a prova após novo acidente, danificando muito seu Ruf. O piloto que perdeu o controle do carro na subida da colina perdeu a 3ª posição ao cometer o erro e teve de ir ao pit para reparos ainda na volta 7. Jose Pleguezuelos passa a herdar o lugar de Guillem, com Ricardo Inácio em 4º. Após os diversos acidentes, quase todos os pilotos passaram a correr sozinhos na pista, com poucas disputas imediatas por posição.
Diego Rancaño trouxe seu Ruf para os pits para reabastecer e trocar pneus na 24ª volta da prova, voltando em 2º. Henrique Mandziuc passou então a liderar, ficando em 1º mesmo depois de sua parada na volta 25.
Diego consegue finalmente alcançar Henrique e novamente lidera a prova nas voltas finais, mas passa a ter de se preocupar com o piloto do Ruf 23 até a linha de chegada. Jose Pleguenzuelos e Ricardo Inácio também permaneceram juntos até o final, na briga pela 3ª posição de Jose, que passou a ser de Ricardo após um erro do piloto Espanhol na última volta, que ficou com o 4º lugar.
Diego vence a prova de Bathurst, com Henrique em 2º, Ricardo Inácio em 3º, Jose Pleguenzuelos em 4º e Luis Piccolo em 5º.
Assista a corrida na íntegra no link abaixo:
http://www.youtube.com/watch?v=1wKhptP0cNc
---
You may also like...
---