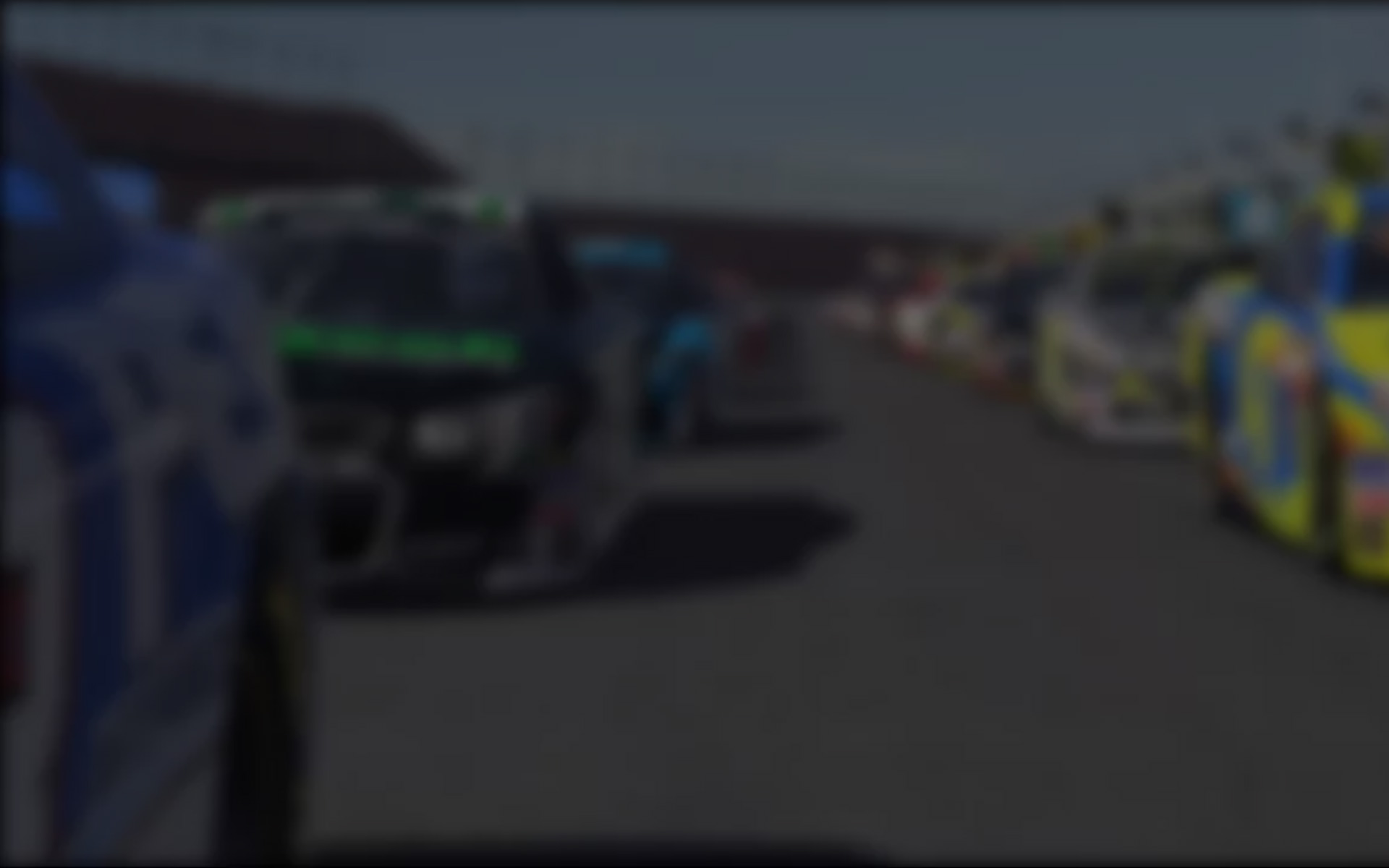 Close, side-by-side racing is the trademark of south Florida's 1.5 mile Homestead-Miami Speedway oval. Danica Patrick and Tony Kanaan showed in the IZOD IndyCar Series season finale how it can be done when they fought very hard for the second position in the last 15 laps. One of the keys behind the competitiveness surely is the progressive banking of 18°-20° which gives the track, in combination with its symmetric design, a unique look and feel. So when iRacing's IZOD IndyCar Series visited Homestead last week, some of the sim racers came too close together while enjoying the fight and in the end they were "kissing the wall" harder than they wanted to.  With a smile under his helmet, Martin Blais (Club Eastern Canada) certainly showed how to race at Homestead without trading paint or signing each other's sidepods with donuts by passing on the high side after some laps of clean drafting with a car pushing from behind. However, when you received the help from the car behind you and made the pass – don't drop to inside line and let the poor guy on the high line die of thirst.
Depending on the group of drivers in the grid the online races took a very different way to the finish. The first group of drivers like Joey Schmidt (Benelux) or Daniel Olszewski (Ohio) preferred to stay in the draft of the leaders once they made their way up to them and were trying to save as much fuel as they could, driving nose to tail in a nice looking single file. Usually they earned the lead once the leaders of the pack pitted for fuel by staying-out for some extra laps before they too had to make pit stops. The other group of drivers fought for the glory from the drop of the green flag. Their aim: fight for lead, take the honors and entertain the spectators. Depending on your point of view this can be positive – you never get bored – or very exhausting. But the "problems" start when there are two drivers with that philosophy in the first two positions…
After the round of pit stops the racing usually shifted into the next gear: the leader, knowing that it is not easy to pass without help on the high line, closed the inside (remember Tony Kanaan?) while the cars behind waited for a little gap with the hope of sneaking-in or some help from behind to try a pass around on the high line. This type of racing generated some of the closest finishes seen during this season with often less than 0.1s separating the top finishers!
Strategy — and luck — was often the key to win the race.  In one of the races Connor Cross (Ohio), Daniel Olszewski and Henrik Müller (DE-AT-CH) switched to a different pit cycle and refueled early under yellow, knowing it could become very close on fuel to make it to the finish.  In contrast, the leaders stayed-out hoping for another caution in order to not be in jeopardy of running out of fuel.   The strategy of Cross, Olszewski and Müller almost paid off when the lead group had to pit under green and lost a lot of time. But  now the new leaders' risky strategy meant they desperately needed a yellow which never came, so they all ran out of fuel with half a lap to go… Instead of an easy win, they fell to the end of the finishers on the lead lap. Glory and defeat are close together on super speedway!
Marty Sponsler (Iowa) managed it to score the most points of the week by finishing second! With only two races during the week Sponsler kept his best result 147 points while everybody else averaged their best results with other races and lower points so that they dropped behind – very smartly played Marty. The top of the overall point standings remained unchanged with Ryan Field (Massachusetts) in the lead and followed by PJ Stergios (New England) because Field took the week off and Stergios scored by far his worst week during the season with just 71 points out of two races. The next week will certainly re-fire the duel when the popular track of Elkhart Lake is on schedule and both drivers can show off their road course skills.
Week Seven pictures from Homestead-Miami:
http://www.flickr.com/groups/iracingindycar/
Week Eight discussion thread for Road America:
http://members.iracing.com/jforum/posts/list/1359751.page
Five questions to… Martin Blais
1. You have been an iRacing.com member nearly from Day One and joined the service in August 2008. How does it look from your perspective to see the development of the service?
The service has improved a lot in the almost two and half years since August of 2008. It may still lack on some aspects, but iRacing is simply alone in this field at the moment. The staff is dedicated and constantly bringing this sim further and that is really motivating. I've been racing and administrating in online leagues since 2002 and iRacing is simply the best sim experience ever for me. The "arrive and drive" system provides a flexible schedule, lot of races opportunities in many series, and a relatively clean and competitive environment. In my opinion, among iRacing's biggest accomplishments is the Williams-Toytota FW31 car deal. It was totally unexpected for me and really shows  how competent and serious the staff is. From there, we can only expect more surprises to come!
2. Also you already own one of the most desired black (i.e. Pro) licenses and are one of the 350 best road course racers. What is your recommendation for new people how to work their way up?
It depends how you approach iRacing. Personally, it's just a hobby and I never aimed for a Pro license. But even if it's just for fun, I always tried to prepare well before joining an official race. Entering a race without being comfortable with your car and not being able to run a consistent pace is just asking for troubles. Plus, you have to remember that you are driving against humans and that you must show respect to these drivers. I guess that approach kept my SR (Safety Rating) high and allowed me at the same time to show consistency and get good results. It looks like it was enough to get me a Pro license even if I'm not a really fast driver!
It would be a lie to say that I don't feel some kind of pride to have that black stripe, but honestly, it is pretty much useless since I don't care about the Pro series and my current goal is to race the IndyCar!
3. Speaking about the iRacing.com IZOD IndyCar Series, in which you are racing since its introduction in 2009 Season Four — which track do you like to race most with others and why?
I don't have much preference on that… But I must admit that Barber Motorsports Park has a frantic rhythm and some elevations that keeps you on the edge! Same with most of the oval tracks in race mode, especially the Richmond "bullring."
4. …and what is the best fight you can remember out of your past 110 IndyCar race starts?
I had so many good battles… I probably had my best IndyCar road racing fights ever at Mid-Ohio this season. I also got a good memory of a race at Indy during first season in which I had an stressing fight with Brad Davis to stay in front of him on his lead lap and then, we finally got a yellow that allowed me to do a strong comeback and to finish second behind him!
5. The first season of 2011 is already knocking on the door. How does a well-balanced schedule for you look like?
Since Day One of the IndyCar series here at iRacing, I've pushed for an equal mix of road and oval tracks on the schedule. This is a unique challenge and this is what the real series is all about, more than ever. Hopefully, iRacing shows an open mind and provides us this format as they have for two seasons now. In the best of all worlds the IndyCar series would require both B+ 4.00 oval and road licenses, or have its own ladder path, but (that) looks like it is technically impossible to do at the moment. But straight to your question, I think the next schedule doesn't need too many changes from the current one. Personally, I would just go for a replacement of Phillip Island with Barber Motorsport Park and Michigan instead of Pocono or one of the short ovals. I'm all for using real tracks as possible. That's probably why I miss street and airport courses and I definitely hope we can get some of those type of tracks in the future.
---
You may also like...
---