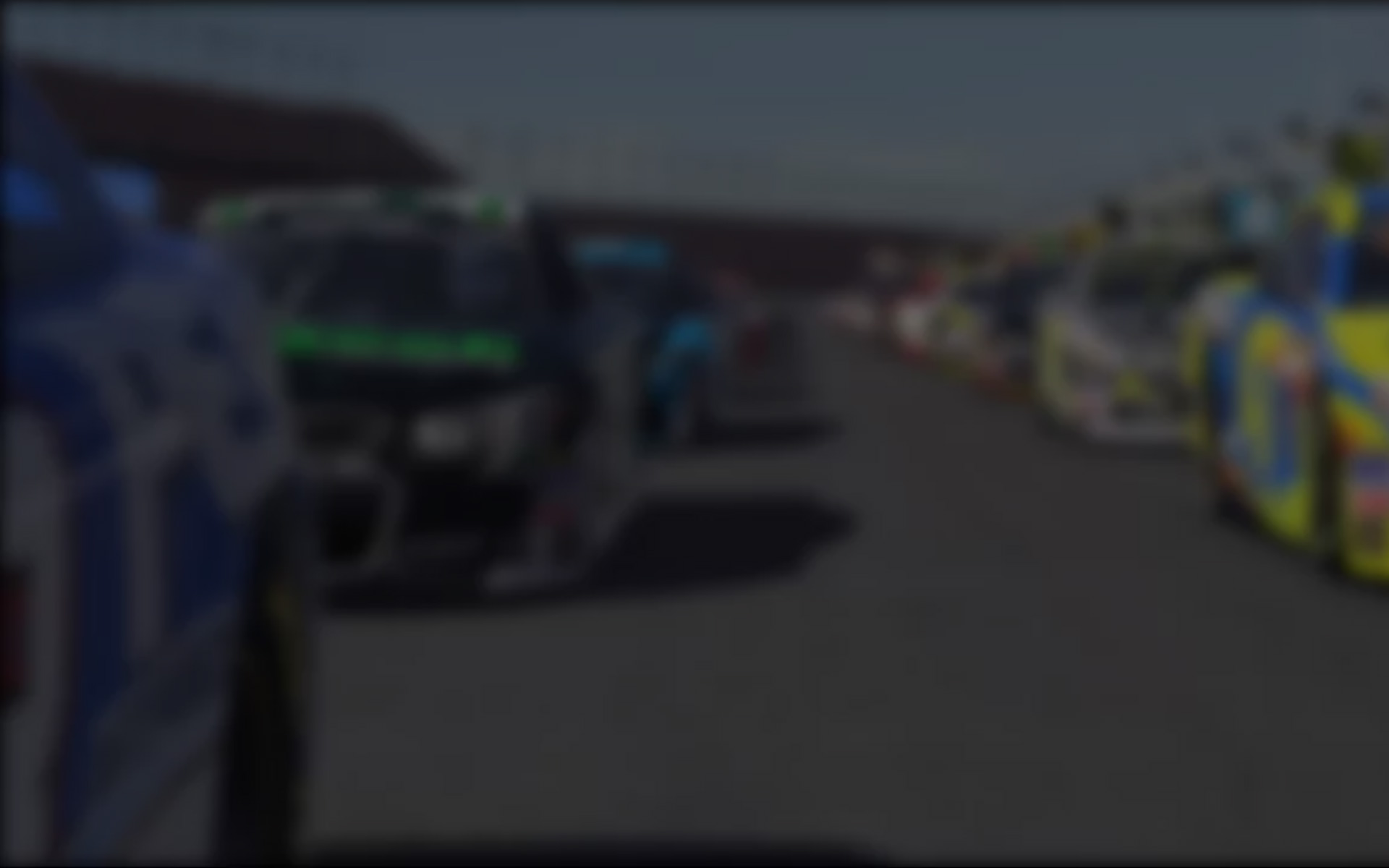 Shawn Colley mounts Saturday charge, falls short.
At the start of this third season of iRacing NASCAR Tour Modified racing, New England's PJ Stergios wasn't sure how much racing he would get to do in the "ground pounders" this season. After all, the bigger sim racing picture was a shot at the big time in 2011. "Attempting to make Pro will probably be my first priority," said Stergios before heading to the Toyota Speedway at Irwindale. While he strives to make the top twelve in the Class A Impala SS in the opening week, he made a pair of starts in the NASCAR Tour Modified class, coming home second in the top split of the week at Toyota Speedway – which was good enough for the overall win when the points were tallied!
The toughest field of the week was ranked with a 3272 strength of field (SOF) rating and took place on Thursday. Massachusetts club driver Ryan Field took the win in that 100-lap event with NASCAR Tour Modified veterans PJ Stergios, Eric Mauriello, Matt Bentley and Paul Wisniewski rounding -ut the top five. Field would go on to run three more races during the week, winning in two of those additional starts to score three wins in four starts! Untamed Motorsports pilot Shawn Colley had the last laugh in the win column though as his two wins on Saturday combined with two on Thursday left him with four victories in five starts.
The points didn't add up in the favor of Field or Colley though, as they ended-up fourth and seventh, respectively, at the end of the week. Behind Stergios after the twenty-one races were counted up included Mauriello, Herbert Engelhart, Field and Bentley. Division Two drivers racked up big points as five of those NASCAR Tour Modified drivers appeared in the top twenty-five overall. Kevin Nelson topped Rich Zimmerman by six points while Andrew Morrissey, Patrick Thomas and Jamie Damgar also posted a top five run in the Division.
Shawn Holbrook leads the third division as he amassed 157 points in California. Indiana's Andy Jennings led Division Four with Chuck Shaw Jr. became the top driver in Division Five after the first week of competition. Jonathan Dockery has a slim seven point advantage on Don Warrenburg in Division Six with West Club driver Joe Gauthier heading up Division Seven. Christopher Burgess has a double digit lead in Division Eight while ten points is the gap between leader Robert Milsaps and Jamison Adair in Division Nine. Division Ten has one of the closest point battles after leaving Toyota Speedway as Jeffrey Stanton (56 points), SC Tosi (52 points), Daniel Knight (51 points) and Edwin Jones (45 points) all attempt to bring home the 2011 Season 1 title to Carolina. Jeff Sarson from Pennsylvania completes the five pack in Division Ten as he took home 34 points during Week One.
Shawn Colley, Field and Robert Sandt raced to multiple wins in the first week of the season while Noel Parker, Steve Ritter, Mike Keirstead, Michael Wells, Shane Kline, Chris Forster, Daniel Valley, Gary Holbrook, David Colley, Rodney Funston, Engelhart and Mauriello visited Toyota Speedway Victory Circle once a piece. Division Four driver Joey Foote led all competitors in starts as the Florida driver ran in six races over the three days of competition.
At press time, Sandt had the edge in the Time Trial portion of the NASCAR Tour Modified competition. Sandt led fellow Division One drivers Mauriello and Kline on the podium while Benelux's Rene Cornella was fourth. A pair of Division Ten drivers in Brandon Salvatore and Zoran Scepanovic held down the fifth and sixth place overall with just hours remaining in the opening week. Martin Brown, William Bakker, Robert Peretto, Josh Gerlach, Corey Davis, Scott Riggs and Dirk Linden led Divisions Two through Nine with the exception of Division Seven which had no drivers attempt Time Trials as of Monday morning.
Next week the drivers of the NASCAR Tour Modified series haul their virtual chariots to the Richmond International Raceway. Last season it was David Hutto who topped the field on the popular oval while Herbert Engelhart led all his peers with three victories at the Virginia racetrack. Who will find Week Two glory and who may have to use Richmond as an eventual drop week en route to the championship? We'll get the answers to those and more questions starting on Tuesday. Be sure to check out inRacingNews next week to see how your favorite NASCAR Tour Modified drivers made out at Richmond!
Until next week, keep the hammer down and we'll see you at the track!
---
You may also like...
---