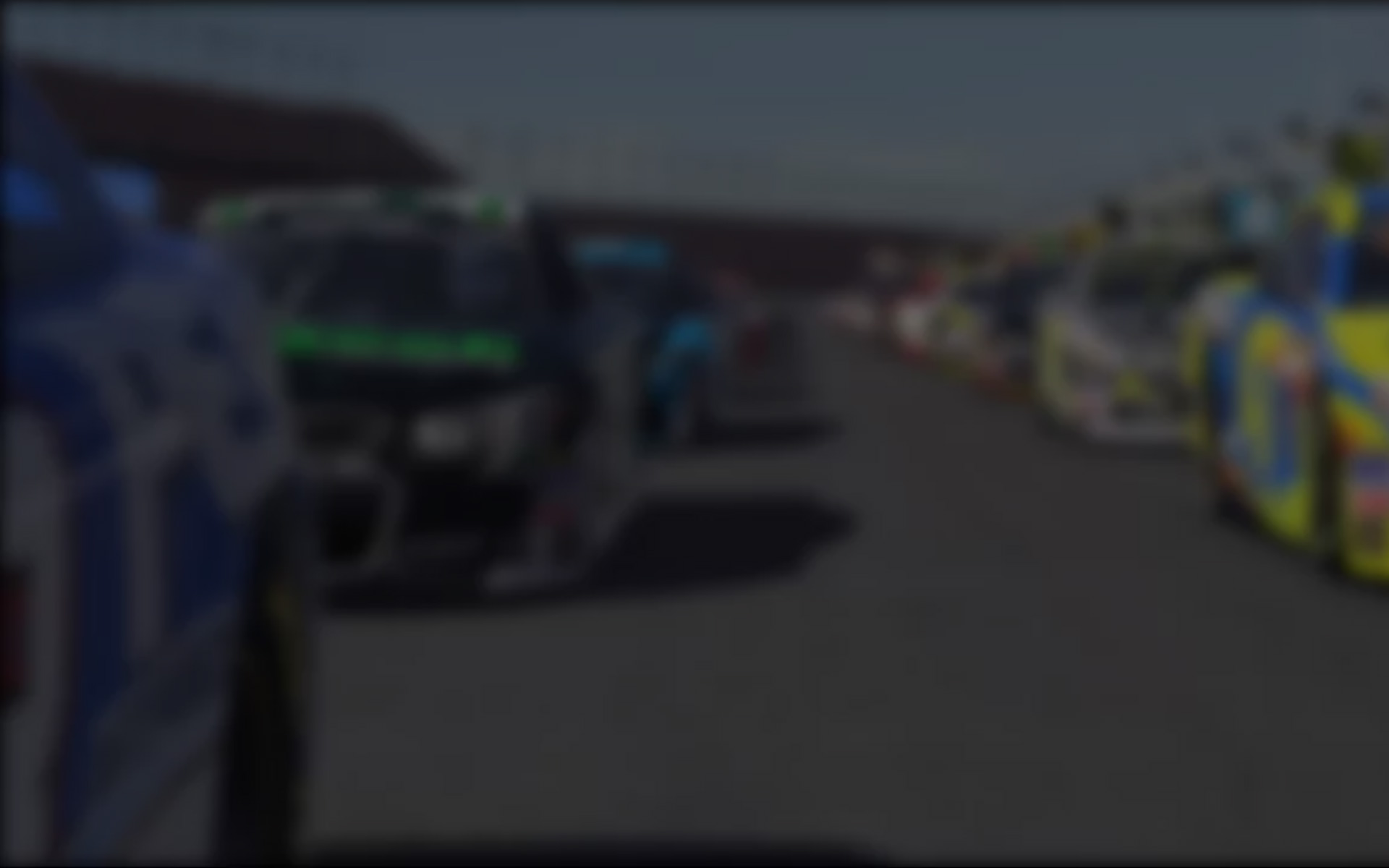 Jake Stergios played his strategy right, saving just enough fuel while catching a late caution flag en route to his first NASCAR iRacing.com Pro Series win at Homestead-Miami Speedway. With six laps remaining, Stergios had just taken the lead due to the leaders pitting but soon he would have to pit for fuel as well.
All that changed, however, when Carson Downs entered the pit access road too hot and slid back up onto the racing surface, bringing-out a yellow flag.  The caution set-up a two lap shootout which was quickly cut short when Brandon Kettelle spun his tires on the restart, causing a huge pileup and another caution.
Stergios was able to coast around for the victory with just enough fuel in the tank for a post-race burnout.  Teammate Peter Bennett played the same strategy and finished runner-up. "Would have won if it weren't for the caution but I will absolutely take second! Major let down when the caution came out," said Bennett.
In a very strange turn of events, Downs finished third after spinning while trying to enter the pits. The caution allowed him to save enough fuel without having to pit at all, making for one of the oddest third place finishes in NiPS history. Josh Berry and Dustin Montgomery rounded-out the top five after also catching a break with the yellow.
The late caution hurt both Chad Laughton and Jared Crawford in their quest to gain an edge in the championship battle. Crawford started from the pole and dominated much of the race, leading 111 of 134 laps. Laughton did not have a car that could challenge for the win, but was making gains past the halfway point and had positioned himself for a solid top five result.
Both championship contenders were way short on fuel and ducked onto pit road before the last yellow came out, which trapped them behind the cars that had not pitted. Crawford had raced his way back onto the lead lap by the time the yellow waved and rallied for an eighth place finish after being bounced around a bit during the final restart.
"Would have won if it weren't for the caution but I will absolutely take second!" –Peter Bennett
Laughton was less fortunate and was caught behind the pace car during Downs' caution and had to take the wave around. This meant the championship leader had to restart at the very back of the field, and he was unable to advance before Kettelle spun for the last caution. Laughton finished thirteenth.
Laughton's poor finish keeps Crawford's championship hopes alive as the NiPS goes into its final race of the season next week at Charlotte Motor Speedway. With only a six point margin separating the two, the battle may come down to a last lap pass or a key pit stop late in the running.
Dustin Montgomery is third in the standings, but his 27 point deficit will be hard to make-up unless both Crawford and Laughton crashing out early. Stergios is only a single point further behind; meaning third place money is no sure thing for Montgomery. Fifth place, which is the final paying position, is up for grabs as well. Downs currently holds P5 but six other drivers are within 20 points including Danny Hansen and Adam Gilliland, who both have scored victories this season.
The battle for the top 25, and a spot in the 2013 NASCAR iRacing.com Series World Championship will come down to the final race as well. Rob Ackley currently holds the transfer spot, but is only 10 points up on Josh Connors and 17 ahead of Brandon Buchberger. Connors may be fortunate to run the finale after some contact with Danny Hansen under the caution flag which got Connors parked. Buchberger has shown flashes of speed, but has been caught-up in several crashes. If Ackley can keep his nose clean with a good top-15 finish, his chances are good.
When it comes to the championship battle, it is hard to choose a favorite. Both drivers have averaged a sixth place finish, but Laughton has been dominant with four wins in eight races.  Crawford has no wins despite his three poles and a series high 351 laps led, but has been the more consistent of the two with only two finishes outside the top three.
It would be no surprise to see the two running one-two as the laps wind down, a sight which has been a commonplace this NiPS season. Be sure to catch all the action from Charlotte Motor Speedway next Tuesday night on ETV as the NiPS wraps up, crowns a champion and grants 25 sim-racers a chance to go after the $10,500 grand prize in the 2013 NiSWC!
---
You may also like...
---