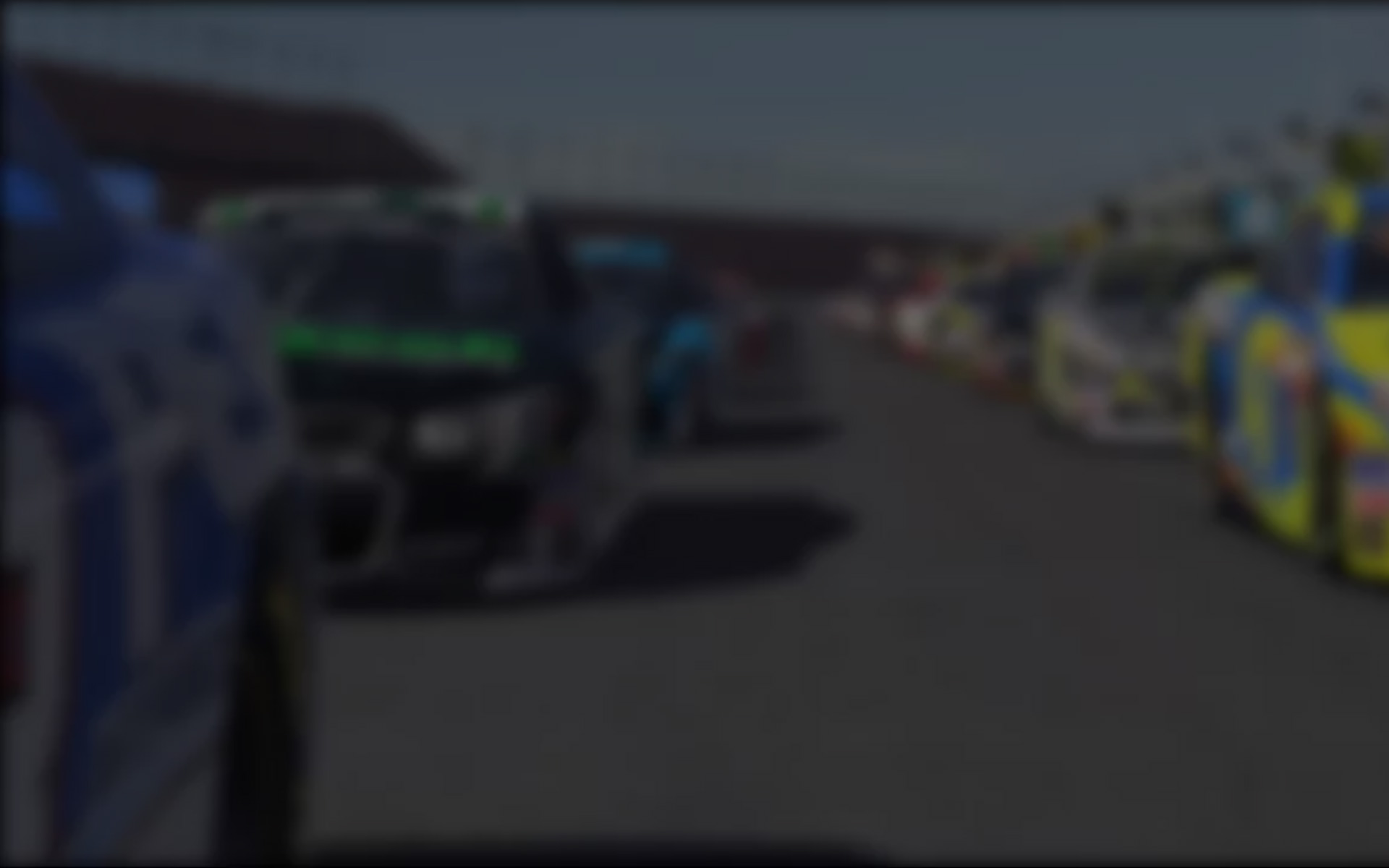 April 18th, 2017 by Richard J. Clarkson
After a long day of transmission flushes, brake jobs, oil changes and tire rotations, iRacer Scott Smith – or as he's known on the sim, Scott Smith6 – sits behind his desk, sipping from a shiny, silver can. His leather office chair squeaks as he gently leans back. He rests his feet on the cherry finish of his desk, his dark blue Cintas pants splotched with grime and filth; a smudge of grease below the Firestone patch above his left breast pocket.
Directly in front of Smith, clamped to the edge of the desk, is a black steering wheel – a set of pedals on the floor. Directly in front of the steering wheel, elevated by a black-and-red Nike shoebox, is a laptop. Apple. Macbook. The laptop flanked by display cases housing several pieces of NASCAR diecast.
Smith cranes his neck and squints. There's still time.
He throws his feet from the desk and leans forward, cringing at the squeaking, opening a desk drawer and pulling out a hair tie. He runs his hands through his hair and makes a bun, like the bushy tail of a dark-colored rabbit.
"Check this out," he says, swiveling his chair and then standing.
Smith takes three steps toward the corner of the room. He bends down by what looks like a small nightstand with shelves for electronics and turns on a VCR.
"Hell," he says, "I like that new technology and all, but shoot, sometimes… sometimes vintage still works best."
He stands and turns round, hunting for a remote control. He finds it and turns on the TV. The flat screen mounted on the wall vividly comes to life.
A picture of a racetrack with cars zipping around can now be seen: Rockingham Speedway, the last Cup race ever ran there – February 22, 2004. Three voices familar to NASCAR fans jump from the speakers: The Fox broadcast team of Mike Joy, Larry McReynolds, and Darrell Waltrip.
Smith plops into his leather chair and checks the digital clock on his computer. He watches as the cars circle the racetrack at supersonic speed, fast-forwarding the tape to its desired timestamp. He sips from his silver can. He inquisitively picks at the grease stain on his shirt. Then he stops fast-forwarding. The TV jumps to a split-screen view: the race coverage on bottom, the nervous faces of two NASCAR crew chiefs on top.
"Here we go," Smith says. "Now watch this."
"Two to go," Joy says. "And three cars that can win it!"
Smith intently watches as the three cars run nose to tail: Matt Kenseth's black-and-yellow DeWalt Ford Taurus is chased by Kasey Kahne's red Dodge followed by the black Texaco Havoline Intrepid of Jamie McMurray.
The Fox announcers discuss what the winning move will be as the stock cars bellow in the background. The three cars inch even tighter exiting Turn Four. Smith scoots to the edge of his chair, his eyes never wavering from the TV on the wall.
"White flag, this time," McReynolds says. "One to go, boys!"
McMurray's Dodge gets loose exiting Two. The black Texaco Havoline race machine wiggles and loses ground.
"Did you see that?" Smith asks, pointing to the flat screen. "He got way too low. Clipped the apron and had to pedal it. Ain't no way I'm gonna make that mistake," he says, once again looking to his laptop to find the time.
Entering Three, Kenseth and Kahne both wash high. Smith shakes his head. Kahne picks up the throttle and charges to the inside of Kenseth for the run to the checkers.
"Kahne comes to the bottom," Waltrip says. "It's gonna be close."
The two cars duel to the finish. Their engines screaming with every cylinder they've got. The announcers in the booth shout with excitement.
"Side-by-side to the line," Joy says, his voice lilting with what's-going-to-happen-next jubilation. "Kenseth!"
The cars slow. The camera pans to the reaction of the crews. Kenseth's boys are high-fiving, jumping, cheering and shouting. Kahne's crew, apprehensive, unsure of the result. The look of disappointment slowly creeps across their faces like the spread of bad news.
"Kahne should've stuck to the bottom," Smith says, confidently. "Big mistake.  Hell, he only needed a tick more.  Lost by a hundredth of a second!  That boy could've made history. Last winner ever at Rockingham… mighty big feather in old boy's cap. Shoot, I know what I'm not gonna do. And what I'm gonna do. Ride that yellow line. Make history."
The TV on the wall shows Victory Lane. Yellow confetti falls from the sky. Matt Kenseth gives The Cat in the Hat a hug. But then, red blinking letters on his computer screen distracts Smith.
He mashes a button on the remote. Then he rolls his office chair into sim-racing position. The cabinet on the left side of his desk opens. Smith reaches in and pulls out a headset with an attached boom-style microphone. He mashes more buttons, this time on his laptop. The flashing red letters disappear, replaced by the loading screen for the digital Rockingham Speedway.
"Time to put this baby on the pole," he says.
But after his iRacing qualifying session is over, Smith disgustedly removes his headset and nervously picks up his shiny, silver can. He sips. He sips. He sips.
Smith averts his eyes from his computer screen and fixes them on the TV. Matt Kenseth's DeWalt Ford – covered in freshly sprayed champagne, yellow confetti stuck to its shell like some sort of measles outbreak – is stuck in time, paused by the power of vintage, the VCR. Smith appears to brood. He rubs his chin and stares.
"Don't look at me like that," he snaps. "I know those are stock cars and I'm racing trucks. What? You don't think I can handle driving the big boys? Hell yeah I can. I just like racing these here trucks. They're fun, ya know? Don't look at me like that. I'm still gonna make history."
He throws his headset back on and waits. His knuckles rap against the cherry wood top. Then the laptop's screen changes. Smith takes a deep breath, a sip, and pats his steering wheel like a good dog. In his mind, he's inside his race truck, The Black Dahlia Murder/Snap-on Chevy, ready to make history, to win at The Rock.
Smith starts his iRace from third. When green lights flash on his computer screen, he grips the wheel tighter and presses his gas pedal to the floor. His arms bounce and chatter as his virtual race truck passes over the bumps in Turns One and Two. He keeps his truck pinned to the yellow line, but not low enough to clip the apron and wiggle, and give-up spots like McMurray.
His breathing becomes heavier. The room silent save for Smith's competitive efforts, the whoosh and rubbing of internal friction from his belt-driven force feedback wheel, the thud of his pedals reaching their limit, a brilliant buzz from the flat screen on the wall, a hollow hum from the vintage VCR.
Then Smith makes an erratic movement with the wheel. His digital race truck slides up the track, a mistake he didn't want to make. A flash of red-and-white streaks to his inside: David Piazza. Smith falls to fourth.
Lap after lap, he steers with conviction, precision, rhythmically working the pedals, raptly gazing out his digital windscreen.
He sees something up ahead and jumps out of the gas.
"Keep it down there," he says.
Then he begins to slow his truck. A yellow light on the virtual catch fence illuminates. Smith frees one ear from the headset.
"I wish I had, like, a real crew chief," he says. "Hell… I don't know what to do. I guess I'll just follow them leaders."
First, second, and third place pit. Smith follows.
"Hurry up. Hurry up. Hurry the hell up!" he says, banging on the steering wheel.
When The Black Dahlia Murder/Snap-on Chevy blends onto the racetrack, Smith mashes more buttons. Black boxes cycle on his laptop's screen. He nods.
"I'm still in fourth. Way to go you flippin' CGI crewmen you!"
When the green flag flies again, his knuckles tighten, his breathing picks up.  Competition. And he's under fire. The truck behind, the Lowe's Chevrolet of Brandon Kirkman is on the move, threatening to dive inside of Smith.
But Smith finds his rhythm and pulls away, clearing Kirkman into Three.
Before The Black Dahlia Murder/Snap-on Chevy can pass the leaders, however, another yellow comes out. Smith presses a button on his steering wheel and talks into his microphone.
"What happened?" he says.
Then he shakes his head and doesn't reply.
"I knew somebody would wreck again," he says. "I need green flag laps, man."
The next restart comes on lap 20. Halfway. Smith barrels into One; his steering wheel vibrates; his arms shake.
On the next lap: smoke. The leaders are in trouble. Jason Jacoby and Dylan Terlinde, the top-two iRated drivers in the field make contact. The gas pedal clicks, Smith's abrupt reflex. He steers to the right, carefully. Back on the gas, narrowly passing Jacoby and into second.
"Go get 'em, man," he says. "You can do this!"
This time, lap after lap, his breathing begins to slow, calm and measured like an experienced yogi. In his mind, he's in the zone, belted into his sanctuary, giving the world its gift, closing in on the leader and doing the thing that not everybody can do: turning fast laps at Rockingham Speedway.
Suddenly, though, his arms become crossed. His belt-driven force feedback steering wheel groans. His virtual race truck shoots up the track. The same mistake… again.
A lap later and his breaths are reckless. Pressure comes from the inside. Three sim racers looking for a better place, forward motion, podiums, trophies, respect.
Charlie Morley completes the pass and moves Smith to third. But before Jordan Ashelin can hitch his cart to Morley's 650 horsepower wagon, Smith shuts the door and dives to the inside. He's safe.
"Only five to go?" he cries out. "I'm losing 'em!"
After Smith crosses the start/finish line for the last time, only two trucks in front of him, he rips off his headset and slams it atop his desk. He barely slows down for the cool down lap and flies down pit road, locking up his digital brakes as he skids the front of his Silverado up against his pit board. Smith backs out of iRacing and forcefully shuts his laptop.
He picks up his shiny, silver can, and sips… He contemptuously tosses it to the floor, a hollow tinkle. He leans back. The black leather chair squeaks. He hunts for the remote… Smith wheels his chair over and picks it up. The TV makes squiggly lines and rewinds. Then the voice of the Fox broadcast team pumps from the speakers.
He's watching it again, re-watching the last NASCAR Cup Series race at Rockingham Speedway: February 22, 2004.
"Why can't I keep it on the bottom?" he says. "That's the key. Ride that yellow line, son. What am I missing?"
In five hours Smith has to be at work, tortured by the customer, ridden and chastised and patronized by his bosses, cutting up his hands and busting his knuckles, watching out for the tool truck men – his bills past due, his pockets empty – changing tires and rolling tires and stacking tires and, in his mind, making one pointless repair after another.
In five hours Smith has to be at work, but right now, he snores, shiny silver can after shiny silver can litters the floor, the brilliant buzz from the flat screen in the background, the hollow hum of the vintage VCR. The pad of notes about how to "keep it on the bottom" sit silently on the thing that looks like a nightstand, Smith, now lying on his bed, fast asleep and dreaming, dreaming of glory, dreaming of making history, dreaming of conquering The Rock.
---
You may also like...
---