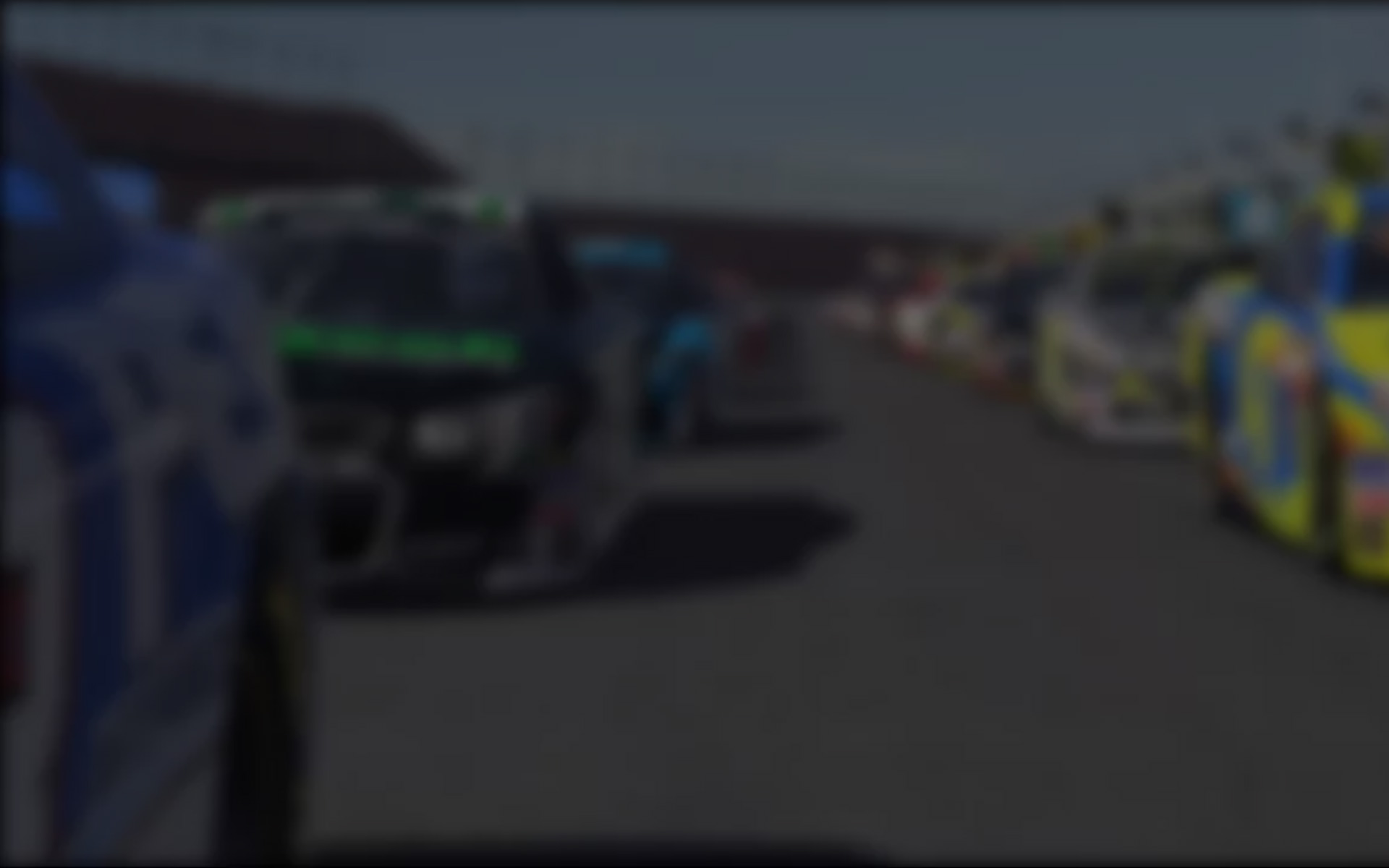 September 10th, 2012 by DavidP
Lanier National Speedway, located in Braselton, Georgia, started life in 1982 as a dirt track, which is commonly seen with modifieds, street stocks, and sprint cars. Five years later, Lanier was paved, and its popularity soared.  It's because of this popularity, along with the track's rich history, that brought this .375 mile oval to the iRacing.com catalog. It is now among one of the most popular short tracks in the service, and every member of iRacing.com has access to racing on this slippery oval.  That said, an extremely high turnout was expected at Lanier for Week 5 of the iRacing.com Sprint Car Series, as this is quite the hot spot for sprint drivers. With many in the iSCS having extra practice at Lanier, things were sure to heat-up on and off the track.
Because of Lanier's ready availability, new sprint drivers were willing to come out and test out their new cars. Over the course of the week, 89 sprint drivers gridded at Lanier, exceeding the number of entrants in the previous week and offering another example of the growing popularity of the series. Fred Lampela kept his qualifying streak alive by taking the pole position for the week on Thursday, etching a world record time of 12.538s into the iRacing.com record databases. Alan Binder recorded his fast time of 12.551s, qualifying second to Lampela for the week.
The racing began on Tuesday, when the first two splits of the week took the green flag.  The top split, which advertised the highest strength-of-field rating for the week (3526), saw Binder lead a caution-marred event from Lap 1 to lap 50 to take the checkered flag. Joe Quinn and Vinnie Sansone had another exciting battle for second, but Quinn fell back after getting loose. Sansone finished the race in second place, with iSCS veteran PJ Stergios taking advantage of Quinn's handling issues to complete the podium.  Quinn ended his run in fourth, and Brandon Buchberger completed the top five, dodging many incidents after taking the green from 14th position.
Tuesday's second split event hosted another memorable online race for the up-and-coming stars of the iSCS. Michael Willard led the field to the green flag, and continued to lead 39 laps in a seemingly dominating run. On Lap 40, however, Willard lost control in Turn Two.  He was able to keep the car off the wall and out of the garage, but Paul Mepyans took advantage of Willard's fumble, passing the leader on the back stretch.  Mepyans then held off a hard-charging Willard to win his first race of the season in only his fourth start in a sprint car. Breathing down Mepyans' neck, Willard finished only .093s behind him, salvaging his slip-up with a respectable second place finish. Glenn Cray and Marcus Dean finished third and fourth respectively, also less than one second behind the winner, while Victor Ricketson Jr. rounded out the top five.
With the excitement level of the first two races of the week, one had to wonder how much more action Lanier could provide.  The answer was not long in coming, as Thursday's top split produced a race that would be hard to forget. Fred Lampela took the green flag, leading 20 cars onto the battlefield. Lampela held-off the hard and hungry Binder, Sansone, and Stergios in the early going.  But trouble struck on Lap 10, as Lampela and Stergios made light contact in Turn Three, with Stergios making a great save to avoid hitting the wall.  As he came down the track, however, Stergios made contact with Binder, turning the defending iSCS champion hard into the front stretch wall, ending his night.
Lampela and Sansone were left to battle for the lead, and with the number of cautions the race was breeding, it appeared to be Fred's race to win. However, Lampela spun the tires on a late restart, and was clipped by Sansone, turning the leader around and into the inside wall. The caution flew immediately, and with too few laps remaining for a restart, Sansone was left to limp his sprint to the winner's circle.
"Thursday must have been a full moon . . ." – Vinnie Sansone.
"Thursday must have been a full moon, as it seemed all kinds of things out of the ordinary came to [be]," said Sansone in victory lane. "[I] put pressure on Fred and a few times got a wheel under [him], but just not enough room to get by. [On the] last restart, Fred spun the tires a bit… yellow came out quick enough it placed me in the lead, and late enough that it would finish under that caution saving me from a broken right front."
Quinn dodged the incident and came home safely in second place, while Stergios overcame his incident along with damage on his sprint to finish third. Michael Clement and Scott Green both earned a fulfilling points race, finishing fourth and fifth respectively. After spinning-out of the lead, Lampela finished on the lead lap in eighth, while Binder brought his sprint back to the trailer for repairs after his incident and was credited with a 20th place.
The full moon continued to shine on the second split of the night, as another race full of caution flags and mishaps unfolded. On the first lap, pole-sitter Steve Linder spun his tires as he took the green flag on Lap One, immediately putting the drivers into a single-file restart. Michael Linder took the front position, leading 39 laps. However, disaster struck on Lap 40 in almost the same manner as in Tuesday's race, when Michael Linder spun, collecting others behind him who couldn't steer around the carnage. As the last caution flag waved, it was Douglas Berryman breathing the ultimate sigh of relief as he took his first win of the season under caution. Willard finished second once more and Edwin Jones showcased a third place finish ahead of Matt Berndt and Mark Hephner.
All of this commotion and there was still one race left to run. Sunday's event brought drivers seeking redemption from earlier incidents in the week. Surely, none was more intent on finishing first than Fred Lampela, who fought-off a team effort from Petteri Kotovaara and Aleksi Elomaa from start to finish. Patience paid off for Lampela after a string of bad luck this season, as he led all 50 laps to earn his first place finish. After multiple laps in close side-by-side racing with Elomaa, Kotovaara finished in second after his countryman lost control of his sprint more than once on the last lap before putting a fitting finish to the frenzied week with a huge multi-car crash crossing the finish line. Steve Linder came home without a dent on his sprint with a third place finish, while Michael Lampela and Michael Willard rounded out the top five respectively.
During the hectic stay at Lanier, there were 21 yellow flags waved. More alarmingly, there was a total of 282 incident points divided among the participants of Week 5, and almost everyone came away from Lanier licking a wound of sorts. What's more, the sim-racers knew there wouldn't be much time to salvage any safety rating points, as Bristol Motor Speedway was on the horizon for Week 6. Binder still leads the championship points standings over Sansone by only a handful of points. In what is sure to be another tale of smoke, slips, and shocking developments, Week 6 will provide more white-knuckle racing for the iRacing.com Sprint Car Series. Tune in soon to iRN for the summary of the action in Thunder Valley!
---
You may also like...
---