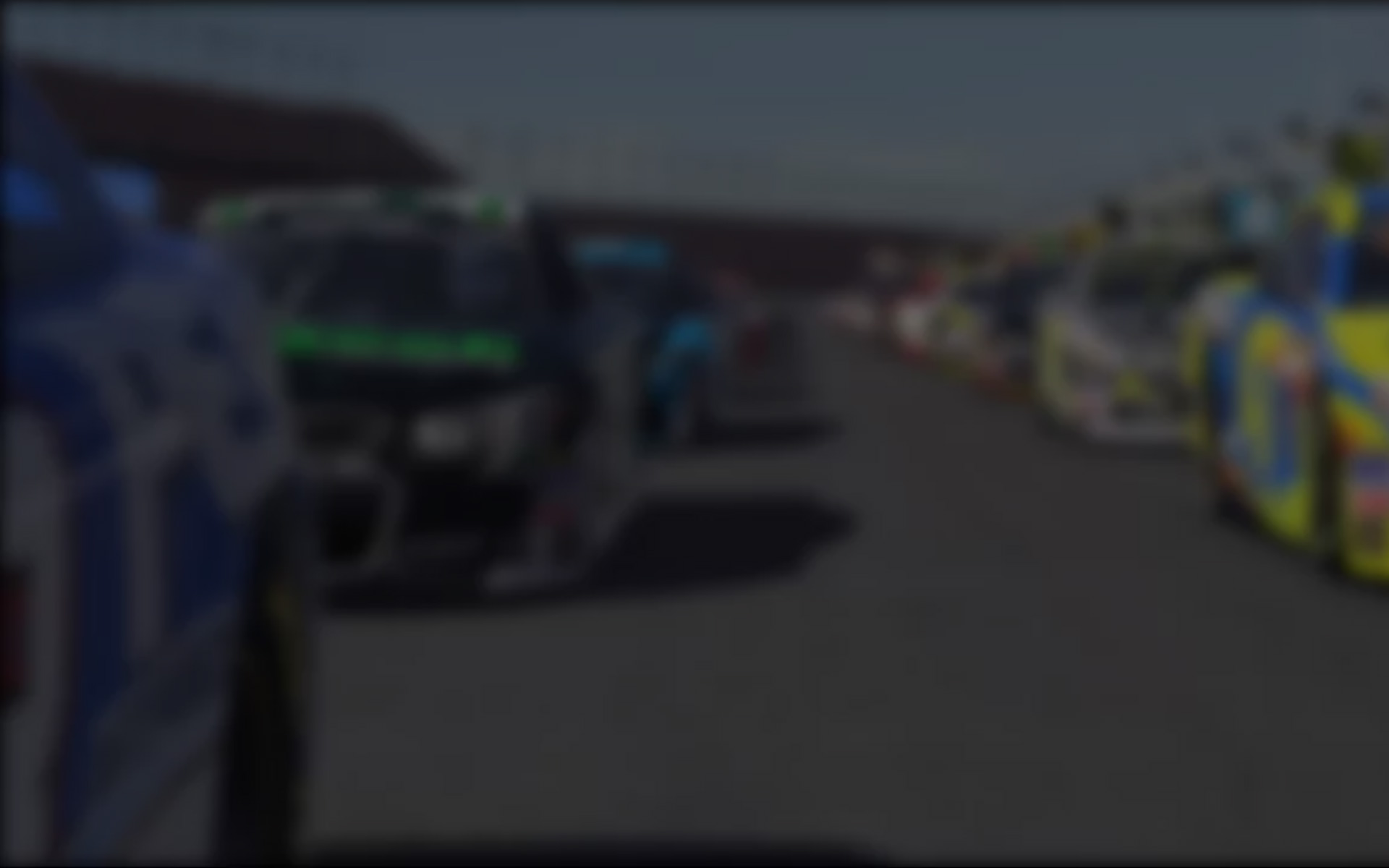 For many iRacers, the thrill of competing in the online world is sometimes the pinnacle of their motorsport careers, albeit in the virtual world (yet many treat it like real-life).  But for some sim-racers, the prospect of going into real world racing is too much to resist and so this year I decided to take the plunge into real world racing.
My name is Martin Buchan (aka Crash Bucket to some).  For about the last six years I've been an avid sim-racer, but I'm definitely not an alien in the sim-racing world. Some people will recognise my name from the likes of V8 Thunder (www.v8thunder.com), ESCORS, NTRL, various LFS leagues and iRacing. After trying a kart for the first time ten years ago I was hooked on driving cars. Tearing up the streets of Aberdeenshire in a road car didn't fuel my passion, so the next step was to go circuit racing in the Scottish Championships down at Knockhill Racing Circuit (www.knockhill.com). As a newly-employed student, money troubles were already a major factor, so I decided (with help from the parents) to purchase a race-ready Ford Fiesta XR2 for the Scottish Motor Racing Club (SMRC) Ford Fiesta XR2 Championship.
The SMRC Fiesta XR2 Championship is widely viewed in the Scottish motorsport scene as the cheapest way to go racing. A race-prepared car will cost between £3,000 for a basic model on up to £5,500 for a front-running car. My car was somewhere in the middle at just on £4,000 and was in very good nick thanks to a very careful previous owner. Now before any other newcomers decide to go racing right now, I will share one bit of wisdom. However much you budget before you start, you will go over it — but competing is worth so much more!
Thankfully, before the season started in earnest I could sample the car at one of the pre-season tests held at Knockhill. The test came as a baptism of fire with the traditional saying "don't chuck it off in the first turn" becoming apparent when I almost spun into the tyres on the third turn of my racing career. With the test over it was onwards to the first race of the season.
The first meeting of the season went without many mishaps to report. The racing was close but, with me being about 2.5 to 3 seconds off the front-runner pace, I ended up with finishes of 23rd and 17th out of 32 cars. Notable mention must go to my second race as it was my first ever race in wet conditions.  With standard road tyres the grip can sometimes be hit or miss in places, and even experienced racers go off in some style. The second meeting of the calendar (Rounds Three and Four) proved a much better display on my part with a much-improved 12th place in the first race (with a new personal best lap of 65.776s), followed by 16th place in the second race where the sweltering conditions made for some hard racing, especially with two competitors ending on their roofs. With these results I obtained my best haul of seven points in the overall championship and 14 points in the Newcomers Championship, courtesy of me being a newcomer to racing.
Meeting Three saw improved results in the form of a 12th place in Round Five, due to the Fiesta STs having the advantage of proper wet weather tyres in the rain.   However, the results translated to eighth in the XR2 category and fifth in the Newcomers, which signalled the start of some big points finishes. Unfortunately in the second race of the meeting, I encountered engine problems (not revving smoothly in top gear) which resulted in second last in the XR2 class.
After this meeting came a two month break which allowed time to save up for the car bills and also some time to refine my driving technique thanks in no small part to the fact that iRacing.com released its VW Jetta TDI during that period.
The real world competition resumed with the fourth meeting of the season, a special event in light of the fact that the GT Cup (www.gtcup.co.uk) was the headlining act featuring a special 1,000kms race on the Sunday after a sprint race on Saturday. This led to a different timetable for the SMRC races, with qualifying occurring on the Saturday after a morning spent testing and then races on the Sunday per usual. Qualifying was a disaster for me, as the engine troubles still haunted my Fiesta.  The result was with 22nd on the grid and a lap time three seconds slower than the front runners which, based on my previous performances, was poor. Thankfully on Sunday I was right back on form. Race One brought a 10th place finish, which gave me the springboard to the same result in Race Two. Alas a poor performance and continuing engine problems led me to finish third last in class.
Next was the final race meeting of the season. A terrific test session on the Saturday led to a Sunday full of hope after a new PB of 64.5 seconds which was only .5 off the front-runners' pace. What's more, my inboard lap timer decided to show a lap time of 61.1s which, if true, would have been two seconds quicker than the XR2 lap record at Knockhill. Sadly, it was a false reading, but I must say there was a small bit of hope that it could have been true!
Qualifying, which was usually my downturn in previous meetings, came good with eighth position (my best ever) and in Race One I managed to continue the good form with sixth place.  Unfortunately, the race was marred by the horrendous crash of a ST runner coming out of Leslie's when it seemed the car spun on some anti-freeze that had been leaking from an XR2, dug into the wet grass and barrel-rolled five times before coming to a rest.  (Yes there is a video on YouTube, just type in "Knockhill ST crash.") Thankfully, the driver climbed out unhurt almost before the car had stopped rolling and we restarted the race with five laps to go. I had a good start, managed to make a place up on the grid and kept sixth place all the way to the flag. I do admit once I crossed the line I almost celebrated like I had won the race but, can you blame me?
Race Two proved my luck was in on the day. I got a horrible start and was passed by two cars into Turn One. After the first turn comes a sharp right turn and at the front two cars had made contact on the inside.  Instinctively, I went to the outside, but then saw one car coming back towards me. This gave me fears that my season of no damage was about to come to an abrupt end but, instead, I squeezed-through by the narrowest of margins and carried on my way. Coming up to the chicane I approached it as normal but on the exit I must have lifted-off and the back suddenly came 'round. I did save it, but needed an off-course excursion to help (1x for me!).  Just as I rejoined the paved portion of the circuit I was saved by the merciful red flag which was caused by an air barrier blocking the track where the earlier collision had taken place. This allowed me to take up my regular starting spot, albeit with two cars that were ahead of me now retired.  My situation got even better when a driver noted for his hard racing was then forced to retire with an engine problem.
I got a nice start and settled into a comfortable rhythm that enabled me to leave the following cars behind while I kept tabs on those up ahead. This bore fruit as one of the front runners was going progressively slower and going into Turn One on the second last lap I ducked down the inside after a neat switchback out of the hairpin leading onto the start/finish straight. I reeled-off the final lap and came home fifth, which caused me to go wild inside my helmet for a few seconds.  Then the racing driver attitude came alive again with me thinking, "I could have had fourth if I hadn't of mucked up the first lap!"   But after a beginning of being three seconds off the pace and finishing just inside the top 20, I was only .5s a lap off the leading quartet and finishing fifth (whilst thinking I could have been fourth).
In the final overall championship standings I came 11th with 66 points and in the Newcomers'  Championship I obtained 111 points, good for  seventh place. This could have been extended if I had competed the "away" round at Croft which gave each runner double points.
My hopes for next season are to continue where I left off pace-wise and, hopefully, with more testing under my belt maybe give a serious challenge to the newcomers title as I will be competing at the newly announced "away" round at Cadwell Park (www.motorsportvision.co.uk/cadwell-park).
I'd like to offer my thoughts on how I feel my sim-racing activities have helped me in my quest to become a half-decent racing driver. I do regard the iRacing service to have helped me keep my car undamaged throughout the season, as the penalty system almost gives a like-for-like view on real life.  I do have to confess I'd rather take a 4x contact penalty than to pay money on new panels or repairing blown engines; and once you experience real-life racing you do see that the sim-racing is indeed a simulation and not real life, having no pressure with money issues or just the general nerves of your first ever race meeting. That being said, I do feel thanks to the VW Jetta coming out I was able to hone my front wheel driving technique.  Before, I was a true rear-wheel-drive man, my technique being to play with the throttle during a corner — on and off, then back on.  This is just a massive "no-no" in FWD cars, where you must be on the gas and then stay on it, as any lift-off causes lift-off oversteer. Plus, thanks to the online side of racing, I feel that compared to some of the fellow XR2 competitors my racecraft is actually more skilled with me knowing when to make a pass and how it can be done safely.   I would stress it's one thing to be clean, but you also have to be fast and daring in equal measure or you will turn out to be merely clean without realizing your full potential.
Note: Race action photos courtesy of www.Power-Images.co.uk
---
You may also like...
---