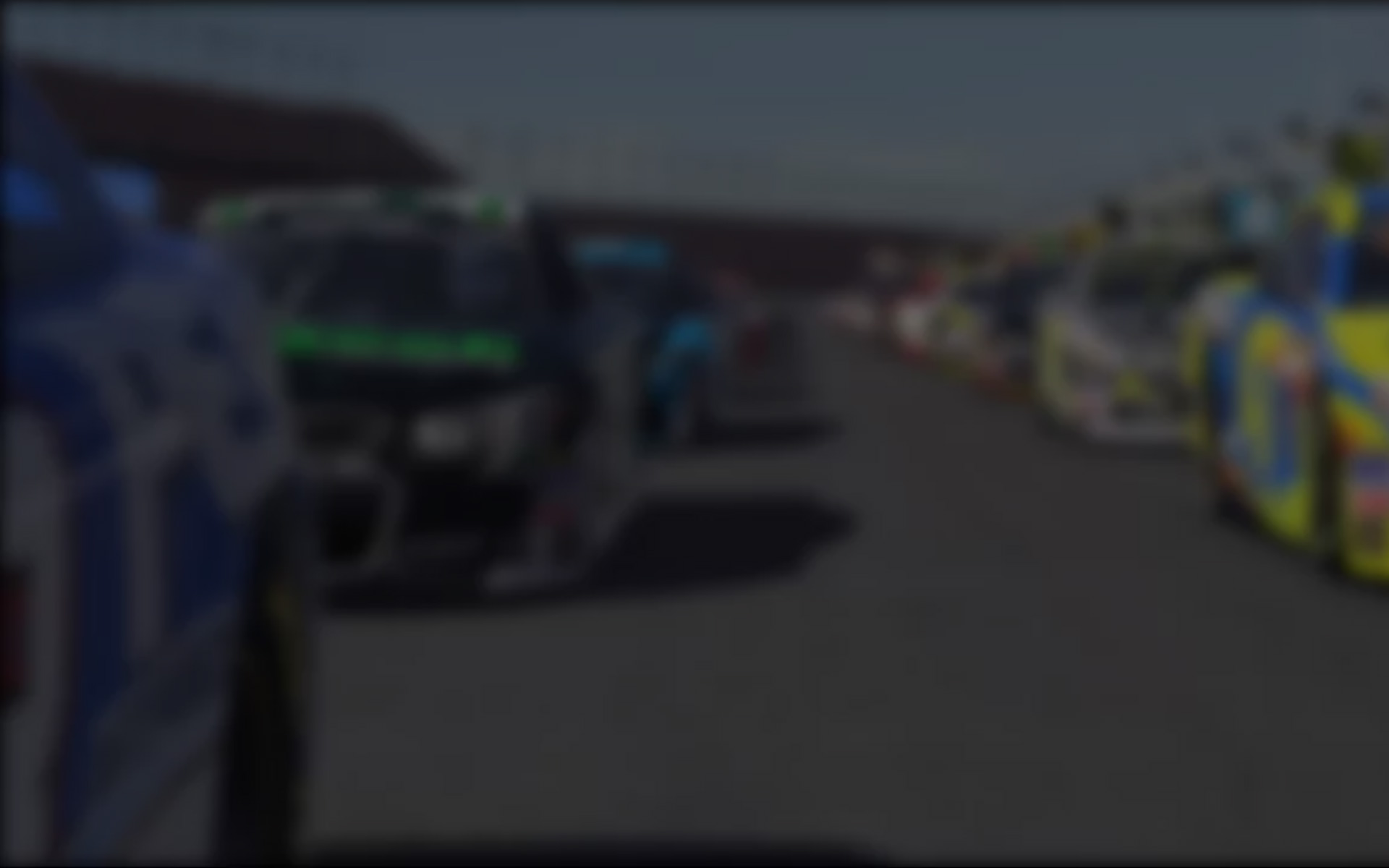 Round Eight of the iRacing.com V8 Supercar Series headed to Mazda Raceway Laguna Seca for a 25 lap sprint race. This race and week would turn the championship on its head when ANZ Motorsports driver Justin Ruggier broke his arm (in a non-sim-racing accident) and pulled out of the rest of the season which now leaves Tatts.com drivers Josh Muggleton and Madison Down fighting for the title.
Qualifying for Round Eight was once again led by Josh Muggleton taking his third straight pole position ahead of Down with Dean O'Brien having a career best qualifying result in third. Leigh Ellis and Michael Fabian completed the top five.  Wayne C Bourke would join Fabian on the third row ahead of Troy Cox and Matthew E Hill whilst Leigh Day and Shaun Kelly rounded-out the top 10.
As the lights went green it was Muggleton leading Down into Turn One while back behind Leigh Ellis had made his way up into third after Dean O'Brien had a shocker.  While everyone was single file, on Lap Two Bourke got a slow-down through The Corkscrew and lost a couple of places. Exiting The Corkscrew on Lap Four, Ellis blinked-out for a second and when he came back he and O'Brien made contact, allowing Fabian to get a run down the inside into the second to last corner.  More contact ensued, which allowed Hill to come down through the middle but O'Brien held the inside line into the final corner.  The guys went three wide through Turn Eleven and – predictably if not inevitably — contact was made on the exit between Fabian and Hill, which allowed O'Brien and Kelly through. On the following lap Hill put a lot of pressure on Kelly who over drove into The Corkscrew and received a slow-down for his efforts.
Up front it was the Tatts.com show with Muggleton leading Down by a few tenths with Ellis in third some 15 seconds back. The first driver to retire from the race was Carwyn May who lost control exiting the Corkscrew and hit the inside wall, to be followed eventually by Kelly who blew an engine with three laps to go.
The Tatts drivers had no such issues as Muggleton held-off Down to take another round victory with the drivers staying within one second for the whole race. With Ellis completing the podium, it was a TT-R 1-2-3.  O'Brien and Day had strong runs in fourth and fifth places ahead of Matthew Hill, Michael Fabian was able to get the better of Sanjin Delalic to grab seventh. Bourke fell back three spots to end up in ninth place with Tobias Czerny rounding out the top 10 finishers.
Top Five Drivers – Championship Points – Overall
1. Josh Muggleton – 1988
2. Leigh Day – 1747
3. Madison Down – 1742
4. Leigh Ellis – 1641
5. Michael Fabian – 1546
Split Two Winner: Dale Neish
Split Three Winner: Tom R Jones
Split Four Winner:  David Baxter
Split Five Winner:  Shane Best
Broadcast done by the crew at www.v8sonline.com.au
---
You may also like...
---