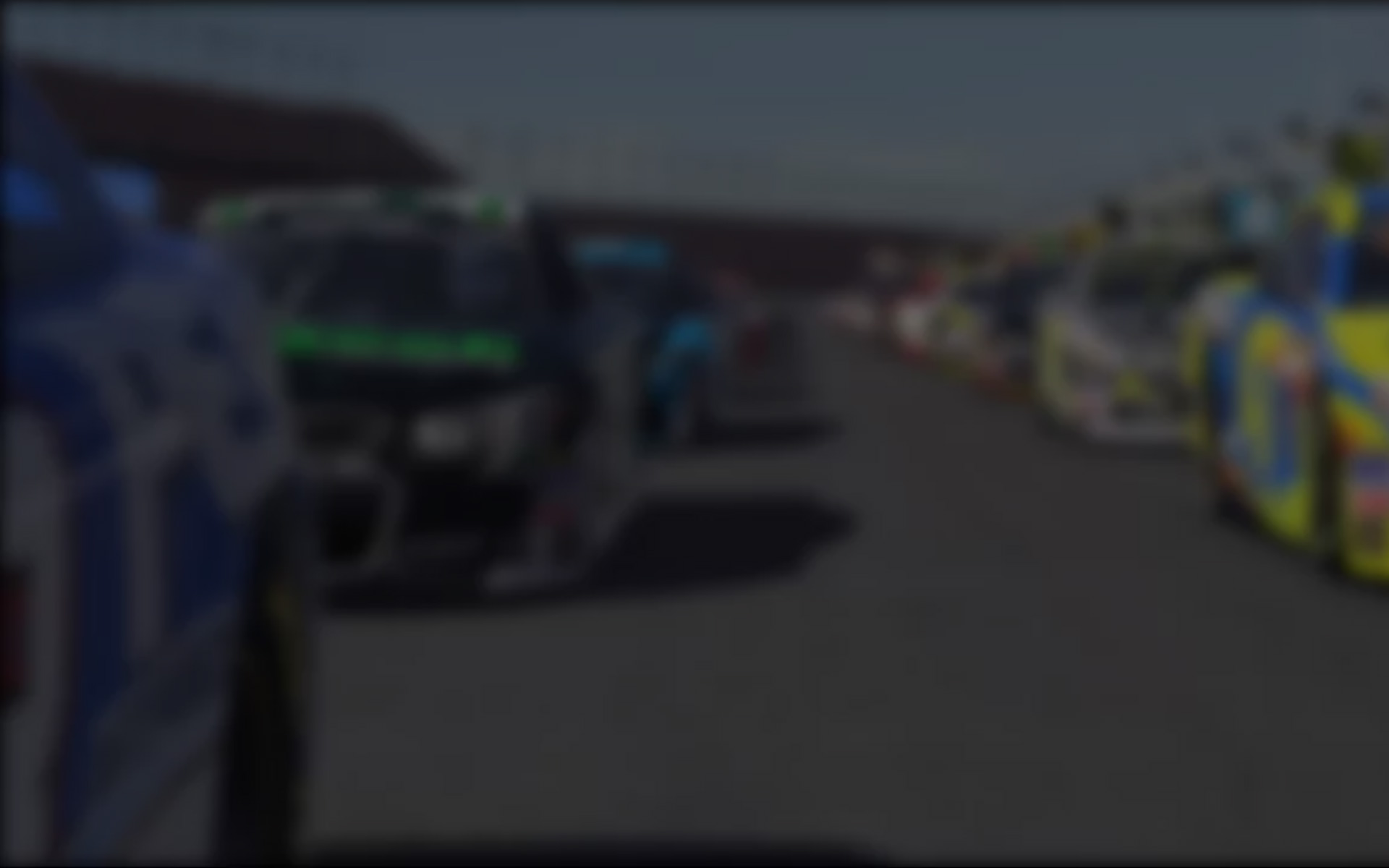 On a Wednesday like any other 18 sim-racers in their Lotus 49s got into formation for the rolling start of a 27 lap sprint around Indianapolis Motor Speedway in a 2488 SOF race.  Ten of the 18 participants were from Finland, over half the field.  Leading the charge towards the Start/Finish line was championship hopeful Mick Claridge after qualifying with a 56.167s lap.  Also (possibly by chance, probably not) as it happened, two of the Finns competing were Aleksi Elomaa and Aleksi Uusi-Jaakkola; both of whom are Pro Class license holders and competitors in the iWCGPS.  The pros were starting from third and fifth on the grid (Elomaa in third) with Antti Pihlaja in second and Jere Seppälä in fourth, also from Finland.
Going into Turn One Uusi-Jaakkola had the inside line on Seppälä and before the turn could even get cambered contact between the two of them sent both drivers into a spin; one went high and one went low.  Seppälä was sent spinning to the right and into the barrier and immediately suffered significant damage before being launched back towards a dozen Lotus 49s closing at over 120mph.  The first eight missed Seppälä (some of them by the smallest of margins) but Aaron Kitterman wasn't so lucky.  Kitterman could do little at 110mph to avoid Seppälä and launched the sim-racer at least 20 feet in the air (something that seems to happen easily in these cars, for those who saw the Laguna Seca article this will seem very familiar).
Uusi-Jaakkola spun left after the initial contact and while no one hit him, Todd Laribee was forced into evasive maneuvers and came into contact with Joni Hagner which then forced Henry Salmén into avoiding action which then caused contact with Jarno A. Matikainen and a few other sim-racers as well.  Jo Pearce had started P12 in the race and in front of him saw no less than six cars currently in the process of high-speed spins.  Pearce lifted off the throttle slightly, found his gap as it opened, and like something out of a Star Wars movie finale, managed to squeeze through the closing doors and avoid the incident entirely, shooting him to sixth place.
The Lap One incident ended the races of six sim-racers; Hagner, Stephan Roesgen, Kitterman, Laribee, Salmén, and Seppälä limped (or were towed) to the pits, never to return.
Three of the 18 were unaffected by the carnage on the opening lap, and those three were running first, second, and third by a comfortable margin.  Claridge led from Elomaa with Pihlaja just behind.  Uusi-Jaakkola had dropped to eighth in the chaos and after clearing Ryan Williams wasted no time passing Pearce for sixth.  By Lap 12 Uusi-Jaakkola had caught Marko Penttinen and Petteri Kotovaara who were locked in a battle for fourth, with the top three about five seconds further up the road.  Uusi-Jaakkola cleared both cars before the lap was finished and turned his focus to the occupied trio ahead.
Back at the front for lap after lap it was Elomaa and Claridge trading positions reaching speeds over 200mph going into the corners.  Pihlaja sat patiently just behind the two sim-racers; always within striking distance but seemingly keeping a muzzle on himself, possibly in hope of contact between the two and an easy victory for himself.  But at the end of Lap 15 that changed when Elomaa very suddenly slowed down out of the final corner and pulled left towards the pit wall, allowing both Claridge and Pihlaja to go past.  The "event" didn't last long and Elomaa was quickly back on the throttle, but the reasoning behind everything was unclear to spectators.  Could it have something to do with Uusi-Jaakkola catching from behind?  Were they trying to orchestrate a one-two Finnish finish?
By Lap 19 Uusi-Jaakkola was just about within the slipstream of the top three, and the fact they were going three wide on the straights at this point certainly wasn't hindering his efforts.  By the end of the next lap Uusi-Jaakkola was past his countryman Pihlaja and challenging Claridge and Elomaa for the lead, and only two laps later Penttinen and Kotovaara had joined the fun, making it a party of six with five laps remaining.
On the final lap of sim-racing it was Elomaa who led from Uusi-Jaakkola, and to think at this point that the Lap 15 "event" was unintentional would probably be naïve as the two drivers seemed perfectly poised to determine who would win.  What happened next was almost certainly not planned by anyone.  Turn One was pretty tame, mostly single-file with the exception of the Finns in front who went side-by-side, possibly to prevent any attempts from Claridge behind.  Turn Two was almost identical to Turn One with the leaders again going side-by-side, which compromised their speed coming onto the back straight and Claridge looked to shoot up between them.  At the last moment he decided the outside would be better and pulled to the right of Elomaa which compromised his speed.  Kotovaara came onto the straight in fourth and with the high amounts of draft ahead — coupled with his good exit out of Turn Two– he slung himself through the field and straight into the lead of the race as they entered Turn Three.
Kotovaara carried too much speed into the corner (possibly from the pressure involved with two Pro license road racers all over his gearbox) and almost immediately went into a slide which caught Uusi-Jaakkola off guard and he started oversteering as well.  Simultaneously, just behind, Claridge also had a moment with his steering and tapped Penttinen at speed.  Uusi-Jaakkola, Claridge, and Penttinen all ended up spinning (Kotovaara actually managed to correct his and continue on) with Penttinen taking the worst of it as he was sent into the barrier and rolled the car to a DNF.  Pihlaja avoided the out of control Lotus 49s and was rewarded with third on the podium and 137 points for his performance, Kotovaara punched above his weight in second place from P9 on the grid and got 146 points, while Elomaa cruised to victory and a 156 point reward that he ended-up not even needing for the week.
Uusi-Jaakkola and Claridge both recovered from their spins in what can only be described as god-like skill and finished fourth and fifth respectively, less than three seconds behind Elomaa, and receiving 128 and 119 championship points.  The Finnvasion was a complete success, but probably not in the way Uusi-Jaakkola had imagined it.  Claridge, Pearce, and Williams put up the best fight they could earning 17 points for the UK&I club but were no match for the dominating 64 club points awarded to Finland for their top four lockout and another two sim-racers who scored club points.
---
You may also like...
---