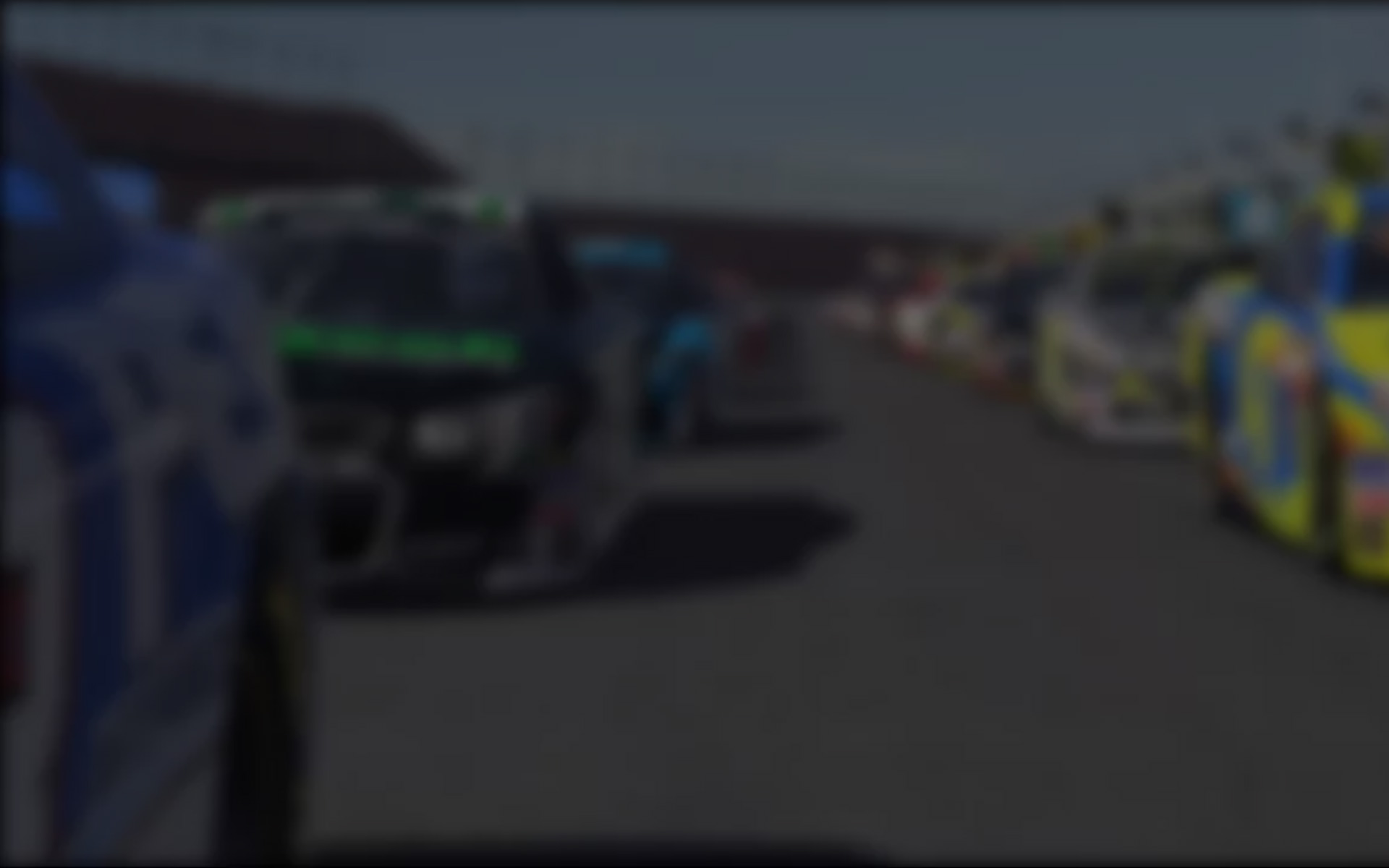 Competitors and fans alike endured rain, fire and many a delay before Matt Kenseth held-off Dale Earnhardt Jr and Greg Biffle to win the fifty-fourth Daytona 500, but the third annual iRacing.com Daytona 500 went off with nary a hitch under the partly cloudy virtual skies of the world's foremost online racing service last Thursday and Saturday.  With the competition divided into races for Rookie-Class D and Class C- Pro licenses, events saw more than 3,200 sim racers take the green flags en route to well over a million miles of online racing that saw nearly 1,000 iRacers lead one or more laps in competition.
The big winner?  That would be Jason Dunnington of Post Falls, ID who was selected at random from the 77 winners as the recipient of a new gaming PC, courtesy of Michael Main and Main Performance PC, together with a one year paid subscription to iRacing.com.  Three other iRacers – Matthew Wright2 (Nassau, NY), Jeff M Smith (Sparks, NV) and John Gibbs (Lenoir, NC) – were chosen at random to receive $100 NASCAR Superstore giftcards.
In terms of the on-track action itself, reigning NASCAR iRacing.com Series World Champion (and 2011 iRacer of the Year) Ray Alfalla bested Adam Gilliland by a quarter of a second to win the event's top rated split (5601 Strength of Field) on Saturday with Tyler D Hudson another half second behind in third.  Thursday's top split (5400 SoF) saw Marcus Lindsey slingshot past Jon Adams and Matt Whitten on the final lap to take a razor-thin (.002s) over Adams with Kenny Humpe beating Whitten to the flag for third.
Although Lindsey's win featured the closest margin of victory in the 54 splits, it was just one of 28 races decided by less than a tenth of second.  In fact, the margin of victory was less than a second in all but a dozen races.
In addition to Alfalla, Lindsey and Dunnington, Daytona 500 winners in the Class C and above categories included Chad Coleman, John Bunton, Gary Dumont, Brian Holman, Cody Dutton, Mathieu Bouysset, Michael Yoder, Marc Melcher, Jeffrey Schloss, Jason Madigan, Carl Rutledge, Malik Ray, Steve Luvender, Attila Sipos, Joe Deutsch, Michael Chinn, R Mason Dunn, Jonathan Auger, Frank Hudson, Juanfra Valero, Brian Gross, Chance Crum, Eric Laval,  Christian Wilms, Christopher Smith7, Alax Arana, Peter Ridley, Jared Haaland, Robert Botts, Robin Jones, Tal Lamountain, Peter Chamberlain, Sam Watson, Herbert Patino, Garry Gonya2, Tom Hutchins, James MacFarlane, Brandon Six, James Howard, Todd Garren, Cody Dutton, Christopher Shetzler, Erik Mahlik2, Chris Wonnacott, John Houston, Logan Whicker, Michael Atkins Jr, Gene Benefield, Dalton Baldwin, Joe Letteriello, David Fortsch, Wyatt Hughes, David Houser, Mark McFayden, Jared H Torres, John Ward, Brian Gross, John Mercer, Jamie Parkhurst, Chris Swett, Darrell E StJean and JD Reyes.
iRacers turned more than 433,000 laps during the Daytona 500s.
Joining Gilliland and Adams on the second step of the Class C+ podium were Fabian de Jong, Armando Vargas, Joel Guez, Travis Sollenberger, Brenden Queen, Luke Luttrell, Mike Grandy, Sergey Komisarchik, Jeffrey Koolbergen, Tim Hamilton, Christopher Spencer, Austin Brooks, Andy Kirschetorte, Neil Fasekas, Christopher Hurlow, Dakota Earman, Scott Hunsinger, Aaron Hutchinson, James Webber Jr, Laurent Caplan, Matt Smith4, Glen Kabis, Tony Mendoza, Jim Gourdine, Loïc Boussiquet, David Coomer, Jeff Schweiss, Eduardo Ximenes, Pierre Bourdon, Rikki Jenkins, Donald Bryan, Jacob Nielsen, Michael Kearns, Brian Davis, Cody McCorkle, Ryan Jarred, Tom Hutchins, Shawn Gayton, Al Rodriguez, Michael Main, Joe Pastore, Chad Peterson, Cary Bettenhausen, Mike Grandy, John Rhine2, Matt Gamble, Jeffrey Keyes, Edward Burch Jr, Nick Boyd, Tom Heveron Sr, Michael Melvin, Alan White, Mike Vining, Trey W Strickland, Dan Mathews, Brian Courin, John Wright, Robert Ingleman, Robert Thompson, Curtis Berleue, Neil Archbold, Austin Grover and Kenneth Thomas.
In addition to Hudson and Humpe, third place finishes in Class C and above went to Connor Cross, Richard Beasley, Adam Cabot, Brian Lambert, Darin Busch, Ricky VanWhy Jr, Robert Wagner, Jake Forster, Kevin Bradshaw, Joshua Guiher, Andrew Hess, Justin Garcia, Daniel Rader, Dennis Brasfield, Ariel Hartung, Jerry Eldred, Nicholas Baran, James Webber Jr, Matt Thomas, Ron Scheyd2, Evan Ethell, Justin Mcclintic, Branden Mall, Nick Meyer, Gary J King, Jeff Schweiss, Patrick Webb, Bobby Jonas, Brock Hubble, Jacob Eufinger, Jordin Mitchell, Clayton Palmer, Curtis Berleue, Stephen Knight, Michael Prokup, Ronald Kirk, Michael Watson2, Dan Gradinaru, Connor Cross, Mike Kirby, Austin Ogonoski, Jason Loy, Paul Godfrey, James Wallace, Kyle Weatherman, Alex Rominger, Shawn Sage, Matt Berndt, Anthony English, Edward Wach, Jonathan Dockery, Mark Winters, Ron Scheyd, Ron Scheyd2, Kyle Robinson, AJ Bernys, Junior Guimaraes, Philip Stamm, Paul Stanley, Dwight Plesh, Tony Bagienski, Daryl Griffin and Darren Kirk.
iRacer rookies and Class D License holders had their own "Twin 500s," with Bryan Bogner besting Ryan Fleck (by .031s) and James Poole to capture Saturday's top-rated (1806 SoF) split, after JW Berger bested Alex Vanorder and Robert Newell in Thursday's top split (1716 SoF).
Other rookie/Class D winners included Teddy Reed, Paul Doucette, Jerry Johnston, Scott Parham, James Oden, Libby Green, JW Berger, Brandon Aiken, Charley Gravelle, Brian Vieira, Sean P Milligan and Matt Harrington.
In addition to Fleck and Vanorder, the Class D/rookie runners-up included Chris Fowler, Chad Barnett, JD Shrake, Joshua Dillon, Ted Blank, Justin Hobbs, Ryan Cobb, John Christ, Tristan Proctor, Reed Burnett and Ryan Derke.
Third places in Rookie and Class D also went to Brandon Aiken, Cody Hitchens, Frank Tabino, Kenneth Gulbrandsen, William Morris, Christopher Bloom, Nathan Truninger, Trey Cauley, Jason MacEachern, Stefano Cozzi and Terry Belanger.
Closest rookie-Class D finish?  That would be Bogner's win over Fleck with Harrington's margin of victory over Derke (.066s) a close second.  Biggest MOV? That honor goes to Hobbs who managed to "eak-out" a 24 lap (!) win on Saturday . . .
---
You may also like...
---