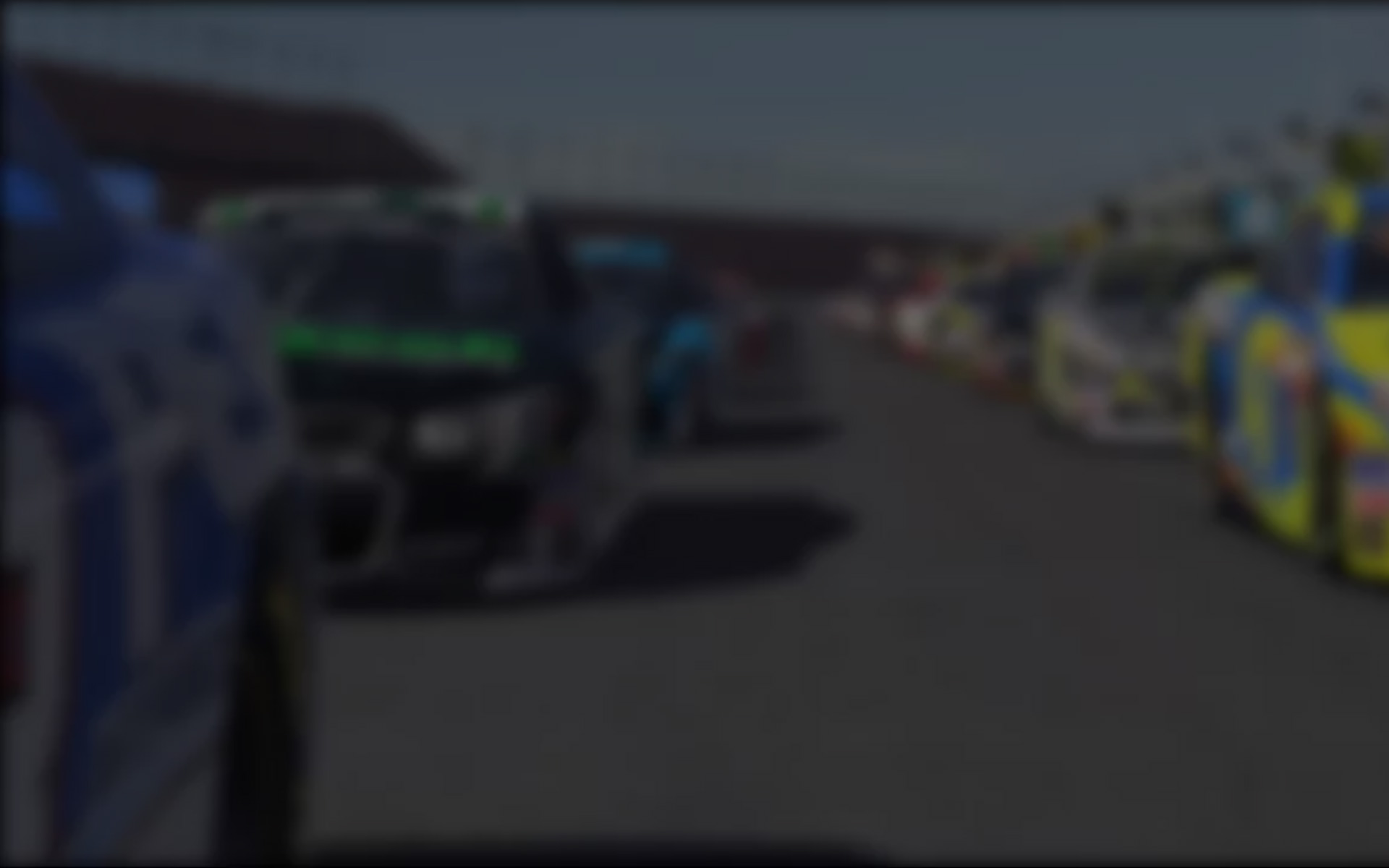 November 27th, 2017 by Richard J. Clarkson
Michael "The Guest Express" Guest ended his 2017 NASCAR Camping World Truck Series season powered by iRacing on a high note, a sunny, southern Florida high note, leading 29 laps at the virtual Homestead-Miami Speedway, besting runner-up Brayden Johnson to the stripe by .396 seconds, earning the 19-year-old sim-racer from Indiana his unbelievable 900th career oval victory.
It wasn't all sunshine and palm trees, computer-generated pink flamingos and career milestones for the Hoosier, however; opting to forgo qualifying, his RacerBoost Graphic Solutions Toyota Tundra started the 45-lap affair deep from the 21-truck pack: 17th.
By lap 14, pitting under both of the race's first two yellow flags to keep fresh Goodyears on each of its four, sixteen-inch steel wheels, The Guest Express suddenly found its 650-horsepower-four-fendered-locomotive-of-a-self restarting the race from outside row two: fourth. Guest got the holeshot. Then, all in one triple-digit swoop, one corner, the Hoosier made quick work of Scott Smith6 and Joshua Shelton—the two lead trucks, at the time—and assumed the point.
The second yellow flag of the race flew four laps previous.
Shelton sniffed the lead behind the tailgate of Jordan Gonzales. The two Chevys rocketed down the front straightaway. Their tailpipes shouted at one another—raspy and throaty and loud, begging for more RPMs.
As the two drivers, close-quartered and side by side, dove their trucks into Turn Three: Contact. Shelton's Lowe's Kobalt Chevrolet Silverado bit Gonzales's bowtie in the left rear, turning round the San Antonian sim-racer and shooting his race machine into the outside SAFER Barrier, crinkling and wrinkling digital sheet metal to the point of being an irreparable windsock.
"Sorry, dude," Shelton said, over his iRacing radio, "but, on my screen, I was there. I don't know if that was netcode or whatever . . .  I'm sorry if it was my fault."
"I was trying to push the issue," Gonzales replied. "You're good, man."
After leading nine laps, the San Antonian finished 12th.
Shelton didn't escape the incident scot-free, either: His Lowe's Chevrolet suffered front-end damage and quickly began to fade when the green flag re-emerged. The Mid-South Sim-Racing Club driver started outside pole and led four laps. He finished 19th.
The race ended with a four-lap sprint to the checkers.
After the middle portion had went green, The Guest Express towing the field around as if they were rice-burning four-cylinder toy cabooses, the third and final yellow flew for Ryan Doucette's single-truck spin, exiting Two.
Everyone pitted except Michael Bianchini2.
Bianchini2 restarted first but lost the lead to Guest by the time they thundered out of Two. Acutely hampered by a worn-out set of digital Goodyear Racing Eagles, Bianchini2's Lowe's Home Improvement Chevy perpetually slid backwards, eventually coming home in the 18th position. Guest launched ahead and won.
On Johnson's final pit stop of the race, lap 39, the Las Vegas, Nevada driver chose to change right side rubber only, the same strategy employed by Guest.  Johnson entered the pits third, he left second, and finished runner-up.
From A Dig Motorsports's driver of The Black Dahlia Murder/Snap-on Chevrolet, Scott Smith6, started on pole with a lap of 30.722 seconds— a personal best for the Floridian—but, after running second for a large portion of the race, opting for four tires on the final pit stop instead of two, losing four positions and restarting sixth, he finished third.
"Damn skippy!" Smith6 said, post-race. "I told yinz! I told yinz we always run good down here at the beach, son! This my neck'uh the woods, ya know? Floridiots and gators and beaches and hurrikins and pythins and swamps and them pain clinics . . . yeah, man, this my neck'uh the woods, and, shoot, I'm always fast in my neck'uh the woods . . . Okay, okay, okay, I know, yinz prolly askin' yinzself how in the world could he'uh started on the damn pole and never even led'uh lap . . . man, he must suck, huh? Hell naw I ain't suck! From A Dig Motorsports the best damn race team in the history'uh best damn race teams, know what I mean, Vern? Yinz saw it, I know ya did, that durn qualifying lap! Hellfire it sure was . . . it . . . was . . . a . . . a world record! I done told yinz we always run good down here. Anyway, it was, it was a damn wild race, man. Shoot, one time I think we'z even four-wide, Jack! Crazy! Anyway, yeah, we started first and finished third, never even led'uh lap. So what? Who's countin'? Not me. Shoot, just wait 'till Speedweeks, honeysuckle. We gonna give 'em hell . . . Oh, and gimme'uh turkey neck!"
Zack Nichols finished fourth, followed by Brian Grubs, rounding out the top-five.
The New Jersey-based sim-racer, Anthony M. Calantoni, finished sixth, followed by Jordan Ashelin, in seventh—Michael Kaiser: eighth. Another youngster from Indiana, the 24-year-old newcomer to iRacing, David Wiseheart, finished ninth; the six-year motorsport simulation veteran, David Howard Jr., closed out the top-ten.
---
You may also like...
---