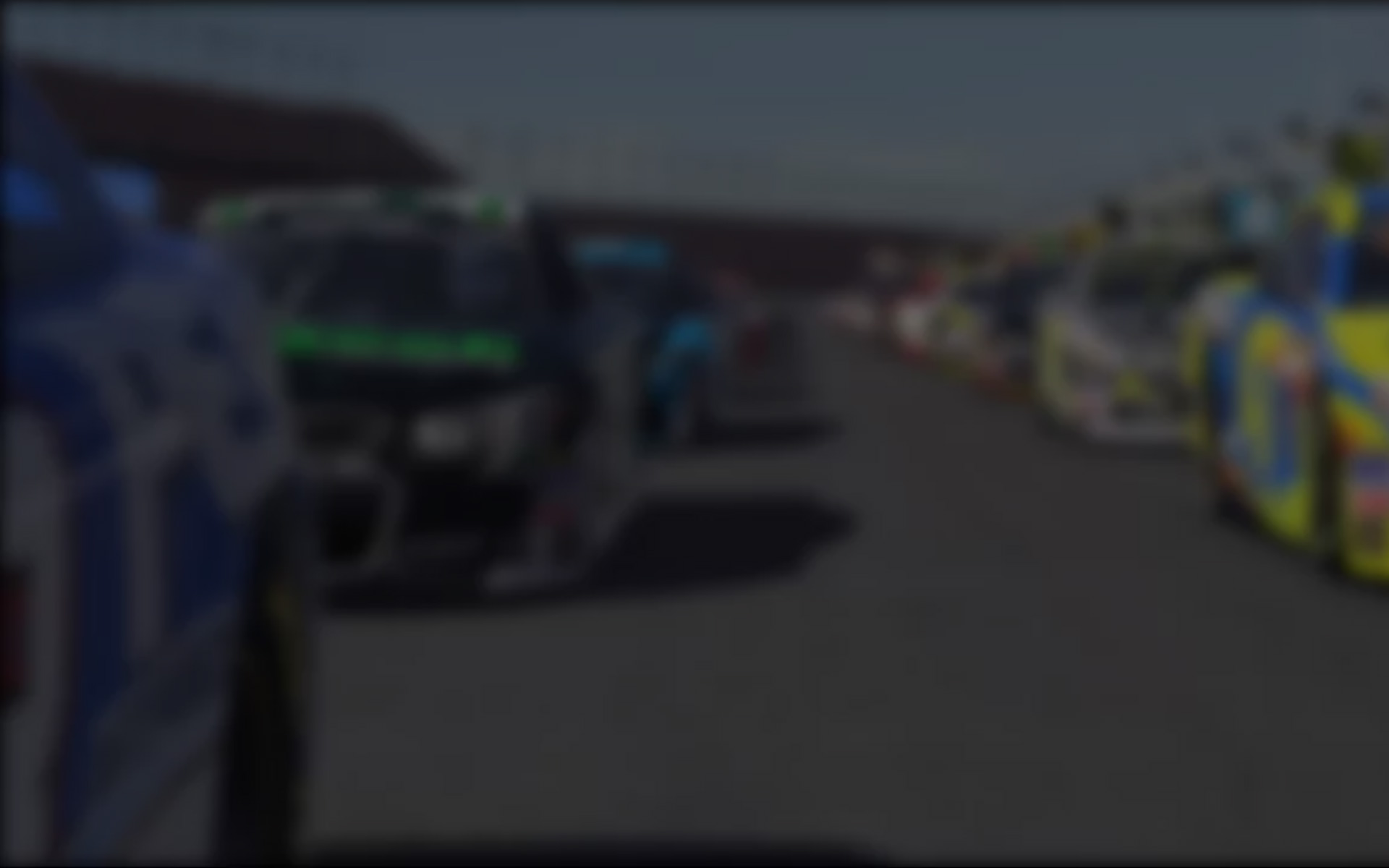 Week Seven of the NASCAR iRacing.com Class C Series (open setup) sent the online racers to one of the United States' newest tracks in Iowa Speedway. The 7/8-mile, progressively banked track was opened in 2006 and has produced some very exciting racing in its short history. Over 900 sim racers rushed into the race servers during the week, all wanting a chance at adding their name to the list of winners Iowa Speedway has accrued over its short existence. Names such as Brad Keselowski, Kyle Busch, Ricky Stenhouse Jr, and Joey Logano have all visited Iowa's victory lane in various NASCAR racing series', now it's time to add a new name to the list.
Bob Howard (Midwest) put on a show during the 3485 Strength of Field as he led all but one of the race's 100 laps from the pole, taking the checkered flag by 0.275 seconds over Maxx Harris (Northwest). Scott Heckert (Connecticut) finished in the final podium spot 0.902 seconds back. Massachusetts native Scott Adams brought his Silverado home in the fourth position and rounding out the top five was Will Drevicky (Ohio).
Although Howard won this week's high SoF event, he was not able to earn the most championship points due to making seven starts. Frequently mentioned on inRacingNews is Justin Brooks (Carolina) earned the most points for the week with 194 after winning in his only start during Week Seven. Brandon Buie (Atlantic) finished off the week in the second position, adding 182 points to his season total. Wes Weidman (Plains) concluded the week with 181 points after have one top five finish in two starts. SoF winner Howard finished in the fourth position, even after winning the race. The best 25% of a driver's race performances in a given race week will be averaged at the conclusion of the week, so that left Howard with 178 points. Charles Harnar (Mid-South), Josh Hulsey (Plains), and Heckert all tied for the final spot in the top five with 169 points.
After a successful week, Brooks was kind enough to give his thoughts about racing at Iowa Speedway: "The truck seemed to have a lot of grip this week compared to the past few seasons. Speeds picked up over four tenths of a second from qualifying last season, as well as race trim. It seemed like you could run any line in turns three and four compared to the past few seasons also, as in other seasons the only fast line in turns three and four was the very high line. Overall, it was a very fun week."
It seemed like you could run any line in turns three and four… — Justin Brooks
To go along with earning the most championship points for the week, Brooks was also the fastest qualifier, turning in a fast time of 22.129 seconds. Chad Pruitt (Mid-South) ended the week in the second position with a time of 22.165 seconds. Weidman rounded out the podium positions with a time of 22.200 seconds. Greg McKinney's (Carolina) time of 22.219 seconds was good enough for the fourth position and completing the top five was New York native Tom Moustakas with a time of 22.230 seconds.
The season long championship battle has become a battle once again as Kenny Humpe (Ohio) did not participate in any races during the week. Humpe currently leads Harris by a meager four points heading into Week Eight. Phil Brown (Mid-South) is just 34 points behind, while Keith Elliott (Western Canada) (-94) and Brian Ammerman (Illinois) (-115) fill the remaining spots in the top five.
Stay tuned to inRacingNews.com as the sim racers of the NiCCS (open setup) head down into the Bluegrass State for a fast and bumpy ride at Kentucky Speedway.
---
You may also like...
---