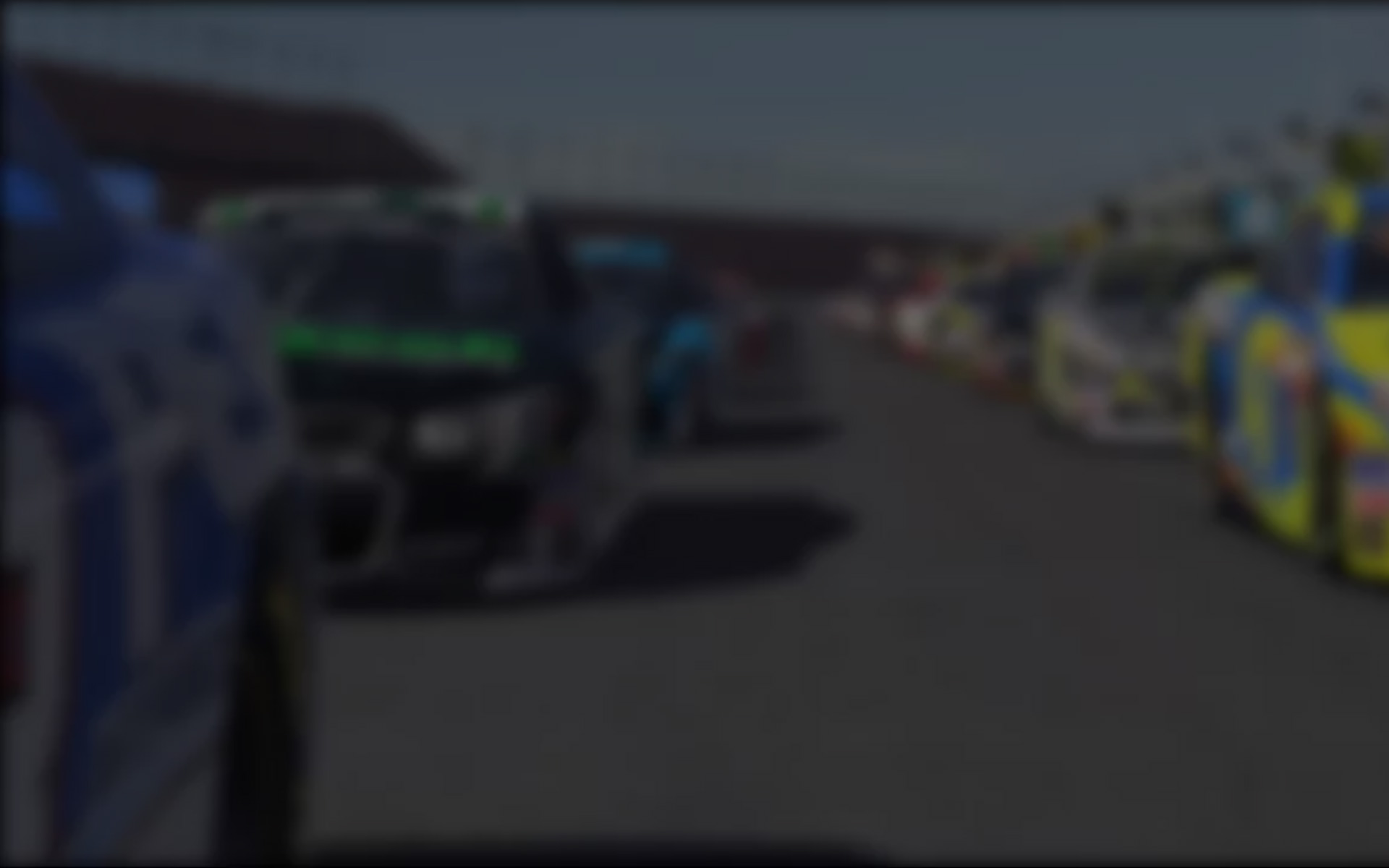 Round 9 of the iRacing.com V8 Supercar Series headed into Japan to race under lights at Twin Ring Motegi (East Course) a new layout for the drivers to tackle and with it being under lights it would make things just that little harder for the drivers.
Qualifying was once again lead by 6 time Champion Madison Down stopping the clock at a 1:20.298 with team mate Josh Muggleton edging out Justin Ruggier by .058 with a 1:20.451. Shaun Kelly would start from fourth with Leigh Day in fifth place. Matthew Nethercote would start from sixth with an outstanding lap in qualifying. Tobias Czerny and Leigh Ellis would both line up on row four with Tony Autridge and Jon Latham rounding out the top 10 starters for the main race.
When the lights went green it was Muggleton getting the jump and taking the lead into turn one, Down had to settle back into second and try to fend off Ruggier. Wheel spin in Day's second phase of the start saw him go from fifth back to eighth after turn one. As everyone tried to get through turn 1 on the opening lap, contact was made when James McKnight spun Simon Black around which forced a lot of drivers to take to the grass to avoid any more contact but it wouldn't end there.
A massive accident on lap 1 saw Autridge put a wheel off onto the grass on the exit of turn 5 and spin across the track, Leighton Fine couldn't avoid the spinning TT-R ford and hit the back of him while just behind Fine, Czerny just net coded fine which sent Fine around and then it all went sour when Fine hit the wall and bounced back onto the track and no one could avoid with half a dozen drivers unable to avoid the mayhem. while all that went down into turn 6 Kelly almost ran into the back of Ruggier and when he got back on the gas a lack of grip saw him get sideways and then Nethercote tapped the back of the LMR Ford sending him into the grass and back down the order.
Up front Muggleton and Down where consistently pulling away from Ruggier in third while the battle for fourth was heating up with a five car train lead by Ellis. with everyone keeping out of trouble for majority of the race things started to heat up in the final 10 laps when Kelly started coming back into the battle for fourth and when team mate Latham ran wide at turn 8 it allowed Kelly to move back into fifth and now Latham was back in the battle for sixth with Nethercote and Czerny in the battle. Marty Atkins was coming through the field very nicely, just keeping out of trouble and having made his way into the top 10 after starting from 24th on the grid.
On lap 19 Czerny was looking down the inside into turn 6 on Latham, Czerny just locked the rears and lost the back and it went into Latham, a bit of net code was involved but unfortunately this sent Latham around and also it gave Atkins another position and now up into eighth. at the end of lap 19 Kelly had a look into the final corner and mid way through the corner Kelly gave a love tap to Ellis getting him a little sideways and coming up through the gears exiting the final corner Ellis just broke into a little bit of wheel spin which sent him a little to right and into the front of Kelly's car which sent the LMR ford into the wall and out of the race.
Up front it was no catching the Tatts.com team of Josh Muggleton and Madison Down, while Down stayed within a few tenths of Muggleton all race there wasn't anything Down could do as Muggleton fought off all challenges from Down and even a love tap into the final corner from Down to Muggleton didn't unsettled him at all and for the first time this season it was Josh Muggleton taking victory in his new car with team mate Down alongside for a formation finish to cap off a strong night. Justin Ruggier was 6 seconds back in third place and now the Championship wide open. Leigh Ellis survived all the chaos to come home in fourth place with Matthew Nethercote having a very strong run finishing inside the top five. Tobias Czerny came home in sixth after an eventful night. the biggest mover and shaker was Marty Atkins finishing in seventh after starting from 24th, a great run for Marty. Jon Latham managed to hold onto eighth after the late race contact which saw him get spun around while Leigh Day ended up in ninth with Mitchell Abrahall rounding out the top 10 finishers.
Top Five Drivers – Championship Points – Overall
1. Justin Ruggier –2019
2. Madison Down – 2000
3. Josh Muggleton – 1873
4. Leigh Ellis –1582
5. Leigh Day – 1520
Split Two Winner: Wayne C Bourke
Split Three Winner: Ian Ford
Split Four Winner: Michael Schneider2
Broadcast done by the crew at www.v8sonline.com.au
---
You may also like...
---