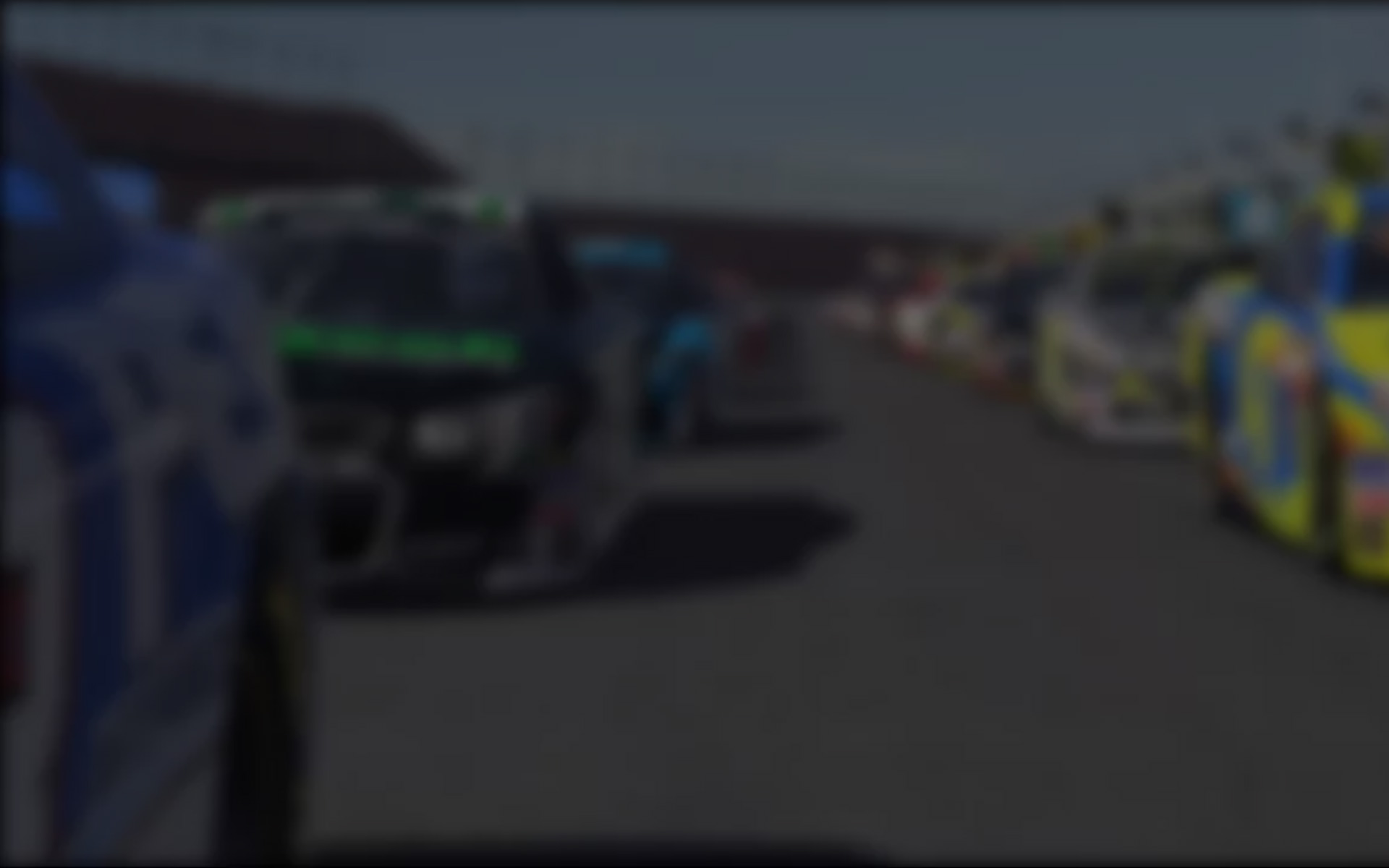 Look for the brake point…
Downshift to 2nd…
"That was a 1:48.5, need more of that."
Anyone leaving pit road?  Nope, set up here…
Watch that dirt on the outside…Any HPDs behind? Nope…
Oops, bad entry…slight understeer…watch the wheelspin…
"2nd place hit a 1:48.2, at the line now"
Man I hate this corner…tiptoe a little here…
Onto the oval…I hear an HPD…there he is…
"Lead P2 behind you and closing, he's in the middle lane…clear."
Any more?  Nope, 10 seconds back to the next one.
"What's our gap?"
"One lap plus about 40 seconds."
Bus stop…cool, dodged another corner cut penalty…
"We need you to keep this pace to maintain."
Another HPD??  Where are these guys coming from?
I'll get a little draft off of him
"Car leaving pit road, should be out right in front of you.  P3 in our class"
At the line again…Look for the brake point…
All that happened about 780 times this weekend.  Just one lap of so many in the biggest race iRacing has ever put on: the 24 Hours of Daytona.  It was unlike any other race in the past on the iRacing service, and required a completely different mindset to run in, and a completely different outlook in order to set yourself up for a good finish.  In the end, nine of us at Gale Force Racing crossed the famed Daytona start/finish line 778 times driving a bug-splattered, dirt laden BMW Z4, landing in victory lane after 24 hours of intense, grueling competition.  We did something none of us expected.  Of everyone who competed, only 20 teams, about 90 drivers, can say they've won the first ever official 24 hour race on the iRacing service, and we are part of that group.
I've been a fan of the WEC/ALMS for years, dating way back to when Audi took their first overall win at Le Mans in 2000 with their revolutionary R8 prototype.  Since then, I've watched the 24 Hours of Le Mans every year, even flag-to-flag on a couple of occasions, and none have disappointed.  Ironically though, I've never watched the Rolex 24 Hours of Daytona.  Still, when the announcement was made to run a 24-hour long event on iRacing, I said I'd find a group to do this.  When the driver swap build was introduced, I started organizing a team.  Only two drivers at first:  Myself and Alex Scribner.  We spent countless hours in practice sessions testing each of the four GT3 cars, trying to find one that fit us best.  After a few weeks, we settled on the RUF RT-12R.
A 24-hour race requires a different mindset than the 100 or 200-mile races we're used to on iRacing.  We'd have driver swaps, fuel management, times to back off and treat the car well, and times to turn it to 11 and thrash every curb we came across.  We pulled from our pool and gathered up nine drivers (Matt Baker, Brandon Buie, Brian Day, Alan Elwood, Matt Holden, Michael Johnson, Nathan Rhew, Alex Scribner, and Justin Weaver) who could handle the ever-changing conditions of the race, initially planning on running two cars, one with four drivers, the other with five.  However, initial testing changed our plan completely, and we had to scrap everything in a matter of a few days.
I've driven Porsches in real life; actually got a concussion from hitting my head on a door bar one time at Charlotte Motor Speedway!  The phrase gets thrown around a lot on iRacing, but in this case I can honestly say it's true:  The RUF drives like what its real-world counterpart does.  It wasn't long before it started biting drivers who began getting comfortable.  A few feet early on the throttle, or a few meters late on the brakes and our little sports car became one with the tire barriers.  We knew that if any of the drivers lost focus for just one second, we would be out of the race.  We then moved to our second choice:  the BMW Z4.  It was a little slower in testing, but the extra downforce and stability gave everyone a level of comfort.  We also condensed it into one single car with nine drivers in order to free up everyone's schedule to play around work schedules, prior commitments, meals, naps and even these things called "wives"…whatever that is.
"We didn't do this for the prize…We did it because we knew it would be fun."
We laid down a simple plan:  Run the car dry, pit for four tires, a full tank of gas and change the driver every other stop.  This allowed freedom in the strategy.  If a driver needed to get out of the car for whatever reason, we could do it. If gas mileage changed or anything affected how far the car could go, the plan would stay the same.  We had a schedule marked out initially with the expected pit stops down to the minute, simply to get the next driver ready, not a mandate for pit stops.  All of the strategy was planned out (almost singlehandedly) by Alex Scribner.  He'll get mad if I don't mention it, but Brian Day was a huge help as well.  The two of them treated this race like their baby. Alex was actually in the server (awake!) for 23 of the 24 hours, and Brian was not far off that mark.
I was asleep for the start, but Alex Scribner took the wheel for the initial stint.  He started dead-last in 41st, and claims to have passed 20 cars before the first pit stop.  However nobody can really confirm this, since most of us were still asleep.  We'll take his word for it though.  After two fuel stints he handed the car to Brian, who gave it to Michael Johnson after his two stints.  I showed up on the tail end of Johnson's second fuel tank, when he handed it to Matt Baker.  By that point, we were third in class, a couple laps down to the GT3 leader.  I began going to our social media stuff and posting the updates on how we were doing.
Up to that point, the race was very uneventful according to everyone.  It wasn't until Baker handed the car to Alan Elwood to start hour seven that the race started to get interesting.  Alan has, on numerous occasions, admitted to us that he is not the best in a road racing vehicle, but we reminded him that he just needed to be consistent, not fast.  After a couple of laps on track, he spun in Turn One, but didn't hit anything.  It was a long wait for a clear spot on track, but he got going again.  Nerves clearly rattled him for the next few laps, but he eventually fell into a spot on track in a battle with the second place GT3 car, including the company of a few GT3 cars that were laps down from us.  This eventually included a P2 car with no nose that gave him a bit of a problem with the swapping back and forth between the infield and oval.  We got the P2 clear after a quick team-to-team conversation, and by then it was time for Alan to pit again.  His second stint was leaps and bounds better than the first, and he showed much more comfort and confidence in the car on a clear track.  Brian took over after the second run again, and started the charge up to second place.
Alan's run in the car was quite tame compared to the man who took over for Brian:  Justin Weaver.  We call him "Peanut," and I have no idea why, but it's why we had a Planter's Peanut logo on the side of the car.  He's a goofball, and I'm pretty sure (with all respect to him) that most of us expected the car to come back to pit road on fire.  Quite the contrary, though:  He got in the car three laps down in third position, and gave it back to us in first place . . . with a one lap lead.  Halfway through his only fuel run in the car, the lead GT3 car was destroyed entering the oval. This allowed us, and the second place #51 McLaren, to move up a spot, putting us in contention for a win that we didn't expect.  Eventually though, the #51 ran into their own trouble, and Peanut managed to not only make up the one-lap gap to the #51, but put a lap on them as well.  What's more, he ripped-off the fastest lap on the team . . . unofficially.  He notched just one incident during that lap and it was not counted as a fastest lap.  We're still picking jaws up off the floor.
From then until midnight, the race went smoothly.  Things calmed down, crashes were few and far between, and it was just a case of "consistency is key."  We need to maintain the lead we had, not necessarily increase it.  My first stint was scheduled for 12:30am, and when midnight rolled around, I checked-in on Brian, who was in the car yet again.  A few seconds on teamspeak told me he was just logging laps, so I asked him how long he had left on the tank.  He said, "I got about 15 laps, but I'm still on the first tank."  Brian was supposed to run two fuel tanks at that point, starting at 10:45pm, but he was halfway through his first tank at 12:30.  I asked Alex what happened, and he said, "Nothing, we're following the schedule and have managed to get one fuel tank ahead."  Incredible!  Somehow, we managed to save a full 30 gallons, pushing my stint to start at 1:30am.  I took over around that time, and logged 62 laps from then until 3:30am, when I handed the car back to Alex.
"I heard Alex yell, "Oh ****, NO!"
I was making a quick post on our facebook page when I heard Alex yell, "Oh ****, NO!"  I pulled up the iRacing window to see our little BMW stuffed fire-wall deep in the tire wall behind the Bus Stop on the backstretch.  We were 19 hours in, with no damage to the car aside from the 17 million bugs, and now it was buried in a tire wall.  Alex initiated a tow back to pit road, and we started going over the damage.  After he got going again, we were a lap down to the #51 again, and Alex left pit road saying, "I have no force feedback or centering spring.  I also have a bit of a deadzone."  We don't know what caused it, but something failed in Alex's steering wheel and he lost control of the car.  All that was damaged, however, was some bodywork pushed-in on the front fenders.  We got away with it, somehow.  I left Alex alone to focus on driving at that point.  Alex soldiered on, no feedback at all, until 5am when Nathan Rhew took over to set up for the finish.
At that point, everyone except for Rhew was essentially asleep.  He handed over the car to Michael Johnson for the final run around 6am, and Matt Baker showed-up to provide overwatch.  The two devised a brilliant fuel strategy to stretch out what they had, and after a little trouble struck the #51 car, Michael took the lead back with less than one hour to go and held on.
After 24 hours, four spins, a tire wall, 778 laps, and 71 incidents, Michael crossed the line for the final time, driving the class-winning #255 BMW.  I woke up around 9:20am on Sunday, grabbed my phone and pulled-up our team's message board.  The first post was from Matt Baker, and it read:
"24 Hours of Daytona Class Win! Way to go guys! It was a little dramatic at the end of the race when I crunched the numbers and realized Michael had to save fuel in order to make it on one stop. Our strategy and aggressive attack after our last pit stop forced the first place car into mistakes which allowed us to bring it home a lap up on the class!"
I thought nothing of it and turned my phone off, rolled over and tried to go back to sleep.  I repeated the post in my head, realizing it said "Class Win!", and snapped up and grabbed the phone again to look and see.  I had left the server at 4am, the car was smashed up, we were a lap down, and Alex had no feel whatsoever.  At that time, it was hopeless and I had accepted that we were going to come up just a little bit short.
But in the end, we didn't come up short.  We finished the race with a one lap lead over second place, no longer the #51 that gave us such an exciting race, but the #99 BMW of "Quick but Thick Racing."  The #51 fell to third, winding-up on the same lap as the #99.  The car that had dominated the first half of the race, the #001 of Walk Racing, wound-up 21st in class, 37 laps down.
"In a normal (sim) race, if the leaders crash-out you don't really feel bad about it because they'll have another shot in a few hours.  This was different, though."
What was most amazing about the end of the race was that, as everyone showed-up on teamspeak Sunday afternoon, still groggy, we were bouncing off the walls from our win, but still felt a bit of sadness for the guys in the #51 and #001 cars.  We all talked about how, in a normal (sim) race, if the leaders crash-out you don't really feel bad about it because they'll have another shot in a few hours.  This was different, though.  We knew how much effort went into making this race happen, how much organization it takes to get everyone together, and all the work that goes in to just getting the car to stay in contention.  It was crazy to think that, after twelve hours of racing, this team that had put such a huge lead in had their race ended in the shortest amount of time.  One simple mistake took it all away, and for the #51, an uncontrollable connection issue almost ended their race as well.  You can't help but feel sad about that.
We didn't do this for the prize, we didn't do it for anything.  We did it because we knew it would be fun, and that's what this stuff is all about.  We got a bunch of friends together on a weekend and drove our little digital BMW around for about 3,000 miles.  For 24 hours straight, we sat on our teamspeak server and joked, shared stories, all while running a race.  In the end, we did something unexpected.  We won the race, we stood atop the podium, a group of friends who can say, "We did it!"  Well, some of us stood atop the podium . . . most of us were asleep!
---
You may also like...
---