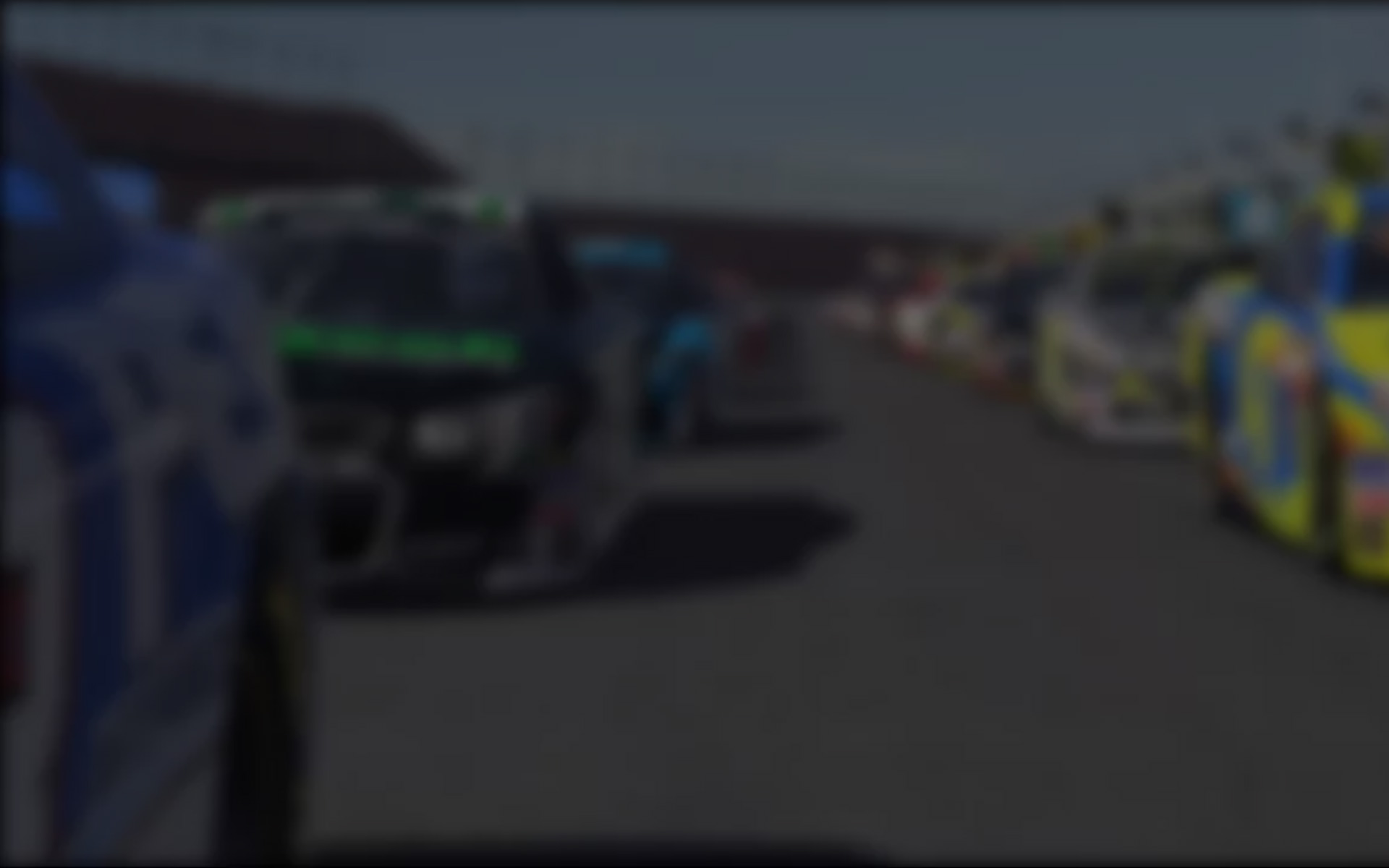 Whilst in racing there is no such thing as a forgone conclusion, Greger Huttu's writing of the iRacing World Championship Road Racing (iWCRR) history books could be an exception to the rule. Marking two-thirds through the inaugural iWCRR season with a visit to the virtual Infineon long configuration, Huttu continued his flawless record with his twelfth win from his twelfth start – all from pole position. The Finnish sim-racing ace avoided a huge opening corner pile-up to claim the chequered flag in the 60 lap event, only yielding the lead during his two scheduled pit-stops.
"I had to push as hard as I could and when I saw that I was able to pull away about two-tenths per lap I was pretty sure that I had less fuel than Rich (Towler)," said Huttu post race. "My race pace was good and even a little better than I expected early on in the run. I thought I might end up in some traffic after my stop on Lap 20, so I wanted as big of a lead as possible so I just kept on pushing until the stop. Luckily there wasn't too much traffic or anything.
"After my first stop, just as I was getting up to speed out of the pit lane, both Darren (Marsh) and Aleksi (Elomaa) went by and I was stuck behind them for the next four to five laps. It seems like Rich had some lapped traffic too, so the gap stayed pretty much the same to what it was before. The rest of the race then was just about keeping up a decent pace and keeping it on the island. I'm happy to win here as it was really close in qualifying and it would have been a completely different race if I had not gotten the pole. It just seems that the small margins are working for me and everything just works out. This season has been nuts so far and I've never had a run like this before."
Despite collecting some slight damage in the Lap One melee, Towler pushed Huttu to the finish, to claim the runner-up spot, a few seconds behind. The Englishman had started on the front row of the grid, but heading towards Turn Two, an innocuous contact with fellow countryman Dom Duhan caused a butterfly effect, with Shawn Purdy tapping the latter's Team Redline car from behind. Packed into the complex like a tin of sardines, the following group of cars had nowhere to go when Purdy's kiss resulted in him spinning on the entrance to Turn Two, causing mayhem.
"The start was normal, but Dom got a good run, we went side-by-side up the hill and I think Dom lifted which caused the car to push out into me," explained Towler. "I spent a lot of the race worried the crash was my fault . . . my car shot sideways  and by the handling I had for the rest of the race I'm going to say I had a tiny amount of damage on the LR; I just didn't have the grip going through the fast right corners to push the car to its limits. The rest of the race I just focused on running the pace that was going to keep me close enough to the lead, so if anything happened I had a shot, but not to take too many risks and throw it away. I had some interesting times during my stops which cost me a hell of a lot of time, but we made it through to finish second and was nice to be on the offensive rather than defensive for a change."
Purdy, whose spin resulted in several retirements from the event, was inconsolable post race. "I don't really know what else to say but I feel freaking horrible," the Canadian shared with inRacingNews. "I was lifting way before the fast kink, and started braking way before my normal spot and still barely tapped the back of Dom's car and my car just went crazy from there. I can't catch a break on this track – it hates me."
Picking his way through the carnage of Lap One, Ben Cornett miraculously avoided 'the big one' to bring his Dallara IndyCar home for a podium finish, despite struggling with a new setup on his car. "As we went up the hill, I saw tyre smoke. Everything happened very quickly from that point," shared the Australian. "Shawn got into Dom, and then for some reason got very sideways. This put him into Ilkka and then chaos ensued. There was only a tiny gap on the track that wasn't filled with flying Dallaras so I aimed for that and found a way through. I was very lucky there . The next couple of corners I was behind Dom but I had only done two laps with the race setup I was using and wasn't aware of how ridiculous it was to drive on the first lap. I overtook Dom basically by accident – I was totally out of control.
"From there, Dom was slightly quicker than me. I was concentrating on lapping quickly but he began to reel me in. A few laps later however he encountered difficulty and I was left to finish the race lapping carefully at 80% to bring home a much needed podium result. My championship is back on track."
Making his début in the iRacing World Championship Road Racing, Jeffrey Rietveld put on an impressive display to claim a fourth place finish in a baptism of fire for the Benelux Club member. "My start was pretty good, there was a huge pile up in Turn One, and I took the inside and moved up to position five," said the débutante who had started the race in eighth spot. "After that, I wanted to keep up with Dom through the race but he was too fast, though I saw that he was making mistakes, probably because of his damaged car. So for me it was like waiting till he crashes. A few laps later I saw he was out, so I moved into fourth. After the first pit stop I was still in fourth and didn't gave the place away anymore. I'm really happy to finish at this position in my first iWCRR race."
Securing a top five finish in his second appearance of the Championship, Aleksi Elomaa overcame early damage and a bounce off the wall to hold off the amorous advances of Illka Haapala. The pair had battled nose-to-tail for the majority of the race, but an error by Haapala in the closing laps left the Scandinavian to bring home fifth position. "I got some damage from the Turn Two mayhem but it didn't hurt me too much so I was able to do ok-ish laps behind Darren (Marsh),"  explained Elomaa. "I hit the wall on Lap Six with my rear tire but the car was still almost same. I had a full tank for the first stint and went to the pits on Lap 24 and nothing changed. Before my second pit stop on Lap 44 Ilkka caught me and tried to find way to pass but couldn't. I caught Darren who was held up by a back-marker and pitted on the same lap. My stop was faster and we were side-by-side which caused Darren (to) speed in the pits so I was fifth after my stop. On Lap 57 in Turn Five Ilkka got a better run but we were already approaching the kink before the Carousel. I saw Ilkka going inside of me so I let my car slide a little higher and he had to do a mega-lift. He then spun in the following corner and I was able to concentrate on doing fast laps."
Also benefiting from Haapala's dropping down the order in the final laps was Dion Vergers, who leapt from seventeenth on the grid to an overall sixth position. "It turned out starting a bit back was a good thing though with that big mess in Turn One," enthused the Orion Race Team driver. "Going into this race I was hoping for a top 10 again, so walking away here with sixth is far more then I could have hoped for."
The aforementioned Haapala, who rescued his Dallara IndyCar from what looked like an inevitable spin, clawed his way back to the gearbox of Vergers by the final laps, but found the Benelux driver leaving no doors open for him. "I spent the last 20 laps trying to pass Aleksi, but couldn't make it stick." shared the Finn. "At the end Dion caught us while we were fighting and sneaked by me when I had to lift and almost spin avoiding contact with Aleksi."
Rounding out the top ten, Bryan Heitkotter, Ryan Murray and David Sirios, all made big gains from the midfield as a result of the spectacular opening laps. The trio who started in respective sixteenth, twenty-first and nineteenth positions, made it through the wall of cars, although not entirely unscathed, to take the chequered flag a lap down on the leaders.
With 12 rounds of the iRacing Drivers World Championship Road Racing series complete and taking into account dropped races, Huttu now holds a commanding 108 point lead over Towler, who has 932 marks to his name. Moving back up to third in the standings, Cornett trails Towler by 123 points and sits a mere seven in front of Orion Race Team's Haapala.
Round 13 of the iDWCRR makes a welcome return to Road America and with Huttu continuing his run of dominating form, it poses the question, could the Finn make it a clean sweep for the entire season?
---
You may also like...
---