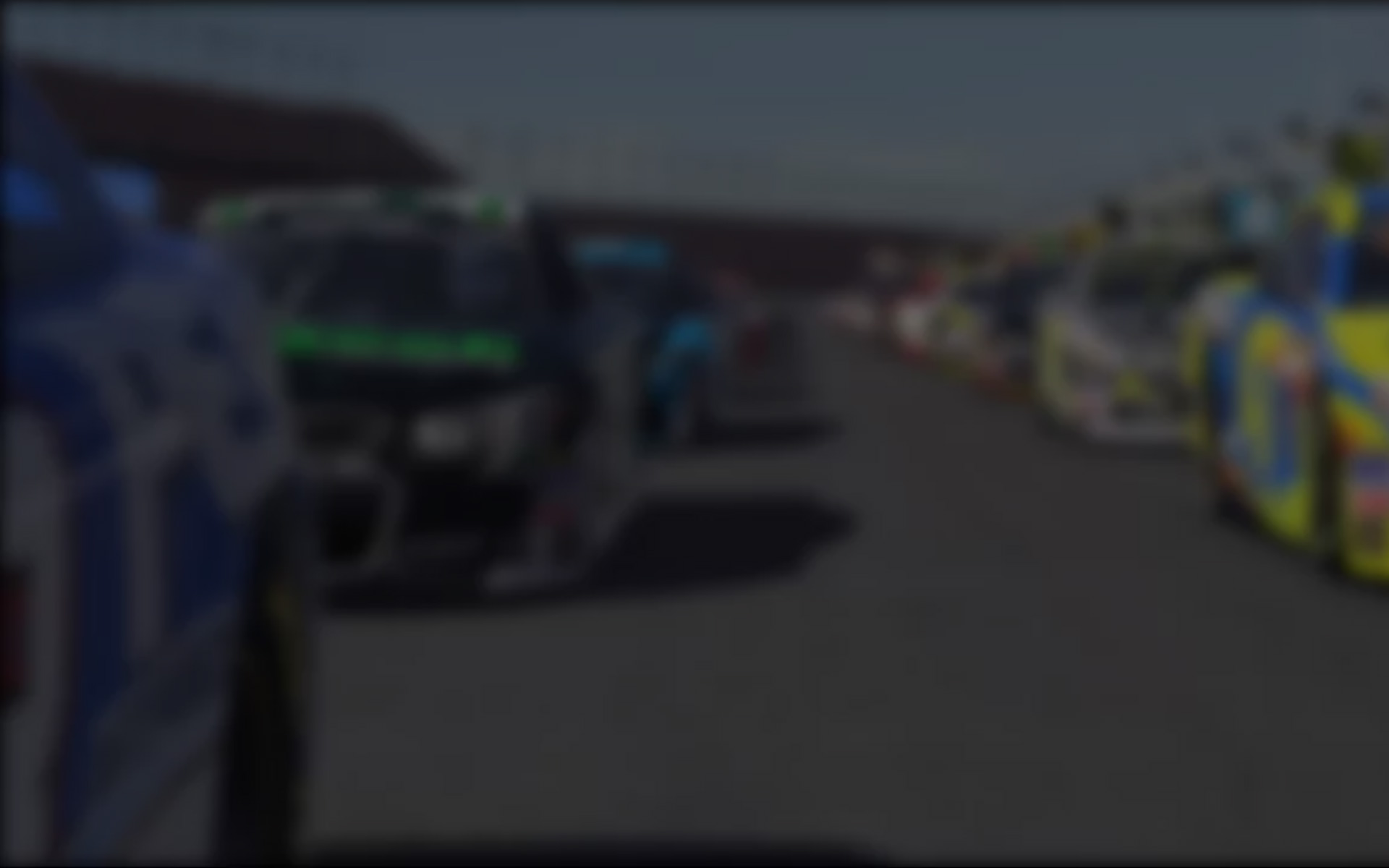 November 23rd, 2015 by Sean Braganza
Round 2 Of 5 Of The BSRTC PRO Series' Showdown
As the usual assortment of Touring Car iRacers gathered their wits and nerve an hour prior to the three round race at Autódromo José Carlos Pace (Interlagos) in the heart of São Paulo, Brazil – the second of the last five races that would ultimately determine which of the 50 drivers and 3 teams of the 35 week season would claim their respective pieces of the $10,000 prize fund – a deafening bawl echoed through the silence of the teams' Facebook locker rooms. ' If even a single car– a single car – manages to overtake me tonight, I'll kill myself. Samurai Style. As for Aleksandar Smolensky ahead of me in the standings? He's insignificant.'
It was Ellis 'Kip' Stephens – New Homes Digital's notoriously audacious PRO Driver who at the time held 5th place in the PRO Drivers' Standings. 'New Homes is setting out on all attack tonight. It's time to stir things up!' Having finished the Pro Series' 89th Round at Okayama's Short Circuit in first place the previous week, Stephens was beginning to illustrate no shortage of (over)confidence. Yet despite the fact that a large portion of the BSRTC community's wisdom demanded that they take Stephens' snide remarks with a grain of salt – the challenge hurled by him prior to the race at Interlagos did seem to instigate several of the Championships' competitors to ensure they placed ahead of the New Homes driver. 'Ellis? Yeah, he does enjoy stirring it up, playing the villain. But when it comes to racing, he's a pretty serious guy!', stated one such competitor, Simon Field of Peter Newman Media.
Hollow threats or not, Interlagos promised no shortage of excitement especially given its action-packed history with the BSRTC. While the ApexRacing TV broadcast team reflected on one such event in history wherein PRO Driver Wojceich Swirydovicz had finished ahead of then championship contender, Aday Coba Lopez in Season 5 by 1/4000th of a second – the current Season's grid was huddled together just as closely. Qualification had gone on to illustrate differences of but tenths of a second between the drivers, several of which could be seen driving laps together in close formation between Junção and the Senna S even during practice.
And then there were the countless duels that would ensue on account of the Showdown. The PRO Drivers' top contenders Swirydovicz and Job of Engine Oil Direct and Apex Racing TV respectively differed by a mere 5 points in the Standings, with the gap between the Drivers from 4th to 11th being just as minimal. The AM Drivers' Standings had Apex Racing TV's Richard Gore in 1st place ahead of Stem Sim Racing's Paul Smith by but a point while the Team Standings had GT Omega ahead of Engine Oil Direct by 16. All the makings of a battle of the Samurai then – were in place.
Round 91 – Woj A Start!
0.292 seconds read the gap between Engine Oil Direct's Wojceich Swirydovicz and ApexRacingTV' s Sebastian Job as they crossed the line in 1st and 2nd place respectively, extending Swirydovicz's lead over the latter by 10 points in the Standings. Having begun the race in 6th place, Job had squeezed through the likes of GT Omega's Julian Genovski, Okayama Short's 88th round winner Andreas Katz of Euro Chip Digital and the New Homes' vehicles of Jamie Rushworth and Jamie Fluke respectively – both of whom had dominated 2nd and 3rd place respectively for more than half the round – to commence a thorough shakedown on the PRO Drivers' leading contender by Lap 10. While Job's lap times ranged 0.3 seconds faster than those of Swirydovicz, the Engine Oil driver's impeccable line of defence held its ground till the very end – despite Job's incessant prodding and attempts to sneak past his inside over the final 3 laps.
The New Homes duo of Rushworth and Fluke meanwhile wound up in 3rd and 4th place each, despite promising to emulate Okayama's 90th round one-two finish on Lap One as they flanked Swirydovicz on either side on entry to the Senna S. Unfortunately, the Senna S would prove to be detrimental to each of their defences allowing Job to brush past the insides of both by laps 5 and 7 respectively. Euro Chip's Andreas Katz suffered a similar fate at the S by lap 4, after having held his line against the Apex Racing driver for over 4 laps only to concede to him and finish in 5th place.
Katz, who intends to get to the PRO Drivers' podium solely so that he can send funds to a charity for Orphans in Africa was disappointed with how events had transpired despite landing in 4th place of the Standings. Blaming his inability to place within the podium on a botched setup he explained, 'Despite being half a second faster during the training races over the week prior, the setup didn't seem to work at all on Race day. It was incredibly hard to find the right balance between speed and durability when it came to the tyres and so they wore out pretty quick causing me to lose both positions I had gained over the first few laps.'
While the first of these positions was that of Job, the other was of Julian Genovski. Genovski had initially suffered a comparatively slower start in 4th place that resulted in Katz and Job placing ahead of him by the end of the Senna S on Lap one. By the end of the Reta Oposta he had conceded to team mate Michael Schellbach who, due to an over-ambitious Simon Field's rather delayed braking at the S on Lap Two, had been slammed into by the Peter Newman driver and subjected to 19th place by the end of the race.
In the intervening time, Laser Tools' Aleksandar Smolensky's much quicker run between Junção and the Senna S placed him ahead of Genovski in 6th by Lap 4 before Stem Sim's David Baker hurled salt on the wound by moving past Genovski's inside halfway through turn one on Lap 5. Genovski quickly shoved Baker aside at Turn 2, before running wide at Turn 4 and giving way to an entire train of cars to finish in 11th place altogether.
This train, led by Daniel Hunt in 7th comprised of Peter Newman Media's Ashley Sutton and Pete Newman, Baker and Friction Racing's Colin Cunniffe in 8th, 9th, 10th and 11th respectively.
Over the course of this train's formation in the laps prior and after, a multitude of drivers had faced the wrong way of the pack. Or the inside of a track barrier for that matter – Apex Racing TV's Jake Blackhall's race ended at the end of the Senna S on Lap One when, on moving alongside a three-wide formation between Euro Chip's Steve Hefford, Engine Oil's Dan Blake and New Homes' Steve Richardson, his car was shoved into the barrier by an out-of-control Blake who seemed to have bounced off Hefford's Optima. 'All I could see was sky, grass, sky and then grass', recalled a dizzy Blackhall who was disconnected instantly. Soon after on the same lap, Stem Sim's Ben Palmer was spun out by Euro Chip's Rob Fagg en route to the Ferradura in 17th place.
' My apologies to Palmer – I misjudged the distance between us, causing me to accidentally nudge him and send him into the barrier', recounted Fagg who was disqualified himself by Lap 7; Fagg had been barged into a speeding Simon Field in 16th place on lap 7 while slowing down at Junção, forcing him into the tyre barrier for good. To top things off, GT Omega's Steliyan Chepilevski was sent spinning into the Ferradura tarmac run-off by Engine Oil's Jeroen Keizer on Lap one after the latter's front –right wheel seem to lodge itself into the GT Omega driver's rear. Chepilevsky's subsequent 18th place finish from a 9th place start as a result forced him all the way down to 11th in the PRO Drivers' Standings.
Yet despite all of that, Peter Newman Media's Ashley Sutton had managed to find his way to an unbelievable 11th place after a 33rd place start by Lap 5. Having parted the Sea of over 20 drivers as if they never existed, the BSRTC's Moses would go on to finish – astonishingly but not astonishingly – in 6th place behind Andreas Katz, despite holding no claim within the Showdown. Speaking of which, the AM side of the Showdown saw New Homes' Laura Bond not step into a puddle of ill fortune for once and place ahead of the rest of her AM competitors in 15th place. The only competition she faced came from Field who hung behind her and team mate Stephens in 18th place. Field had placed himself ahead of the New Homes duo by Lap 8, but decided at the last minute to take Michael Schellback for a walk along Junção's tarmac run-off in the final lap, effectively letting Bond and Stephens zoom past. This served to push her up to 3rd place in the AM Standings behind Apex Racing's Richard Gore and Stem Sim's Paul Smith who were tied in 1st and 2nd place after their 22nd and 24th place finishes respectively.
As for Stephens – in position 23rd on the starting grid -had managed to move up 7 places to finish in 16th. I dared not ask him about it.
Round 92 – The Worst Rule Change They Ever Made
'Woj (Swirydovicz) spun me and that's what killed you Seb.'
'And that's just gone and ruined any chance of a championship – Of course, it's me who gets all the damage!'
The second round of the night at Interlagos began with a bang. As GT Omega's Russell Laidler led the pack of 33 into Ferradura with New Homes' Laura Bond hot on his heels; as Peter Newman Media's Moses out-braked his opponents to jump from 10th to 7th place; as Engine Oil's Jeroen Keizer and GT Omega's Julian Genovski remodelled each other's doors, PRO Driver Sebastian Job grew restless after being overtaken by nemesis Wojceich Swirydovicz along the Reta Oposta. Desperate to get ahead of the Engine Oil Driver in 11th place, Job soared past GT Omega's Daniel Hunt in 12th to aggressively pit himself against Swirydovicz's side. Together, they moved side by side through turns 7 to 10 – three wide with Andreas Katz in 10th at one instance – before it happened.
As Katz followed Laser Tools' Aleksandar Smolensky into the inside of Turn 8, Swirydovicz donned the Euro Chip driver's outside – only to have Job shoot past him on the far left side of the track and dive into the corner ahead of him. This caused contact – contact that sent Job into a drift and nearly had him cave Smolensky's door in. As he skilfully corrected himself as he was known to be adept at, Swirydovicz moved alongside him – with New Homes' Jamie Fluke on his inside – putting into effect a three-wide formation. Swirydovicz quickly flicked to the right to avoid Job, making contact as a result with Fluke's rear and setting him perpendicular to Job's path. The impact was such that both Fluke and Job were effectively hurled into the air as Swirydovicz, remarkably, made it through unscathed. The round had ended for Job and Fluke.
Job – now in third place in the PRO Drivers' standings – was furious and took immediately to the ApexRacing TV livestream's chat on Youtube to vent his frustration against the 'No Fast Repair' rule. While the races that comprised the weeks prior to the Showdown allowed for quick fixes to be made to a car in the event of a damage, the Showdown races did away with the rule to keep the action intense, realistic and unpredictable throughout. With this preventing him from effectively re-joining the round, Job had begun to state that the decision to eliminate fast-repairs within the last five weeks was perhaps the BSRTC's worst. ' To be quite honest, that makes it that much closer to real racing. And so I for one never was a fan of the fast-repair from the start of the season', argued Stem Sim's Ashley Blake-Hood, who was but spectating the events that transpired, on hearing this.
'Yeah, but why change it for the end of the season?' Job retorted. 'Especially when it's so critical now to finish. What was the point of the showdown if they just wanted it to be luck-based? It's ONE crash and you're out!' Curious to know what the BSRTC's administration had to say, I ensured that Job's sentiments were shared. 'Because people are paying to race the series for 9 months', justified New Homes' Stephens, also one of the BSRTC's Founders and administrative authorities. 'When they crash it's slightly unfair to knock them out of the race and have them watch. Now, when we are at the deciding 5 weeks it's time to clean your racing up and do your best to avoid the crashes – which real life has – with no reset button and massive repair bills!'
The show, regardless, moved on. GT Omega's Russell Laidler won the round at but the last second on the final lap when Peter Newman Media's Ashley Sutton who, having found his way to 1st place from 10th , ran out of fuel a few 100 metres from the line to finish in 2nd after leading the pack for nearly 10 laps. Laidler and Sutton had previously been team-mates in seasons prior to nine. Post a celebratory donut on the track he took to the commentary box to explain how the old camaraderie had helped cement his wind – 'It's like a team within a team; When Ash got to me, I let off the throttle early going into turn one (on lap five) for to me – it made more sense for us to work together to pull away from the rest of the field. If we'd started battling, we'd have been faced with people like Swirydovicz, Katz – people I'm out of my league with. I only won the round on merit being as Ash ran out of fuel.'
Laidler had announced to his team prior to the race that he would be 'badly off pace' given a back injury he had procured at work during the day – A team whose spirit was put on display during the last lap when member Daniel Hunt, having down-shifted earlier than he should have at Junção, blew his engine just as he moved in to over-take Rushworth on exit. Hunt struggled to move up the hill towards the finish as he dropped positions rapidly before team mate Chepilevsky in position 14th moved in behind him, lodged himself to his bumper and pushed him past the finish line. ' I was so lucky Steli was behind me as I don't think I would have made it up that hill.'
Jeroen Keizer sealed off the podium – commendably, given that he had begun the race in the same position – after what seemed to be one of the most adrenaline packed races for the Engine Oil Direct driver in recent times. Keizer had fought valiantly to hold his own against an ascending Sutton for over 3 laps that saw him make rapid contact with the Peter Newman Media driver- even shoving him aside at the Senna S on Lap Two. Having perceived this dimension of his driving persona for the first time, I prodded the the BSRTC's Keeper of Scores to reveal just what he'd eaten prior to the race.
'All of that wasn't me bumping Sutton as much as that was me standing my ground while he tried to close the door', he reflected later. 'Sure Genovski had given me a bump prior in Lap One but that was just him going into the apex deep and so it wasn't a problem. Post that though, Sutton had resorted to bumping into me quite a few times after which I wasn't going to make it easy on him. He probably figured he'd get past by out-braking me but he just turned into Turn 2 on lap two like I wasn't even there. Hence the shoving aside.'
Of course Keizer hadn't held his ground throughout the race – having conceded to Stem Sim's David Baker on Lap 5 before regaining 3rd place on the final lap by pushing past Baker on turn 8. Baker, who finished in 4th place despite lacking in practice wasn't too pleased with the move Keizer had pulled as was apparent from his recount – 'Let's just say I took some issue with that – I'm sure many others wouldn't have even let his car finish. Words were spoken in the heat of the moment afterwards but after some cooling off I think we're ok again – Jeroen conceded he had been seeing red mist from a move Sutton had pulled earlier.' The 4th place finish coupled with Job's ousting served to push Baker up by one place on the PRO Drivers' Standing.
Meanwhile, New Homes' Jamie Rushworth, Euro Chip's Andreas Katz and Engine Oil Swirydovicz finished in 5th, 6th and 7th place respectively after a 10 lap battle that saw them creep past Laser Tools' Smolensky in 7th place by lap 5 and engage in a three-way battle that resulted in Rushworth jumping up to 2nd place (ahead of Job) in the PRO Drivers' standings while Katz maintained his 4th. Rushworth's team-mate Laura Bond effectively led the AM drivers who were huddled towards the back of the pack from 5th place during the first half of the race – having dropped down from a 1st place start by Lap 3 – before losing connection shortly after setting the race's fastest lap on Lap 7.
This changed absolutely nothing on the AM table, given how Apex Racing's Richard Gore and Stem Sim's Paul Smith decided to drive into opposite barriers after a spot of contact en route to the Ferradura, putting an end to their races per se.
Stephens in the interim, wound up in 19th place post a 16th place finish and I still didn't dare ask him about it.
17. Only 17 cars from the grid of 32 – minus New Homes' Laura Bond – made it past the finish line in what had clearly set itself apart as one of the most disastrous races in BSRTC history.
With Stem Sim's Robert Plumley on pole turning awkwardly to the left as soon as the green light went off, the Laser Tools duo of Rob Graham and Scott Malcolm inched past – leading Engine Oil's Andrew Whitehead, Dan Blake and John Roberts in 3rd, 4th and 7th respectively through the Senna S. As Plumley and New Homes' Steve Richardson settled in between the 7 midway through the S, New Homes' Kip Stephens and Peter Newman Media's Pete Newman scraped doors in 9th place. This resulting impact between the two caused Newman to sustain damage to his front suspension halfway through corner 2 as he drifted towards the barrier on his left – before regaining composure and being tapped on the rear by Euro Chip's Steve Hefford on return.
As Hefford followed Newman through corner 2's exit, he was flanked by GT Omega's Cheplivesky and Stem Sim's Ben Palmer – the latter of whom had run wide on corner-exit. As Palmer re-joined swiftly, Newman fishtailed – forcing a speeding Hefford behind him to inevitably make contact and set the Peter Newman Media driver straight through the centre of Chepilevsky's passenger side who still happened to be by his side.
This unsettled Hefford who, in a flash of a second lost traction and found his way into Palmer's path. The resulting frenzy was catastrophic – As Newman drifted perpendicular to the track with Chepilevsky facing the other way, a ripple of destruction engulfed the entire ensemble of 15-odd drivers at the rear of the Reta Oposta taking nearly everyone prisoner.
Up to 12 drivers would be forced to the pits– inclusive of PRO Drivers' contenders Sebastian Job, Jamie Rushworth, David Baker, Peter Newman and Steliyan Chepilevsky – none of whom, with the exception of Apex Racing's Jake Blackhall, would make it back. With Swirydovicz having miraculously made it through the carnage with but a few bruises, Job now faced the rear end of the top 10 standings with a gap of 200 points separating him from the Engine Oil driver.
He wasn't pleased, as he took to livestream's chat to make one last resounding announcement – ' I'm not going to race again this season. Not like this – when half of the races are spent dodging crashes. I put a year into this and what do I get for it?' Several viewers of the stream, inclusive of myself, moved to convince him that given his prior track record, making it back on the podium would be no mountain. 'No chance at all and I don't enjoy avoiding wrecks constantly!', he maintained. 'No series should be based on avoiding wrecks to win the championship.'
As the survivors straggled through the course behind the pace car over the next couple of laps, Laser Tools' Graham – who still happened to be in the lead- had gradually begun to slow the pack down towards the end of the lap 3 – hoping to garner a competitively beneficial run from Junção to the Senna S as soon as the Pace Car dove into the pit-lane. Amusingly, Graham obliviously stepped on the throttle well before the Pace Car retired – subjecting him and the rest of the pack that had followed suit to a round of sudden braking on seeing the Pace Car at the top of the hill that near resulted in another round of crashes. Despite this, Graham would push forward to finish in 4th place as his tyres wore out, though not without incident.
Peter Newman Media's Sutton had risen, albeit aggressively, from 17th place on the caution laps to 3rd place behind Graham by the end of Lap 9. As he began to cling to Graham's bumper on entry to Lap 10, the Laser Tools driver grew adamant. Refusing to budge, he maintained his line through the 2nd corner of the course as Sutton moved alongside his outside – causing him to send the PNM driver into a drift which he corrected quickly. Soon after – down the Reta Oposta at precisely the same spot that had been the highlight a few laps ago, Graham and Sutton's door -against -door dealings drove the PNM driver perpendicular into Plumley's path who had unfortunately crept into Graham's left. Sutton and Plumley's race ended soon after as a result – as Graham drudged on towards the finish.
Graham however was sour – not because of the incident alone but due to the commentators' comments that seemed to imply that the Laser Tools driver had set out on an anti-Sutton agenda. As he vehemently explained the events that had transpired post watching the broadcast he said, 'The statements made by the commentator in question is both a ridiculously inaccurate and an insulting statement – one that was made repeatedly. The commentator should be ashamed of himself for being so presumptive of others' thoughts and then not even mentioning the fact he had said this numerous times during our post-race interview.'
' I would just like to clear up that I have categorically never (and never will) deliberately taken anyone out during a competitive race. Sutton is very well known in the series for having little respect and just bashing people out his way. I have been a victim of this myself numerous times over various seasons (as have many others) on more than one occasion. I have had to back out to avoid him causing certainly himself and probably both of us to crash. During the pre-race chat with Scott (Malcolm), I had made a conscious decision that if I was to be defending against him on track this week – there would be absolutely no giving in. Unfortunately this only resulted in my actions being misjudged. Regardless, as I have been forced into the pits by him more than once in the past, although my misjudgement was never intentional, I struggle to find any pity for him. Although I do feel pity for poor Robert Plumley who was but an innocent bystander at the time'
Finishing ahead of him was Engine Oil's Andrew Whitehead who had led the race all the way up until lap 10, before finally conceding to Kip Stephens on Lap 10 and team mate Swirydovicz on the final lap – the latter under team orders. 'I think I've show the championship I've got plenty of fight left in me', he recounted. 'Kip made it through the mayhem and with my tyres shot, he patiently picked a safe time to breeze past me. I tried to continue applying pressure as Woj (Swirydovicz) was now in 3rd and gaining good ground. In the end I couldn't slow Kip, so honoured team orders and gave Woj a safe pass for 2nd place. In all, we had our best showing in Race 3, showing the strength we've displayed all season to qualify at the head of the Showdown championship.'
GTOmega's Daniel Hunt wrapped up the race in 5th place that served to put him in 5th within the PRO Standings as well. Behind Laser Tools' Aleksandar Smolensky that is, who finished in 8th place ahead of Andreas Katz in 10th – who later regarded Smolensky as a 'blocking truck' for the hard time he'd given the Euro Chip driver every time he made an attempt to pass. The AM Standings meanwhile, remained relatively unchanged yet again as New Homes' Steve Richardson, Apex Racing's Richard Gore and Stem Sim's Paul Smith made it past the finish line – alive. As for the team standings, GT Omega's considerably superior performance all round kept it at the top of the standings ahead of Engine Oil Direct.
'I've given up trying to overtake, I was never any good at it. What's the point anyway? They all just crash out!'
I had finally managed to catch up with the New Homes team to discuss the race on a Sunday night only to find that Stephens still hadn't calmed down. '2 race wins out of 6 showdown races. Has anyone else got 2? No, I didn't think so!' Distracted by the commotion his team mate was causing, Jamie Rushworth – now in 6th place of the PRO Drivers' Standings after being in 3rd place for the majority of it – walked in. 'I blame Kip for the race 3 crash. He forgot which way the track goes in T2 and gave Pete Newman damage – which caused Pete to twitch in front of Steve Hefford on the exit of T3, – resulting in the massive pileup that ended my Showdown chances and effectively handed the championship to Wojciech.'
'If you had a 3 wide spotter call with Peter Newman Media's finest pair of bombers – Burke and Pete – you wouldn't have taken the apex either', Stephens retaliated, referring to the fact that he had been warned of PNM's presence over the radio during the race. Rushworth ignored him before enquiring sarcastically, 'I bet you could do a good quote about being 3rd now behind Woj (Swirydovicz) and Katz. Gonna crash into them too to win it?'
'2 Wins Jamie! I don't need to, Katz will get disqualified soon enough for punting someone off'.
'Better hope that someone is Woj then if you want to beat him.', Rushworth replied.
'Didn't I stay in front of Woj at brands for 15 minutes?' retorted the 93rd round winner pensively. 'After you crashed out on lap 1.5?'
'Only because he was too scared to pass'. Knowing that this can of worms would only replenish itself, I made it a point to move on and find out if Sebastian Job had indeed meant what he said about not continuing with the BSRTC anymore. 'Yeah, I'll be racing this week. Don't have any expectations though.' It's like Katz keeps saying – 'Still, everything's possible.'
Track Side Photos by Jamie Rushworth. View the original article here on Higher Eclectic Ground.

This race will also be aired on MOTORSTV on the 1st of December as per the schedule here. Meanwhile, Higher Eclectic Ground is not only covering the last three races of the BSRTC's Showdown, set to be streamed live on ApexRacing TV's Youtube channel at 8.15 P.M GMT every Thursday- but will also be making an announcement with regards to its collaboration with the British Sim Racers and Higher Eclectic's indie game and art community that will serve to provide exposure for its members. To make sure you do not miss out on anything, do head down to our Facebook page where all the activity lies and ensure you're signed up. Moreover, those interested in racing with the BSRTC community or simply hanging out with them by the pitlanes, can do so by signing up to their closed group on Facebook . Those still doubtful about what the BSRTC is all about meanwhile can learn more by viewing our previous coverage of the same which also includes a never-seen-before look at the championship's rise.
---
You may also like...
---