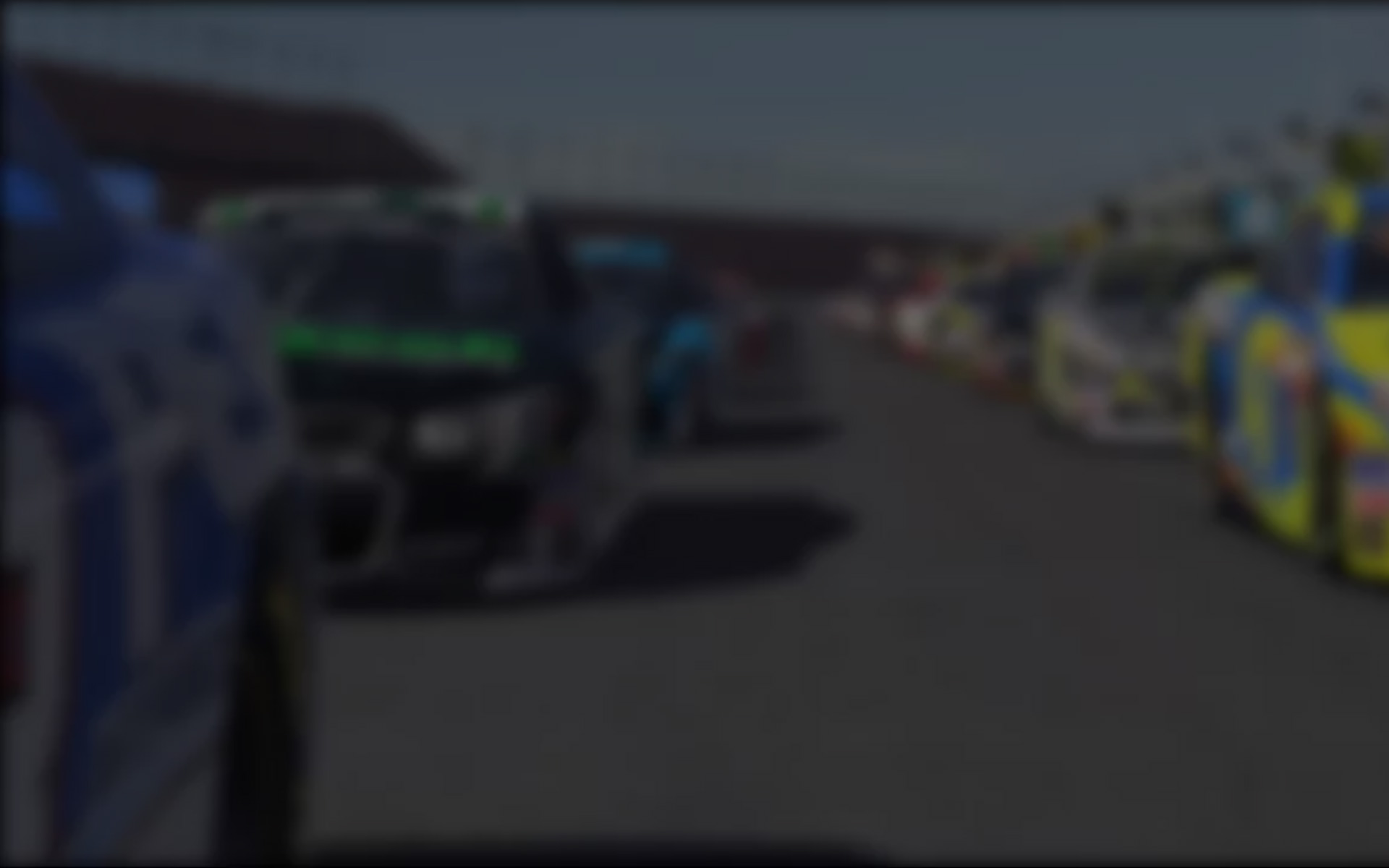 Week 7 of the NASCAR iRacing.com Super Late Model Series traveled east to Ridgeway, Virginia to pack the stands at Martinsville Speedway.  At just .526 of a mile, action here happens fast . . . and in an abundance as the track is just 55 feet wide; so when accidents happen there's usually more than one car involved.  In the 3296 SoF feature race of the week 14 cars gridded for the race with pole-winner Cody Thompson leading the field to the green with Casey Pierce starting on his outside.
The first five laps saw three lead changes amongst two drivers with Thompson setting the pace before Pierce took command as Thompson drifted back to P5.  Pierce would be in control the majority of the race leading 46 of the 70 laps.   Long runs would ultimately decide this race, however, and Pierce got tighter as the run went on while Thompson was able to stay free enough to run him down.
Pierce's car was reluctant to turn coming off Turn Three on Lap 51, forcing him to back off the throttle and opening the door for Thompson to get a run coming out of Turn Two.  Although Thompson completed the pass, Pierce made one final bid for a crossover move.  However, Thompson was too strong and maintained his lead and, by the time the final caution flew, he had built-up a sizable lead.  Although the yellow erased much of his advantage, the MoV was academic as Thompson took the checkers under yellow with Pierce coming home runner-up and Joshua Hahn in P3.
The race pace was slowed three times for 14 laps, all three incidents stand out in this race.  Having fallen off the early pace, Thompson was making his way back to the front when he and Preston Bores got together going into Turn One on Lap 27.  Luckily no other sim-racers were involved, as everyone was able to check-up in time.  Neither car suffered any damage from this minor incident that sent Bores to the rear of the field.   Seven laps later, Carter Wilson drifted down too low and got into Robert Lynn.   Wilson's car snapped back up the track into Bores, who was forced to retire after this incident and finished P13.
The final yellow flew on Lap 65 when Mike Kelley touched the curb off of Turn Two.  With no time to check-up, a following Ryan Piland hit Kelley, spinning himself to the inside of wall on the back stretch.  Dalton Collins also had trouble getting slowed down in time and got into the rear of Kelley, pushing him back into Piland.
The accident shook-up the top 10 finishing order as P4 through P9 were only separated by mere car lengths at the time of the crash.  When Kelley and Piland wrecked it opened the door for Robert Lynn to advance from eighth to fourth.  Similarly, Bill Martin quickly pounced on the misfortune before the yellow came out and moved to fifth at the expense of a slowing Collins.  Collins would maintain momentum and come home in P6, but positions would be jostled once more when Kelley was disqualified for failing to pit for required repairs, dropping him to the first car a lap down in tenth.
1.    Cody Thompson        8.  Bob Hackel Sr
2.    Casey Pierce            9.  Carter Wilson
3.    Joshua Hahn            10.  Mike Kelley –1L
4.    Robert Lynn             11.  Ryan Piland –1L
5.    Bill Martin                12.  Chris A. Wood –1L
6.    Dalton Collins          13.  Preston Bores –33L
7.    Cody Erdmann         14.  Chad Peterson –33L
Week 8 sees the Super Late Model series head north to New England for a week-long date with Stafford Motor Speedway.  With its long, sweeping corners, the historic Connecticut track will challenge many sim-racers who prefer running in the bottom groove.  Typically, drivers use the apron to help the car turn entering the corners but some will take this for granted and try using the apron to pass where is grip at a premium.
---
You may also like...
---