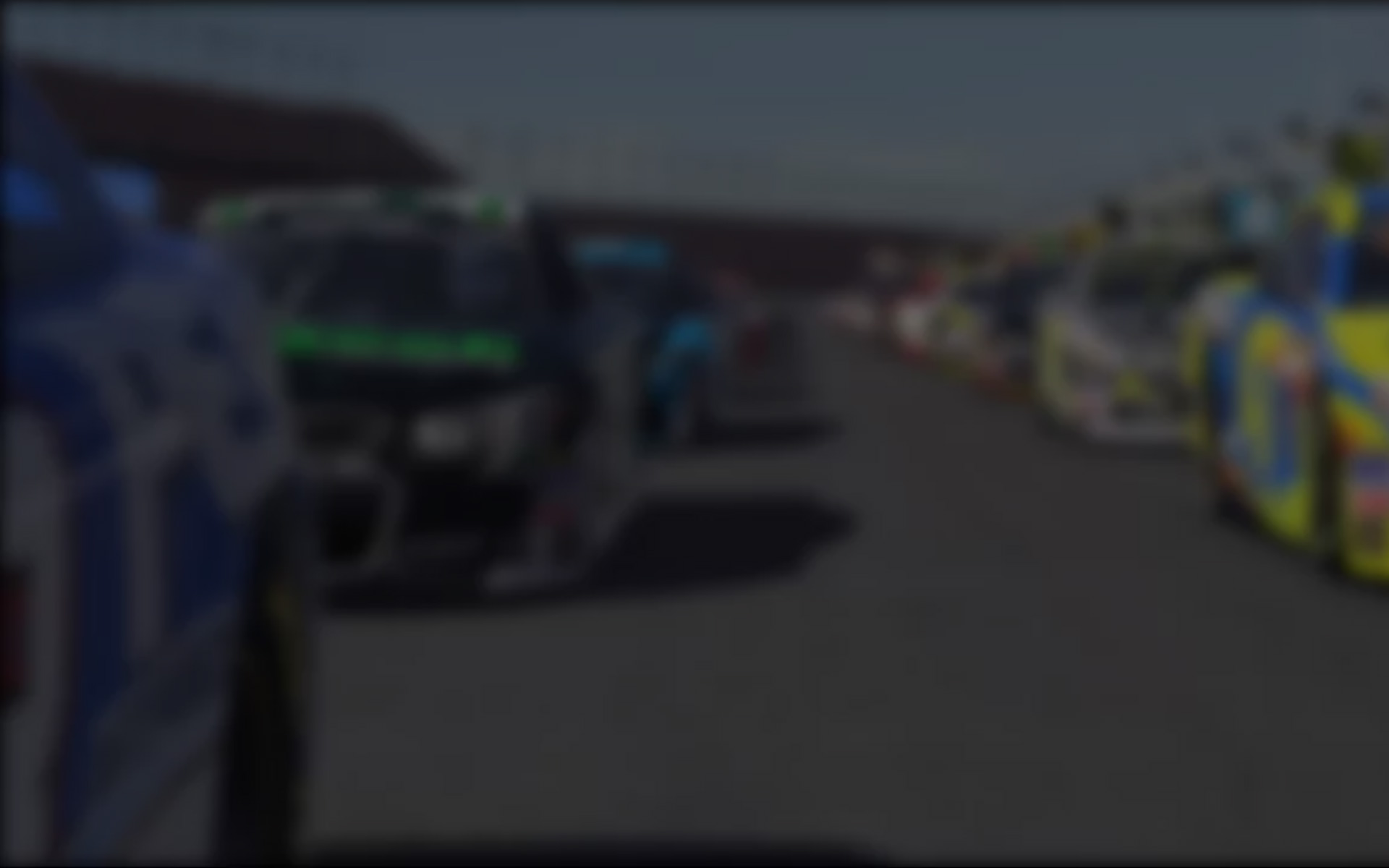 Timely Yellows Put Ringler in Driver's Seat for Repeat Championship
The pressure was on as race number five of six of the 2014 Season 4 NASCAR iRacing.com Class B Open Championship put the series at the 1.25-mile Gateway Motorsports Park in Madison, Illinois.  Galeforce Racing's Larry Scott Jr, BRB Motorsport's Randall Faulks, and Lowline Racing's Trent Ringler entered the week separated by just seven points the trio and a strong result at Gateway was needed by all before the final week at eternally unpredictable Talladega.
This was the first time the NASCAR iRacing.com Class B Open drivers had their crack at Gateway's unique egg-shaped layout.  Because of the unfamiliarity of the track and the skill set required to run well, there were few opportunities throughout the week to score championship points.  Only nine races went official during the week and, of those nine, only one split: the 9:00 pm est race on Monday's opening night.  The good news?  All three title hopefuls were in the field, so the sim racing showdown was set.
17 cars took the green flag for 110-lap feature event with strength of field of 3763.  Ringler, the defending series champion, started from the point with BRB Motorsports' Brian Lovingood on his outside.  Scott Jr. started the race right behind Ringler with Faulks lined up directly behind Scott Jr.
Ringler led the first six laps until surrendering the lead to Lovingood who in turn would lead the next 10.  After a round of yellow flag pits stops, Scott Jr. assumed the lead and kept it through another series of yellow flags.  The fourth of seven yellow flag periods ended on Lap 29 where Scott led a long green flag run followed closely by Lovingood.
The event progressed without incident, producing a series of green flags stops which saw Scott Jr. surrender the lead on Lap 76 to Truspeed Motorsports' Michael Vanosdol and, two laps later, to Ringler.  Ringler's first dose of good fortune came on Lap 84 when Lowline's Tristan Combs spun between Turns three and Four, triggering  yellow flag number five of the race.  This allowed Ringler to pit during the ensuing caution and retain the lead.
The sixth yellow flag waved when BRB's Shannon Segler and Vanosdol bumped in Turn Two sending Segler careening off course and back into the path of Lowline's Theodore Wallace.
Ringler led the restart on Lap 94 and held-off a quick challenge the next few laps by Scott Jr.  Lovingood and Faulks soon joined the fray allowing Ringler to open up a 10-car length lead over Scott Jr. by Lap 98.  After the trio momentarily settled second place, they started reeling-in Ringler led by Scott Jr.  However, with seven laps remaining, Lovingood got a good run on Scott Jr. and set sail in search of first place.
That's when Ringler got his second dose of good fortune.  With Lovingood closing the gaps to two car lengths exiting turn four, another spin by Combs exiting turn two brought out the final yellow of the race with four laps left, sealing Ringler's 235-point victory under caution.
Lovingood was forced to settle for second place, scoring 220 points while leading ten laps and setting the fastest lap of the race (33.963s).  After leading the most laps (59), Scott Jr took home third place and 205 points.  Faulks grabbed fourth and 190 points with Vanosdol rounding out the top five leading two laps and taking home 176 points.
"Getting the win at Gateway on Monday night was big for the championship," said Lowline Racing's Trent Ringler.  "I was lucky to catch a caution with around 20 to go, which gave me the lead.  After the restart I was able to maintain about six or seven tenths lead on second place as those guys were fighting for second.  Brian (Lovingood) had finally broke away from the battle and was running me down with just a few to go and another caution fell to end the race.  I'm not sure if I could have held him off or not.  I had my wheel setting all messed up and it was very difficult to handle the car.  All race I couldn't figure out what was wrong.  I was very lucky to catch a few cautions toward the end.  Sometimes the cautions fall your way, sometimes they don't."
"Sometimes the cautions fall your way, sometimes they don't." — Trent Ringler
Lovingood, who was caught on the other end of the caution equation agreed on their effect on the race.
"I really felt like I had the best car and drove a race deserving of a big win," he opined. "I feel like those late yellow flags cheated me out of one there for sure."
Scott Jr. also felt in line for the win.
"This week, we had one of the best cars I have ever driven all season.  I was battling Bring (Lovingood) for the top spot and got a nice gap on him getting on and off pit road during green flag stops.  I felt like I had the race well in the bag and was in cruise control, but the yellows with 20 and five to go basically took away any chance of winning the race away."
The top five for the feature race was exactly how the weekly top five fell.  Ringler won both of his two starts and started from the pole in both.  Lovingood picked-up one win, three top fives in three starts.  Scott Jr's third place finish was his only appearance of the week, while Faulks added another top five and one pole.  The fifth place finish was Vanosdol's only race of the week.
BRB's Loren Personett led the weekly starts total of four, taking a win and top-fives in every start along with three poles.  Personett also finished all 440 laps while leading 99 of them.  Lovingood led the most laps for the week at 166.  Ringler was the only driver to pick up multiple wins at Gateway.  Brett Osborn completed 220 laps of his two starts without picking up an incident for the safe driver award.
Following Gateway week, Ringer retakes over the Championship points lead with one race remaining with a total of 1055 points.  Scott Jr. trails by 23 points while Faulks sits in third 43 behind.  Lovingood has a solid lock on fourth trailing by 123 points with Segler holding on to fifth 90 points behind Lovingood.
Division winners for week 5 at Gateway were: 1 – Trent Ringler 235 (Indiana).  2 – Jeff Baki Jr. 161 (Carolina).  3 – Jerry Platt 110 (Indiana).  4 – Mike Vining 118 (California).  5 – Brian Hanasky  97 (Ohio).  6 – Scott Brisk 59 (Midwest).  7 – Doug Pickering 75 (UK and I).  8 – Wayne Taylor3 8 (Australia/NZ).  9 – Stanley Kuebler 25 (Michigan).  10 – Robert Walter 20 (Virginias).
Division leaders after five weeks are: 1 – Trent Ringler 1055 (Indiana).  2 – Shannon Segler 842 (Mid-South).  3 – Ryan Niffenegger 500 (Illinois).  4 – Hunter Lowe 364 (Virginias).  5 – Brian Hanasky 398 (Ohio).  6 – Jerry Favorito 340 (New York).  7 – John A Schulte 369 (Illinois).  8 – Scott Mckinney 221 (Indiana).  9 – Tim Lempe 147 (California).  10 – Don Runkle 50 (California).
It is sure to be a wild Week 6 in the NASCAR iRacing Class B Open Championship as final race of 2014 heads to the high banks at Talladega Superspeedway.  The series regulars will have to contend with drivers who don't normally run the B Championship which could have an impact on the points races in many divisions, including the overall picture.  It was tough to find an official race at Gateway.  That will not be the case at Talladega as races should be filled at all time slots throughout the week.
---
You may also like...
---