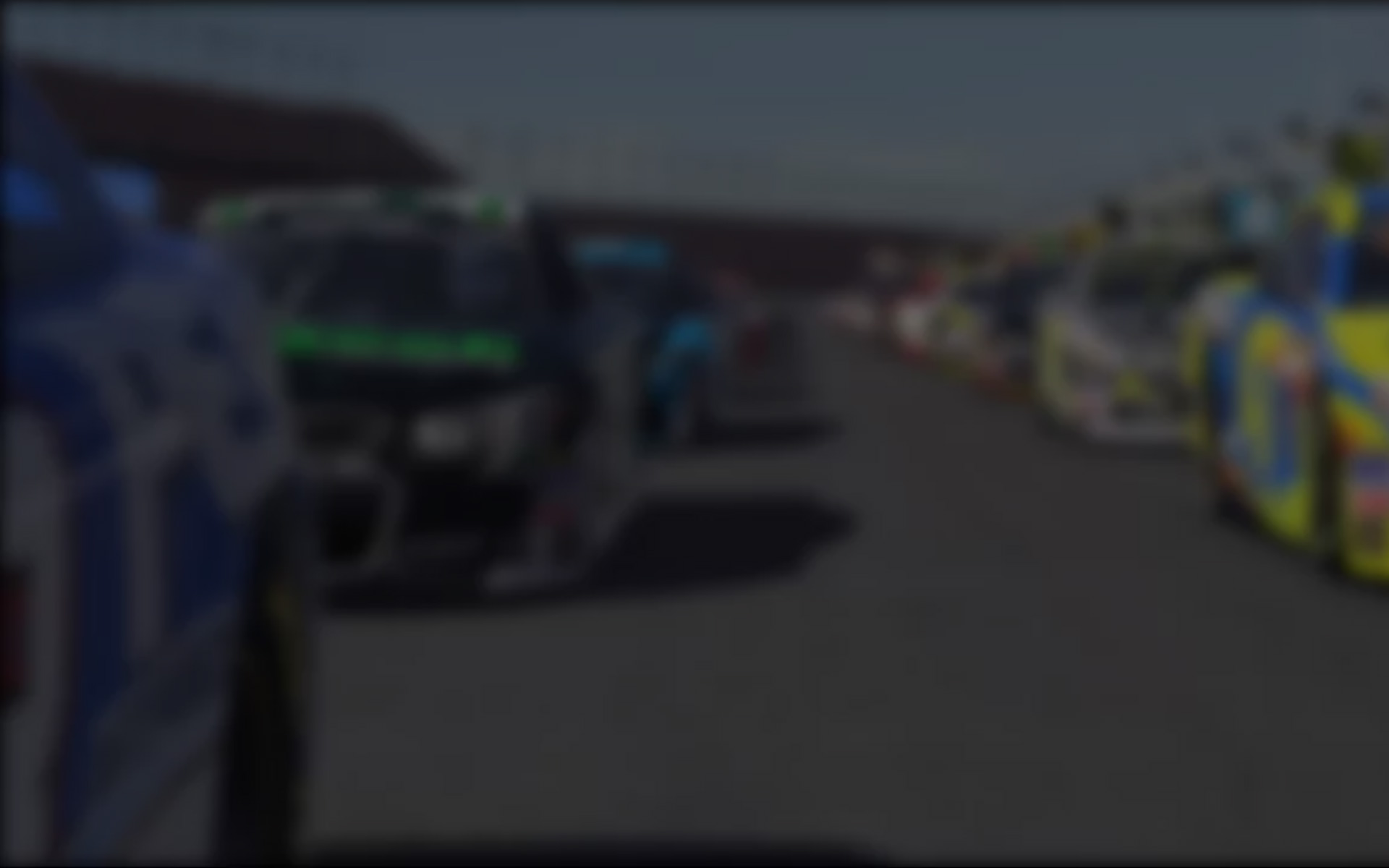 After the Talladega 312 on Friday evening, I had plenty of time to reflect on what I had done during the event and decided that there was probably nothing I could have done to avoid being caught up in an incident at one time or another. I figure the major penalty of staying at the back and out of trouble isn't just that I might be too far back to compete – I'm also keeping myself away from the racing action and away from the fun!
Let's face it, why do I race simulations? Because I enjoy it! What on earth is the point of not racing to avoid being in a wreck?! I'm a clean enough driver that I tend not to get the contact penalties others get on superspeedways and if I get involved in a wreck I can then choose whether to quit the race and take the hit by not finishing, or I can then choose to run around purely for the safety rating. Besides, I can make back my losses from an SS race in a late model race or two… Well, maybe the ones I practice for, the ones I don't practice for I make too many mistakes. 😉
So with that in mind I entered the race on Saturday and found myself in a starting position of 11th. I got a decent start and immediately settled in behind Joe Jacalone (car 13). I decided I'd stick with him for a while as the lead pack were all side by side so really there was nowhere else to go. Everything went clean up front and the first caution came out on lap 12 when someone near the back of the field spun by himself after touching the apron. At the time I was running 18th and decided to pit on lap 13, to my surprise none of the leaders pitted.
I took the restart in 19th-place and ran up towards the front until lap 23 when it seemed like a wreck was about to happen. I pulled to the inside on the backstretch and let the field pass, rejoining and crossing the line next time by in 21st-place. Then in turn two one lap later a car in the lead group got on the apron and did very well to not wreck the entire lead pack: I like to think that my spider-senses tingled correctly and that this was the wreck I avoided by dropping back.
We soon created our own pack of cars led by Joe. We ran as that group until lap 49 when some cars started to pit who had not pitted during the first caution. I didn't need to pit, so took a high line to avoid trouble but that obviously wasn't enough because trouble managed to find me instead. As we exited the tri-oval to start lap 52, William Bennett (28) came straight up onto the banking after his pit stop and this caught Kenny Lopez (7) off guard, he came up and we made contact. Somehow I, probably due to the massive speed differences involved and the obvious lag that creates, didn't take any damage – but did get a car contact penalty. I was now running in the top-five and had a 13-lap fuel advantage on most of the pack.

Timing is out on one of the scenes. Sorry!
Watch on Youtube.
We ran clean again until lap 60 when I wanted to stop for fuel. A couple of the guys in my group also wanted to stop and we all did a fantastic job getting down off the apron and down to pit speed nose to tail. I changed all four tires (as I did on every pit stop during the race) and left the pits somehow ahead of those I had entered the pits with – the leaders flew by at the same time.
It didn't take long before I realized I would not be able to draft with anybody for a while: The couple of cars ahead of me were lined up and those behind were racing side by side, making them as slow as I was. I decided to run high and drag the brake until that group behind caught up with me and on lap 64 I had rejoined the group I entered the pits with.
By lap 69 we had settled down and were running in a line, we ran that way for 10 laps but then some in the group started to race again and on lap 84 we were losing tenths per lap to the couple of cars lined up by themselves ahead of us. This race had been extremely clean and I knew that if we were going to stay in contact with the lead group someone was going to have to take a lead and show the group how to lap faster: What's funny is that this is probably why others in the group were racing, they all felt like they could go faster. Thankfully though, I turned out to be correct and after lapping in the 50.9-51.1 bracket I passed the group around the outside and immediately started to reel off consistent 50.7-50.8 laps with Christopher Shetzler (15) tucked in behind me.
On lap 95 the lead cars started to pit. At the time I was running 13th but as things cycled through I found myself leading by lap 97.

Watch on Youtube.
Christopher (15), Lopez (7) and I continued nose to tail until lap 100 when Christopher decided he wanted to lead a lap and went low on the backstretch. I let him go and made contact with Steve Claeys (23) through the tri-oval before the caution came out a lap later for another single-car incident.
I pitted on lap 102 and took the lap 105 restart from 10th place. It was a very messy restart at the front of the lead pack and the net result was a lot of lifting back in the pack. Things got sorted out though and the entire field sped around the 2.66-mile Talladega Superspeedway at neck-breaking speed for 31 green flag laps until an error was made by the 1st and 2nd-place cars, sending the yellow car of Brad Coleman for a wild ride on the apron of the race track. Incredibly, he held it together and the pack continued under green until lap 142 when Simon Trendell (32) hit Robert Woloschuk (21) in the rear in turn two, sending Robert down into 3rd-place Kyle Vesa (24) and all of them up into the wall.
Most of the pack got by unscathed, but all those directly involved in the wreck were eliminated. I was now in 8th-place and decided to pit on lap 143 and again to top off fuel on lap 144. Surprisingly yet again some of the leaders did not pit which again I thought was strange. I was now fueled to the finish…

Watch on Youtube.
As it had been back on lap 105, the lap 147 restart was awful. Joe slowed (he said he missed a shift over the voice chat) and Bob Grooms (25) moved high to avoid. Seeing this unfold ahead of me I overreacted, clipped the apron, lost control, went up the racetrack, hit the wall and collected Jason Wright (5). I felt bad about Jason, but largely relieved that I hadn't done this towards the front of the pack and taken out the entire field!
I was so disappointed on my drive back to the pitlane. I knew how clean this field were driving and that if I hadn't overreacted at what I saw ahead of me I would still be racing. I drove back to the pits and came out with quite a driveable car, but had lost a lap to the leaders which I would never get back.
What's strange is that in the Talladega 312 on Friday I had wrecked early and had a terribly damaged car: I finished 7th. Today I wrecked on lap 147, still had a good car after the wreck, but finished 16th. The reason, of course, was because the Talladega 499 had a field of clean drivers who made their cars last to the finish. I was the first car not on the lead lap! We only had five cautions and ran green for all but 19 laps. That's awesome.
I'm glad I didn't lay back too much in this one and I'm glad I had fun out there while running without that fear. I was disappointed at my wreck for a moment but then I moved on and realized how much fun I was still having even though I wasn't in a position to win anymore. I had 12 incidents (3 x car contact) and set my fastest lap after my wreck on lap 154. The race win went to Kevin West II (26).

Watch on Youtube.
Unfortunately I won't make the Indy 500 iRacing World Tour event as fortunately I'll actually be at Indianapolis working for iRacing! Hope to see some iRacing members at the event and hear about a successful iRacing Indy 500 when I get back.
---
You may also like...
---