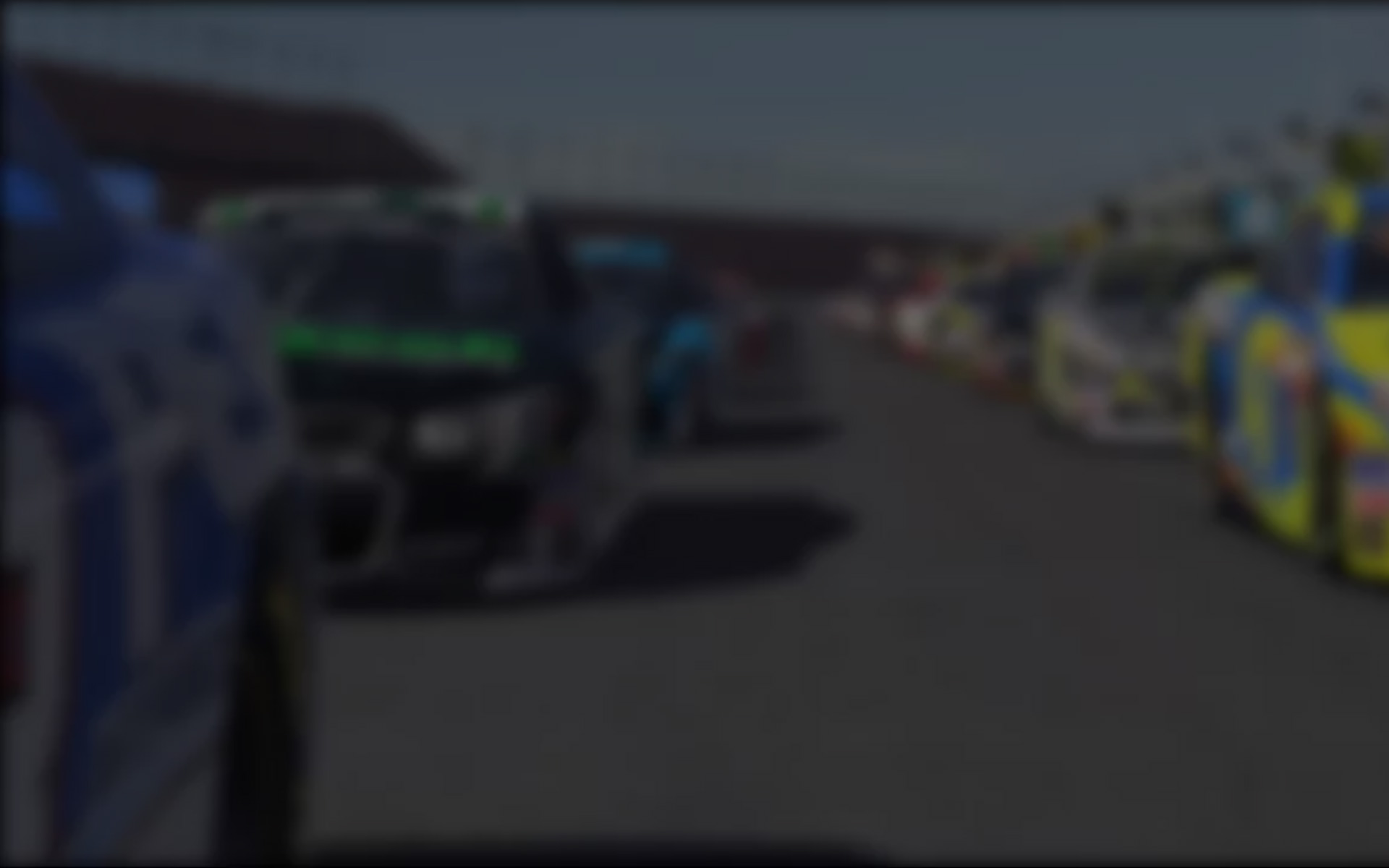 Week 2 of the NASCAR iRacing Series sent us west to another fast 1.5 miler: Las Vegas Motor Speedway. Vegas has never been my favorite track, and I failed to finish last year's race with a blown engine. Despite not really liking the track, I'm pretty quick around the place, which means we could get our first top five of the season!
Atlanta and Las Vegas may both be 1.5 mile tracks, but they share very few traits other than that. Vegas has nowhere near the amount of bumps of Atlanta, which makes tuning your car lots easier. Vegas also has a unique line in Turns 1-2 with the fastest line often being right in the middle of the track. This makes passes challenging and track position a factor in the racing here. Knowing this, you must set-up your car to run even grooves that are not preferred at this track. Although the middle is fastest, if your car is incapable of running right against the white line on the bottom, or almost up against the wall, you will not be able to advance your position. Thus, a large part of testing for my team this week was finding a balanced setup capable of running anywhere we wanted in Turns 1-2. We were able to find a well-balanced setup without too much testing, thankfully. The car rotated very well through Turns 1 and 2, but was a tad loose off Turn 4. Despite the looseness off Turn 3-4, I felt the setup was an absolute rocket and had high expectations for the race.
"If your car is incapable of running right against the white line on the bottom, or almost up against the wall, you will not be able to advance."
After not qualifying as well as the week before, I decided to drop to the back in case of early crashes. The move paid-off as we had a flurry of incidents during the first 25 laps of the race. The majority of the crashes only involved a few cars, but on Lap 31 we had a huge pileup taking out at least eight cars and injuring many other driver's machines.
Despite the large incident, there was still about 15 cars running a competitive pace and plenty of good racing left over the next 100 laps.  During a caution around Lap 30 I decided to stay out for track position after hanging in the back for the opening laps. I restarted in third position on Lap 36 and quickly made a pass for second. I was able to hold on to the position for the next 10 laps before slowly giving way to the cars on fresher tires.
Despite being at a disadvantage with older tires, I was able to stay in the top 10 for the next 50 laps when I pitted for four fresh tires and fuel on Lap 85. After the pit cycle, I picked-up a couple of spots due to a great stop and found myself sitting in P7 position until the yellow waved again on Lap 92. I pitted again for four tires and gas during the caution to set myself up to make it to the end on fuel without any worry.
We had a 13 lap run till the next caution when I made a big mistake in the pits by sliding through my box. The mishap cost me five positions and frustrated me that I had made such a dumb mistake. Despite my frustrations, I knew I had a fast car so I kept my cool and started getting my spots back until yet another yellow flew on Lap 118. On this caution a car stayed out which ended up playing a big role in the last laps of my race. I restarted in ninth but after a great restart I quickly advanced to 7th. With about eight laps to go the car on old tires was right in front of me. With a decent gap to the cars behind I was initially patient getting around the slower car. However, the driver did a great job of keeping me behind him and the gap to the cars behind soon vanished. With cars all over my rear bumper, I got on the gas early in Turn 1-2, trying to beat the guys ahead of me off the corner.
Unbeknownst to me (!), we were actually three wide instead of two and I made slight contact with Manuel Sanchez above me which almost caused a big wreck. Fortunately, Shawn Breitzman in the third lane quickly backed out and the all the drivers behind reacted quickly enough to allow the Manuel to make an amazing save. After getting by the Manuel I drove the last few last very easy to avoid making mistakes, this almost allowed a car to catch me, but he ran out of time as I crossed line on the final lap for a great sixth place finish.
I was very happy with this weeks result and look forward to racing at one of my favorite tracks next week, Phoenix International Raceway!
---
You may also like...
---