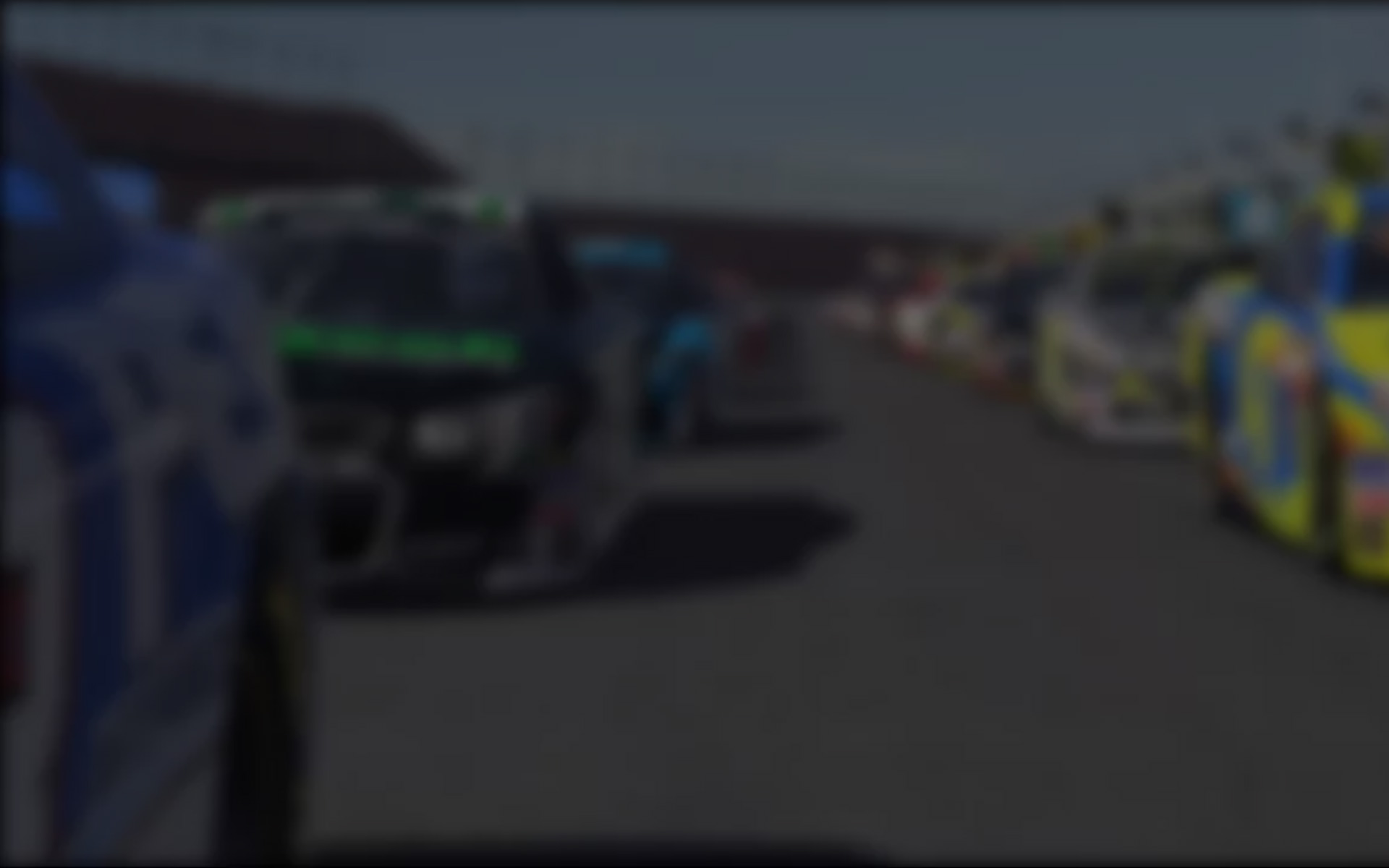 Hard on the heels of his NASCAR iRacing.com World Championship Series (NiCWS) triumph at Charlotte Motor Speedway, Richard Towler made it back-to-back wins on Tuesday evening at Michigan International Speedway. MIS showed us some of the best online racing to date, as the yellow flag that has so often slowed the NiCWS stayed away this week (at least for the most part), enabling the drivers race it out for themselves.
Door-to-door action was the theme, as only four cautions flew for 15 of the 100 laps. The high banked two mile oval enabled the sim racers to utilize many different grooves. Some preferred the bottom, while others enjoyed the top.  No matter what line the cars used, it was an excellent night of racing.
Towler showed the way for much of the first half of the race. John Gorlinsky and Thomas Lewandowski also ran strong early, but weren't able to get to Towler as he jumped out to over a second advantage on the field.
The race's first caution flew on Lap 33 when Jayson Anderson lost control and backed his Impala into the Turn One fence. Anderson was able to get it pointed the right direction, and fought back for a twenty-sixth place finish.
Shortly after Anderson's problems, Patrick Fogel (seventh in points entering the race) bounced off the Turn Four wall, sending his Spy Optics Chevrolet for a huge slide through the front stretch grass that took him almost to the pit road exit.  No caution flew, so he grabbed a gear and prayed for another yellow to enable him to rejoin the pack.
Fogel got his wish on Lap 48, at the expense of Thomas Hazard, Theo Olson, and Tyler Hudson. Olson was working the high line, but got up into the marbles and bounced his car off the wall, creating a big check-up which put Hazard in the wall off Hudson's front end.  Brad Davies and Brian Schoenburg were right in the middle of the mess, but somehow drove through the smoke to clear track, and went on to finish seventh and eighth, respectively.
16 laps later, Mike Kelley and Jordan Hightower made contact into Turn One, bringing-out the caution that set the stage for the run to the finish.
Josh Parker led from the restart, but had Josh Berry, Towler, Gorlinsky and Lewandowski hot on his tail. Berry eventually had a big moment coming-off Turn Two, leaving Parker and Towler up front. Towler hounded Parker's mirrors, looking low on the leader seemingly every lap.  But Parker held the momentum on the high side down the straightaways.
With ten laps to go, Towler got the break he needed. Parker glanced-off the safer barrier coming out of Turn Four, handing the lead to Towler, who never looked back. Although Parker held his number 16 Exlander Designs Chevy right in Towler's tire tracks for the next few laps, the Englishman started to inch away.  And when Frenchman Florian Godard slid up the hill into the side of Alex Horn between Turns Three and Four with three laps remaining, the resulting yellow flag sealed the win for Towler.  Lewandowski took advantage of Berry's earlier bobble to take third place, while Berry managed to hold Gorlinsky, Derek Wood, Davies and Schoenburg at bay for fourth.
"Thanks everyone," said Towler after the race. "This one goes out to my Grandma who died on Sunday after a long illness, so this was a special victory. Everyone did a really good job up front.   These cars are so hard to drive and to race like that all race and, more important ,for the win without wrecking was a great job on everyone's part. Josh was going to be really hard to pass as clean air was so important here, even though I was a little bit faster at the end of the run.  I needed to be clear going into the corner but just couldn't do it until Josh made a mistake in Turn Four. Thanks again to my sponsor R&B Auto Body Transport Refinishing and to JDR Graphics for the sexy paint job. "
Towler (1393) thus extends his points lead over Brad Davies (1254) to 139, with a whopping 201 points back to Lewandowski in third.  The win also brings Towler's victory total to three, precisely two more than any other NiCWS competitor.
In two weeks' time New Hampshire Motor Speedway will play host to Round Ten of the NiWCS.  Parker, Berry, Davies and Schoenburg are all extremely strong on flat tracks, but nobody has proved they have anything for Towler . . . yet.  Tune in to iRacing.com on Tuesday June 15th at 9p.m. ET to watch Towler go for three in a row and everyone else do their best to stop his streak at two.
---
You may also like...
---