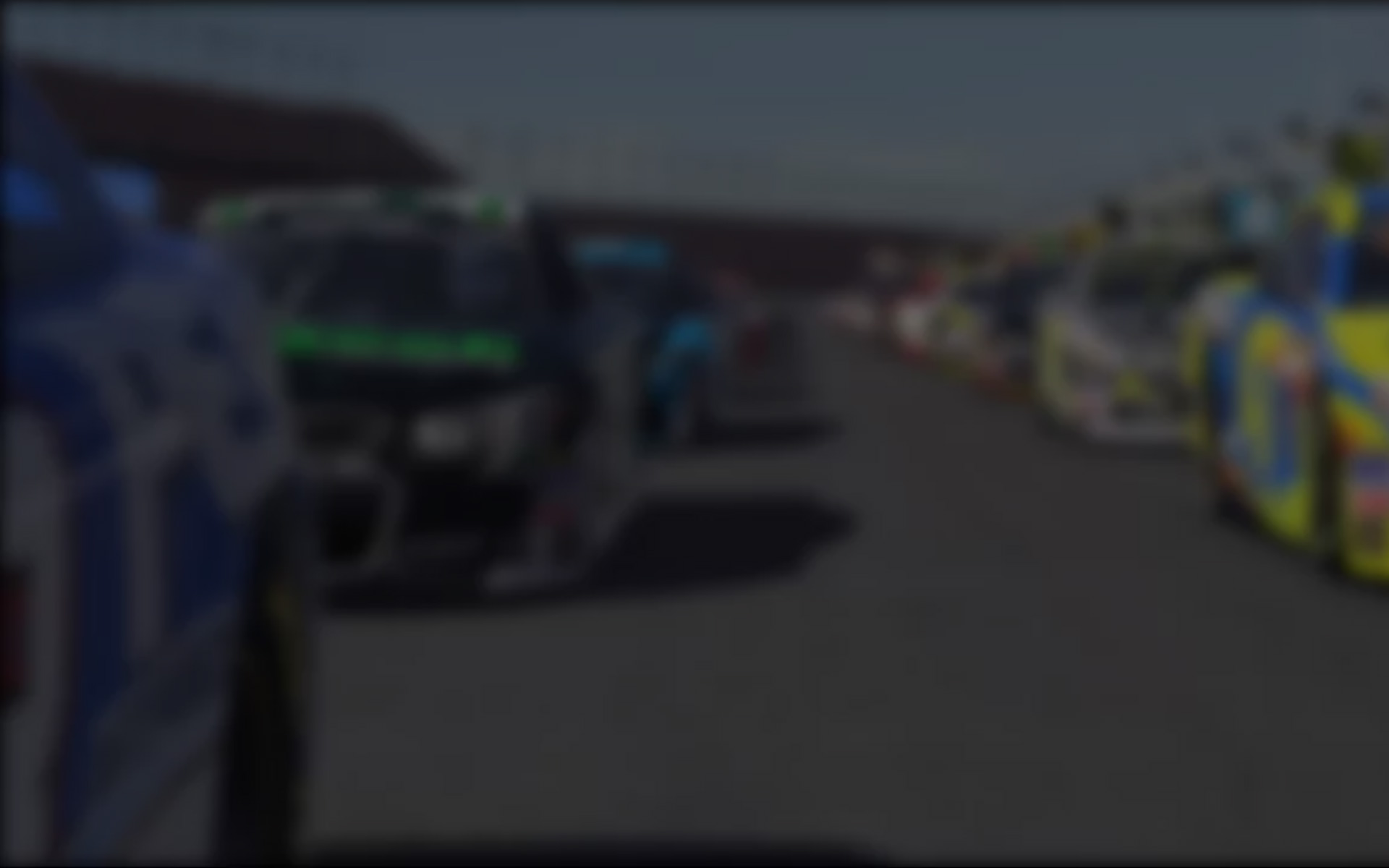 Week Eight of the NASCAR iRacing.com World Championship Series (NiWCS) brought us to Charlotte Motor Speedway in sunny Concord, North Carolina for 200 caution-plagued, yet exciting, laps of online racing.  With a win at Bristol to his credit, Richard Towler has been quite the force in the online racing series.  The Englishman arrived at CMS with a 55 point lead over Florida's own Brad Davies and 74 points over fellow Floridian Bryan Blackford.   He would depart North Carolina with an even larger cushion in the points race, thanks to a dominating performance that saw him take his second win of the NiWCS after being out front virtually the whole evening.
Pre-event testing suggested that track position and car balance would be the name(s) of the game for the 350 mile race at Charlotte, along with solidifying a good starting spot, as passing would prove to be a handful at times around the 1.5 mile oval.  The major performance factors that figured to come into play would be the aerodynamic effect in traffic (aero push), versus the aerodynamics out front in clean air (neutral), versus the aerodynamics with a competitor tucked up under your spoiler (aero loose) throughout the entirety of the race.  Many of the NiWCS regulars mentioned before the race how a good setup would turn into a dump truck in traffic or send the nose to the inside wall due to these aerodynamic forces in the iRacing.com simulation.
The starting grid was full of the usual suspects up front as Lincoln, Nebraska's Derek Wood (14th in points) sat on pole with Davies riding shotgun.  Towler started third with the hard-charging Thomas Lewandowski (tied for fourth in points) starting outside the second row.  Jesse Atchison (18th in points) rounded-out the top five.
The action began with Wood getting a great jump on the field to pull-out an eight car-length lead over Towler before the Englishman quickly reeled-in the leader.  The night's first caution fell on Lap Nine when Smyrna, Tennesee's Daniel Pope II (who had too much rear brake in the car) backed into the Turn Four wall, making for the beginnings of a long night.  Pit stops ensued with  Towler beating Wood back onto the track to take the field to the green and showing his rival a clean pair of heels.
Shortly after the battle subsided between the two frontrunners, Las Vegas winner Sandeep Banerjee found himself spinning into Turn Three after Mike Kelley got loose off of Turn Two and collected a few cars on the backstretch, bringing out the second caution.
The racing settled down for a few laps as the field strung out, enabling drivers to judge where they stacked-up to the field with the ever tricky "aero push" in full effect.  After making adjustments to help his car in traffic during the next pit stop, Towler stretched his legs over the 36 other world class sim racers before the caution flew again on Lap 31.  Robert Hall clipped the gate-opening on the backstretch, shooting him across the track and leaving Pope – who had nowhere to go – with a seriously wadded-up the D&D Repair Chevrolet.
Davies and another fellow Floridian Ray Alfalla had great pit stops to emerge second and third behind Towler's dominant R&B Auto Body Transport Refinishing Impala.  Charging through the field after the caution were Canada's Connor Mackenzie and Hendersonville, Tennesee's Josh Berry who looked to have the aero push solved.  Alfalla got around Davies and then stayed with Towler in the next segment before Berry backed the Main Performance PC Chevrolet into the Turn One wall while battling defending series champion Josh Parker for sixth spot.
Although Alfalla would leap-frog Towler on the next round of pit stops by taking-on just two new tires, his lead would be short-lived.  Alfalla clipped the apron between Turns One and Two, sending him up the track and to the back of the pack in a matter of laps as Towler resumed his accustomed position.
The race's longest uninterrupted run resulted in green flag pit stops beginning on Lap 117 when Mooresville, NC's Dale Earnhardt Jr. pitted his ill-handling Amp Energy Chevrolet for a fresh set of tires and chassis adjustments for the final 80 lap stent.  Many followed in Earnhardt's footsteps, opting for four fresh tires.  However, their cause would be compromised when the Keystone State's Patrick Fogel rear-ended the University of Maryland's Chris Main as the terrapin booster made for pit lane resulting in a caution.
Trapped a lap down, Earnhardt and the other early pitters got a reprieve when Berry got sideways off of Turn Four and sent the always-fast Jim Caudil, Jr. into the wall on the front stretch.  As Berry motored on unscathed, Earnhardt and company got what would prove to be a critical wave-around as another caution coming to the green flag enabled them to make a bonus pit stop for fresh rubber and an advantage on the lead group..
However, cautions bred cautions, with incidents involving first Alfalla then Bryan Blackford .  At the front, meanwhile, Parker was harrying Towler on the restarts but unable to commandeer the lead.  Quietly moving to the front all race, California's Brian Schoenburg had made his way into the top five thanks to progress on the track and on pit road.
The final caution came on Lap 192 when Atchison got loose and sent an unfortunate Matt  Sentell into the wall, setting the stage for an exciting finish.   As ever Towler was on the point with Parker in second ahead of Davies #2 Whisky River Chevrolet and the resurgent Berry.  As the green flag waved Berry got a great jump to Parker's outside with just enough room to slide in front of Davies.  Berry looked to take his shot at Towler when he pulled-up on Parker's back bumper in the middle of Turn Three.  Looking to the inside off of Four, Berry got around Parker entering Turn One as Towler stretched his advantage to four car-lengths with a similar number of laps remaining.  Behind him, Berry, Parker, Davies, Theo Olsen, Brian Schoenburg, John Gorlinsky and Mackenzie ran nose-to-tail.  Gorlinsky looked to snag sixth from Schoenburg motoring into Turn Three but, instead tangled with the JRD Designs Chevrolet.  The resulting incident solidified an impressive win for Towler and insured he would be the NiWCS' first repeat winner.
"We've had some really good cars the last few races but just got caught up in other people's accidents," said Towler.
This result was really needed from my point of view.  I just wanted to go out there lead as many laps as possible and hopefully be in a good position at the end to challenge for the win."
Runner-up Berry recovered from two spins to dice his way through traffic onto Towler's bumper with four to go.  "I made some adjustments that seemed to help the car throughout the race," Berry explained. "I would've liked to actually start a run behind Towler to see if I could have ran with him (but) I'll take a second any day of the week in this series"
There was also a fair amount of  post-race frustration, including a exchange between Schoenburg and Gorlinsky.   14th place finisher Thomas Lewandowski spoke for a number of the NiWCS front runners when he commented, "it was a very frustrating race for me. I had a very good car for most of the race but I don't think I had anything for Rich.
For some reason at the end of the race my car wouldn't turn and I kept loosing spots on restarts so I decided to pit and maybe get some new tires and fill up but it didn't help. Nothing more I could of done after running strong most of the race."
Towler's win enabled him to extend his series lead to 90 points over Davies who was coming off a disappointing finish at Darlington after connection issues cost him a likely win.  Thomas Hazard of Rochester, Minnesota sneaks into the third spot, 141 points behind Towler with Lewandowski and Berry rounding-out the top five.
Tune-in Tuesday, May 20 to cheer-on your favorite driver in Week Nine of the NiWCS at Michigan International Speedway.  The live broadcast on www.psrtv.com starts at starting 9 pm ET.
---
You may also like...
---