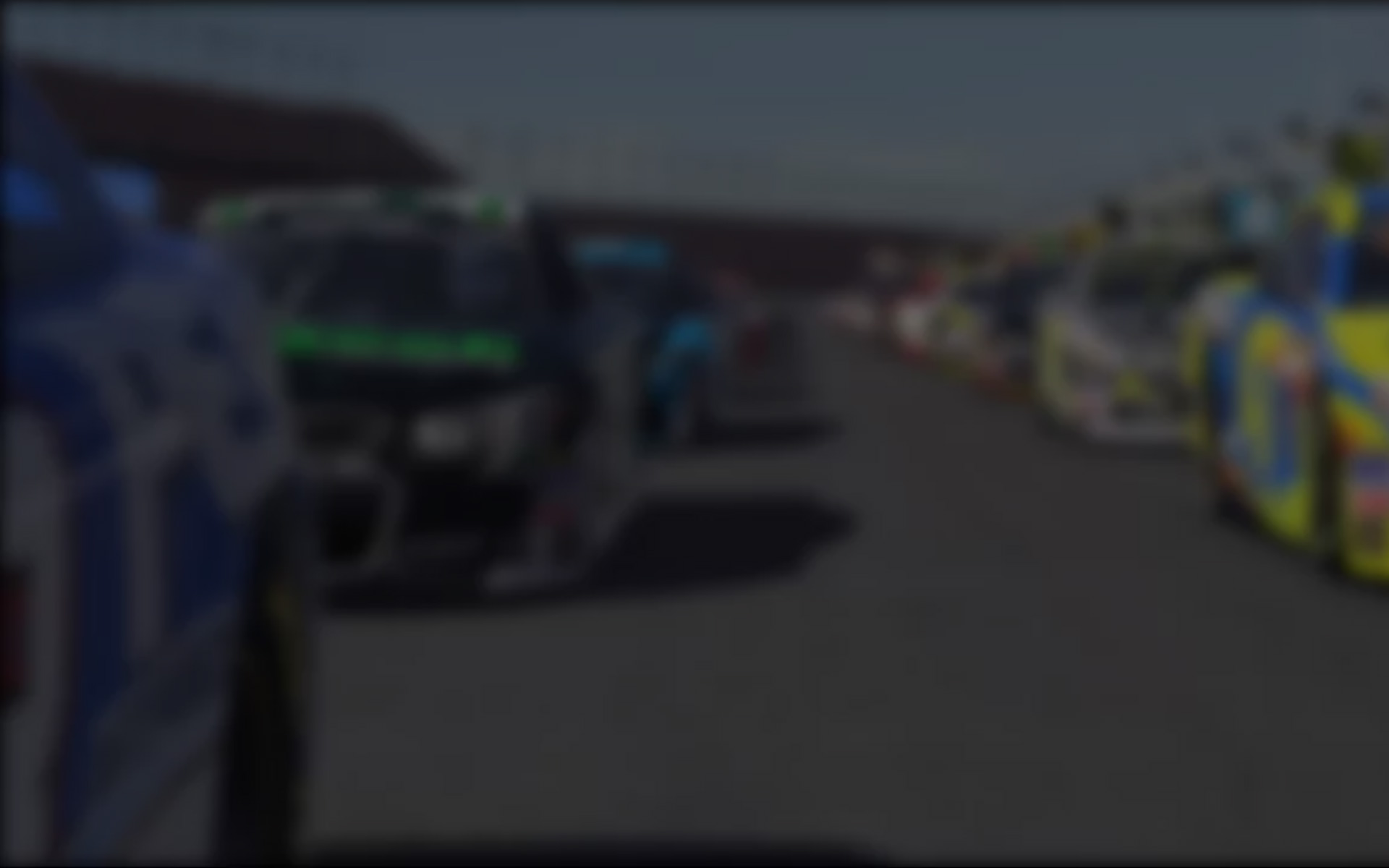 July 28th, 2017 by Dan Ensch
Brandon Trost used a path of patience and a little bit of good fortune to outlast Vinicius Gotardello and Adam Dock to win the Apex InfoTech Elite Oval series race at Iowa Speedway on Sunday, July 23rd.
With a short field of 13 picking up where the series left off nearly two months earlier, series leaders Tim Holgate and Andrew Kinsella were in prime position to extend their points lead heading into the eighth of 12 events. But a first lap melee' before the green flag even flew started a chain of events that changed the fortunes of nearly half the field. Kinsella spun his tires just prior to the start and tagged Absolute Zero/Powerslide team mate Austin Espitee just hard enough to cause an imbalance in Espitee's sim racer. Espitee spun after taking the green, causing a three car incident that included series newcomer Liam Quinn and Gotardello. Trost was close behind Gotardello when Vinicius T-boned Espitee's Dallara DW12, but a quick dive to the bottom kept Trost inches away from ending his day early.
A phantom scoring problem during the caution would lead to the demise of pole-sitter Holgate's day a few laps after the restart.
Despite indications from automated race control that they were in the proper order, Marco Aurilio Brasil and Dan Lee Ensch were black flagged for passing under the yellow when they pitted on lap 3. Both had to serve a stop-and-go as the green flag resumed. Upon re-entry onto the track, Brasil swung straight out to the backstretch wall and directly in front of Holgate, effectively ending his day as he could not control his damaged Ludicrous Speed/Snake Pit/TBR ride past lap 16.
The unexpectedly early retirements of Holgate and Espitee (along with Kinsella's limited pace due to slight damage on the start) left the door wide open for Adam Dock and Trost, who ran virtually nose-to-tail until Trost pitted on lap 70. Dock controlled a race-high 75 laps until he refueled on the 82nd circuit. Trost's early pit strategy and fresher tires put him into the lead, where he stayed for 62 laps and the sim racing win.
Gotardello's Oval Engineering sim racer somehow survived the first lap incident with nothing more than nose cone replacement. He battled the remainder of the race to climb from last to second on the podium, even leading 16 laps at one point late in the race. This, despite not having benefit of another caution period beyond the lap 8 incident.
Tony Showen was steady as a rock all day as the independent eventually passed Dock's Team Velocidaddy Special machine on the final lap to claim the last spot atop the podium. Niles Anders finished a lap down in fifth, followed by Toni Helminen, Kinsella, Quinn, Joe Flanagan and Ensch to round out the top 10.
Despite their early misfortunes Holgate and Kinsella remain at the peak of the Apex InfoTech leaderboard, but their cushion is virtually gone as Trost rises to third less than 23 points away from the pinnacle. Dock stands fourth and vacationing Joe Branch is fifth, with less than 60 points covering the top five sim racers with four races remaining. The next stop for the Elite Oval series is August 6 in Wisconsin for the Milwaukee 150 at the legendary Milwaukee Mile. Holgate sits as the defending race champion.
---
You may also like...
---