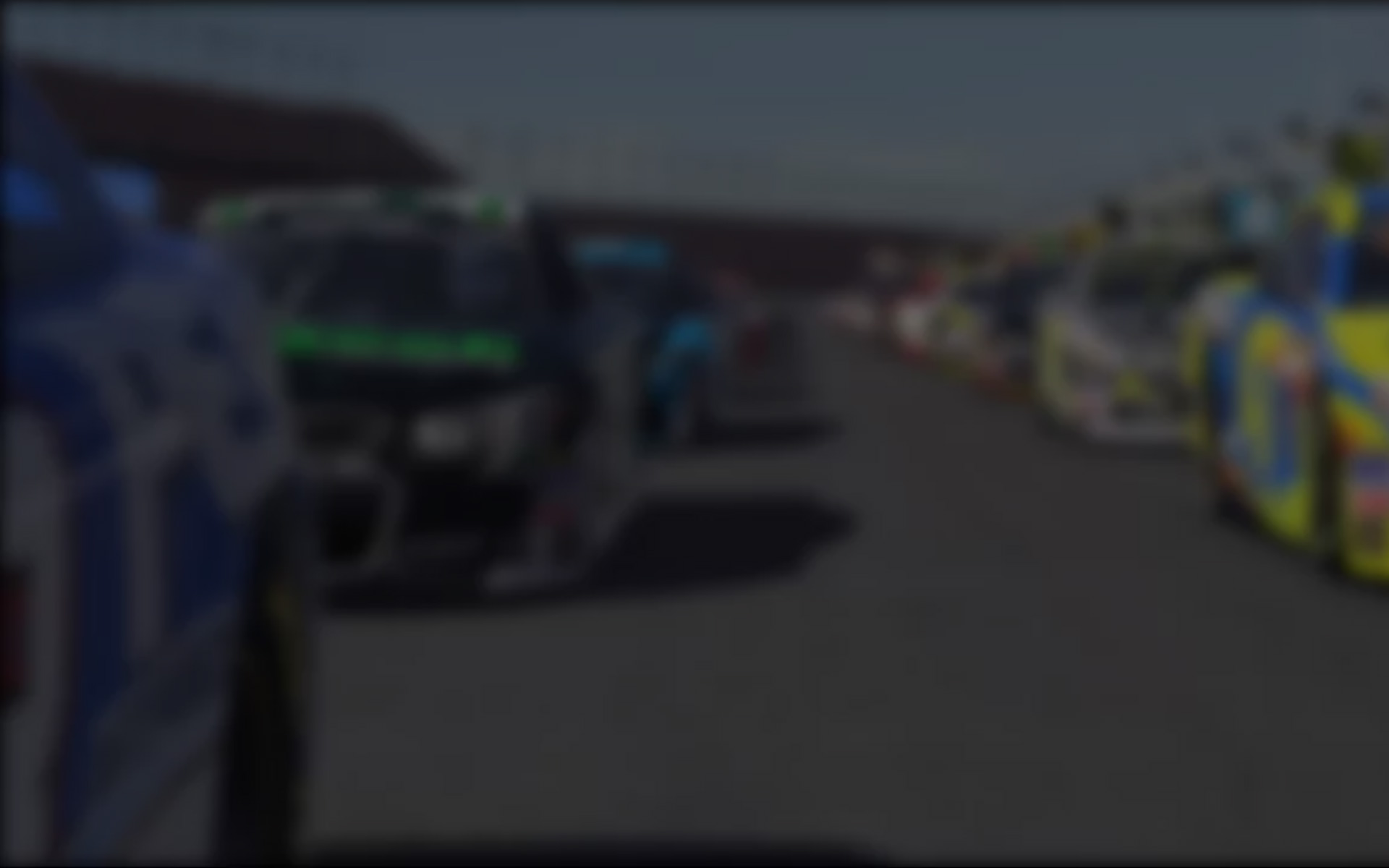 Les Turner won the "I can't find my Igloo Grand Prix" at Mosport International Raceway when the Red Sox Racing League returned to the track for the third time since he joined the league.  Unsuccessful in his previous two attempts (with one DNS and one DNF), the Canadian sim racer arrived at the track eager to prove he could get an online racing win on his home turf.  Confident of his abilities, Turner even guaranteed the win after last week's race at Las Vegas Motor Speedway.
Most league drivers took advantage of the unseasonably good weather conditions in Canada this week to get extra practice laps in before competing in the 35 lap event.  Mosport consists of 10 hair-raising corners along a tricky 2.459 mile circuit which makes even the most seasoned drivers cringe.  The infamous Clayton Corner (aka Turn Two) was the undoing for many drivers. "We had the car setup to take Turn Two flat out if necessary, but seldom did during the race tonight," said Turner after the race.
Four different drivers have won the first four races of the Season Three schedule.  Turner dominated Seasons One and Two en route to back-to-back championships, but had yet to win a race in Season Three.  Podium finishes at Daytona and Mid-Ohio saw Turner leading the points after two races but it all fell apart after that.  The points battle looked bleak for the champion, as he entered the Mosport race in ninth place overall after having trouble at VIR and Vegas.
Twenty-three drivers competed at Mosport.  Illustrating how tough the circuit is, nine would retire from the event before Les took the checkered flag.  Turner did his best to ensure he would avoid trouble in the race by earning the pole with a blistering qualifying lap time of 1:14.824.  Darren Kersey served notice he would have serious competition by earning the second qualifying spot with a lap time of 1:14.956.
Rows Two through Five were occupied by; Tommy Rhyne (1:15.042), Terry McCuin (1:15.049), Reed Rundell (1:15.390), Ed Sutcliff (1:15.561), Andrew Feldman (1:15.603), Gary Jorgensen (1:15.693), Jim Albertson (1:15.693), and Jeff Thomas (1:15.719).
Scott Husted (1:15.726), Wilbur Gildersleeve Jr. (1:15.763), Robinson Shields (1:15.883), Robert Magee (1:15.937), Bill Hadden (1:16.032), David Holzwarth (1:16.268), Divina Galica (1:16.918), Robert Latuga (1:17.477), David Pyner (1:17.798), Mark Plank (1:17.871), William Kabela (1:18.150), and Bill Pawluckie 1:18.663) completed the qualifying grid, while Dennis Heaney started at the back of the field after failing to post a qualifying time.
Mechanical problems caused major headaches for Pyner on the pace lap.  His issues resulted in a violent collision with Kabela before they even got to Turn Two.  Both drivers were forced to pit for repairs before the field even took the green flag.  Kabela prides himself on completing RSR seasons with the fewest number of incidents, so the pre-race damage was a real let down.
"Congrats to Les on getting the win tonight," said the dejected driver.  "I was too ticked-off to stick around and watch the rest of the race, but I understand the issues I got tangled up in continued to affect other drivers too.  I couldn't believe it when I got run into on the pace lap!
We had to call for a tow truck before the green flag flew.  I've never had to do that before."
Kabela was philosophical when asked how he was dealing with the fact that he had racked up more incident points at Mosport then he usually does in an entire season.  "I guess being pissed off is better than being pissed on," he offered, "you don't smell near as bad!   Seriously though, I really miss my real racing days on nights like this, because back then I could deal with the other driver in person."   Kabela managed to nurse his damaged car around the circuit long enough to finish 18th in the race.
Turner, Kersey, and Rhyne took turns leading in the early going as they swapped positions back and forth.  McCuin did his best to rattle their cages as he kept the pressure on all three of the early leaders.  Rundell and Sutcliff tried to keep pace with the lead pack, as did Feldman and Jorgensen.
Turner almost cost himself a chance for the win on Lap Two when he drove into Moss corner too hot and took a trip across the grass.  "We've been down that road before," said Turner after the race.  "I had visions of VIR dancing through my head as I was skimming across the grass heading for the tire wall.  I stayed out of the brakes and throttle, kept control of the car and came out the other side as Darren blasted past into the lead!"
As the leaders continued racing side-by-side and nose-to-tail in their heated battles for position, lapped traffic almost ruined the event for the entire lead pack.  Only quick reflexes and a bit of luck kept the group from a total disaster.  "I was not expecting to see a lapped car that soon in the race," said Kersey after the incident.  "This same car has given the leaders trouble in the past, but we usually have a chance to get things sorted out and settle into a rhythm before we have to deal with slower traffic."
The close racing continued for several more laps as every driver on the track eventually had to deal with the lapped car's erratic driving.  Sutcliff was overheard screaming on his crew's radio about the blocking going on in front of him as he watched the lead pack getting away from him on the track.  "I lost over eleven seconds to the lead group just trying to pass that guy tonight," Sutcliff said after the race.
I've never experienced that kind of blocking before."
In addition to several incidents caused by frustrated and impatient drivers, many were forced to retire early after mental mistakes caused them to lose focus on the dangerous course.  The resulting damage to most of their vehicles was too much for crews to repair.
Turner remained calm during the turmoil going on around him on the track.  His concentration eventually allowed him to regain the lead from Rhyne on Lap Eight.  "We had a run on Tommy three or four laps in a row going into the Esses, but decided to back out and wait for a better opportunity. Finally Rhyne bobbled exiting Moss allowing us to get alongside and make a clean pass at the top of the Andretti Straight."
Turner did not give up the lead again as he went on to victory.  Les posted the fastest lap of the race with a time of 1:15.445 as he led 28 of the 35 laps.  His average race lap time of 1:16.365 was good enough to secure a two second margin of victory over McCuin.
McCuin was concerned about the near-miss incidents he had been involved in early in the race, but excited about his finish.  "Congrats to Les on the win, this is definitely his track.  Mosport is a fun track to drive!  The top four cars were all within a second of each other early until lapped traffic came into play.  I was happy to finish in second, but I am still itching to get a win this season.  Hopefully Homestead will be another good race for us."
Rhyne crossed the line in third place, 17 seconds behind Turner.  "Sorry to everyone who was caught up in the early mess in the Esses," he said.  "I was expecting the lapped car to give the leaders more room and I clipped his rear tire with mine.  It was almost a fatal mistake.  Congrats to Les on his win."
Sutcliff was one of three drivers fortunate to complete the race without an incident as he crossed the line five seconds behind Rhyne to earn a fourth place finish.
"I almost blew a gasket on Lap Six, but my crew chief got me calmed down enough to keep me from doing something stupid as we dealt with that moving road block," he said. " We've always had good luck at this track though, so I just gathered myself and tried to stick to the game plan of driving a clean race.  Les was the class of the field tonight.  He deserves the win.  Terry, Tommy, and Darren sure made him nervous though!"
Shields finished in fifth place after running a very uneventful race.  "We didn't do well in qualifying, and then we had a little scare on Lap Four," he reported.  "I just tried to ignore the poor track position and concentrate on making my way through the field."
Feldman crossed the line two seconds behind Shields to secure sixth place, with Hadden crossing the line in seventh place.
We had a fairly exciting race tonight at Mosport," he said.
"I managed to see two multi-car accidents directly in front of us and was fortunate to make it past each of them without incident.  We knew we wouldn't be the fastest car on the track, so the goal was to run clean and get the best finish possible.  Mission accomplished.  Glad to take home another top-10, zero incident finish and keep the UMazda in contention in the standings.  Now we're looking forward to heading south for our second Roval of the season, and hopefully a little redemption after the poor performance earlier this year at Daytona Road Course."
Holzwarth was the last driver to finish on the lead lap when he crossed the line in eighh place.  Galica and Husted finished one lap down in ninth and 10th places, respectively. Divina was thrilled with her top-10 finish despite a couple of early spins.
"I have always loved Mosport ever since driving Hamish Somerville's 1972 Brabham BT37 at the 28th Vintage Racing Festival Formula 1 Reunion in 2007," she said.
Husted wasn't as lucky as some of the others who avoided the wrecks happening around them during the race.
"I had a decent car for the race and it was very stable," he said. "I wasn't the fastest car by far, but I probably had a solid top-10, and maybe even a top-five with a little luck.  My right front suspension got bent up pretty bad when I couldn't avoid a spinning car on the track.  The crew did a good job getting us back out there and I was able to fight back for a 10th place finish.  We deserved better, but we got what we could under the circumstances. We'll take the Hustedia.com Formula Mazda back to the shop and get her ready for next week.  Also, we will be announcing some exciting news in the coming weeks regarding a new team structure.
Plank (11th place), Pawluckie (12th place), and Thomas (13th place), all finished two laps down to the leaders.  Pawluckie earned the "Hard Charger" award by climbing ten spots from his 22nd place starting position.
Thomas was perplexed about his race.  "We are going to go back to the shop and try to determine what has happened to our operation.  So far we have not seen the success we had in the previous season. It seems we need to step up our research and development as the rest of the field did in the off season.  Congratulations to Teamdraft team mate Les Turner on his win."
Latuga was three laps down when he crossed the line in 14th place.  "We were lucky to have finished the race after all the incidents we got into tonight," Robert said after the race.
15th place finisher Magee almost completed the race despite suffering from pain caused by recent surgery.  He was forced to retire on Lap 29.
I guess using one hand here was just too much for me tonight," he opined.
"The race length tired me out more than I thought it would.  I am really sorry for messing a couple of you up early on. I was having fun, but my hand started cramping up with 10 laps to go. Three more months of rehab, so I may have to take a few races off.  Congratulations on the win Les!"
Pyner racked-up the most incidents during the race as he battled both the track and his competitors.  He retired after 13 laps en route to a 16th place finish.  Kersey also retired early, finishing 23 laps down in 17th place following a spin in Moss Corner that very nearly took McCuin with him.
Kabela's 18th place finish was the ugly result of several on-track incidents out of his control, but it was an unforced mental error in the Esses on Lap 13 that finally caused his demise.  Likewise, Rundell had an uncharacteristically early exit from the race.  He finished 24 laps down to the leader in 19th place.  Heaney finished 26 laps down in 20th place.
Gildersleeve was the first driver to officially retire from the race when he parked his car on Lap 8 after barely clipping Jorgensen's spinning car blocking the track in Turn Two.  The Georgia-based driver had worked his way into the top-10 before retiring to finish in 23rd place.
Jorgensen was scored in 22nd place when he retired after receiving heavy damage to his vehicle in his Lap Eight spin that collected Gildersleeve, Husted, and eventually Thomas who reacted to the carnage and lost control as well.  "We tried to repair the damage, but there was nothing the crew could do with it", said Jorgensen.
Albertson only lasted one lap longer as he retired on Lap Nine to finish in 21st place.
"For the first time in a long while I had an off night," he said. "I just did not feel connected to the car and looped into the inside wall of Turn Two. After pitting to repair the damage, I only ran a few more laps before going off the outside of the same corner. I just did not feel like I was in control, so I parked it for the evening. I was experiencing some electrical problems, but I don't think that was it. I just plain had a bad night. Sometimes you find the zone, sometimes you find the pits."
The RSR championship point race saw plenty of movement between the top-10 drivers after the Mosport event.  Rhyne and Hadden held onto the first two spots, with Rhyne enjoying a comfortable 43 point lead heading into Week Six.  McCuin moved up one position to take the third spot, while Sutcliff climbed one position to the fourth spot and Turner's victory earned him enough points to move back up into the fifth spot.  in contrast, Kersey dropped three positions, while Rundell dropped two.
Turner invited all the RSR gang back to his Igloo (located just outside Turn Two) for the victory celebration. Not to be outdone by Sutcliff's Southern Style BBQ at Mosport last season, Les pulled out all the stops for this one.
"We wanted to show those Southern boys how to party Canadian style, eh?" said Turner as he sprayed anyone in sight with Bud Light. "We also wanted Ed to feel at home.
We saved him a cup of iced tea and a hunk of hog from last season's party at his campsite."
Luckily Teamdraft had come well prepared. When everyone arrived for the party, they found Wilber buck naked passed out in a lawn chair, flipper still in hand with several burgers simmering on the BBQ. The first of several kegs of beer had been dragged over beside the chair and was almost empty. The festivities lasted well into the wee hours and prompted at least two visits from the local Ontario Provincial Police Department.
RSR drivers travel to Homestead Miami Speedway's Road Course B for next week's "I thought this was an Oval Grand Prix".
JT's Race Video:  http://www.youtube.com/watch?v=wGGDhrbOahY
---
You may also like...
---