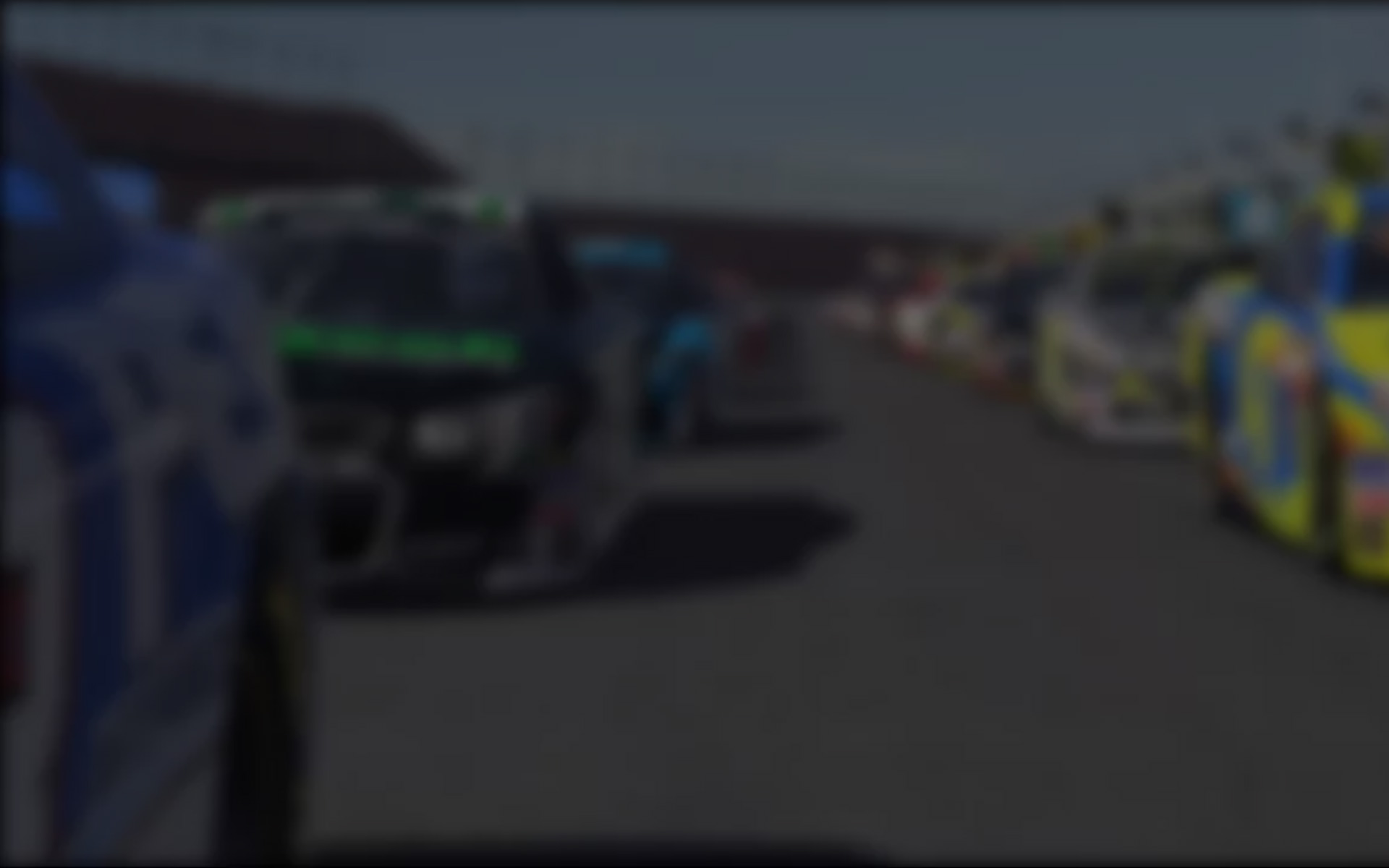 Red Sox Racing League members had a short trip from last week's online race at Homestead to this week's event at Road Atlanta.  Race number nine on the league's 2011 schedule was the 27 lap "Oh I wish I were in Dixie, Away, Away" event.  Road Atlanta is situated in the hills of northeast Georgia.  The track's full course is a demanding 12 corner, 2.54 mile layout which includes constant elevation changes and a final downhill corner which leads into the fast straight along the front stretch.  In addition to being home to the Skip Barber Racing School and the Saab Aero Academy, it is also the site of a variety of professional and amateur events.
Fresh off of his win at Homestead, Les Turner rode a leprechaun into Georgia searching for the "Pot of Gold" at the end of the rainbow.  His speed during early week practice sessions told the tale as the Canadian was once again an early favorite to earn his eighth pole in nine races given that he was only sim racer to record a practice lap under the 1:03 mark.  His mastery of the track continued into the qualifying session as Turner did exactly as everyone expected by earning the pole with an incredibly fast lap time of 1:03.259.  Darren Kersey was the only other driver to record a sub-1:04 lap when he secured a spot on the outside of the front row with a lap time of 1:03.662.
The remaining positions on the grid were filled by; Jeff Sharp (1:04.408), Jim Albertson (1:04.094), Terry McCuin (1:04.302), Greg Harris (1:04.409), Divina Galica (1:04.966), Andrew Feldman (1:05.247), Jeff Thomas (1:05.277), Ed Sutcliff (1:05.419), Kevin Kyle (1:06.069), William Kabela (1:06.579), Mark Plank (1:07.843), and Bill Pawluckie (1:08.031).
The standing start meant the first half of the field would be approaching Turn One while the back half of the field was still accelerating.  Despite the tight uphill cornering, RSR members took pains to give each other room as they quickly shuffled into a single file train on the downhill section known as the Esses.
Traffic was thick as everyone tried to gain speed coming onto the uphill entrance to Turn Five.  The action stayed close as drivers were forced to brake for the tight sixth and seventh corners which led them onto the backstretch.  Those daring enough to push the limits of tire grip coming out of Turn Seven were rewarded with a bolt of speed as they climbed the long backstretch section and prepared for the steep downhill which leads to Turn 10A.
The tricky left-hand, right-hand turns at 10A and 10B are known for ruining many races, but drivers who successfully navigate them can gain valuable speed as they use the momentum of a proper 10B corner exit to accelerate to the crest of the hill before the final blind downhill corner that brings them back to the front stretch.
Some say the track resembles a roller-coaster.  Few RSR drivers would argue with that description.  The track's constant elevation changes, tight corners, and fast straights keep eyes, hands, and feet in constant motion as drivers attempt to find the perfect rhythm needed to post consistently fast laps.
The first several laps of the race were uneventful.  Sharp got the crowd on its feet on Lap Four when he drove into Turn Three too deeply and gave up third place to McCuin, with Albertson also scooting past as Sharp gathered it back up.  Things got a bit more interesting on Lap Seven when Kersey overdrove the exit of Turn Seven and spun while trying to keep pace with Turner.
Albertson was the track's next victim when he lost five positions after spinning out of fourth place while exiting Turn Seven.  Always a gentleman, Jim backed-off the track to avoid impeding his fellow racers at the cost of minor damage to his own rear wing against the wall. He was able to continue racing, but took it easy for several laps while his team checked the telemetry coming from his car to ensure it was safe to drive at full race pace.  Albertson never lost his cool as he calmly paced himself back into contention by late in the race.
Kersey's race ended one lap later.  Trying hard to make up the time lost to Turner, Kersey overshot the exit of Turn Five and hit the tire barriers.  The damage was severe enough that the snake-bitten driver knew his race was over after once again demonstrating potentially winning form.  Small consolation perhaps, but Kersey posted the fastest lap time of the race, 1:04.045, on his fourth lap and his early exit from the race no doubt gave Turner a little breathing room.
Kyle had an uncharacteristically slow race, but demonstrated excellent driving skills on Lap Fourteen when he avoided disaster despite missing Turn Three.  Track officials issued a slowdown flag, but the incident did not ruin Kyle's night.  He was able to make up several positions before finally settling into enough of a rhythm to climb back into the top ten.  He would have finished in good shape had it not been for mistakes on Lap Nineteen and the last lap of the race.
Pit strategy was once again a deciding factor for several drivers.  McCuin was the first driver into the pits when he called for four fresh tires and a splash of fuel on Lap Sixteen.  Galica and Albertson both pitted without incident on the same lap, but Galica's team inexplicably held their driver in the pits an extra 20 seconds to inspect the front wing.  She never recovered the track position lost on the stop.
Sutcliff and Feldman were the next to pit when they came in on Lap Seventeen.  Feldman made a clean pit stop, but was forced to retire from the race before completing another lap.  His night ended after a horrific crash while exiting the pits, luckily, without injury to the well-liked driver.  He was understandably reluctant to speak to the media after the incident, but issued a statement through his crew chief while being examined in the infield care center.  "I am okay, and am happy nobody else got caught up in my wreck.  See everyone next week."
Turner waited until Lap Eighteen to make his pit stop.  The Canadian thought his strategy would mean a clean pass through the pits, but that did not turn out to be the case.  Trapped behind a slow moving lapped car on the narrow road leading to the pits, Turner lost valuable time as he was forced to remain behind the car for what seemed like an eternity.
Finally free of the traffic, Turner rushed into his pit stall and waited patiently while his team executed a flawless stop.  His path back onto the track was nearly blocked by the same car as Turner tried to rejoin the racing action in time to maintain his lead.  Luckily for Turner, the slower car yielded at the cones and gave him just enough room to make a clean exit off of pit road without any contact.
"We stayed out until we were running on fumes, then got trapped behind a slow car on the pit entry," he said. "We lost a couple of seconds there, but managed to have a clean stop and get back out in the lead."
"We lost a couple of seconds there, but managed to have a clean stop and get back out in the lead." – Les Turner
McCuin and Harris both took advantage of the mishaps befalling other drivers to climb several positions.  McCuin would go on to finish in second place.  "We had another good run overall.  We started fifth and finished in second. There is nothing to complain about with that.  The only thing I can complain about is how, yet again, we had nothing for Les.  We'll keep trying though.  See everyone in Mosport next week!"
Harris finished third while Sharp dropped one spot from his starting position during a clean drive to fourth place.  Albertson's strong run in the second half of the race was enough to get him back into the top-five.
Turner was oblivious to the turmoil going on behind him as he methodically clicked off the laps on his way to leading every lap en route to a ridiculous 12 second margin of victory.
"We knew Kersey was going to be tough at Road Atlanta.  Last time here in the Star Mazda, he pressured us into a mistake in the closing laps and stole the win from us.  I was not going to let that happen again tonight." said Turner.
"We stayed out until we were running on fumes, then got trapped behind a slow car on the pit entry. We lost a couple of seconds there, but managed to have a clean stop and get back out in the lead. Great clean racing out there tonight by everyone. Better pack your parkas and propane heaters, we are heading to Canuckville!"
Sixth through eighth place finishers, Sutcliff, Thomas, and Galica were the final drivers to finish on the lead lap, while Kabela (ninth) and Pawluckie (10th) were both scored one lap down with Kyle (11th) and Plank (12th) two laps down.  Feldman was scored nine laps down in 13th place, and Kersey watched the last 20 laps from behind the wall in Turn Five.
Pawluckie and Sutcliff shared the race's "Hard Charger Award" by climbing four positions during the race.  Turner, McCuin, Harris, Sharp, Sutcliff, Kabela, and Plank all completed the race without an incident.
The F1 Challenge Series heads to Mosport International Raceway in the Great White North for next week's "Polar Bear Grand Prix" race.
"Better pack your parkas and propane heaters, we are heading to Canuckville!" -Les Turner
In other official RSR league action, Rundell won his second race in a row in the Street Stock Tuesday Night Thunder Series race at the New Hampshire Motor Speedway.  Rundell began the race in sixth place on the grid, but was able to take advantage of a mistake by pole sitter, Terry McCuin as he led 17 laps of the 25 lap "Ernie Irvan Magic Mile 25" event.  Turner was glued to Rundell's rear bumper when crossed the line in 2nd place.  Pawluckie finished two seconds back in third place.  Magee and Kyle rounded out the top five.
Turner maintains a slim twelve point lead in the overall championship race.
The TNT Series heads to the Phoenix International Raceway for next week's 25 lap "Operation Desert Storm 25" event.
RSR F1 Series Standings after nine races:
http://www.danlisa.com/scoring/season_standings.php?season_id=639
RSR TNT Series Standings after nine races:
http://www.danlisa.com/scoring/season_standings.php?season_id=657
RSR YouTube Video Channel:
http://www.youtube.com/user/draftin11?feature=mhum
---
You may also like...
---