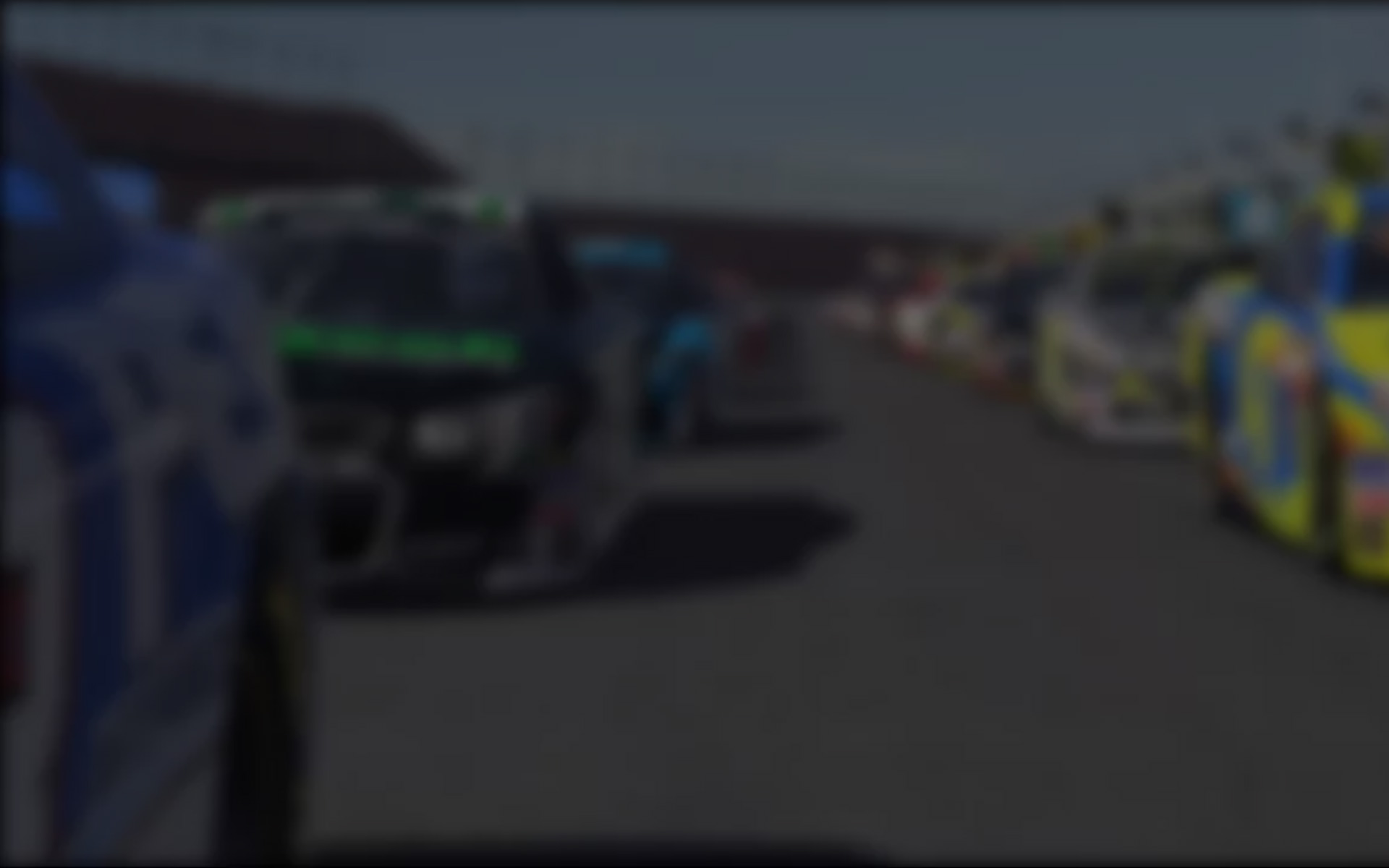 In a streak of extremely competitive online races which illustrated the depth of skill on display each week during the first five events of the 2010 Season 3 schedule, five different drivers in the Red Sox Racing League made their way to Victory Lane.  Further evidence of the hard fought battles being waged in RSR races each week was the fact that defending points champion Les Turner did not get a win until Week Five.
Turner took advantage of his Week Five momentum to hold-off a talented field of sim racers en route to a second consecutive win in the "I thought this was an Oval Grand Prix" at the Homestead-Miami Speedway's Road Course B in Florida this week.
The Homestead Road B configuration is a challenging 11 corner, 2.3 mile road course which utilizes a significant portion of the oval section of the track.  Car setups are crucial at a track where being fast through the tight hairpins is just as important as being able to match top speeds on the speedway sections of the track.
Reed Rundell, who started first on the grid with a qualifying lap time of 1:14.797, appeared to have figured out the perfect down force combination after spending much of the practice session looking for more top end speed.  Turner,  the only driver to break the 1:15 barrier during practice, had to settle for second place on the grid with his qualifying effort of 1:15.007.
Rows Two through Five on the grid were filled by Terry McCuin (1:15.136), Barry Blocker (1:15.307), Robert Magee (1:15.402), Tommy Rhyne (1:15.533), Andrew Feldman (1:15.601), Bill Hadden (1:15.670), Scott Husted (1:16.037), and Jeff Thomas (1:16.135).
Jim Albertson did everything he could during qualifying to secure a top-10 starting position, but fell just short with his effort of 1:16.260.  "We've really tried to put more emphasis on qualifying in the past few weeks," said Jim after the session.  "The competition is just so tough every week that you almost don't have a chance unless you can keep the leaders in sight in the opening laps!"
William Kabela (12th), Divina Galica (13th), Bill Pawluckie (14th), Robert Latuga (15th), Albert E. Glover (16th), Wilbur Gildersleeve Jr. (17th), Dennis Heaney (18th), and J. Paul Jones (19th), completed the starting grid.
Despite the proximity of the race to their homes, Georgia based drivers Ed Sutcliff and Wilbur Gildersleeve Jr. both missed the race in Florida.  Sutcliff's camp released a brief statement which included the following explanation for his absence: "Ed promised his youngest son Tyler a trip to the Ogeechee Fair this year.  As it turned out, $18 wrist stamp night just happened to fall on race night.  As much as Ed wanted to be in Miami for the race, he couldn't break the promise he had made to his 9 year old son."
Gildersleeve's absence from the race was clouded in more mystery.  "Wilbur is still a little under the weather after participating in the post-race celebration Les hosted after his win in Canada last week," said his crew chief Twinkle Toes Davidson.  "We aren't making any accusations, but it appears one of his fans might have slipped ole Harley boy a little something extra in one of his drinks!"
An estimated 65,000 fans attended the race.  They were greeted by beautiful weather and perfect track conditions.  Pre-race festivities were a hit, especially when each of the winners from the first five races was introduced to the crowd.  "I just love Kersey," said one female fan from Kansas.  "We drove for two days to get down here in time to see him dust the field".
Fans rooting for Tommy Rhyne, Reed Rundell, Jody Green, and Les Turner were just as energetic about their driver's chances of being the first to repeat as winners in the young season.  "Tommy Rhyne is the most consistent driver of the league this season," said Lorie Flowers of Richmond, VA.  Fans for Rundell, Green, and Turner debated with Flowers, but she stuck to her guns.
I know Tommy will knock Turner off the podium tonight!"
In a return to the courteous driving they are known for, RSR drivers managed to complete the pace lap without any of the excitement seen in the Mosport event.  The race began cleanly and Rundell looked sharp and in complete control as he led the field to the green flag.  "Our car felt really good tonight," said Rundell afterwards.
Rundell held-off all comers for the first four laps, and although he had reason to be optimistic about his chances of returning to victory lane, his hold on the lead was challenged on every lap.  Rundell would finally lose the lead on Lap 5 after Turner executed an excellently timed pass on the oval portion of the track.
"I thought I could keep pace with Les, but he was just too strong.  I lost ground to him, despite running some of the fastest laps of the race," said Reed.   Indeed, Rundell's lap time of 1:14.934 on Lap 8 was the fastest lap posted by any driver during the race.  Rundell maintained second position throughout most of the race, but McCuin and Blocker eventually passed him as they tried to chase down Turner.  Rundell finished in fourth place.
Turner put a choke hold on the lead spot once he got it.  "This is a very fast and demanding track," he said. "I knew there were about six or seven drivers capable of winning the race if I slipped up, so once I got by Reed I did everything I could to stay out front.  Rundell hounded us lap after lap and very nearly forced us into a mistake several times into the heavy braking zone for Turn Six.  Hats off to Reed for racing me clean tonight!"
Turner's effort paid off as he would go on to lead each of the remaining 30 laps on his way to victory.  His margin over the second place car of Terry McCuin was a mere half second at the line after the pair had to negotiate several lap cars battling for position in the final laps of the race.
Passes proved hard to execute as each of the drivers maintained very consistent lap times.  Drafting on the oval section of the track proved to be the key to many successful pass attempts.
Turn One witnessed the most action as many drivers saw hard-fought track position evaporate as they over-drove the corner.  Fans on the front stretch had a great view of the action.  "I brought my camera to the race tonight," said Nim Cross, of York, PA.  "I was hoping to get some in-car shots of Wilbur going past our section of the track.  I was bummed when he didn't make the race, but I ended-up getting some really great photos of several different drivers spinning out in turn one.
This track ROCKS!"
The apron in Turns Three and Four also proved problematic for several drivers who failed to heed the league policy against driving below the white lines.  "The apron was so inviting," said one unnamed driver after the race.  "I was hoping to gain a little ground without it being noticed, but the back end just went around on me and I had no chance to save it."
Second place finisher McCuin was happy with his effort.  "Congratulations to Les on another great win.  He is the first repeat winner so far this season, and his second win in a row.  It looks like Les is back on a roll again!"  McCuin continued, "I finished in second again.  Hopefully one of these days I'll be able to finish the job and get a win.  Until that happens, I'm more than happy to keep the Bridesmaid streak going.  We had a great run at Homestead all around from what I saw.  There was lots of close racing throughout the field.  Hopefully Road Atlanta will be more of the same."
Third place finisher Barry Blocker was also pleased with his team's effort.  "It was another solid outing for the team today. They gave me a great car and I got it home in one piece! We used our usual 'roval' strategy by trimming the car out as much as possible to be faster on the oval portion of the track."  His crew chief agreed. "The strategy worked well today.  It kept Barry in touch with the leaders through the first part of the race. We had some bad luck at around Lap 16 when Barry got distracted and touched the apron in Turn Four."
Blocker agreed.  "I simply lost it in that corner.  Not sure what happened!  We looped the car but somehow managed to stay out of the wall.  It scared the crap out of me. I thought I was a goner for sure. We only lost one place when Terry got by and then I kept turning consistent laps for the rest of the race."
"Reed had an off track which allowed me to move into third on Lap 32," he continued.  "We'll gladly take a podium spot from this very tough track. It'll make you pay when you think you can push it a little harder than you should, but also rewards you when you set up the turns correctly."
Rundell went on to finish in fourth place after an eventful drive, while Rhyne drove an incident free race to finish two seconds behind Rundell in fifth.
Hadden managed a sixth place finish despite some hair-raising incidents.  "Tonight's race is one that I won't forget any time soon.  Overall it seemed like there was great racing all around the track, and we probably had the least number of DNFs all season.  Andy and I ran within a half second for the first 20 laps.  I was much quicker in the infield section and then watched him pull away as soon as we hit the oval."
"My only chance to get around would have to be in the infield," he continued. "I finally made up my mind to go for it, and made two attempts to out-brake him into Turn Six, but I couldn't make it stick.  Two turns later, as we headed onto the oval, Andy caught the curb, turned it around, and I T-boned him.  I'm really sorry for the way it turned out, but it was sure fun while it lasted. We'll move on though.
Road Atlanta, the UMazda is headed your way."
Husted thought his seventh place finish could have been better.  "I had a fast car tonight," he opined.  "Fast enough to have made it into the top-five.  We had a couple of bobbles though, and this field was just too tough.  We'll be ready for action again next week!"
Albertson finished in eighth place.  "We started 11th by running the race set up to make sure I was comfortable with the car in race conditions.  I had a good battle with Jeff Thomas for many laps, and he let me by coming onto the front straight when we both checked up for a car that had spun in front of us.  Bill Hadden started chasing me down several laps later.  My crew chief had told me we needed to save fuel, but when the spotter said the gap had closed to within three seconds I quit thinking about the fuel and started racing harder.  The car began to sputter as we came out of the hairpin corner leading to the back stretch on the last lap.  The loss of power was just what Scott needed as he drove past me for the seventh position."
Albertson complimented Turner on his win.  "Congrats to the Tuna for a great win tonight!  He worked hard to earn it. Thanks to the crew chief of the POW/MIA car for giving me a super stable setup that enabled the car to once again rejoin the 'zero incident club' after a dismal finish last week. This was probably the hardest I have had to work in a long time."
Thomas (ninth place), Latuga (10th place), and Kabela (11th place) were the last drivers to complete the race on the lead lap.  Galica (12th place) and Pawluckie (13th place), finished one lap down.
Pawluckie was not upset with his finish.  "I just wanted to say that the Homestead race was a rare treat for me for a road race.  Usually road racing feels like a lonely affair for me except when being lapped, however this week it was a blast running in a pack with William Kabela, Robert Latuga and Divi.  My only regret was I spun myself about halfway through the race after passing William heading to Turn One and lost them after that.  But the first half of the race was priceless."
Glover (14th place), Heaney (15th place), and Jones (16th place), were the only other drivers still running when the race ended.  Feldman and Magee retired early to finish in 17th and 18th places respectively.
RSR drivers travel to Atlanta, Georgia for the "The Petite Le Mans of Atlanta Grand Prix" next week.
JT's Race Video:  http://www.youtube.com/watch?v=oGRT32f6EDA
---
You may also like...
---