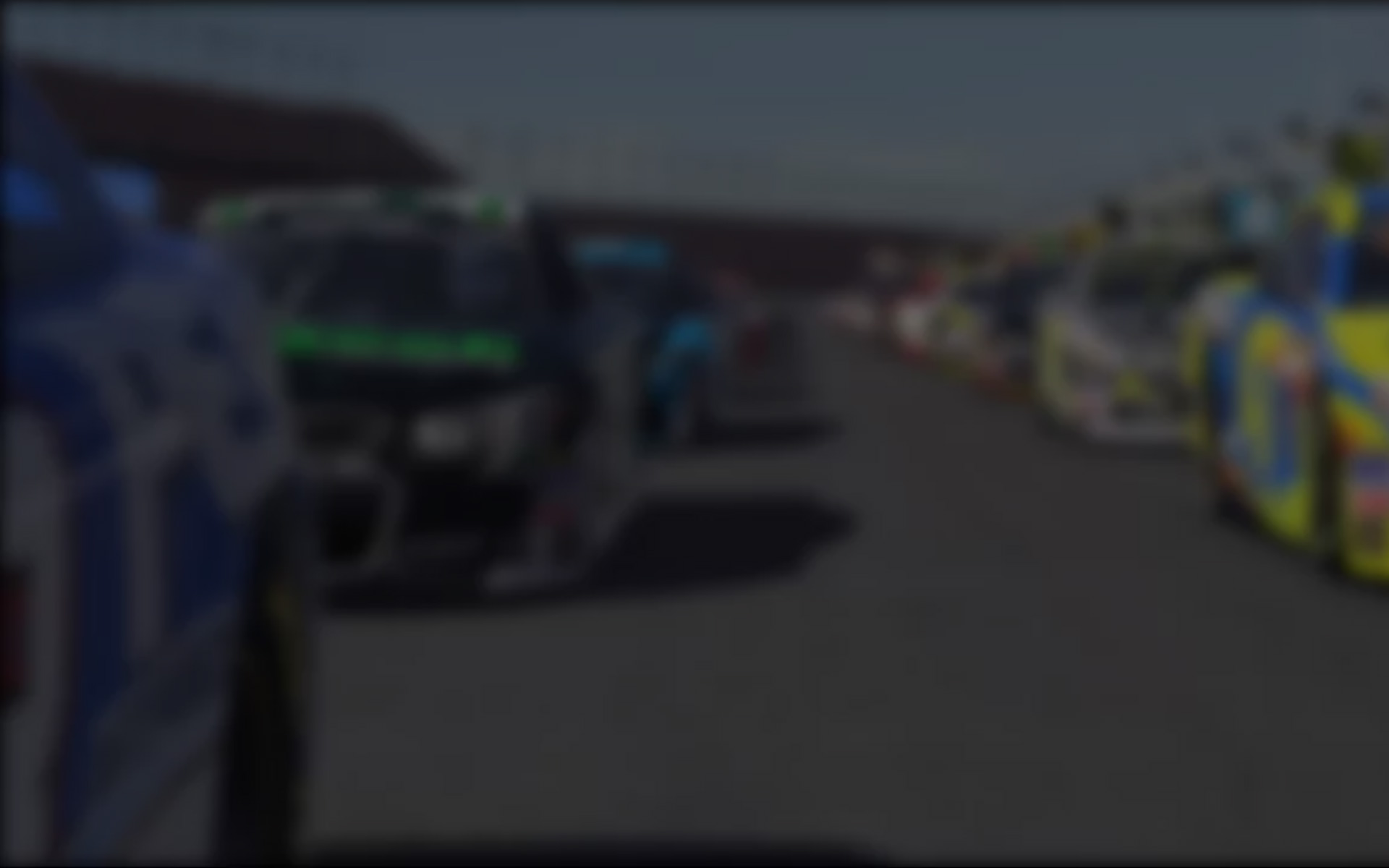 Les Turner knew he had his hands full when the green flag dropped at this week's Red Sox Racing League event at the Virginia International Raceway.  First opened in 1957, VIR's full course is a beautifully designed layout featuring some of the most interesting stretches of racing terrain anywhere in the world.  Located near the Virginia/North Carolina border, the track has six different configurations.
Sixteen members of the RSR league competed on the track's 17 corner, 3.27 mile Full Course layout in their fifth online race of the 2011, Season One schedule.  Negotiating 130 feet of elevation changes through corners with names like Left Hook, Oak Tree, Roller Coaster, and Hog Pen during practice, league drivers quickly learned their fellow sim racers might not be the only thing standing between them and the finish line.
Fans and competitors alike were eager to see if anyone could knock Turner off the pole in Week Five after four straight pole position starts in F1 competition.  As it turned out, Turner's domination of qualifying was not seriously challenged at VIR.  His lap time of 1:26.839 was more than fast enough to give Les his fifth pole in five races.  Darren Kersey earned the outside position of Row One with a lap time of 1:27.169.
Rows two through five of the starting grid were occupied by Terry McCuin (1:27.898), Andrew Gantman (1:28.046), Ed Sutcliff (1:28.427), Jeff Thomas (1:28.632), Andrew Feldman (1:28.651), Jeff Sharp (1:28.820), Chuck Johnson (1:28.995), and William Kabela (1:29.319).  Mike Grandy, Kevin Kyle, Mark Plank, Bill Pawluckie, Greg Harris, and Robert Magee completed the grid.
RSR events are usually known for their clean starts and abundance of courtesy shown by drivers towards their competition.  Be it the full moon, or the ghosts rumored to be roaming the old farmland which makes up the VIR track property, something odd was definitely afoot when the green lights flashed.  Things got off to a weird start when Sutcliff blew his chances for a podium finish by inexplicably jumping the green lights and receiving a black flag before his car had moved a foot on the track.
Grandy was the next to vapor lock when he failed to engage his gears when the lights turned green.  Only quick thinking on the part of Plank allowed either driver to make it off the starting grid without serious damage.
Only Turner and Kersey got through Turn One without white knuckles.  Gantman got off to a blistering start, but almost knocked the front nose cone off of McCuin's car in his attempt to take away the low line entering the Horse Shoe.  The contact damaged Terry's front wing and caused a ripple effect throughout the fast approaching field.
Things got worse as Sutcliff locked his brakes and slid off track while avoiding McCuin's slowing car when things stacked up at NASCAR Bend.  Nearly half the field was forced to slow and/or go off track to avoid the resulting chaos.  Thomas was hit hard from behind as he checked-up to avoid following Sutcliff off track.  Feldman was forced to retire due to the heavy damage his car suffered in the accident.
Kyle was the next to retire when he went off track at Left Hook and hit the tire barriers on Lap Three.  The corner's next victim was Grandy when he too was forced to retire due to damage suffered there on Lap Five.
Gantman gave up his chance at a podium on Lap Four when he hit the tires in Oak Tree.  His misfortune gave second place back to Kersey.  The former RSR champion quickly took advantage of the situation as he began chipping away at Turner's lead.
McCuin gambled with his pit strategy by short pitting on Lap Seven in an attempt to make up lost ground on the leaders.  His move didn't give him the momentum to catch Turner or Kersey, but it did allow McCuin to retake third place as he nosed Johnson out for the final podium position.
Magee retired on Lap Ten after one too many battles with the corner known as the Snake.  Luckily for Robert, his car slid to a halt only a few hundred yards from his RV parked in the Turn Six campgrounds. Greg Harris joined Magee roasting wieners and singing songs around the campfire six laps later.
Kersey gave Turner everything he had in the final laps, but Turner was able to hold him off as he crossed the line with a 2.75 second lead to secure his third win of the season.  His early season success has given Turner a comfortable 154 point lead in the season standings.  Kersey's strong showing at VIR moved him up four places in the overall standings.  McCuin's podium finish moved him up two positions into third place while Johnson's fourth place finish moved him into second in the standings.
Reporters finally caught up with Turner at Magee's campsite in Turn Six. "I should have known that Kersey was going to be tough at VIR. The last time we were here was September 2010 in the Star Mazda. Darren took the pole in that race and finished second by less than a car length to (Reed) Rundell. I made a fatal error in South Bend that day on Lap Three that ended our race. I was extremely careful not to let that happen again tonight. Taking that corner flat out in seventh gear in the Williams is a nerve-racking experience.  There is absolutely no margin for error".
McCuin was pleased with his effort.  "Glad to finally be back on a podium.  We had some troubles in a couple of races, but we are back on track now.  We had a fast car today, but received some damage to the nose on the start which killed my speeds on the long straights.  It took everything I had to keep in front of Chuck and finish third.  It was a great race and I had a blast racing with Chuck.  I would pull away a bit in the turns, but he would close it right back up on the straights.  Congrats to Les on another win and I can't wait until next week at Phillip Island."
Sharp crossed the line in fifth place.  Gantman (sixth) and Sutcliff (seventh) were the last two drivers to finish on the lead lap.  Plank (eiigth) and Kabela (ninth), both finished one lap down to the leaders.  Kabela's evening was ruined when he was black flagged while exiting the pits.  He had been in sixth place before the mistake.  Pawluckie (10th) and Thomas (11th) were both two laps down, and the final two cars still running, when they finished the race.  Harris (12th) was scored five laps down.  Magee (13th) finished 11 laps down.  Grandy (14th) was 16 laps down.  Kyle (15th) was 18 laps off the pace, while Feldman (16th) failed to complete a lap in the race after the incident in NASCAR Bend on Lap One.
Plank and Johnson both climbed five positions to earn "Hard Charger" of the race awards.  Turner, McCuin, and Sharp were the only drivers to complete the race without incident.  Grandy's ten incident points in four laps earned him the "Goody's Headache Powder" award.
RSR drivers make the long journey down under for next week's "Surf's Up Phillip Island Grand Prix" race at Phillip Island Circuit in Australia.
In other Red Sox Racing league sanctioned events this week, the Tuesday Night Thunder series (RSR TNT), ran their fifth race in the Street Stocks at the South Boston Speedway.  Turner finally knocked McCuin out of winner's circle in the TNT series when he held off his teammate to claim the win at the 55 lap event.  Turner also managed a rare double at RSR this week by claiming the pole at both South Boston and VIR, and leading every lap of both events.
RSR F1 Series Standings after five races:
http://www.danlisa.com/scoring/season_standings.php?season_id=639
RSR TNT Series Standings after five races:
http://www.danlisa.com/scoring/season_standings.php?season_id=657
RSR YouTube Video Channel:
http://www.youtube.com/user/draftin11?feature=mhum
---
You may also like...
---