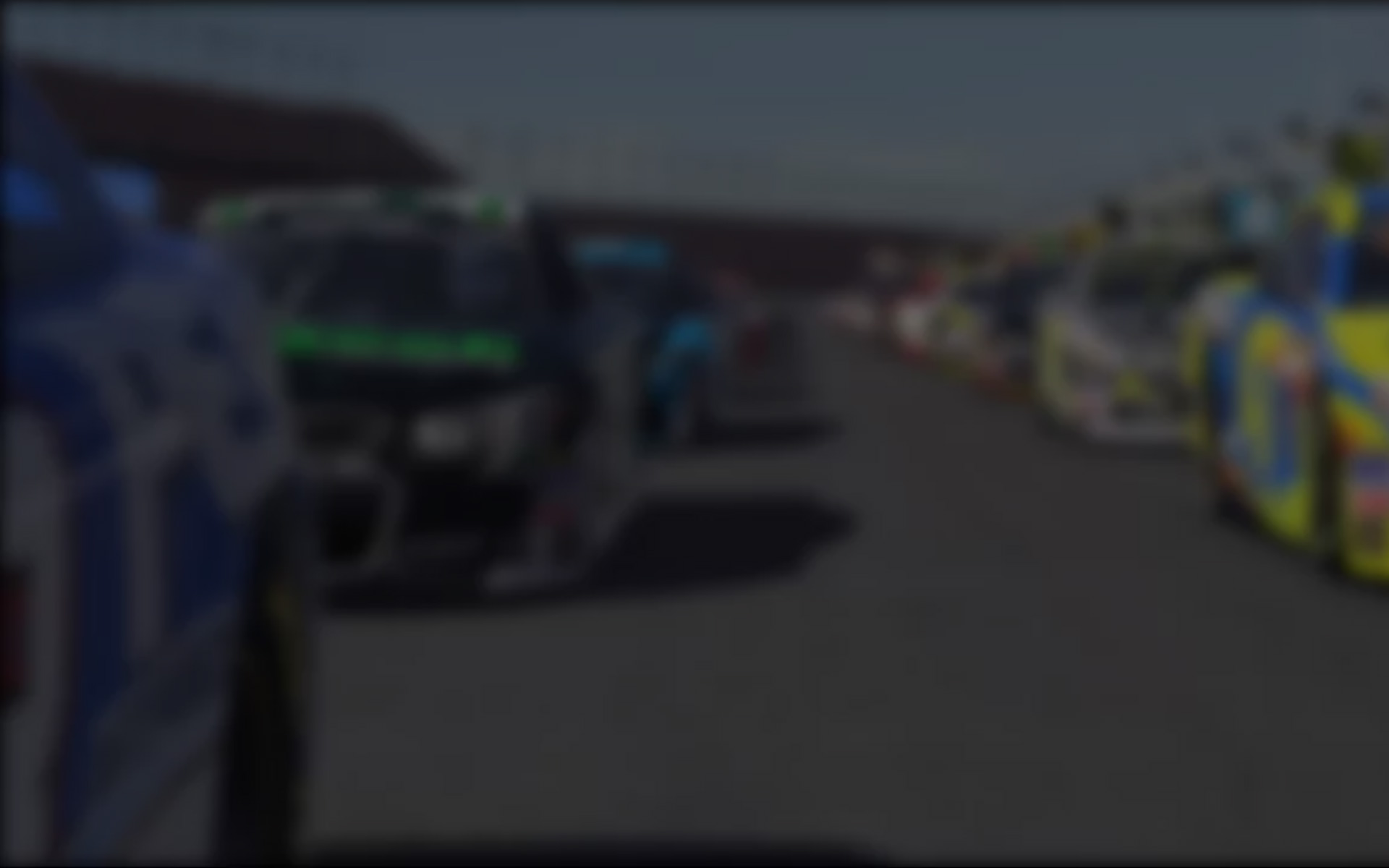 Les Turner executed a flawless race to win the "Red Sox United States Grand Prix" at the Indianapolis Motor Speedway road course.  Leading wire to wire without incident, the defending Red Sox Racing League champion showed once again why he is considered one of the best sim racers.  Turner's second pole of the season helped set the stage for his third online racing win of the season.
The race was held on November 11th.  In the United States, the date is a holiday honoring military veterans.  Other parts of the world celebrate it as Armistice Day or Remembrance Day, as it falls on the day the Armistice that ended World War I was signed.
Members of the RSRL observed the holiday before their race by spending time with local military veterans who came to the track to meet their favorite drivers.  The day had special meaning to many league drivers who were military veterans, and who had family members who were veterans.
The road course at Indy has been described by some as boring because it lacks elevation changes and other tricky features found at some of the other venues visited by the league.  What the course lacks in varied topography however, it more than makes up for in speed.  Drivers and fans alike were impressed with the speeds reached on the track's 13 corner, 2.605 mile lay out.
Turner arrived at the track early in the week hoping to jump start his march back into the point battle.  The defending champion entered the week in fourth place, but put his competitors on notice with an impressive run during mid-week practice.  Only his TeamDraft team mate, Terry McCuin, and points leader, Tommy Rhyne, posted faster laps than Turner during the practice session, however it was rumored that Les had spent most of the session in race trim.
Cooler temperatures on race day meant considerably faster lap times for the entire field.  Turner set the standard with a lap of 1:25.422 in pre-race practice, and then bested that with an incredible lap time of 1:25.277 to earn the pole.  Rhyne earned the outside position on the front row with a lap of 1:25:372.  McCuin (1:25.466), Reed Rundell (1:25.554), Darren Kersey (1:25.667), Kevin Kyle (1:26.113), Bill Hadden (1:26.252), Ed Sutcliff (1:26.261), Jeff Thomas (1:26.478), and Andrew Feldman (1:26.739) occupied rows two through five.
The remaining grid positions were held by; Divina Galica, Bill Pawluckie, William Kabela, Scott Husted, Mark Plank, Wilbur Gildersleeve Jr, Robert Magee, and Dennis Heaney.  Gildersleeve and Magee both missed the race despite having shown considerable talent on the course during practice.
Most of the RSRL drivers were cautious as the race went green, but Sutcliff took advantage of poor starts by Kyle and Hadden to jump two spots into the 6th position on Lap One.  Turner, Rhyne and McCuin held their positions on the first lap, but after spinning on Lap Two, Rhyne found himself all the way back in 10th place.  The point leader recovered quickly however, and everyone but Turner and McCuin eventually found themselves being passed by the hard-charging driver.
McCuin filled Turner's rearview mirrors for most of the race as he hounded his teammate for the top position.  Their battle kept the fans on their feet until McCuin bobbled in Turn Four of Lap 18.  His slide into the gravel trap gave Turner just enough breathing room to let him get enough oxygen to talk to his pit crew on the radio.
"Can you believe this race?" said the exhausted leader.  "I knew Terry was fast here, but he was locked onto my rear wing every lap since the start!" Luckily for McCuin, he and Turner had enough of a lead on the third place car of Rundell that the bobble did not cost him any immediate track position.
Reed finally caught up to McCuin on Lap 20 and drafted past the helpless Teamdraft driver into Turn One to take away the second spot.  With Rundell in front, their cars touched exiting Turn Four.  The contact caused just enough damage to Reed's car that he lost control and spun, while McCuin continued on without losing much momentum.
Hadden had a fast car, but was forced to retire in 15th place after only seven laps with steering box issues.  He beat only the 16th place car of Heaney, who retired after several self spins just five laps into the event.
Electrical problems also impacted Kabela and Heaney.  "We had some equipment problems on the pace lap," said Hadden afterwards.  "The team thought we had the problem fixed without pitting, so I was looking forward to another solid finish tonight.  Unfortunately, it just wasn't meant to be.  Congrats to Les on his win.  We'll see everyone next week."
Kabela's electrical troubles almost caused a disaster on Lap 19, but the quick thinking driver saved his equipment before any damage was done to his own car, or to those around him.  "We aren't sure what happened, but it really took me by surprise," said Kabela in the pits.  "I had faith our team would get me back onto the track and they did.  The 14th place finish wasn't what we wanted, but it could have been worse.
Turner was the class of the field tonight, he deserved the win."
Even with his mid-race bobble, McCuin recovered enough to finish just four seconds behind Turner at the checkered flag.  Most drivers would have been happy with the result, but McCuin was not satisfied with his effort.  "Another race and another second place finish.  See you next week at Zandvoort," said the dejected driver after the race.  Terry's effort and Turner's win helped McCuin cut fifty points off of Rhyne's lead in the points.
Rhyne finished in third place when he crossed the line nine seconds behind the leader.  His amazing recovery and march back through the field helped him keep a slim lead in the Championship after nine events.
Kersey climbed three spots in the standings with his fourth place finish at Indy.  Despite his solid finish, Kersey declined to participate in a post race interview.  His crew chief wasn't as shy.  "Darren should have gotten a win here tonight," said Rubbles McAllister.  "He had the skills to hang with the leaders, but we didn't give him the right setup.  I take the blame for this one."
Rundell was close behind as he finished the race four seconds behind Kersey to secure another top-five finish.  Rundell arrived at the track much later than most of the other drivers, so his performance was a surprise to many observers.  "Turner's team did us a huge favor by offering us their setup notes this week," said Rundell.  "My goal early on was to keep the leaders in sight.  We did that just fine, so when Tommy spun and Terry had his issues, I was in a great position to move into second place.  My plans to catch Les were short lived, because Terry just clipped my car in turn four.  We got some damage, so I decided to refocus on staying in the top-five.  The Dupont Mazda held tough long enough for me to get that done.  We'll be away for the next two weeks, so I'll see everyone again in December."
Kyle was the next driver to cross the line in sixth place.  "I had a great battle with Sutcliff tonight," he said.  "This was the first race in a long time that the car felt like it had the horsepower to compete with the front runners.
I have to say thanks to the guys back at the engine shop for finding the extra power this week!"
Sutcliff was happy with his seventh place finish.  "This league gets tougher and tougher every week," said the Georgia driver.  "I got a great jump at the start, but knew those guys behind me were not going to let my pass last long.  Kyle was on my bumper the whole time!  I was pretty happy about keeping pace with Darren for so many laps, but I think we flat spotted the tires trying not to hit him when he slid on Lap 10.
"That allowed Kevin to get right up on me, then we both had fun chasing Darren.  Tommy came blasting back up through the field like a rocket though, and I ended up burning up my tires trying to keep him and Kevin behind me.  We just couldn't keep pace once they got past us.  Congrats to Les on his win!"
Thomas finished eighth and seemed content with his top-10 effort.  "Even though we came in eighth for the evening, it was one of my better runs this season," he said.  "We didn't tear up any car parts and Indy provided some great racing.  I can't wait to revisit this place.  Congratulations to my team mates on their great finishes, and to Les for finding the checkers first!"
Feldman crossed the line in ninth place. "We began the night in 10th, and just could not keep pace with the leaders tonight," said Feldman when reached in the pits.  "I had Jeff in my sights for most of the race, but we had one little mistake on Lap 25 which allowed him to get away from us.  We'll get it dialed in again before next week."
Husted rounded out the top-10 when he crossed the line six seconds behind Feldman.  "This track lulled me into a false sense of security with its flat layout," he said.  "I had enough speed to get a better finish, but lost concentration on a couple of laps and just never could recover the track position."
Mark Plank drove an incident free race as he climbed four positions to finish one lap down in 11th place.  His effort earned him the race's "Hard Charger" award.  "The car felt pretty good tonight, but we still have some work to do if we are going to run up front," Plank observed.  "My goal was to keep the car on the track and in one piece so we could improve it before the next race."
Pawluckie was also a lap down as he crossed the line in 12th place.  "Five incidents tonight was not a great effort for us," he said.  "Congratulations to Les on the win."  Galica (two laps down in 13th place), and Kabela (four laps down in 14th place), were the last two drivers to cross the finish line.
Turner was pleased with his effort.  "We worked very hard on the setup this week, because we knew getting the pole would be critical if we hoped to win," he said.  "It was fun racing so hard with Terry for the first half of the event.  He was very fast here, and might have gotten past me if he hadn't made that one mistake! I would like to dedicate this Indianapolis victory to all the Veterans, both those still living, and those who gave their lives for the freedoms that we now enjoy."
The championship point battle tightened up after the Indy race, with Rhyne continuing to hold a slight lead over McCuin.  Turner's win moved him up one position to third place, while Hadden dropped one position to fourth place.  Kersey and Sutcliff are currently tied for fifth place in the overall standings.
RSR drivers travel to Circuit Park Zandvoort in the Netherlands next week for the 28 lap "Flying Dutchman Grand Prix."
Indy RC Photo video: http://www.youtube.com/watch?v=gW_qjGdrs_A
Indy RC Action video: http://www.youtube.com/watch?v=JHPrsPJ7Xa8
RSR YouTube channel: http://www.youtube.com/user/draftin11?feature=mhum
RSR standings: http://www.danlisa.com/scoring/season_standings.php?series_id=105
---
You may also like...
---