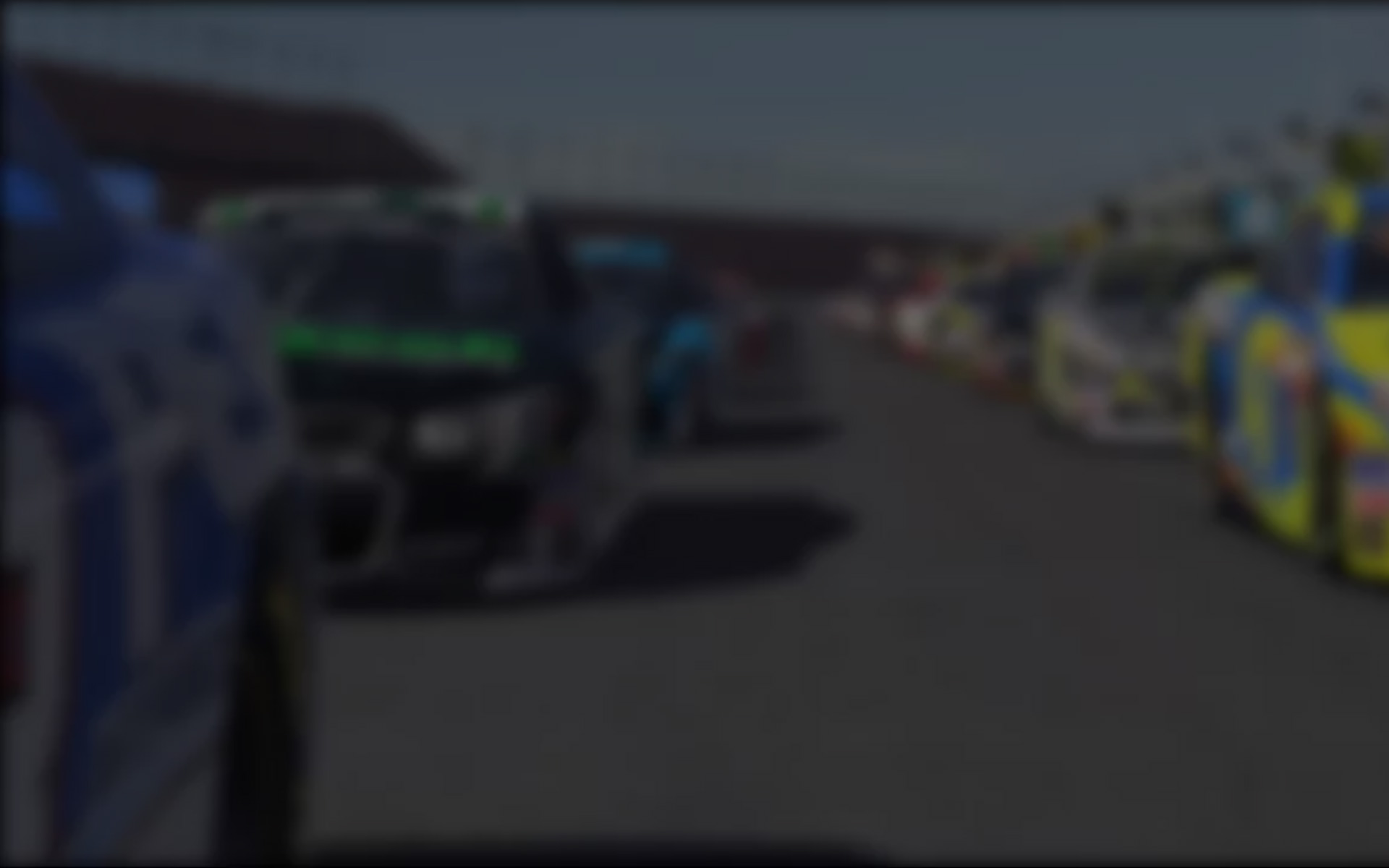 With only two weeks remaining in the inaugural iRacing Pro Series Oval season, the points battles for the championship and the top 50 (and a spot in the iRacing Drivers World Championship) are hot and heavy. Entering the week, Brad Davies enjoyed a useful — but vulnerable — 53 point lead over Josh Parker in the race for the iPSO title, with Josh Berry 114 points behind in third.  The battle to make (or remain in) the top 50 was even more dynamic, with 211 points covering forty-seventh (Rob Ackley) through fifty-fifth (Derek Cash).
Richmond International Raceway was not a track most of the online racing pros wanted to see at such a critical time. Short track racing, bump and runs and hot tempers could derail Davies, Parker and Berry in their title bids, not to mention making life difficult for for those drivers "on the bubble" in search of a place in the top 50 in points.
Wednesday night hosted just one split, but what a split it was: a 5534 Strength of Field gave many bubble drivers a huge opportunity to come-up with a giant points day.  Davies and Thomas Lewandowski led the field to the green, with Davies leading the first portion of the race before surrendering the lead to Ray Alfalla on Lap Fourteen. Alfalla and Davies controlled the race until Lap 95 when eventual race winner Derek Wood found the front and never looked back.
Championship contender Parker started out very slow, falling back to eleventh early in the race, but slowly picked his way through the field, eventually finding second place and hanging on to it for a much-needed 333 points. This good points day made the race for the championship even more interesting, bringing Parker to within nine of points Davies, who finished fifth.  Berry, meanwhile, experienced a tough outing that saw him finish twenty-sixth after a late race spin.
Bubble drivers did not capitalize on the big points opportunity. Justin Lowery was the top finishing bubble driver, bringing his Chevy Impala SS home in the fourteenth position to earn 179 points. This helps Lowery a bit, but is not nearly enough to make him feel too comfortable.  Robert Hall came into Richmond fifty-fourth in the points, needing a good points day to keep his hopes alive going into the iPSO finale at Homestead.  Hall finished a semi-disappointing sixteenth.  But the 153 points he earned will help him out, moreso than Lowery's 179 points, as Hall dropped a 47 point race from Lowe's and so gained some ground going into the final week.
Other bubble drivers, however, would be forced to come up big later in the week at Richmond, including Ackley and Daniel Willis.  Likewise, Kirk Hapke, Derek Cash, Nelson Rivera and a few more who did not race on Wednesday needed to show up big over the week.
Saturday saw another huge chance for drivers close to the cut-off to make ground.  Two splits around the 5,000 SoF mark left the door wide open for drivers to earn 300+ points.  Cash was the huge gainer here as his fourth place finish gave him 259 valuable points.  He now has all but locked-up his spot in the iDWC; anything midpack next week at Homestead will secure him a spot in the top 50. Mike Kelley, Dion Vergers and Nolan Scott, three drivers looking over their shoulders finished sixth, seventh and eighth. The sixth place finish for Kelley really just give him a cushion as he jumped-up to 30th in the iPSO points standings.  Vergers (47) and Scott (44) both moved up in the ranking, but are in no way locked-into the top 50 quite yet.
The first Saturday split was won by Lewandowski.  After he was unable to get out of the runner-up spot at Michigan last week, Lewandowski put together a great race, start to finish, and held-off Berry for the win with Davies in third.   Both of the championship contenders dropped their Saturday results, however, so the points remain the same.
Saturday's other split belonged to Wood, who won for the second time this week. Wood earned 320 points for his victory, but this too went down as a drop during his stellar week. Jordan Hightower and John Gorlinsky were really the only two big beneficiaries of this race. Hightower finished sixth, getting 225 points that let him breathe a little easier in 45th spot.  Gorlinsky is dropping weeks in which he did not compete, and is now 36th and all but locked-into the Driver's World Championship.  Not to go without mention, Willis (48), Rivera (52), Lowery (54) and Jeff Dukehart (57) all competed on Saturday, but none had the day they were really hoping for, and will be forced to go into Homestead looking over their shoulders, or needing help to make the cut.
Sunday afternoon provided a huge Safety Rating hit for just about everybody in the field. The yellow flag flew eight times, for thirty-four laps and it came down to Chris Main and Brain Schoenburg battling  for the win. Main led 59 laps and was in front with 11 to go, but Schoenburg carried momentum down the front stretch.  Main ducked down in front to protect his position, but Schoenburg wasn't having any of it. Main went into the wall off the bumper of Schoenburg, who went on to score his third iPSO win (and second at Richmond) from Alexander Horn.
After the race Main was not happy, but handled himself well.
"I worked really hard this week to get my first win of the pro series," he said.  "Richard Towler (who disconnected on Lap 140 after leading 99 laps-Ed.) and I were the class of the field the entire race.  It just wasn't meant to be, but I'll give it my all next week to get a win."
"I hated to get into Chris there at the end," said Schoenburg. "We had 10 laps to go on a short track, in-between cars fighting to stay on the lead lap… it was a tough situation. He had didn't have the best corner entry, and I had the brake pedal to the floor to stay off him. Just couldn't keep off him. I'm sorry to him because if I were in his position I probably would've raced him the same way he did to me."
Hidden in this race were some on-the-edge drivers coming up big.  Hapke finished seventh, earning him 217 much-needed points.  That propelled him into 49th points in the standing, put Cash on the bubble and moved Ackley back to 51st. But amazingly Ackley is only three points behind Hapke in 49th. The points are tight, heading into the last week at Homestead:
1.    5753    Brad Davies
2.    -9          Josh Parker
3.    -91       Josh Berry
********************
47.    +76    Dion Vergers
48.    +10    Daniel Willis
49.    +2       Kirk Hapke
50.    3601  Derek Cash
51.    -1         Rob Ackley
52.    -12      Nelson Rivera
And so the final week of the iPSO is upon us. Homestead-Miami Speedway is the place where it will all be settled.  Parker comes in nine points behind Davies for the overall championship, and six drivers are all under a blanket in the race top make it into the iDWC. iRacing is scheduled to deploy a build that could change the physics of the COT; if that proves to be the case the pros may be forced to adapt, and adapt quickly.
---
You may also like...
---