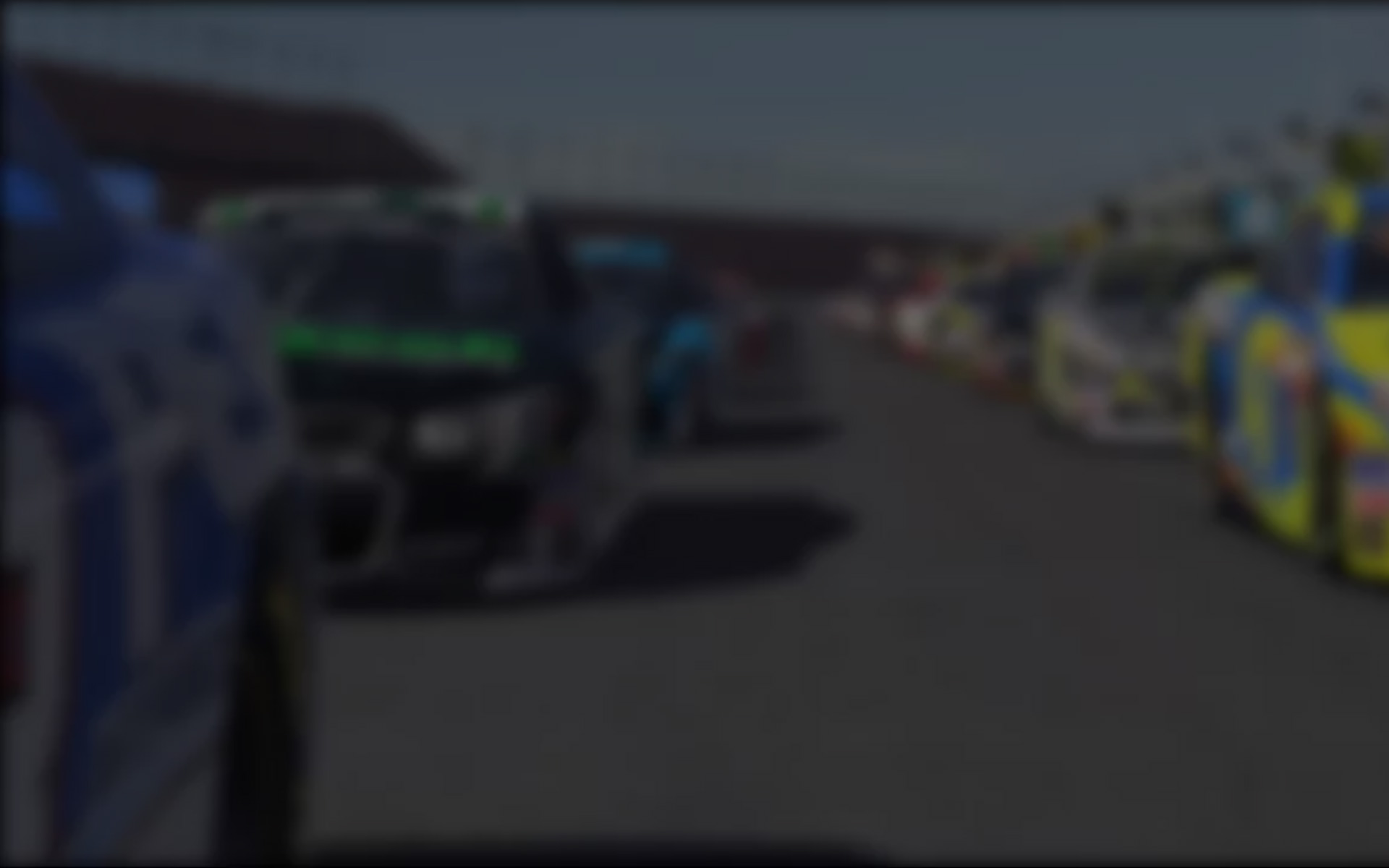 The Red Sox Racing League wrapped up its first season of multi-class competition under the lights of the Daytona International Speedway's road course when eighteen drivers raced in the "Gentleman Jim's 24 Laps of Daytona" season finale.  In a fitting end to the season, Les Turner and Tommy Rhyne not only earned victories in the final race at Daytona, but finished as the overall season champions in their respective divisions.
Turner earned his forth pole of the season with a qualifying lap time of 1:36.582 in the TeamDraft HPD ARX-01c Batmobile.  He was the only driver to post sub-1:37 laps in the practice and qualifying sessions.  Andrew Gantman, Terry Daul, Kevin Kyle, William Kabela, Andrew Feldman, Divina Galica, and Bill Pawluckie completed the Class A grid.
Rhyne earned his second pole of the season with a lap time of 1:40.508 to lead the Corvette field.  Reed Rundell, John Koscielniak, Scott Husted, Bill Hadden, James Prostell Jr., Larry Krupp, Jeff Thomas, and Ed Sutcliff completed the Class B grid.
The field took the green flag under perfect weather conditions and raced towards the narrow entrance to Turn One with the knowledge that the slightest mistake at that section of the track could doom their chances to secure a podium finish.  Racing action was fierce but clean in the early going.  Gantman gave up 2nd place to Daul on Lap Three when he drove too deep into Turn Three and went off track.  By the time he got back underway, he had lost 3 positions.  Koscielniak was the first Corvette driver to lose focus when he spun off the track transitioning from the infield section to the superspeedway section, in Turn Seven of Lap Six.  The mistake dropped him out of 3rd place in the C6R class, but the incident did not involve any other drivers.
Gantman maintained 4th place in the HPD class despite spinning out again in Turn Five on Lap Eleven.  He wasn't as lucky after losing focus in the bright lights of the infield Ferris wheel when he spun on the exit of Turn Three on Lap Fourteen.  The third mistake cost him another 3 positions and very nearly resulted in a collision with Pawluckie who had to take the grass to avoid Gantman returning to the track.  Scott Husted made a similar mistake in Turn Three on Lap Fourteen.  His error meant a drop of four positions on the track.  The only event of the evening that league officials had to review post race was a pass on the apron exiting Turn Six on Lap Ten.  It was reviewed closely and determined that the 28 car had gone to the apron to avoid a collision with the 99 who was off pace exiting the corner after clipping the grass and receiving a black flag slow down penalty for cutting the corner.
Terry Daul's race went sour when he pit for fuel from 2nd place on Lap Fifteen.  Terry had actually got the car down to pit lane speed before crossing the entry cones, but a pit limiter failure ended his chances for a podium finish as he was held for 15 seconds for speeding in the pits.  The race was otherwise uneventful as drivers collected only thirty-seven incident points during 400 laps of racing.  The 0.092 incident per lap average meant the Daytona night race was the cleanest race of the season.  Turner, Daul, Feldman, Kabela, and Sutcliff all received bonus points for completing the event without any incident points.
The clean racing at Daytona was representative of the entire twelve race season.  Twenty-seven drivers collected 1,023 incident points in 4,246 laps of racing, producing an impressive incident per lap season average of 0.240.   Turner led the way in the Class A division with a CPI of 230.9 after collecting only 14 incident points in twelve events.  Proving that track position is the key to success, Turner's 1.8 average grid position allowed him to complete eight races without a single incident.  Sutcliff led the Class B division with a CPI of 117.7 after collecting 25 incident points and completing five incident free races.
Class A results:
Turner led all 24 laps on his way to his sixth victory of the season, but nearly had his chances for a win derailed when he pitted on Lap Sixteen.  Waving to adoring fans as he drove down pit road, Turner collided with Hadden's Corvette rocketing out of his pit stall.  Turner breathed a deep sigh of relief after returning to the track with only minor cosmetic damage and cruised to a 24 second margin of victory.  "My thoughts and prayers are with Jim Albertson tonight", said Turner after the awards ceremony.  "This win was for the Redhead Racing MIA/POW team.  We missed you on the track tonight bro!"
"I also want to say congratulations to Tommy Rhyne on taking the Class B championship, and TeamDraft team mate Jeff Thomas for securing 4th place in the C6R class.  The overall championship is dedicated to my Dad and his ongoing battles. He has been a true inspiration throughout the season, not to mention his understanding of why I don't visit him on Thursday nights!"
Kyle surprised everyone, including himself, when he held off Daul to earn 2nd place.  "I was just hoping for a good race because I thought we'd used up all of our luck during qualifying.  We had our best start of the season.  Jim Albertson must have been riding with me tonight.  I was thinking about him during the whole race."  Kyle echoed the sentiments of all the RSR drivers when he continued.  "Get well soon Jim!"  He described his race as a series of surprises, beginning with the qualifying effort.  "I settled in and ran some consistent laps in the early going.  We were in 3rd place when I pitted, but came out in 2nd, so I just held on and tried to keep Terry behind me.  Congrats to Les and Tommy on their wins and championships.  I'd like to thank all of the drivers who make this such a great league to race in!"
Daul fell short in his effort to catch Kyle after his penalty and had to settle for third place.  It was his 9th top-5 finish of the season.  Feldman finished in 4th place, while Kabela crossed the line in 5th.  Gantman, Pawluckie, and Galica rounded out the HPD scoring.
2012 RSR Season 1 HPD Class A Final Standings
1. Les Turner – 319
2. Andrew Gantman – 297
3. Terry Daul – 294
4. Jim Albertson – 289
5. William Kabela – 275
6. Andrew Feldman – 271
7. Bill Pawluckie – 257
8. Divina Galica – 242
9. Gary Jorgensen – 236
10. Kevin Kyle – 231
11. Chad Peterson – 168
12. Wilbur Gildersleeve Jr. – 146
13. Justin Kirby – 58
Turner ended Season One as the overall points champion in the HPD class.  Consistency was the key to his dominance as the Canadian secured four poles and six wins taking twelve top-10 and eleven top-5 finishes.  Turner's average start/finish positions were an incredible 1.8.  He finished the season twenty-two points ahead of Gantman.  Andrew also had an impressive season, scoring two poles and two wins to go with nine top-5 finishes.
Chad Peterson had the pace early in the season to contend for the ARX championship.  Turner and Peterson had some epic battles throughout the season and produced some of the closest finishes in RSR history.  If Chad had raced the entire schedule, things might have been different.  Daul overtook Albertson to finish third in the final standings.  He was the only other driver to secure nine top-5 finishes.
Jim Albertson used seven top-5 finishes to secure 4th overall in the HPD class. He had one win and one pole, but failed to start the final race of the season at Daytona to secure the final spot on the podium.  Kabela (5th) edged out Feldman (6th), while Pawluckie (7th), Galica (8th), Gary Jorgensen (9th), Kyle (10th), Chad Peterson (11th), Wilbur Gildersleeve Jr. (12th), and Justin Kirby (13th), rounded out the final standings in the HPD class.
Class B results:
Rhyne ignored early race pressure from Rundell to secure his second win of the season.  Rhyne was the only Corvette driver to finish on the lead lap with Turner and the HPDs.  Rundell had to settle for 2nd place, but was gracious in defeat.  "I gave it everything I had tonight, but didn't have enough to keep up with Tommy. Congratulations to Les and Tommy on their wins tonight."
Hadden recovered from his pit road scare to earn the final podium spot.  Koscielniak crossed the line in 4th place, followed by Husted (5th), Thomas (6th), Krupp (7th), Prostell (8th), and Sutcliff (9th).
2012 RSR Season 1 C6R Class B Final Standings
1. Tommy Rhyne – 303
2. Dustin McGrew – 298
3. Dean Moll – 287
4. Jeff Thomas – 276
5. James Prostell Jr. – 270
6. Ed Sutcliff – 268
7. Scott Husted – 261
8. Larry Krupp – 260
9. Reed Rundell – 243
10. John Koscielniak – 240
11. Bill Hadden – 232
12. Bruce Snelson – 159
13. Corey A. Wolf – 66
14. Eric Porterfield – 24
Rhyne won the overall championship by five points, thanks in large part to an incredibly consistent season which saw him finish in the top-5 in eleven of the twelve races he entered.  No one else in the Corvette field had more than eight top-5 finishes.
 
Dustin McGrew finished the season in 2nd place after winning eight poles and seven races.  His failure to compete in the entire season cost him the Class B Championship.  All he needed to secure the top spot was to start the final race at Daytona.
Dean Moll sat out the final race of the season, but still managed to hold onto third position in the final standings.  Thomas and Prostell rounded out the top 5 spots.  Sutcliff (6th), Husted (7th), Krupp (8th), Rundell (9th), Koscielniak (10th), Hadden (11th), Bruce Snelson (12th), Corey A. Wolf (13th), and Eric Porterfield (14th) rounded out the final standings.
Next Season:
RSR take a well deserved break before resuming competition in Season Two.  The first race of that schedule will have league members returning to Daytona for the "RUF Automobile Presents 24 Laps of Daytona Road Course" on May 10, 2012.
Race Results:
https://ileaguerace.com/champ/show_event_result/Red-Sox-Racing-League/1099
League Standings (2012 – Season One):
https://ileaguerace.com/champ/show_champ/Red-Sox-Racing-League/227
League Video Site:
http://www.youtube.com/user/draftin11
---
You may also like...
---