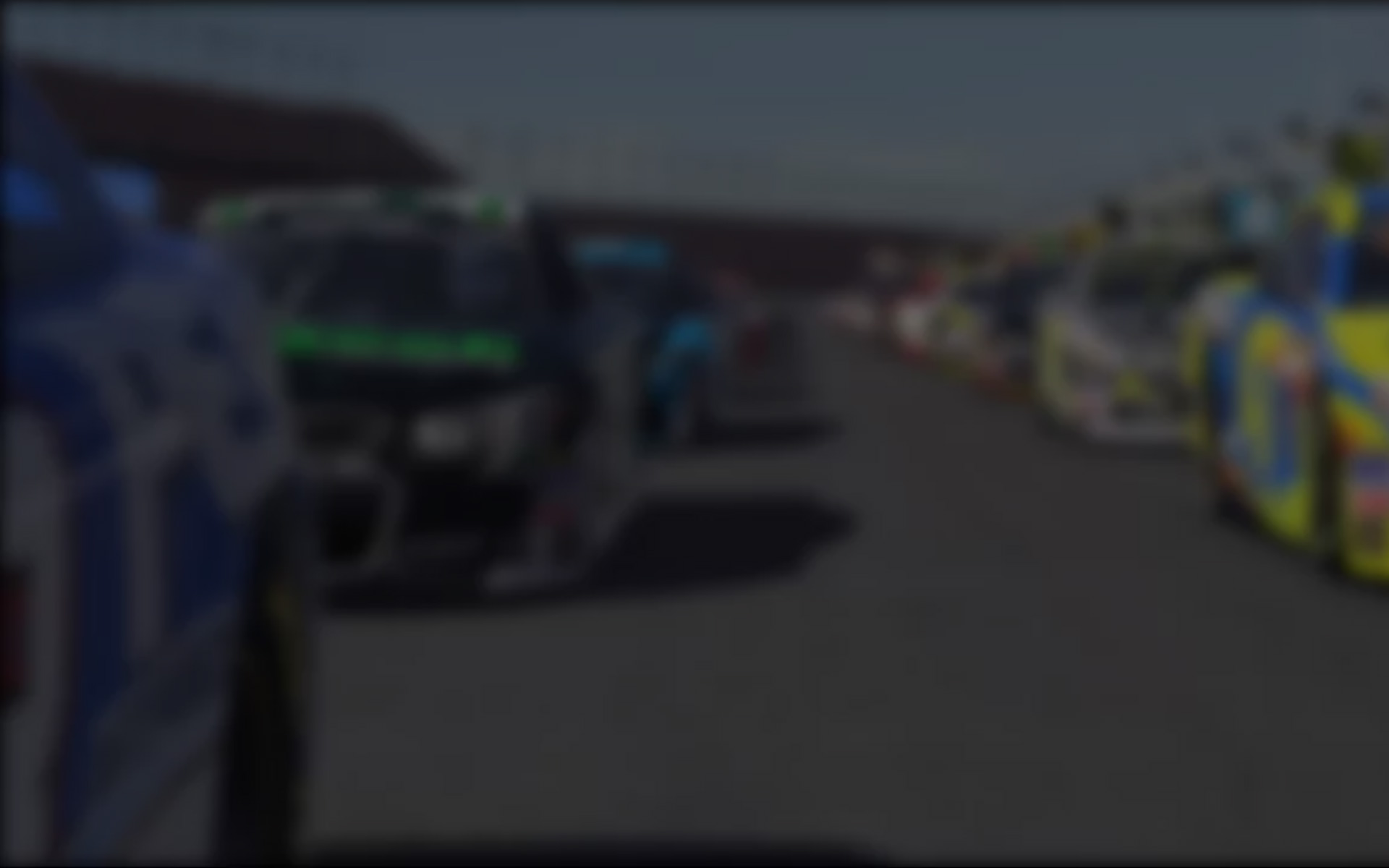 September 14th, 2012 by DavidP
Round Six of the iRacing.com V8 Supercar Series Presented by BigPond headed to Oulton Park in the UK.  After last week's win at Mid Ohio the momentum was definitely in the hands of ANZ Motorsports and Justin Ruggier but the early online race saw Madison Down take the victory over Ruggier.  In qualifying it was Down who took pole position for the main race over Ruggier with a 1:36.683, with Shane van Gisbergen starting third just ahead of Mitchell McLeod and John Emerson. Curtis Chippeway took sixth on the grid with Scott McLaughlin, Shaun Kelly, Brad Ryan and Cal Whatmore rounding-out your top 10 starters.
Down got the jump on Ruggier at the start to lead the 23 car field through Old Hall down the Avenue to Cascades.  McLaughlin got the best start, moving up from seventh to fourth only to lose out as McLeod held the outside line and fourth spot through Old Hall. It was a clean start for the whole field apart from Emerson indulging in some off-roading through Island Bend (Turn Four) and dropping back at least eight positions.
Coming into the last complex of corners Emerson would get the job done to overtake Wood.  When Wood closed the door on Samuel Collins' effort to duplicate Emerson's move the resulting contact between the two unfortunately ended Wood's day.
At the end of Lap Two Ruggier made the move down the inside of Down for the lead of the race on the final corner.   Several laps later Down returned the favor on Ruggier to reclaim the lead though Old Hall only to leave the door open at Cascades.  Ruggier was quick to pounce on the mistake took the lead again into Island Bend.
Lap Four saw Emerson down the inside of CarsRus driver Christopher Osborne into Old Hall.  Four laps later Emerson got a good run out of the final corner and  passed Lazy Man Racing's Shaun Kelly in the same spot to reclaim another position he lost on the first lap incident.
Out front the top three drivers had pulled away from McLaughlin by a few seconds.  McLeod was holding onto the back of McLaughlin with team mate Cal Whatmore just behind as Chippeway continued to lurk behind Whatmore.   Lap 18 saw the great battle between Brad Ryan and Emerson come to a sad end when Emerson made contact with Ryan into Hislop's, turning him around.  Running right behind them, Kelly had nowhere to go but into the back of Emerson and all three continued with badly damaged cars.
A few laps later Down would leave the door open into Hislop's, allowing van Gisbergen to make a massive move down the inside into second position, ending any chance of Down winning the race.
Thus for the second time in as many weeks it was ANZ Motorsports' Ruggier taking the flag ahead of team mate van Gisbergen while TTR's Down had to settle for third. McLaughlin came home in fourth place just ahead of McLeod with Whatmore sixth just .6s ahead of Can-Am driver Curtis Chippeway.  Emerson rebounded from  a shocking first lap to finish eighth place with Kelly and Ryan rounding-out the top 10.
Fellow ANZ Motorsports drivers Paul Gallen and Scott Fountain would come home in 11th and 12th just ahead of the two CarsRus drivers of Christopher Osborne and Samuel Collins who finished 13th and 14th with Matthew Nethercote taking 15th spot.
Top Five Drivers – Championship Points – Overall
1.    Madison Down – 1488
2.    Justin V Ruggier – 1483
3.    Scott McLaughlin – 1406
4.    Mitchell McLeod – 1381
5.    Joshua Muggleton – 1301
Split Two Winner: Anton De Pasquale
Split Three Winner: Paul Sera
Split Four Winner: Nikora Terrill
Unfortunately no race highlights are available this week, but you can catch the full race replay done by the guys at Full Replay;  just click on v8sonline.com.au
---
You may also like...
---