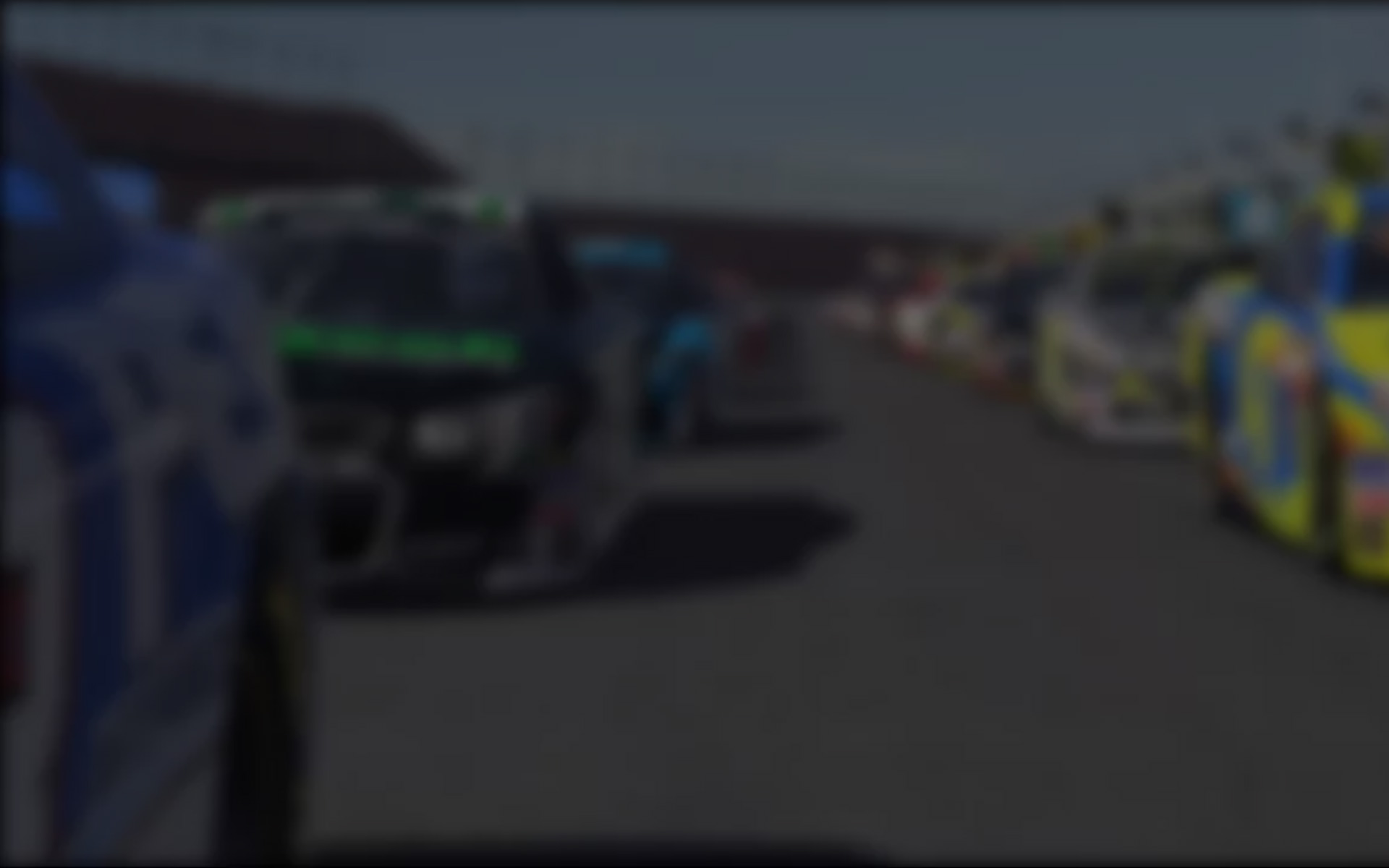 Round Four of the iRacing.com V8 Supercars Series presented by Big Pond found the teams and drivers traveling back home to Phillip Island for the first endurance event of the season. Richard Hamstead and the whole of the DCM team would sit-out this round, allowing ANZ and TTR to battle it out with TTL, Lazy Man Racing and also CST Ajira Racing in the mix as well.
For the first time this season we wouldn't see Madison Down on the front row. Instead, we witnessed a case of ANZ Motorsport domination with Shane Van Gisbergen taking the pole with a 1:31.936 ahead of team mate Justin Ruggier (1:31.978) while Scott McLaughlin would start third.  Down was down in an unaccustomed in fourth spot on the grid, with Vail Riches starting in fifth and Petteri Kotovaara sixth in front of a TTR train of cars with Joshua Muggleton seventh, Troy Cox eight and Mitchell McLeod in ninth spot. TTL newcomer John Emerson would start tenth with Reg Burke another TTL driver in 11th and making his second appearance for the season.
All ANZ drivers made clean getaways at the start with Gisbergen getting a good jump and Ruggier looking strong right behind. McLaughlin was sitting in third ahead of Down while Muggleton would go around the outside and brake deep into Honda to move up into fifth ahead of Riches.  Not to be outdone, Kotovaara went down the inside of McLeod into MG for the first time and they went side-by- side with Kotovaara taking the spot heading into the last corner.  Meanwhile, Burke went on the defensive straight away as Curtis Chippeway was Morse-coding the back of the TTL Falcon.
Lap Two saw further changes as Ruggier went down the inside of team mate van Gisbergen into Honda hairpin to take the lead.  On Lap Six Chippeway gave Burke a bump to unsettle him and took the line into Hayshed.  Burke wouldn't have any of it, and closed the door resulting in contact that sent Chippeway driving through the grass with a broken car.  Nor did the action end there.  Coming over Lukey Heights into MG, Chippeway lost control leaving Brad Ryan having nowhere to go but into the Can-Am Falcon, sending him across the track and straight into John Emerson who was just exiting MG. Samuel Collins was another unfortunate victim as he had nowhere to go, apart from into the side of Emerson's TTL Falcon. Emerson, Ryan and Chippeway would retire soon after.
A great battle for fifth was shaping up between Muggleton, Riches, Kotovaara and McLeod.  Kotovaara would make the move on Riches through Turn Two.  When Riches and Muggleton where side-by-side into Honda, Kotovaara got the job done to move ahead of Riches.  The race was about to get worse for Riches, who lost traction and in the process of saving it left McLeod had absolutely nowhere to go but into the back of the TTL Falcon.  McLeod's Falcon suffered some damage while Riches dropped from sixth to 12th in the matter of 20 seconds.
Lap 14 saw van Gisbergen get a good run coming into Honda to retake the lead while Ruggier would fell back second, with around a two second gap back to McLaughlin in third and Down struggling to keep the leaders in sight some five plus seconds back.
Simon Black and Craig Hunter would be the first to pit from the mid-pack at the end of Lap 16, while Kotovaara was the first to pit of the front runners a round later.  Burke and Shaun Kelly followed but Kelly's pit crew must have been away on holiday as they were nowhere to seen when he entered the pit lane, missed his pit stall and then got DQ'd trying to reverse to find them.
Down pitted at the end of Lap 18, with new TTR Hyper Stimulator Racing recruit Cal Whatmore following his team mate's lead together with Vail.  McLaughlin and Muggleton stopped a lap later and Muggleton would keep his lead over McLeod (who pitted on Lap 20) but Kotovaara had a problem in pit lane costing him 12 seconds.
Ruggier would pit at the end of Lap 20 as well but, being a led-foot like many of us, he had to take more fuel than his team mates and lost a spot to McLaughlin in the process.  Thus when van Gisbergen pitted on the following lap, McLaughlin would be right behind his team mate for the run home.
The end of Lap 28 saw van Gisbergen develop massive internet problems which would, ultimately, put him a lap down!  This was a very sad end to what was a faultless online race, as van Gisbergen who would have won the race by a nice margin but for these issues well beyond his control.
Lap 33 saw Kotovaara in a TTL sandwich, which didn't end well.  Coming through the left hander before Honda Hairpin, Riches and Kotovaara where side-by-side and unfortunately Riches net coded Kotovaara.  Sportingly, Riches waited-up and let Kotovaara continue on in front.
But it would be McLaughlin's day taking his second round win for this season and taking the championship lead in the bargain.  Ruggier came home second while Down finished nine plus seconds back down the road wondering what the heck happened.  The simple fact is there was nothing he could have done: it was just that strong a performance by the ANZ crew.
Top Five Drivers – Championship Points – Overall
1.    Scott McLaughlin – 1031
2.    Madison Down – 1003
3.    Justin V Ruggier – 950
4.    Mitchell McLeod – 944
5.    Joshua Muggleton – 908
Split Two Winner: Josh Smith
Split Three Winner:  Dylan Carroll
Split Four Winner: John Briggs
Split Five Winner: Josh Ritchie
Race Highlights of the iRacing.com V8 Supercar Series can be found here done by John Emerson.
You can watch the full race replay by visiting www.v8sonline.com.au
---
You may also like...
---