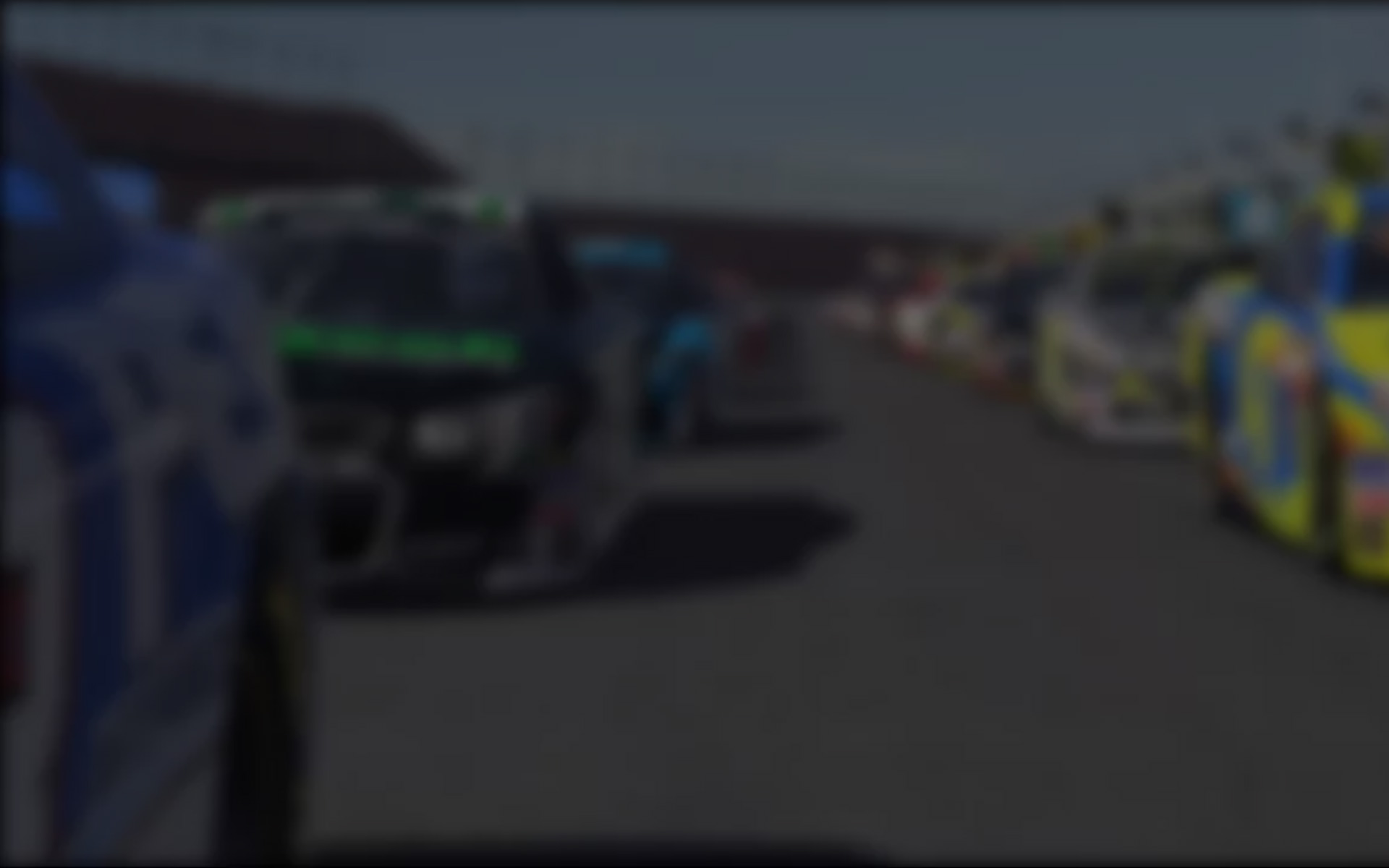 The iRacing.com V8 Supercars Series presented by Big Pond returned home to Australia for Week 4 of 2012 Season 1, with a 38-lap event at the undulating, 2.762 mile Phillip Island circuit. At just a shade under 105 mile distance, the race was long enough that pit strategies would come into play.
As usual, the first online races to go official were the V8SC Americas races on Thursday and Friday evenings, 9:45 EST (02:45 GMT Friday and Saturday).  Stephen Michaels won the first race, with Curtis Chippeway and Ray Butcher also on the podium (Butcher had to start from the pits due to an uncalibrated wheel, but he sliced through the field). Chippeway won the second race, with Chad Chastain and Michaels joining him in the top three. Jennifer King was one of the new faces present, giving a strong performance and proving that V8SC is not just a boys' club.
The European timme zone also had a pair of strong races—Saturday and Sunday nights at 18:45 GMT—with Eduardo Prado winning the first over Thomas van Bussel and Sebastian Negele; Mick Claridge won the second race over van Bussel and Kevin Duwel.
Professional Fujitsu V8 Supercars and V8 SuperTourers Series driver Scott T. McLaughlin won the early Big Monday race (08:45 GMT) over Joshua "Muggo" Muggleton, Scott U'Ren, and a powerful field (Strength of Field 3232). The race split three ways, with Quinton Rethus and Stephen Jenkins taking a victory apiece in the lower splits, and Division-6 points leader Graeme Phyland also hitting the podium.
The big Big Monday event (SOF 3761) started at 10:45 GMT, with International V8 Supercars pro Shane van Gisbergen, sitting on the pole.  With McLaughlin next to him, the race boasted an all-pro front row.  Three-time defending champion Madison Down and Watkins Glen-winner Richard Hamstead started behind the pros in Row 2.
This was not the case for long, however, as Hamstead had the best start of any driver all season. Down made a similarly strong getaway, quickly drawing even with McLaughlin before Hamstead barged between them, then swept by van Gisbergen to steal the lead before the first corner. It was quite the coup, and Hamstead only bounced-off of Down's and McLaughlin's doors a little as he blasted past into Doohan Corner.
By the Turn 10 hairpin, Hamstead had built a lead of two car lengths over van Gisbergen, with Down all over McLaughlin's bumper in an attempt to court the podium. Muggleton sat fifth, followed by Rens Broekman, Justin Ruggier, Stuart Wood and Scott U'Ren, with Mick Claridge in tenth. Josh Smith, Barclay Holden, John Emerson, and George Fullerton were also in contact.
U'Ren had a look underneath Wood into Doohan on the subsequent lap, to no avail – or so it seemed, until Wood bobbled into Turn 2 and gifted eighth to the Tatts.com driver. "No rest for the wicked" they say, so Claridge immediately began to apply heavy pressure on Wood, maintaining it for several laps. That's how the top level of V8SC is: every position hard fought; every pass made with talent and will.
Back up front, and by Lap 5 Hamstead looked all the world again like repeating his victory waltz at The Glen, with van Gisbergen slowly falling back, perhaps a car length a lap, and McLaughlin leading a chase pack that was making no headway on him, much less Hamstead. Down was still all over McLaughlin's bumper, with Broekman, Ruggier, and U'Ren rounding out the chase pack. Wood and Claridge formed a trailing pair to complete the top ten, and by the Turn 10 hairpin Claridge had taken the inside line and grabbed ninth away from Wood.
On the following lap, Smith got into the top ten as Muggleton went down the emergency chute at the Turn 4 Honda hairpin, having lost the rear under hard braking; Muggleton was unable to rejoin until he was dead last, his podium finish for the race earlier in the day surely now a fleeting memory.
Back up front and Hamstead was rolling, but his victory march again became a battle, hard-fought, when van Gisbergen began to reel him in around Lap 11.  The tires were going off a bit, and van Gisbergen had proven a master of tire preservation already in the opening round at Okayama. As there, so too at Phillip Island, and by the Honda hairpin on Lap 12 the pro gave Hamstead a handy "hello" in the form of a bumper tap—and not for the last time.
McLaughlin, Down, and Broekman were still giving chase, and van Gisbergen tested Hamstead each lap at Honda until, on lap 16, he made his move and got his Black Hyper-Stimulator car past Hamstead's silver Direct Clutch Services on the inside.
At the end of the subsequent lap, Hamstead followed van Gisbergen on his dive into the pits, while McLaughlin took over the lead. No position was safe, however, and Down gave McLaughlin a hard knock and a "how do you do" as he got by into the Honda hairpin. At almost the same time, Hamstead emerged from his pit box more quickly than van Gisbergen, secure in the knowledge he had fresh tires on the pavement and a lead that would return when the rest of the field cycled through the pits.
Down and McLaughlin were the next of the front-runners to pit, handing Broekman a brief lead; by lap 19 the front of the field had done its due diligence on pit lane, so Hamstead was back in the lead from van Gisbergen. Down was sitting third—starting to pull a gap on McLaughlin—followed by Broekman in fifth, with U'Ren and Ruggier in contact. Wood, Emerson, and the amazing Muggo (having returned from the dead) rounded out the top ten. Claridge was again applying his insistent pressure, this time on Muggo, whom he passed on the exit to Turn 5.
Broekman too began to apply pressure of his own, finally bumping past McLaughlin in the ever-eventful Honda hairpin on Lap 32.  The pro would have none of it, however, and regained fourth position immediately, bumping Broekman back in Turn 5 and spinning him to boot, with the Dutchman rejoining in seventh.
Meanwhile Down, having got into second position on Lap 29—when van Gisbergen overcooked it into the Turn 4 hairpin and lost a few seconds—was up on Hamstead's bumper by Lap 34, applying serious pressure. Van Gisbergen wasn't exactly hanging back either, and when Down made a very minor error in Turn 2 of the penultimate lap, reclaimed the runner-up spot.
On the final lap and into the Honda hairpin, a controversial event unfolded: van Gisbergen gave Hamstead a solid bump, sliding the leader to the outside and affording himself the requisite space to pass, which he did, spiriting off the win with it, as Hamstead and Down had to wonder what might have been.
Thomas Guerrini won the second split, with Clayton Brooks and Division-3 points leader Jon Latham joining him on the podium. Satoshi Ota and Paul Mansell won the lower splits, with 87 drivers competing in the later of the two Big Monday races. Other winners during the week included Ruggier, Matthew Burnett, and Down, while Division-8 points leader Sam McLeod, and Division-4 points leader Chris Luckey both hit the podium.
Next up: the Florida skies and bumpy plain of Sebring International Raceway.
---
You may also like...
---