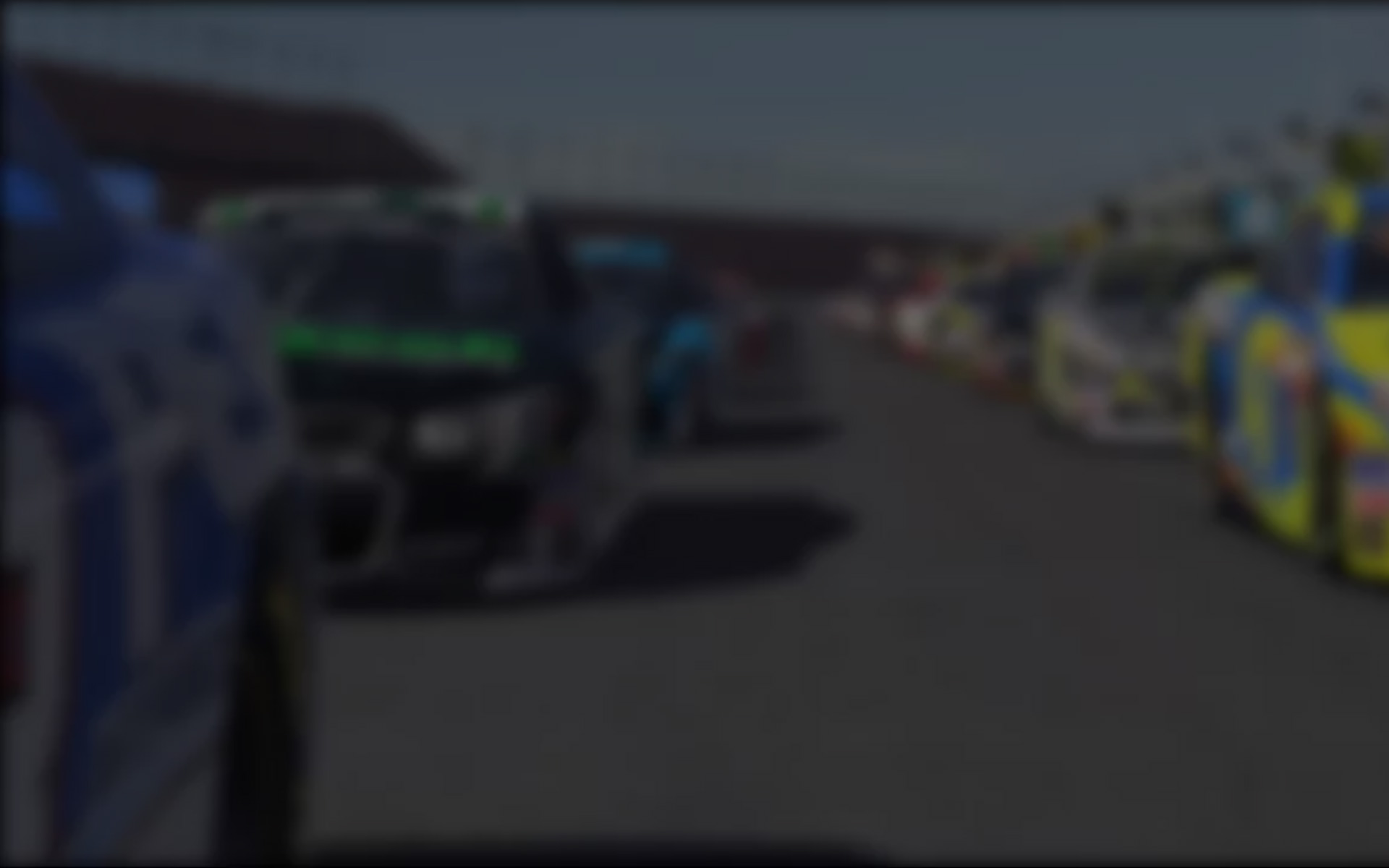 Round Two of the Ford V8 Supercar Valentines Day race @ 9.45pm race Down Under brought a packed grid at Watkins Glen, as had that evening's previous race. In terms of numbers, the V8's are really starting to roar!
Madison Down was on pole in the green NVIDIA machine from Jonathan Salhani,  Darren Marsh, Wayne Harris, George Fullerton, Felipe Penna, Fabian Jastremski, Scott McLaughlin, Vern Norrgard and Justin Strickland, the top ten in a massive nineteen car field.
Down lead away at the lights, but was menaced by an in-form Jonathan Salhani. The pair pulled a gap of over three seconds by Lap Three. At the other end of that three seconds were Wayne Harris, George Fullerton and Darren Marsh, whose race had already lasted longer than his earlier one. Their gripping deadlock for third spot was broken on Lap Six when Fullerton threw it sideways through the Esses, allowing Marsh, with some chutzpah, to pass him around the outside under braking into the Bus Stop. Marsh then applied the blow torch to the rear of Harris' Falcon FG01 in third.
It was wonderful, edgy stuff, but the gap to the leaders had stretched to six seconds, second-placed Salhani beginning to slip back from leader Down, to the tune of two seconds.
A little further back, you could have thrown a picnic blanket over Penna, McLaughlin, Jastremski, Strickland and Norrgard, all dicing furiously lap after lap. The battle ended badly for Penna on Lap Seven, when he scraped the guardrail into the Esses after being molested by McLaughlin and Jastremski. Penna dropped back with some steering woes to squabble with Samuel Doecke and Martin Haggas over eleventh place.
While these minor places were reasonably settled, the Harris-Marsh-Fullerton trio for third place was anything but. The protagonists hung it all out in an epic edge-of-the-seat battle which lasted 17 laps. Eventually they were joined by McLaughlin but sadly, it all ended in tears on Lap Eighteen. Marsh clipped the grass under brakes into the Bus Stop and gyrated across the infield.  Simultaneously Fullerton and McLaughlin tagged each other, scattering V8 Supercars like bowling pins.
"… Unfortunately as Darren spun after clipping the grass into the bus stop, I pinched the brakes and we made contact…" said Fullerton. It was inevitable, and forgivable, with some major skills and entertainment being on display up to that point. Harris was fortunate enough to see this action in his mirrors, being handed some breathing space.
That left Harris-McLaughlin-Jastremski in third, fourth and fifth, with Fullerton desperately trying to fend off Norrgard in the Bigpond Falcon behind them. Theirs was another epic battle, with Fullerton eventually yielding to both Norrgard and Matthew Nethercote into the Carousel on Lap Twenty-three.
Down had the least stress of all, stretching his lead over Salhani to an impressive 12 seconds. McLaughlin had caught Harris, spooking him into running a tad wide at Turn One and nabbing the last podium spot. Harris then had to contend with a hard charging DE-AT-CH contender in Jastremski, who wasn't going to let Harris off easy.
There was action aplenty. Down, however, was a model of consistency, reeling off lap after lap of speed and tyre conservation. He won by a ripping 16 seconds. Salhani was lonely in second, around 14 seconds up the road from McLaughlin. Harris only just held off Jastremski, then came Norrgard, Nethercote, Marsh, Fullerton, and Penna, hanging on to tenth place with some Brazilian grit.
RACE RESULTS
1.  MADISON DOWN
2.  JONATHAN SALHARI
3.  SCOTT MCLAUGHLIN
4.  WAYNE HARRIS
5.  FABIAN JASTREMSKI
6.   VERN NORRGARD
7.   MATTHEW NETHERCOTE
8.   DARREN MARSH
9.  GEORGE FULLERTON
10. FELIPE PENNA
11. JUSTIN STRICKLAND
12. MATHEW KEYES
13. MARTIN HAGGAS
14. SAMUEL DOECKE
15. MARK A RAYNER
16. SATOSHI OTA
17. CHRISTOPHER DAVID BENTE
18. MICHAEL SCHREYER
19. ROSS HANSEN
---
You may also like...
---