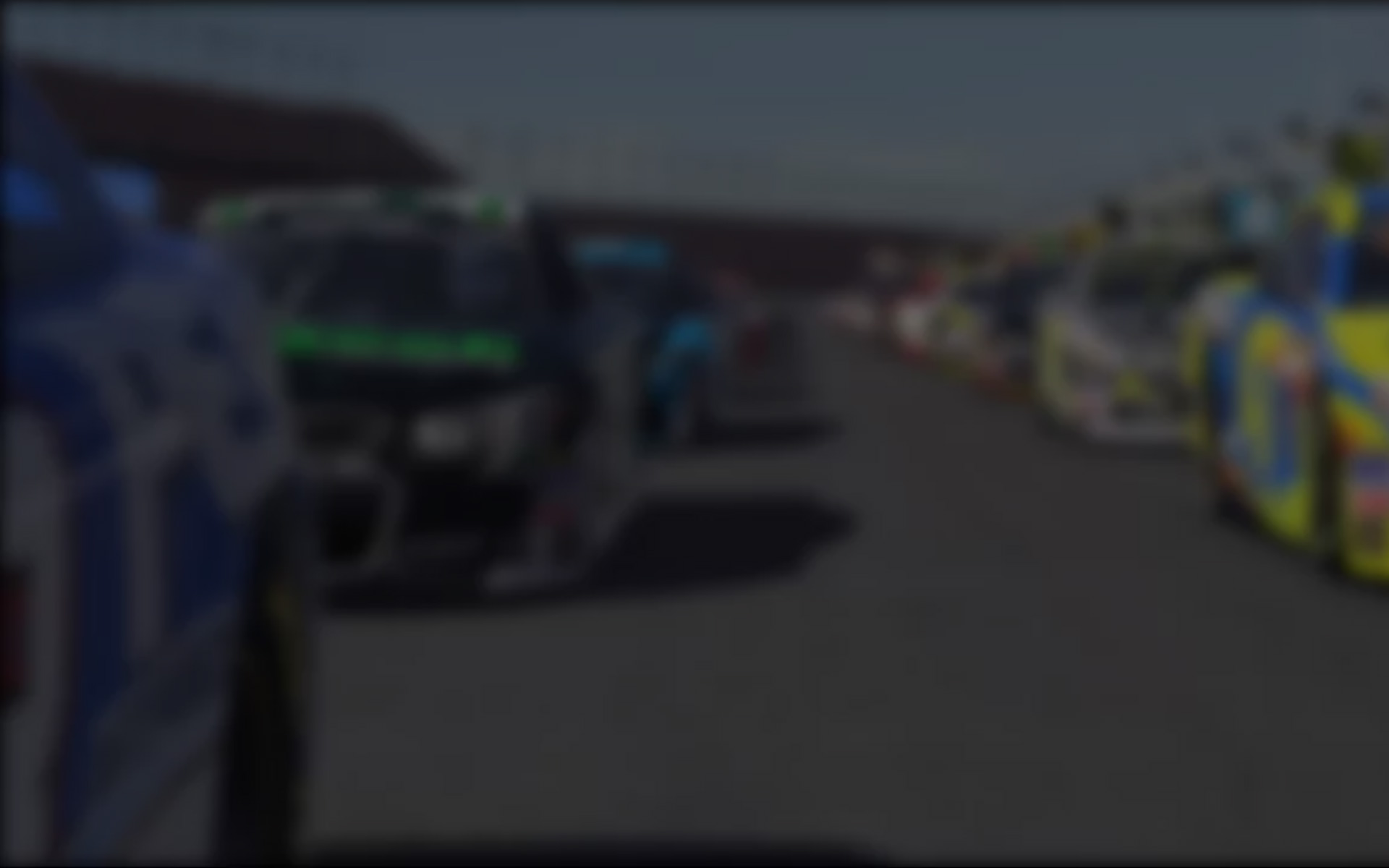 Mosport International Raceway north of Bowmanville, Ontario Canada hosted eighteen members of the Red Sox Racing League in week eight of their 2012 Season Two schedule.  With a layout almost two miles shorter than the one drivers faced in Spa Francorchamps last week, Mosport was sure to induce much more passing between the lightweight Class A HPD prototypes and the Class B GT Corvettes.  Ten corners crammed into a 2.45 mile circuit meant drivers would have to be on their best behavior to finish the race.
Spectators arrived early for the "Strawberry Fields Festival at Mosport 30" and were rewarded with plenty of pre-race excitement as they watched numerous RSR veterans bungle Clayton Corner, demonstrating why Mosport requires 100% concentration.  Constant elevation changes that seemed to want to take drivers higher, off camber corners, and the famous "Moss Corner" tempted and punished every driver who took the course for granted.
Multiple past RSR champion, Les Turner, has an impressive string of success at Mosport, his home track, covering several years and multiple classes of cars.  His wins have included events driven in the Skip Barber 2000, the Star Mazda, and the Williams FW31.  Turner offered sage advice before the race began, warning his fellow competitors to race the track instead of each other.  Some heeded his words of wisdom, others did not.
Qualifying in the Class A field was close as the top nine drivers posted sub 1:09 lap times.  Brad Vincent earned his seventh pole of the season with a lap time of 1:07.485.  He was followed on the grid by Les Turner, John Koscielniak, Terry Daul, Jeff Sharp, Ed Sutcliff, Divina Galica, David Weiss, Andrew Feldman, Kevin Kyle, Joshua Friedrichs, and William Kabela.
Qualifying in the Class B field was just as competitive.  Patrick Guerin earned his 5th pole of the season after posting a lap time of 1:13.447.  Corey Hastings, Tommy Rhyne, Scott Husted, Casey Carpentiere, and Greg Harris completed the Corvette grid.
"Danger is lurking in every corner at Mosport." — Brad Vincent
The race got off to a clean start, but it did not take long for the horrors to begin.  The dreaded double-right hand uphill/downhill Moss corner at turns 5A/5B, and the sweeping off-camber left-handed downhill at corner two, saw ten separate incidents involving fourteen different drivers beginning on lap three.  Husted succumbed to Moss on lap three when he spun off course, but he escaped damage in the incident.  Unfortunately, the shaken Husted totaled his car half a lap later when he barreled into the right side tire barriers in turn two.  "It just wasn't our night," said Husted.  "I was fighting the car during practice and qualifying, and we never did get the setup dialed in."
The action continued at Moss corner as Galica, Carpentiere, and Koscielniak all took turns spinning through the tricky uphill corner where drivers must get their braking and their line perfectly in order to avoid sliding off track or spinning out.  Several drivers managed to avoid Galica during her spin on lap five, but Friedrichs was unlucky when he was knocked off course as Galica, who was stranded in the middle of the track after her spin rejoined the action.  Friedrichs continued with only minor damage and passed Galica on the Andretti straight.  Galica, who'd fallen to 12th from her 7th place starting position pitted for repairs and her crew heroically got her out in front of Guerin, the leading Corvette.  Carpentiere who was running 4th in class spun at Moss on lap seven after hitting the curbing at corner entry.  He lost countless seconds as he waited for a safe opening to rejoin the race.  Turner and Koscielniak, in the second and third place HPDs were right behind Carpentiere at the time of his spin but they managed to avoid contact with him.  However Koscielniak's luck ran out at Moss corner on the next lap when he unexpectedly caught Rhyne's Corvette at entry and was forced to pitch his car wide.  It was a mistake that would come back to haunt the talented driver.
"I knew I was in trouble as the other car left the pavement." — Kevin Kyle
Kyle was the 2nd driver to retire from the race when his car was heavily damaged on lap eight.  "I was having a good race, but that entry into Turn Two fooled me.  I knew I was in trouble as the car left the pavement.  Although I hate to make them work over Independence Day, I hope the guys at the shop can fix the car during this coming off week!"
Guerin pitted his Corvette on lap 10 rather than contend with the 4th -6th place HPD's who'd caught him.  Hastings mirrored Guerin's strategy and followed him into the pits.  Their pit stops placed Guerin and Hastings in 4th and 5th position behind Harris in the GT class.  But Harris, who was yet to pit, lost his chance at a podium finish on lap thirteen when he fell victim to Moss corner.  He spun his tires exiting the turn 5b and struggled to regain control of the car, ending up on the grass to the left of the track.   The mistake allowed Guerin and Hastings through. Unfortunately Harris' troubles compounded when he lost control in the same corner a lap later.
Drivers swapped track position during the pit cycle as they gambled on fuel and whether or not to take tires.  Koscielniak found himself in 2nd place after Turner pitted on lap 14 and Sharp one lap later.  But he spun in Moss corner on lap sixteen when he again unexpectedly caught a Corvette, this time the 2nd place GT car of Casey Carpentiere.   Koscielniak managed to navigate the corner and hold his position despite's Carpentiere's faster speed down the Andretti straight.  But on the following lap, Koscielniak caught Hastings unaware in turn nine.  Hastings slid wide as Koscielniak attempted a pass on the outside sending Koscielniak into the tire wall.  A fortunate Koscielniak suffered only a glancing blow to the wall and he continued into the pits.  And after all that, his adventures in Canada were far from over.
Guerin made an uncharacteristic mistake on lap sixteen which cost him a shot at the Class B win.  Slowing to allow Kabela's HPD past in turn three, Guerin accidentally activated his pit road limiter and slowed dramatically as Kabela approached.  Kabela was unable to react to the sudden change in speed of Guerin's car.  Both cars were damaged in the resulting impact, but were able to drive away on their own power.
Weiss suffered heavy damage in the esses when he entered turn eight too fast, overshot turn nine, and careened into the barrier.  Galica sealed her fate in the race on lap twenty-one when she slid off the track and did a nifty 360 degree spin in turn three.
"I could hear Les saying 'Race the track!'" — Ed Sutcliff
Daul, Sutcliff, Sharp, and Koscielniak were fighting for the final podium position in the HPD race when they came upon a pair of Corvettes battling for position.  Daul had done well throughout the race navigating the Corvette traffic, but things turned ugly when he caught the third place Corvette driven by Guerin.  Guerin, who was pursuing Hastings for 2nd place in GT held his line on the inside of Turn 2 while Daul, attempt a daring pass on the outside of the sloping downhill corner followed by Koscielniak and Sharp.  A patient Sutcliff heeded Turner's pre-race advice and tucked in behind the Corvette.
Running in 4th place, Sutcliff could not believe his eyes when he saw Daul, then Koscielniak and Sharp, all drive off the right edge of the track and slide through the grass as they tried to pass Guerin.  "I could hear Les saying "Race the track!" as we caught up to Patrick, so I stayed in the inside lane because it was the only safe way down the hill!"
Feldman gained 3 spots due to the Turn 2 incident, but still had to fight off Daul on the last lap.  Daul, who survived the incident only a few laps before, charged hard but was unable to pass Feldman who held the preferred line through the esses.
For the night, RSR drivers collected 83 incident points during 396 laps of racing.   While it was not a perfect race, most drivers were happy to escape with only minimal damage.
Class A results
Vincent was the class of the HPD field at Mosport.  He led every lap and had a sixteen second lead over Turner when he crossed the line for his eighth win in a row.  Vincent is perfect so far this season with 8 wins in 8 starts.  Turner's 2nd place finish was his second top-3 finish in the past two races.  "Finally a clean event for the 01 TeamDraft Batmobile. We have had a black cloud following us all season, and it was nice to shake off our bad luck and get a solid podium finish. I would have liked to get the win on home turf, but danger is lurking in every corner at Mosport. Our goal was to finish up front, and we accomplished that this week."
Sutcliff earned his second top-3 finish of the season when he crossed the line.  He and Feldman (4th place) were the only HPD drivers to complete the race without incident.  Daul (5th), and Koscielniak (6th) were the last two drivers to finish on the lead lap.  Friedrichs (7th), Galica (8th), and Kabela (9th) were scored one lap down.  Sharp (10th) retired after hard contact with the tire barriers after his late race incident in turn two.  Weiss (11th) and Kyle (12th) completed the HPD scoring.
Vincent enjoys a twenty-three point lead over Daul in the championship battle.  Turner, Koscielniak, and Feldman round out the top five championship spots.
Class B results
Guerin led the early laps of the Corvette race, but gave up the lead when he pitted on lap ten.  Rhyne inherited the lead by staying out until lap eighteen.  It was a gamble that paid off as he would hold on to win his third event of the season.  Hastings crossed the line in 2nd place, continuing a streak of success that has seen him score five top-3 finishes in the past six races.  Hastings has not finished lower than fifth place in any of the races this season.
Guerin crossed the line in third place.  Carpentiere (4th), Harris (5th), and Husted (6th) rounded out the Corvette scoring.  Rhyne was the only Corvette driver to complete the race without incident.
Hastings increased his lead over Husted to nineteen points in the championship race.  Rhyne, Guerin, and Moll round out the top five.
Next Race
After taking a week off for the July 4th holiday, RSR drivers return to action at the at the Phillip Island Circuit in Australia for the "Bass Coast Shire 30 at Phillip Island" on July 12, 2012.
Results / Standings / Video coverage
Race Results:  http://rsr.ileaguerace.com/champ/show_event_result/Red-Sox-Racing-League/1551
League Standings (2012 – Season One):  http://rsr.ileaguerace.com/champ/show_champ/Red-Sox-Racing-League/285
League Video Site:  http://www.youtube.com/user/draftin11
---
You may also like...
---