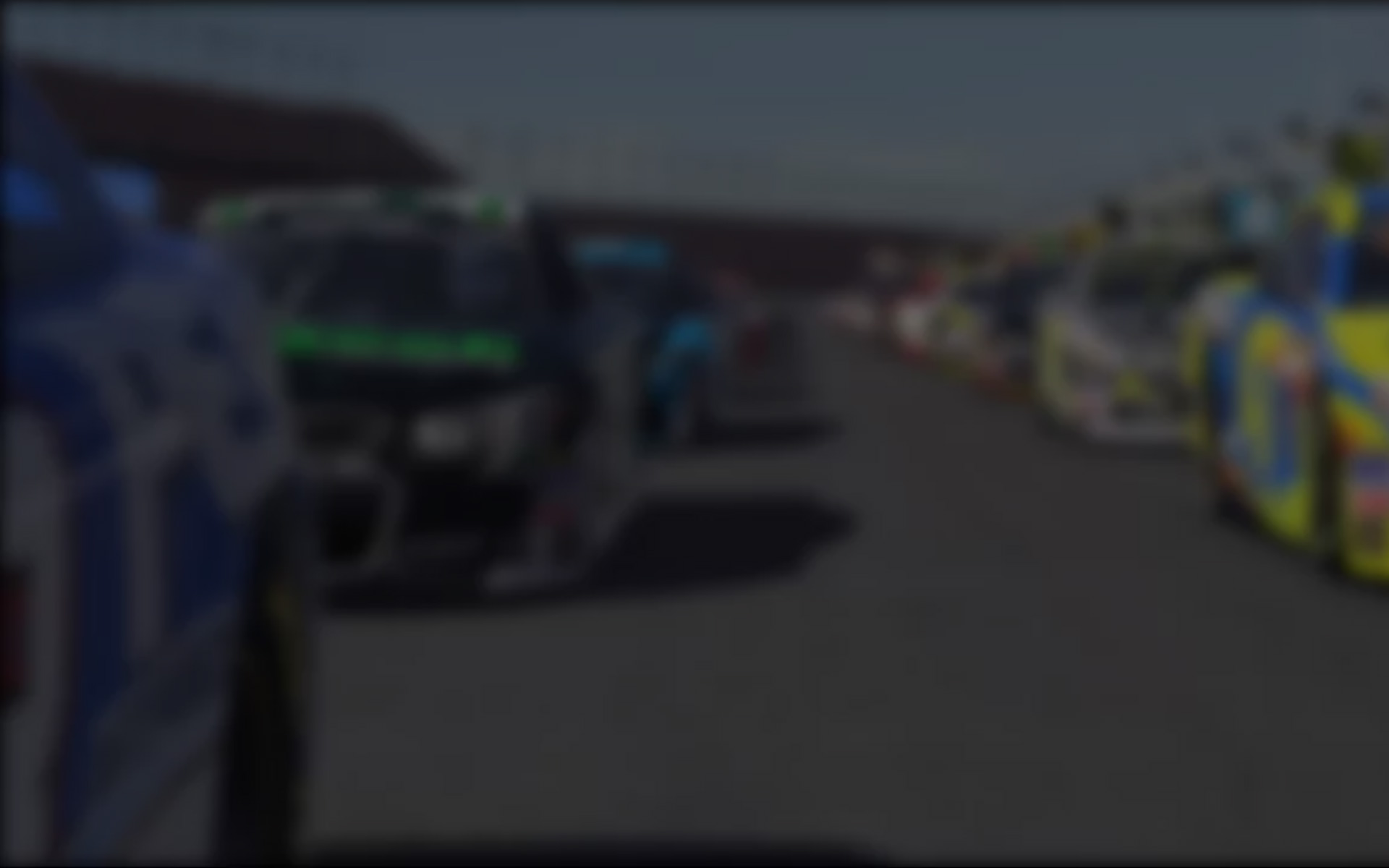 Mimasaka, Okayama Japan was the site for week seven of the Red Sox Racing League's 2011 Season Three F1 Championship Series.   The "Spooktacular F1 GP at Okayama" was billed as a thrilling twenty-five lap shootout between some of sim-racing's cleanest drivers.  In reality, it was a nightmare for anyone not named Brad Vincent!  Vincent used the entire 2.314 mile, eleven corner layout as his personal playground on the way to his third victory in a row.   
The RSR Thursday night F1 league is a fixed setup league which in theory, ensures that everyone is using the same car and setup.  Despite the leveled playing field, drivers still have to use their own skills to demonstrate their mastery of the car and course.  Vincent has been putting on a clinic in his first seven RSR races. Four victories by the Amplified Motorsport driver have given Vincent an impressive 2.9 finishing average. 
Vincent is not only fast once the green flag drops, but he is also a fantastic qualifier.  With an average starting position of 1.7, Vincent knows staying in front of the field is a key to success in avoiding the dangers of road course traffic.  He blistered the field in practice and qualifying in Japan, posting the only sub-1:10 laps in either session.  His qualifying lap time of 1:09.360 was almost a second faster than the 2nd place qualifying effort of Andrea Ventura (1:10.114).  Les Turner secured the third grid position (1:10.624), while Corey A. Wolf (1:11.098) and Gary W. Clark (1:11.248), rounded out the top five spots. 
Jim Albertson (6th), John Koscielniak (7th), Jeff Thomas (8th), Matt White (9th), Terry Daul (10th), Andrew Feldman (11th), William Kabela (12th), Ed Sutcliff (13th), and Bill Pawluckie (14th), completed the starting grid.  RSR newcomer Christine Marie Tillmann joined the pre-race festivities, but did not start the race.
As he has done so many times in the past, Turner used his good qualifying position to get a great jump on the leaders once the race went green.  He rocketed to the lead going into Turn One, but then allowed Vincent to retake the position in Turn Two.  "I knew both of us couldn't take the preferred line and survive", said Turner after the race, "so I just tucked in behind Brad to see if he would make a mistake I could take advantage of later in the race."
As it turned out, the start of the race and pit cycles were the only times most of the field got a glimpse of Vincent's car as he would eventually finish the race a full thirty-seven seconds ahead of the field.  "I had about 10 laps of practice this week and wasn't sure what everyone was gonna be running for times.  I had an amazing qualifying lap and knew my pace would be good. I had a decent start, but Les is a master at it and took the lead right away. In the 2nd corner he gave me the inside, so I took the opening and he let me back through. After that I just cruised till the first pit stop but took 40 lbs too much fuel so I pushed for the last 6 laps and couldn't have had a better race. Congratulations to the podium finishers."
Turner's plans to keep Vincent in sight were thwarted by Andrea Ventura.  Ventura was not happy about losing the 2nd spot to Turner on the start, and he spent the rest of the race trying to retake the position.  Their battle continued throughout the race and produced some of the most exciting racing of the Season Three schedule.  Turner was able to maintain the position after the pit cycle.  He would go on to cross the finish line 3/10s of a second ahead of Ventura.  "Andrea gave me all I could handle tonight.  Congrats to Brad on the win and thanks to Andrea for racing me cleanly all night."
Ventura was exhausted after the race.  "Despite not much seat time past week, I was happy with my qualifying time.  Les had a very fast start and passed me before Turn One.  I stayed within 1-2 seconds of him for the entire race, tried to pit a lap after him, but I came out of the pits still 0.5 sec behind.  I spent the rest of the race close to Les, waiting/hoping for the mistake he never made!  Brad was of alien speed for both of us, but it was a great and clean battle for second. I lost the battle this time, but next week will be a different story!
John Koscielniak returned to his early season form as he avoided trouble and gained three positions to cross the line in 4th place.  Wolf was the last driver to cross the line on the lead lap when he secured 5th place.
Clark (6th) led Daul (7th), Albertson (8th), Feldman (9th), Sutcliff (10th), Kabela (11th), and Thomas (11th) in a pack of cars which finished one lap down.
White retired early and was scored 21 laps down in last place.  His night almost ended with a first lap incident in Hair Pin.  The incident could have collected half the field, but White and Thomas did a good job of keeping their cars stopped until everyone got past them.  White tried hard to make up the lost track position, but an over aggressive approach to Turn One on Lap Three sent him careening into the outside retaining wall.  Another incident at Attwood Curve on Lap Four cemented White's early exit from the race. 
Thomas felt bad about the Lap One incident.  "We sure are in a slump this season.  There have been far too many driver mistakes on my behalf.  I want to send out an apology to Matt White for getting into him on the first lap and taking away his opportunity for a good finish.  I'm gonna do some laps at Phillip Island to see if we can turn this season around." 
Only Ventura, Daul, Sutcliff, and Kabela completed the race without incident, but most of the other drivers escaped damage as the majority of their mistakes were single-car incidents caused by over aggressive cornering on the challenging course.  Pawluckie gained a position on Lap Three when White went wide on corner exit in Turn One.  Albertson lost position to Koscielniak and Feldman when he spun out exiting Redman on Lap Three.  Things settled down as drivers began calculating their pit strategies, and then Clark spun in Piper on Lap Twelve while he tried to chase down Koscielniak for 5th place.  Wolf made a similar mistake trying to catch Feldman for 5th place on Lap Nineteen.          
After seven events, Vincent has a 78 point lead in the overall championship race.  Turner is in 2nd place, followed by Wolf who is 123 points behind the leader.  Koscielniak and Albertson are the only other drivers within 200 points of Vincent.
Teamdraft continues to lead the team competition.  They enjoy a twenty-eight point lead over Storm Front Racing.  BPS Motorsports is a distant third in the team point race.
In other RSR racing action, long time RSR member Reed Rundell returned to join the RASCARR Impala B Nationwide Series event at Atlanta Motor Speedway.  Rundell took the Checkers in the first race of the season.  Wilbur Gildersleeve Jr. of Teamdraft crossed the line in 2nd place.  Newcomer Smith Waller Jr. earned his first RSR podium with a third place finish.  The race was clean and almost the entire field completed the 20 lap race on the lead lap.  The overall combined oval series has Larry Lutzac leading over Eric Porterfield.  Reed Rundell leads the NW Impala B mini-series points. 
RSR drivers travel to Australia next week for the "Bunyip F1 GP at Phillip Island".
Grand Prix Series Overall Standings after Race 7: http://www.ileaguerace.com/champ/show_champ/Red-Sox-Racing-League/187
RASCARR Series Overall Standings after Race 7: http://www.ileaguerace.com/champ/show_champ/Red-Sox-Racing-League/194
RSR YouTube Video Channel: http://www.youtube.com/user/draftin11
---
You may also like...
---