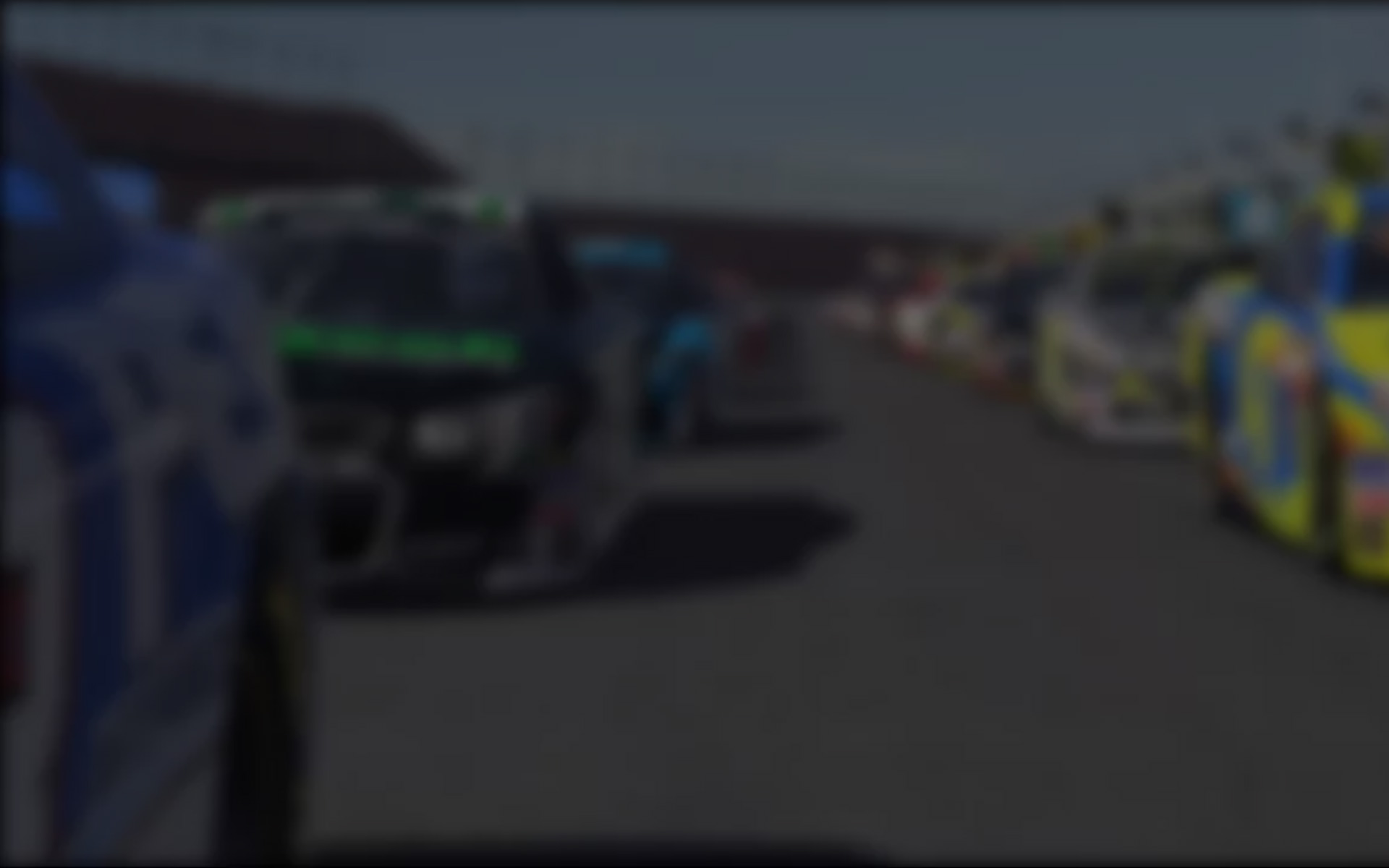 The NASCAR iRacing.com Pro Series went under the lights at Richmond International Raceway for Week Five and fireworks flew from start to finish with Alex Warren playing his strategy just right to come away with his first series win. The caution waved early and often with 15 yellows slowing the action for 75 of the 200 laps and, in the absence of long green flag runs, pit strategy and track position proved more important than ever.
Joshua Laughton put down an impressive qualifying lap, taking his first pole position of the 2011 season with a run of 20.551s to best Michael Conti (20.608s). Some tough competition lined-up behind the front row-sitters including Nick Ottinger, who started third, and teammates Marcus Lindsey and Kevin King, who started fourth and fifth respectively. Series points leader Richie Davidowitz had a terrible qualifying lap, relegating him to forty-first on the grid. He would have his work cut out for him if he hoped to make a significant deposit to his personal points cache at RIR.
The first yellow flew just after the field took the green and, just it seemed the field had settled down into a rhythm, the online race was slowed by another caution flag on Lap 26. The second yellow brought everyone down pit road for fresh rubber and fuel, enabling Ottinger to pass Laughton for the race lead. He would go on to lead a race-high 140 laps but got shuffled out of the mix due to pit strategy and a penalty.
While Ottinger led the middle part of the race, the rest of the pack tried to keep pace while also keeping their noses clean. Some were more successful than others as, one-by-one, would-be contenders dropped-out of the race due to crash damage from the many incidents.
The race took a dramatic turn during another caution period just past the halfway mark, when pit strategy began playing into the outcome of the race. Many cars took to pit road to top-off with gas, ensuring they could make it to the end while others stayed out, hoping for more yellows. This trapped fast cars such as those of King and Lindsey back in traffic and with, passes hard to come by, the road back to the front would prove treacherous. The two starting trying to work traffic with King having the best luck, climbing back to fourth place over the longest green flag run on the race.
Unfortunately for Lindsey, any chance for his third win on the season came crashing to an end, literally, on Lap 167.   During the subsequent yellow flag, Ottinger and Laughton yielded the top two spots to come to pit road, fearing they would run out of fuel if they tried to stretch their fuel to the finish. This gave the lead to Warren, but King was right behind and had fresher tires. King knew he would have to pounce fast as cautions tend to breed more cautions in the closing laps of a race.
However, Warren controlled the restarts like an old veteran and never gave King a chance to mount a challenge. His two biggest competitors on fresh tires, Ottinger and Laughton, both were taken out of contention by circumstances beyond their control. "Guess I should have stayed out," said Laughton after he was collected in an accident with only a handful of laps to go.
In the end, it was an excited Warren who cruised across the line for his first win in the series as the race finished under yellow, with King in the runner-up position.
"Wow, words really can't describe how happy I am right now," said the winner. "This setup was the best that I have had in the pro series . . . Track position was very key and it helped me even more when the front two pitted with about 30 to go. Drove the race of my life and won."
"Wow, words really can't describe how happy I am right now."– Alex Warren
The rest of the top five was full of surprises as Jake Stergios (third), Michael J Johnson (fourth), and Harrison Widelitz (fifth) all had stellar runs and brought home some much-needed championship points.  In contrast, Davidowitz, finished a disappointing seventeenth after being involved in a multi-car melee on Lap 175.
Despite his rather poor result, Davidowitz keeps the series points lead, holding a 30 point margin over Matt Whitten. Chris Overland notched yet another top ten finish and moves up to third in the standings while Lindsey slips to fourth due to his DNF and Cyril Nousbaum rounds-out the top five after last night's fourteenth place finish.
Next week marks the halfway point in the 2011 NASCAR iRacing.com Pros Series season as the drivers take on Charlotte Motor Speedway. The fast, high banked 1.5 mile track takes a totally different skill-set and setup than Richmond, and should feature some long green flag runs. Davidowitz and Lindsey have to be the favorites due to their success on 1.5 mile tracks earlier this season.  But as we've seen in recent weeks, anything can — and probably will — happen. See you next Tuesday in Charlotte!
---
You may also like...
---