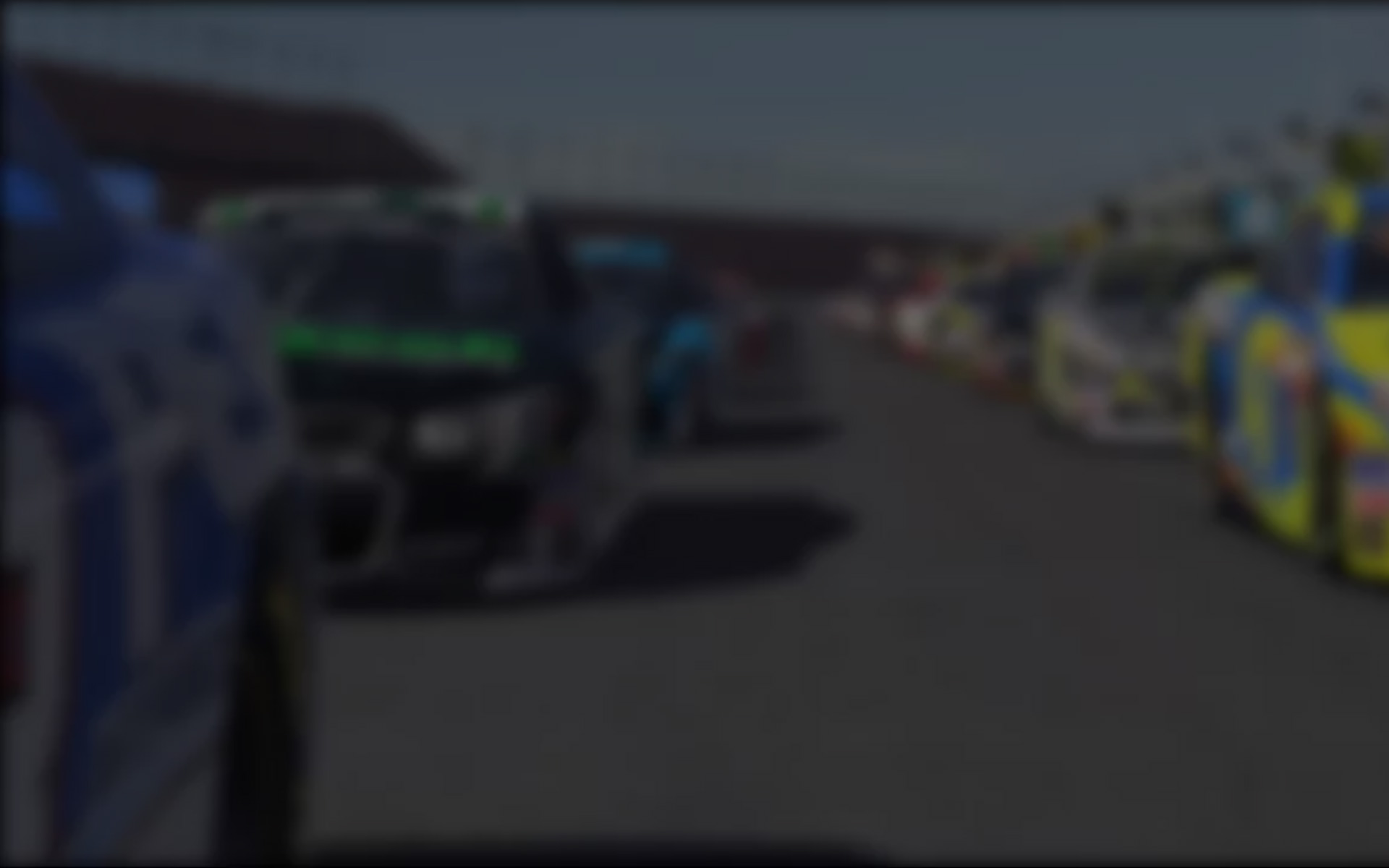 December 14th, 2015 by Sean Braganza
Off-track drama and on-track mania till the very end. Or was it the other way around?
"After a long, long season, on behalf of the commentary team I would like to wish everyone the best of luck for tonight.
"It has been an honour to have been on this journey with you all, starting in March, finishing in December, and taking on international TV along the way! (Big thanks to Lee Thompson and Alex Marshall for their fantastic work!) Well done to the league admins, especially Jeroen Keizer for all the great work with the scoring. Congratulations to all the drivers who have taken part, the 100 of you who have scored championship points, you have been outstanding.
"Lastly a big thank you to Alex Simpson and Adam Bath – friends and colleagues in the commentary box; it's been an absolute pleasure gents.
"So on to Daytona. Let's make it fast, fun and fair, and may the best drivers take home the money!'
Four hours prior to the finale of the Season at Daytona Road – one that had seen 50 drivers, 11 teams, $10,000 in prize money and a MotorsTV UK broadcast come together for 35 weeks of what had proved to be iRacing's most formidable user-created Touring Car offering yet – the mood set by ApexRacing TV commentator Andrew Woodhouse was seemingly one shared by a large proportion of the BSRTC community.
And why not – drivers had toiled for nearly a year several weeks in a row, sifted through highs and lows, fought on track, argued off it and made it out alive in what was perhaps their virtual racing career's boldest, most tempestuous outing yet. Emotional, as Engine Oil Direct's AM driver Andrew Whitehead put it. And so, not wanting to disturb that flow of sentiment with my customary, now meaningless question of how things were looking prior to the race – I refrained from any interaction, preferring instead to observe.
There was however more than one dimension to it all. It is no news that the BSRTC harbours its share of driver-against-driver controversy and tension – it is what has made the series tick; what has kept it entertaining and unpredictable till the very end. And yet one particular BSRTC PRO Series driver, who had managed to evade my attempts at interaction for quite some time now due to their inherent controversial nature, decided to get in touch at but the last minute to lend his perspective for the sake of it being the season's end. Noticeably burned out, while said driver swore by the enthrallment, energy and pure fun of racing within the series – he went on to state that he would not be returning to the PRO Series for some time.
Taken back by his declaration when the rest of the community was amidst tears of joy prior to the season's end, I sought to find out the reason behind it. "I'm not 100% sure what my reasons are, but it just doesn't feel right at the moment." Why wouldn't it?
'There's a lot going on – some odd and frankly unsupportive behaviour from a few drivers. It really isn't a happy time – Take Genovski for instance," he continued, alluding to the recent spate of incidents involving GT Omega's Julian Genovski which team member Dan Hunt had gone on to explain as incidental in the previous report. "He definitely has been on some sort of wrecking mission. Whether it's a solo mission or team orders I don't know, but his intentions are obvious. That's been noticed by many, even viewers of the YouTube broadcasts. What's even stranger is that he has had nothing to lose by wrecking others and forsaking his own race – He's a reserve team member for GT Omega, so he doesn't score for the team!
"And then, there's Ash Sutton," he stated, referring to the Peter Newman Media driver notorious for making extraordinary leaps in position mid-race via not the cleanest of means. "He is not breaking any rules, but he's really not racing according to the spirit of the series. Following his end of the real-world 2015 Renault Clio Cup UK season, he came back to BSR and even said on Mumble 'I'm only here for the fun,' so you know what that means: carnage.
"He tows Ben Palmer (of Stem Sim Racing) in qualification and deliberately fails to set a time so that he starts from the back – And then acts like a bull in a china shop bulldozing his way through the pack with no real care whether he finishes the race or not … the potential of this affecting the outcome of the series is overwhelming." With all the noise against him, has he ever been confronted I questioned. "I have asked him about it – he acted like a 3 year old child with a chocolate covered face denying any knowledge of who'd eaten the freshly baked chocolate cake!
"I don't mind him towing Ben. Nor do I mind him protecting his CQR team mates during the race," he went on, referring to an older BSRTC team, CQR that contained both Sutton and Palmer as team mates. "That's actually admirable. But refusing to qualify so he can prove a point and 'have fun' at others' expense is unfair." Surely with all the injustice that one feels is prominent within the series, the BSRTC's administration must have been notified at some point?
"We have taken stuff to the admins before and generally get accused of being conspiracy theorists. It gets to the point where it's not worth the energy – If you choose to voice anything, you simply get flamed with childish memes."
Despite his grievances however, he was certain of a bright future for the BSRTC irrespective of whether it included him or not. "I don't think it's going anywhere but up! The more attention it gets, the more people will want a piece of the action.
"Once people out there in iRacing-land see that the prize fund was real and the teams got their payout, it'll get even more interest. My only fear is that it gets too successful and turns into a corporate monster. To date we've had the same select hard core drivers season in and season out, with only a few newcomers trickling in from time to time. Some stay, some can't take the pace.  But the more successful it becomes, the more it will potentially lose that family feel. Maybe that's what's giving me itchy feet now? Who knows?"
Round 100 – Split Second
By the end of the round the airwaves and chats had been set ablaze; throughout its course, the battle between Wojceich Swirydovicz and Sebastian Job who had begun the race in pole and second place respectively lay shrouded in uncertainty. While Job had initially fallen off behind Keizer after the Engine Oil Direct driver zipped past him in Swirydovicz's wake post a rolling start, a healthy feed of drafting post the Bus Stop had managed to get the ApexRacing TV driver close and past Keizer by lap three.
As Keizer wandered off into the run-off at turn one by lap 6 to eventually drop down and finish his race in 7th place, five more bouts of slipstreaming and consistency through the corners allowed for Job to whisk past Swirydovicz after the final bend. This would set into motion a recurring pattern, one where the duo would exchange places via the same manoeuvre lap after lap until the final stretch. By then, Swirydovicz – who was placed behind Job – would pull alongside the ApexRacing TV driver at only the last second, causing both to cross the line at nearly the same instant. While Job was recorded by iRacing's software as the round's winner, the gap between him and Swirydovicz was naught – 0.000s exactly.
'The main plan was to not slow each other down, play it safe. I think it worked, since Katz was going very fast – he was gaining on us but yeah, we managed to stay ahead," explained the Engine Oil driver to the commentary team at the end of the round.
As photographs and exclamations flooded Facebook during the 10 minute break after, the rest of the race had concluded while managing to remain for the most part, a quiet affair. Following setting himself up ahead of Keizer by lap three, Katz's competition would come in the form of Stem Sim Racing driver Ben Palmer. Palmer had begun the race in 9th place, moved past Pete Newman before Turn one on Lap two and dominated the inside of the battling duo of Jamie Rushworth and Colin Cunniffe at the same place on Lap four.
After Keizer's tryst with the run-off served to elevate Palmer up by one more place, the Stem Sim driver would now engage in a bumper-hugging chase behind Katz; as the slipstreams drew him closer, Palmer simply followed the leader, gently rubbing the paint off the Euro Chip car's rear without swerving to its flanks for an overtake. Palmer later admitted that this act was part of Rushworth and his strategy to stay within Katz's draft in order to close the gap between the Swirydovicz-Job duo and the rest of the pack – "Katz may have thought we were attempting to overtake him but we weren't. We were trying to catch up with Job and Swirydovicz ahead and we did – by the final lap. It was probably the best bit of racing I've had all year."
Regardless, Katz's third place finish against Job's 1st had served to reduce the gap between the two PRO drivers to but eight points on the Standings. Rushworth and Cunnife maintained their positions behind Palmer while David Baker had catapulted from 14th to eighth place, with the gap between him and Swirydovicz now reduced to a mere 12 points. This was in part, made possible by a duel between Jamie Fluke and Dan Blake for ninth place on lap 4 when Fluke seemed to have misjudged his braking point alongside Blake prior to the Bus stop's entry, resulting in the New Homes driver cutting the section altogether.
Blake's wide entry into the Bus stop meanwhile allowed Chepilevsky and Baker to catch up, before Baker came out on top of the trio by Lap 5 as Fluke worked off his penalty. Peter Newman Media wrapped up the top 10 with Newman in ninth and Sutton – who had begun the race in 29th place – close behind him. Their team mate Simon Field who had entered the Showdown by virtue of a wildcard was already 'mathematically' ruled out of the PRO Championship along with ApexRacingTV driver Lee Thompson, whose participation in the current and primary weeks of the Showdown had been prevented by real world commitments.
Having dropped down four places after a 13th place start, leading AM contender John Roberts meanwhile was embroiled in a three lap duel with AM rival Richard Gore for 16th place over the final four laps that finally saw Gore overtake Jake Blackhall to finish in 15th place. Steve Richardson, who had begun the race with a 68 point lead over Paul Smith – after the Stewards had voted against Smith on the incident involving him accidentally ending John Roberts' race on the first round at Sebring, resulting in his point earnings being revoked – finished in 25th place, two positions behind Smith.
Incidents were also at a minimum; Andrew Whitehead and Michael Schellbach's race ended prematurely after the former was spun into the barrier between turns 3 and 4 by Schellbach in 18th place. Schellbach's overtaking attempt from Whitehead's outside with two wheels on the grass post turn 3 had inevitably led to contact. A few moments prior, Laser Tools' Dylan Robinson was set perpendicular to traffic by GT Omega's Russell Laidler on turn one that led to his finishing the race in 32nd. His team mate Rob Graham suffered a similar fate at the same corner on lap 9 after lines conflicted with that of Rob Fagg in 18th – before suffering an engine blowout on the final lap to finish in 33rd.
Round 101 – A Job Half Done
The trio of Katz, Swirydovicz and Job found themselves in proximity with each other at the start of the lap – in 13th, 14th and 15th place respectively – that quickly amounted to a nail biting first lap for the PRO Championship's leading contender. Swirydovicz, quicker than Katz off the rolling start, had already positioned himself on the inside of Ben Palmer in 12th place by Turn One, which immediately materialized into another position for the Engine Oil Direct driver before Turn two. Prior to its entry however, Palmer had darted to Swirydovicz's left as the pack braked – hoping to take him from the outside when instead, he ended up side-panelling Andreas Katz who was present with the intention of pulling off the same manoeuvre.
This landed two of Katz's wheels on the grass, causing him to drift upon it around the corner before rejoining the pack in 23rd amidst tiny nudges inflicted upon and incurred. While Palmer took full responsibility for the incident and even conveyed his apologies to the Euro Chip driver later, Job had now crept alongside Swirydovicz for the bend between turns 7 and 8 before permanently placing himself ahead before the Bus-stop chicane.
A few moments later Chepilevsky had attained the lead from pole-starter Richard Gore after the former's third place start, leaving GT Omega's Russell Laidler with the onus of fending off Ashley Sutton who had begun the race in 6th. By lap two, Job had attempted to force himself down an opening created between the pairs of Jamie Rushworth-Colin Cunniffe and Pete Newman-Jeroen Keizer on entry to turn two, making up two places over the Rushworth-Cunniffe duo in the process. Fluke held his line as Newman quickly overtook Dan Blake, setting into motion a half-lap duel between the Engine Oil and New Homes driver that mimicked that of Round 100.
Unlike Round 100 though, the duel didn't witness any incident – as Job and Rushworth moved past Fluke by Lap three's turn two. By turn one of the next lap, Job was through Blake and Newman's outsides as well – putting himself in 8th place. Of course Swirydovicz wasn't too far behind, coming but a whisper's length away from disaster at turn one; while Cunniffe behind attempting to follow the Engine Oil PRO driver through the corner, Rob Fagg's braking had rendered him slightly diagonal to traffic on entry. This resulted in him tipping Cunniffe's car into the pit-lane's exit turn, subjecting the Friction Racing driver to a black flag.
Nevertheless as Cunniffe moved through the pit-lane's final section, Aleksandar Smolensky had ended up shoving AM contender Paul Smith into the run-off at Turn one in 18th place – before being quarter-panelled by Steven Burke behind him and sent into the barrier himself. Smolensky's race had inevitably ended then and there, while Smith fortunately moved on to finish in 23rd, five places behind immediate competitor Richardson. The minor chaos had also allowed Katz to slide up 5 places into 16th.
By lap five, Swirydovicz found himself near the edge of the cliff yet again; Rob Fagg's tap to Blake's quarter panel from the outside of the final bend had sent both of them into the barrier just as Swirydocvicz raced past. While Fagg spiralled into a never ending series of flips on track, Blake's ricochet off the barrier had been picked up by an oncoming John Roberts in 14th place that ended the AM Championship's leading contender's race. The gap between him and Gore had now been reduced to 15 points – from 97 – as a result of the ApexRacing TV AM driver's subsequent 7th place finish. A similar incident occurred between Steve Hefford and Steven Burke before the bus stop on lap seven as well, as Kip Stephens reacted quickly to avoid disaster and finish in 14th place.
Through all of this, David Baker had found himself in 2nd place behind Chepilevsky while Sutton's aggression seemed to have taken a notable back seat as the Peter Newman driver seemed unwilling to challenge the first two position holders – both very much within the PRO Championship while he wasn't. As he eventually finished in 4th place behind Russell Laidler – after incurring a slowdown through the bus stop on lap 8 – his team mate Peter Newman had long dropped to the back of the pack on lap 4 after a bout of late braking had led him to ignore the bus stop altogether, suffering a black flag in the process.
Job's consumption of Richard Gore's place on Lap 8 to finish in 5th had served to finally place him ahead of Katz – who commendably finished in 10th place behind Swirydovicz – by 4 points on the PRO Standings. With Smolensky now facing 8th place within the Standings, New Homes' Jamie Rushworth stood in 7th position on the PRO chart after a 11th place finish, behind Daniel Hunt and Steliyan Chepilevsky in 6th and 5th position on the leader board respectively. Chepilevsky also enjoyed what was his first win of the season with David Baker – 90 points behind Job on the Standings – finishing in 2nd.
Round 102 – Bus Stop
The gleam of his headlights already bouncing off Swirydovicz's rear bumper, Andreas Katz roared past the bend through turn 8 and braced for the Bus Stop in 6th place. Ahead Dan Hunt, who'd entered the chicane with a stance considerably unsteady than that of Swirydovicz behind him, fish-tailed mid corner – causing Swirydovicz to brake only momentarily, yet long enough to let Katz close in on the duo. As the Engine Oil Direct driver now drew alongside Hunt by virtue of a quicker exit from the chicane, Katz peered down the middle – darting to his right halfway through the bank, dangerously close to the barrier, as if wanting to steer clear of any incident that might unfold between the duelling drivers.
As the bank straightened, he returned; continuing to peek through the gap that stayed constant between Swirydovicz and Hunt's doors as they crossed the line to initiate lap two. Lap one had indeed been frenetic – Genovski, having begun in pole, quickly saw his rear end slip out on entry to Turn one that only forced him to take to the pit-lane's corner exit. At nearly the same time, team mate Michael Schellbach's inside line in 3rd place over Stephens not only put him in first, but also steered Stephens wide. The New Homes driver recovered of course, just as mate Jamie Rushworth brushed past to fill his place in 2nd.
Shortly after, Lee Berridge's running wide and subsequent nudge by Steven Burke behind him had set into motion a ripple of crashes that would cost the races of several drivers inclusive of Jake Blackhall, Jay Wright, Jake Blackhall, Burke himself and AM contenders Steve Richardson & Paul Smith. The battle for third place of the AM Championship had ended immediately, with Richardson's 62 point lead over Smith persisting. For John Roberts however – who had begun in 31st to brake just in time in avoidance of a rolling Jake Blackhall during the ripple – the round was far from over; Richard Gore was far ahead near the top 10 in 12th place.
Now, as the trio of Schellbach, Rushworth and Stephens widened the gap between itself and the rest of the pack to nearly three whole seconds on the second lap – Sebastian Job straggled through the first corner before pushing past Keizer at its exit to envelope 7th place following his 11th place start. His chance to dominate over Katz would come only by the next lap when Swirydovicz, still behind Hunt would finally end up tapping the GT Omega driver and sending him into the grass at the hairpin on Turn 5 under braking. With Katz forced to slow down in-line behind Swirydovicz as a result – Job carried on through the outside, drawing alongside Katz for a while and eventually making it past him on exit of turn 6.
The Euro Chip driver of course, wouldn't relent – coming out on top of Swirydovicz on lap four's turn one and finally making hay as Job ran wide at the same spot on the next lap post a side-by-side run through the penultimate bend. Now, with Stephens far ahead of him to possibly catch up to on reliance of a slipstream, the only lights that flickered in the vicinity were his own pair of headlights – and that of Ashley Sutton in his rear view.
Having placed ahead of Job only momentarily post his 12th place start on Lap one, Sutton had but played the role of a voyeur – silently following Job through the course of the first five laps and letting the competition ahead of him sort itself out. Inevitably, the slipstream that he left in his wake would betray him, letting Job catch up, bump draft and eventually tap the Peter Newman Media aside to resume his chase of Katz on lap seven with Swirydovicz, David Baker, Russell Laidler, Jeroen Keizer and Richard Gore hot on his heels. With Stephens' draft nowhere in sight, Katz would assume the defensive through the course of the final 4 laps – superbly holding his ground against the much younger Apex Racing TV driver through door-against-door duels and attempted overtakes.
By the final lap, Sutton had returned – having capitalized on the drafts set by Laidler, Baker and subsequently Swirydovicz, even nudging the Engine Oil Direct PRO driver sideways at turn two on one instance, to set his sights on the battling Season's PRO Champions' contenders. The unimaginable happened; as Sutton drafted in Job's wake to draw alongside him prior to the Bus Stop, he out-braked the Apex Racing TV PRO contender – landing himself tangential to the driver's side of Katz's vehicle that had already initiated its turn into the chicane. The crash came. And so did the spin, sending both the Euro Chip driver into the tyre barrier but a few seconds from the finish line that would almost certainly have granted him the PRO Champion's title. As Jamie Rushworth drafted past Schellbased at the penultimate bend to win the race, Sebastian Job had finished the race in 4th place and won himself the PRO Driver's title.
Havoc ran within the live chats and the commentary box. Boo's and hiss' ensued on one corner while others stated that Sutton's going for a 'space' was natural of any competitive racing driver – as he finally spoke to the commentary team several minutes post round. 'Everyone makes mistakes – I made one tonight, it's human nature. I would just like to apologies to Katz – it wasn't intentional. I was pretty much happy sitting between them so yes, I'd just like to say sorry to him'. While Katz later took to the same box, audibly and naturally disappointed with what had transpired after a rollercoaster of a season, I decided instead to speak to him several days after the race to hear what a calmed mind had to say.
"You wanted a thriller? You got it," he said. "My entire season has been mixed. It started great until I had absolutely no time for training mid-season, causing me to miss quite a few races. I remember being on holiday in Spain and racing on a Surface Pro Tablet that I'd erected on a few books to keep from falling! I had borrowed my kids' wheel and trained near the pool, setting lap times over Midfield until the internet crashed. Nearer to the end of the season I made it a point to make time for iRacing – which in turn enabled me to improve."
"Coming back to Daytona – The last race went good until Ash tried to pass me at the chicane. I think he lost it because of the dirt on the dirty side of the track- that only made his braking way longer. I've saved a couple of messy situations this season but this push from Ash turned the car so much that there was no way to save it. I still am glad to land in 2nd place – I will be sending the $300 to the Orphanage in Africa.
"This season has shown me that Iracing and the BSRTC can compete with real life racing. Having been involved in both car and motorbike racing, I can say that the base feeling is the same here as is in real life. We had drivers like Nicki Thiim and Ash Sutton this season and that shows how great the Series is. The fact that I almost won it this year through everything really makes me proud. Next season can come alright – I will be doing my best to drive for the win."
Post suffering an off-track penalty at the Bus stop on the final lap, David Baker had gone on to drop down to 10th place from 8th, yet still maintain a 22 point lead over Swirydovicz in the final Standings. Meanwhile, Chepilevsky's drop from 5th to 8th on the leader board – as a direct consequence of inevitably cutting the Bus Stop post a tap by Laser Tools' Dylan Robinson that set him bouncing off Rob Graham's side panel– had served to nudge Hunt, Rushworth and Stephens up the Standings. Pete Newman would also end up being quarter panelled at Turn 5 by Graham in 19th place on lap 7, forcing him into the tyre barrier and out of the race.
Despite Richard Gore finishing in 12th place as opposed to Roberts' commendable 19th place finish, a tiny margin of only 4 points had managed to keep the Engine Oil Direct driver on top of the AM Championship. 'I'm so proud of John and yet so gutted for Woj that the showdown didn't go the same way as the main season', expressed Engine Oil AM driver Andrew Whitehead. 'But also so proud that this little, predominantly AM team ended up in 2nd place against all predictions and against all odds –  They are an amazing bunch and we are proud to be EOD.'
Gore was all praise for his team's youngest, most talented PRO driver as well.  "I'm glad Sebastian won the title, he's incredibly fast and talented that boy.' GT Omega of course, were crowned team champions by four hundred and twenty points over Engine Oil Direct.
"We have had a really good team here and to finish 3rd on the teams standings is a good result for such a long season', expressed Stem Sim driver Paul Smith. 'From a personal point of view it's disappointing to have such a poor finish to the season after finishing top of ES(AM) Trophy standings at the end of the normal season. $1000 to the team is good and I'll be putting my cut to Calder Rescue."
You'll Need All Ten
"Well I guess that proved my theory," the anonymous BSRTC driver was back and he wasn't short of words. "Sutton is an attention hungry, spoilt little brat. It's not the first time he's affected the outcome of our championship by tangling unnecessarily with the main contenders. But to take out one of the guys fighting for the title in the last lap of the season is shameful and shows the utmost disrespect. Katz and Job had been door to door the whole race with only 4 points between them for the championship title. But the petulant little child wanted the attention. He's probably still got an annoying grim on his face now, proud of his achievement! An idiot chasing celebrity – disgusting.
"But what last night did do was cement my feelings. I want to be involved next season –The camaraderie and respect shown by the majority was amazing last night. It's something I want to remain a part of." And while he'd forgotten about all that was said and done, I hadn't. I caught up with Ellis 'Kip' Stephens a few days later; preserving the anonymous driver's authority, I attempted to enquire – as subtle as could be – about what certain drivers' claims of the BSRTC's administration being slightly off were all about. Did it give him itchy feet? Who was I asking, right?
"You know what – I liked the drama of the last round," he said nevertheless. "Others may focus on the negatives aspects but no one is going to forget that final race. It might not have been Adelaide '86 but it was up there with Adelaide '94. You can point fingers at lots of things – Job took an extra 5 points in race 1 by half an inch over Woj; Katz lost his 4 point clean race bonus on lap 3 of the final race by inches."
"Speaking of which, well, Ash likes being a big part of the show and that's his job. If he gets his chance in the BTCC (which I really hope he does), that's what people will be looking forward to watching and talking about for days after. If Andy had resisted the urge to have his 'annual' mid-season strop after the Schellbach crash at Suzuka and just finished the races he quit –he would have stayed in the Showdown top 10, kept his podium credits and gone into the last round at Daytona with a 66 point lead instead of 33. So at the end of the day it was a crazy season with some great action and if the people want to keep pointing them blame fingers, off you go, but you'll need all ten.
"As for Ben Palmer's punt inflicted on Katz over Race two," he quipped just as I was retreated to my typewriter, "when iRacing add an indicator for dodgy lane changes, I'll make sure Mr Palmer gets his installed first. And of course well done to Sebastian, GT Omega and Swirydovicz for all those wins!
"…Well I do get to pretend to be nice once a year."
Season nine of The BSRTC Pro Series everybody.
Until next time.
Catch The Original Article On Higher Eclectic Ground.
Photo Courtesy Jamie Rushworth.

This race will also be aired on MOTORSTV on the 22nd of December as per the schedule here. Higher Eclectic Ground has not only been covering the final 7 weeks of the BSRTC PRO Series' tenth season but had also offered the indie game community with opportunities for exposure via BSRTC sponsorships. To stay tuned to the future of the BSRTC, head down to our Facebook page where all the activity lies and ensure you're signed up. Moreover, those interested in racing with the BSRTC community or simply hanging out with them by the pitlanes,can do so by signing up to their closed group on Facebook or tweeting them @BritSimRacers . Those still doubtful about what the BSRTC is all about can learn more by viewing our previous coverage of the same which also includes a never-seen-before look at the championship's rise.
---
You may also like...
---