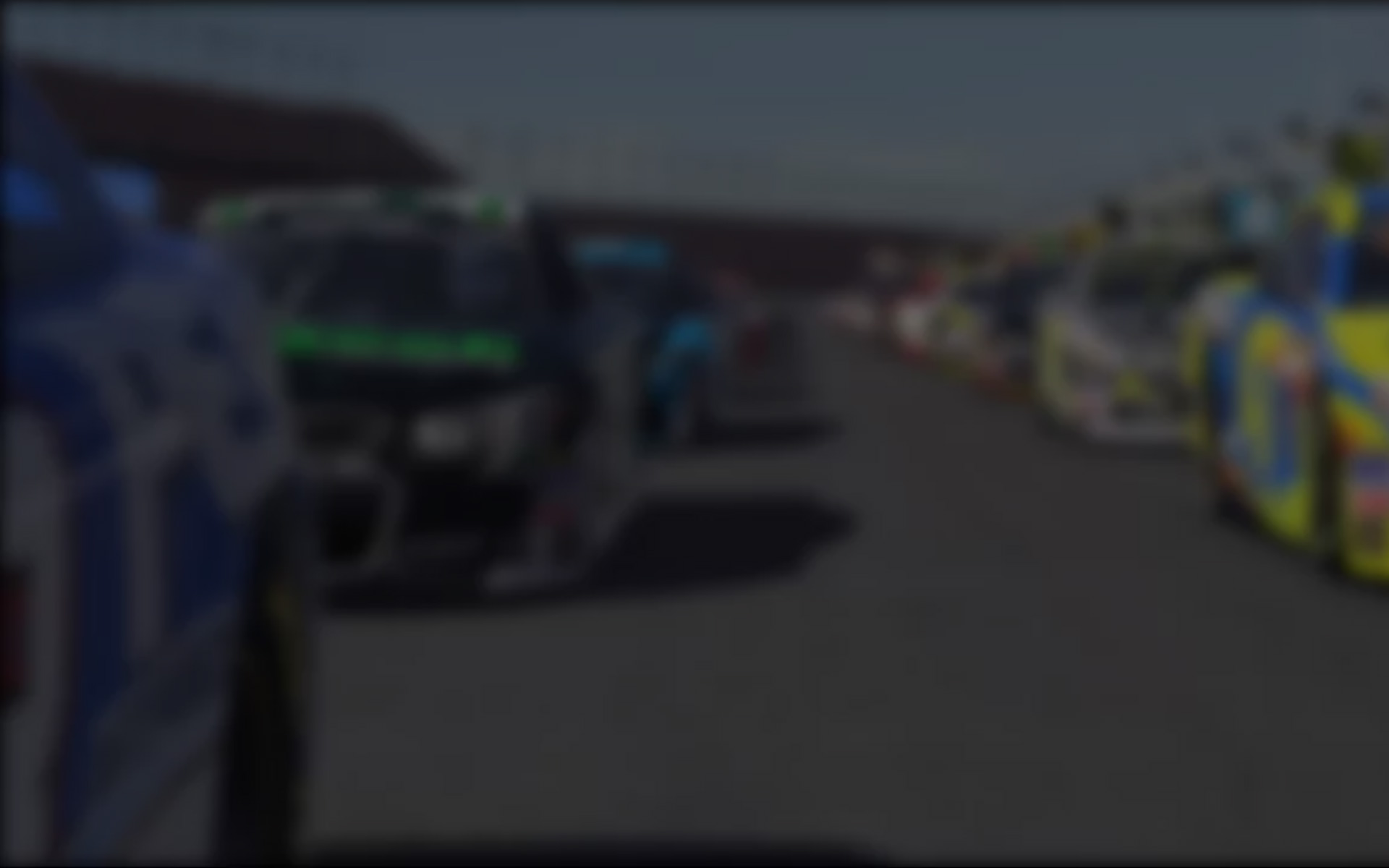 "The Lady in Black" lived up to her name during Week 21 of the iRacing Pro Series Oval. Many of iRacing's top drivers received her infamous "Black Stripe" early and often. Although this was the iPSO's second trip to the tricky Darlington Raceway, many pros still found themselves searching for the secret of how to get around the 1.366 mile egg shaped track. Give and take is key to having a solid race, knowing when to push, and when to ride. With side-by-side racing through the corners all but impossible, it takes extreme patience and car control to put yourself in position to get the win.
At the track that is supposedly "extremely tough to pass," both of Wednesday's races saw eight lead changes. The always-fast Ray Alfalla took one of the two splits. Although Jesse Atchison led the most laps in the race (39), Alfalla proved too tough at the end as he was able to snag the 312 point victory by three tenths of a second over Atchison, with Dale Earnhardt Jr. following closely behind in third. After the race, Alfalla noted that he started from pole and was confident that he would be able to win the race. With his crew solid under pressure, delivering a pit stop in 11.9 seconds under green flag conditions, Alfalla's job was a bit easier. This win was Alfalla's twelfth of the iPSO, making him one of just five drivers with ten or more wins.
Josh Berry was once again on his game at Darlington, as he took home his eleventh win of the iPSO in Wednesday's second split. Berry only led 23 laps in a race that was controlled by Thomas Lewandowski until he had problems. Berry practiced a lot of race runs in preparation for this weeks race, and it obviously paid off as he showed once again that he will have a strong say in the iRacing Drivers World Chamionship.
Sunday was a popular day for racing this week, seeing two splits. Tyler D Hudson won the first split over Patrick Fogel and Nolan Scott. Hudson has been impressive all season, but is really ending the iPSO strong, bringing a lot of momentum into the iDWC. When asked how he feels about winning at the track that's "Too Tough to Tame," Hudson said, "Feels good. The one thing I had to work very hard on was racing the track and not the competition. It sounds so cliche, especially at Darlington, but it's also very true. I worked hard on this and I think that is why I ran well there this week." Hudson is a lock for the Driver's World Championship, and looks to be a force if he keeps putting on performances like he did on Sunday.
Sunday's other split saw Derek Wood putting on a clinic en route to his eleventh win of the iPSO. Wood led 91 of the 110 laps, Alex Horn led 17 on his way to finishing second, over seven seconds behind Wood. This race was as quiet as it could be by Darlington's standards, with only one caution on Lap 18, then going green to the finish. Fifth place finisher Jordan Hightower said, "Racing mid-pack was pretty exciting but other than that it was Derek dominating."
Richard Towler also flexed his muscles at Darlington Raceway, as he went a very impressive two-for-two. It started in the Friday race, which was the top split of the week. Towler led 51 laps, and was able to hold-off championship leader Brad Davies for the win, with second in points – Josh Parker – finishing third. Towler received 345 points for his win, but just as big were the 342 points Davies garnered for second place. Davies saw his iPSO points lead over Josh Parker shrinking in the past weeks, but he was able to get it going in the right direction this week, extend his lead to 79 points.
Towler then continued his great week on Saturday, with a win over the always strong Wood. Although it was a very impressive outing, having earned 345 points on Friday, the 309 points for Saturday's win went as a drop for Towler.  Wood, Fogel, Horn and Justin Lowery rounded-out the top five.
Not to go without mention, Patrick Fogel put together a stellar week at Darlington. Although he didn't get his much-wanted first win, he turned heads of many pros with his three starts this week in which he finished fourth, third, and second. Fogel has always been considered a force in anything he drives, but he sure reminded people of that fact this week.
Week 22 of the iPSO takes us to the flat track of New Hampshire Motor Speedway. It will be a return visit as the inaugural iPSO season starts to wind to a close. Many drivers look to keep the momentum going, while some drivers need to find the spark needed to finish on a high note.
---
You may also like...
---